Big Mountain
&nbsp


A marker at the Men's Memorial from the Mountain Meadows Massacre of 1857
&nbsp


The top towers
&nbsp


The hill beyond the towers
&nbsp


At the far hill, looking back at the last tower. The highpoint is likely on that hill with the tower
&nbsp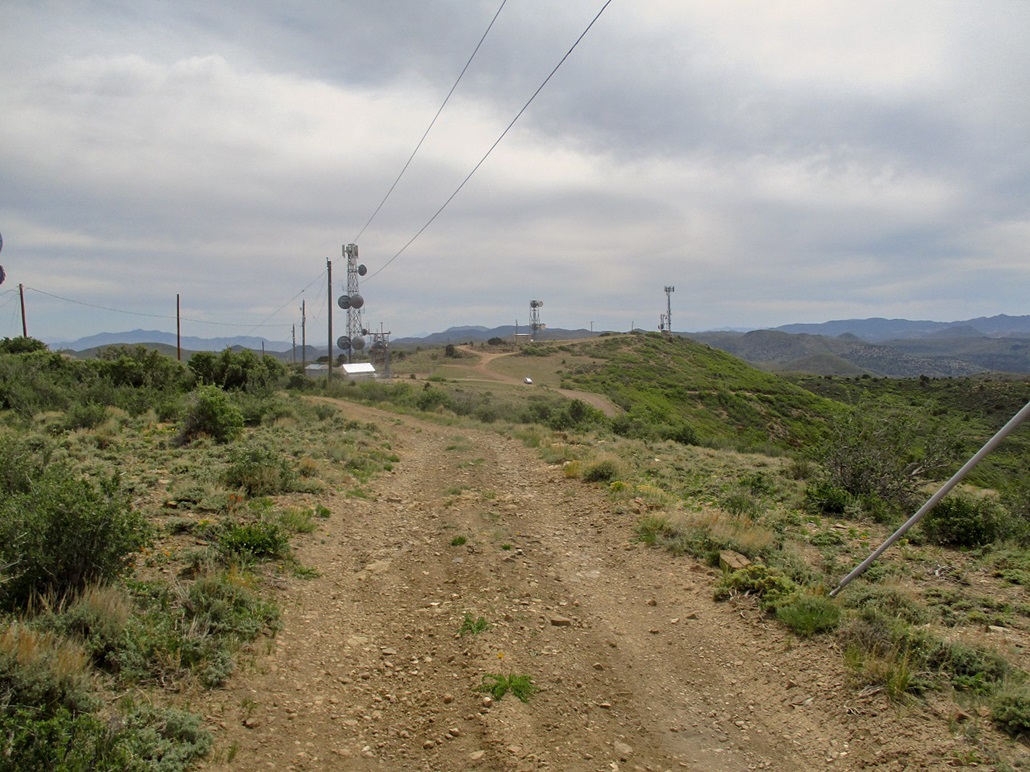 Hiking back, some of the other towers, and my shiny car
&nbsp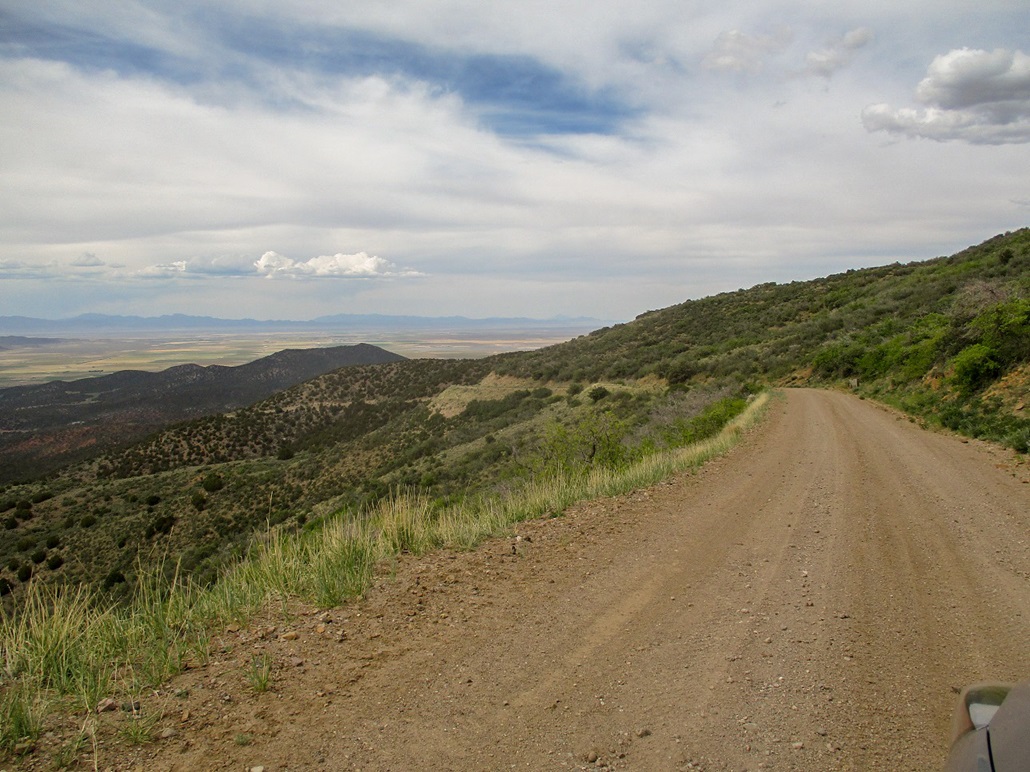 Some of the road, looking downhill
Date: May 29, 2021 • Elevation: 7,230 feet • Prominence: 908 feet • Distance: 0.8 mile • Time: 20 minutes hike, 1 hour whole journey • Gain: 200 feet • Conditions: Cloudy and warm, breezy
Utah • PB
Overview: I spent three days in the St. George area, hiking anything that looked interesting, fun or both. I was not picky, and I was an opportunist, tagging a few hilltops simply because they were convenient. I visited nine ranked summits in the region, all short hikes, but cumulatively hiked about 15 miles and about 4,500 feet of elevation gain.
My agenda:
Saturday, May 29:
Sunday, May 30:
Monday, May 31:
After hiking Diamond Cone, it was still early afternoon with plenty of time to waste. In my research of the peaks in the area, I had come across Big Mountain, which features a good gravel road to the towers that line its summit ridge. However, I did not print any maps for it and had not included this peak on my primary itinerary. But with time open, it now looked attractive.
From the Diamond Cone area, I drove northbound on UT-18 up over the pass near Big Mountain. A few miles of the highway were being worked on, and heavy machinery and cones were lined along the highway, but being a holiday weekend, there were no workers about. I actually drove past the turn-off to the peak and all the way into the town of Enterprise, which was only about five miles farther. I needed to get some drinks and snacks anyway. I took the time to drive the main road into Enterprise, then back out. It is a tidy Mormon town in the middle of nowhere, nothing of particular interest that I could see.
I drove southbound now on UT-18 and found the turn-off to the peak, Dixie Forest Road 198. Reports say this is a great road that any vehicle could handle. I'm always skeptical of such statements, but figured I had nothing to lose. If I had to park early, the walk would not be too long. The road is well maintained, never too steep, reasonably wide and other than a few ruts from when someone was up here in wet conditions, the road was a good road. I drove 2.7 miles, all the way to the tower complex, parking in a clearing where the good road ends.
The highest point is along a ridge to the northeast, where a rougher track makes a sharp 180-degree turn and ascends the ridge. I went light, just carrying my camera and a drink. From where I parked, I had about a 200-foot gain in under a half-mile, all along this rougher track. The track itself was rocky, but a beefy vehicle with good tires would have no problem with it. I did not want to chance my Forester on it, and being so close anyway, saw no reason to take that chance.
In about ten minutes, I was at the last tower. Beyond it, the ground drops about twenty feet and ascends another hilltop, bare of towers and marked by a spot elevation of 7,229 feet on the map. I found a register tucked into a pile of rocks and signed in, but not many people had signed in. Looking between the two hills, I concluded the probable higher hill was the one with the tower on it, around its back (east) side near a fence line and fenceposts. The elevation differential may be just a couple of feet.
I returned to my car, the hike taking less than a half hour. It was about 3 p.m. and up this high, the temperatures were cooler, in the low 70s. Although cloudy, there was no chance of rain. I brought out a camp chair and just sat in it for about a half hour, enjoying the solitude.
The drive down the road went well. I went slowly, but the drive took just ten minutes and I was soon back onto the highway. A few miles south, I stopped off at the Men's Memorial Site of the 1857 Mountain Meadows Massacre, where Mormons, along with recruited Paiute Indians, attacked and slaughtered a wagon train of emigrants from Arkansas. This is a notorious event and arguably the darkest chapter of the early Mormon settlers in the region. In 2009, I had visited the main memorial site. The Men's site is where the men were killed. There is a Women's and Children's site nearby, where the women and children were killed. I encourage you to read up on this event and the history surrounding it.
Back on the highway, I was about 35 miles north of St. George. I drove into St. George and then got kind of lost on its main boulevards. I stopped for a while at an Albertson's to use its wifi. It was now past 4 p.m. and very warm, into the low 90s. I had one more "peak" on my agenda, Harrisburg Bench, which was north of the city a few miles off of Interstate-15. I wanted to kill some time and hike it at sunset. Although it would be warm still, once the sun is low, the heat is not so oppressive.