Ten Sleep Canyon near the
Washakie County Highpoint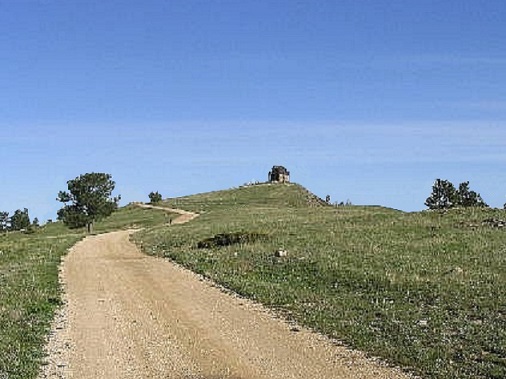 Cement Ridge, Crook County

Cement Ridge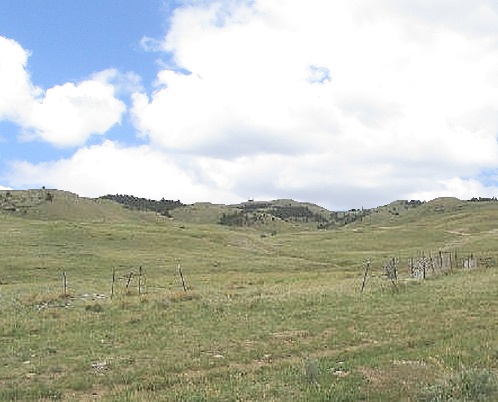 Rawhide Hills, Goshen County
Wyoming Roaming
Gannett Peak (unsuccessful) • Washakie County HP
Weston County HP • Cement Ridge • Rawhide Hills
I have spent very little time in Wyoming, collecting just 4 county highpoints as add-ons while journeying through the region. In 1999, I tried and failed to climb Gannett Peak, the state's highest point. In 2002, I tagged an easy county highpoint in Washakie County while driving to Sturgis, and in 2004, I visited three more county highpoints, all along the eastern boundary with South Dakota and Nebraska. Since 2004, I have not been back inside the state.
| | |
| --- | --- |
| Gannett Peak (Unsuccessful) | • Wind River Mountains |
Date: July 1999 • Elevation: not sure • Prominence: n.a. • Distance: 12 miles • Time: 3 days • Gain: not sure • Conditions: Beautiful, unbelievable mosquitoes
Main • PB
In 1999, I teamed with an old college pal, Vic (Rainier, 1997) to attempt Gannett Peak. I drove from Arizona over a couple days to western Wyoming, and met Vic there. He'd driven in from Washington. We were going to try to do this as a duo, with no support. We'd be carrying everything we needed for a 3-5 day backpack and climb. Most parties that climb Gannett go in large groups, or a guide service that can include porters. There's a good reason for that. Trying to do it solo or as a duo is possible, but difficult.
We met somewhere near Pinedale, and started our hike in the mid-afternoon, intending to only go in a couple miles then set up camp. I was wearing my big, heavy and stiff lug-soled La Sportiva mountaineer boots. These are intended strictly for snow travel and use with crampons, but I wore them thinking I could save weight (i.e. not carry two sets of boots). These were the same boots I used on Mount Rainier and they worked great.
Just the couple miles of hiking was enough to cause a large blister on my right heel to form. At camp, I assessed it and tried to cover it with gauze, moleskin and tape, and hope for the best.
The next day, we covered about for or five more miles, all through lovely forest and meadow, setting up a camp in an open meadow still many miles from Gannett Peak. By now, I knew I was in deep shit with my heel. It was bleeding heavily. My sock was soaked in blood and my boot was staining. The damn blister was a full inch in diameter and raw. I did what I could at camp to dress it and stanch the bleeding. I was in pain and knew this was a fool's errand. I could not proceed. As much as I enjoyed the scenery, the pain of walking was too much, and I was miserable. I told Vic I'd have to drop out. I was bummed, but felt I had no choice.
The next day, we hiked out the entire distance to our cars. I did what I could to make the trek painless, but it was a brutally painful slog the whole way out. I found a hotel in Pinedale that night and rested, absorbing this big lesson I had just learned.
Peak 9600

• Highpoint: Washakie County
• Bighorn National Forest

Date: August 7, 2002 • Elevation: 9,600 feet • Prominence: 120 feet • Distance: 1 mile total • Time: 1 hour • Gain: 400 feet total • Conditions: Overcast but calm
PB
I had just spent four days climbing Granite Peak in Montana, and was now driving east through Wyoming toward Sturgis, this being the week of the big motorcycle rally. Along the way, I took advantage of the opportunity to visit the county highpoints of Washakie County. There are three small areas clumped together in the northeast corner of the county. Highway US-16 cuts between them and the areas are no more than a quarter-mile off the highway.
Two areas lie atop a hill to the south of the highway. I eased onto a forest road and parked, then walked up a short slope to top out on this hill, visiting both potential highpoint summits. This hike took just 20 minutes.
A third area is a carry-over area from neighboring Johnson County, a ridge that spans both counties. I hiked uphill through the trees to the ridge, then walked up the ridge and down the ridge, walking far enough each way so that I would have crossed the county line and thus been at the highpoint, although I have no idea when or where that would have actually happened.
I was back to my car quickly, and resumed driving on US-16 toward Sturgis.
Point 6620

• Highpoint: Weston County
• Black Hills National Forest

Date: May 21, 2004 • Elevation: 6,620 feet • Prominence: none • Distance: 0.5 mile • Time: 30 minutes • Gain: 30 feet • Conditions: Calm
PB
I was mainly sticking to the county highpoints in South Dakota's Black Hills, but two Wyoming county highpoints were close enough to detour to them easily. Yesterday, I drove to the Cement Ridge lookout area in deteriorating weather and was chased off when lightning started to blast the peak. I got back in my car and drove back to the little town of Savoy to wait out the storm.
The storm cell died out within an hour, now back to blue skies again. However, I had already decided to postpone Cement Ridge until the next day, and instead tagged one more easy (& muddy) county highpoint in South Dakota, then took a look at Weston County's highpoint here in Wyoming. Its highest point lies on the state-line itself, just a point on a ridge in a forest.
I got onto US-85, headed into Wyoming, drove a couple more miles then turned eastbound on Cold Creek Road for two miles, placing me back inside South Dakota. I parked on the road about a quarter-mile east of the highpoint spot. It was pushing 6 p.m. by now and cooling fast. I hiked into the forest and soon came upon a fence that runs along the state line. I then turned south and stayed beside the fence until it topped out. The fence and its posts made it easy to determine the highest point.
Past visitors had developed a tradition of jamming coins into the post nearest the highpoint. I dug around and pulled out a quarter, and jammed it in as well. As for the highpoint, I was still in South Dakota, so at the highest spot along the fence, I stuck my foot through the barb wires and tagged the ground on the Wyoming side, thereby giving me credit for Weston County's highpoint.
I hiked quickly back to my car, then retreated back into South Dakota, staying the night in a cool retro cabin in the town of Lead. The furniture dated from the 1960s, including a coffee table that held a vintage record player within it. Today had been a long day with five county highpoints visited, a couple hours being lost, and a nasty late-day storm. I slept well.
Cement Ridge

• Highpoint: Crook County
• Black Hills National Forest

Date: May 22, 2004 • Elevation: 6,674 feet • Prominence: 554 feet • Distance: 1 mile • Time: 30 minutes • Gain: 150 feet • Conditions: Pleasant for now
PB
A new day, and I was full of energy again to tackle more highpoints. I was up early when the weather is usually clearest and calmest. I redrove the same roads placing me near the lookout tower on Cement Ridge. However, the highpoint is a hill on the east end of the ridge. I parked at a bend in the road and walked through open forest and grass slopes to the bigger southern area, marked on the map as 6,674 feet and the likeliest highpoint. I also went north a few hundred feet and checked out another area that had an outside chance of being as high.
The two areas were mostly scrubby grass and brush mixed in with rock jumbles. Forest cover was moderate, blocking most views but in a few instances allowing for views across the countryside.
I then walked back down to my vehicle, the whole hike of one mile taking about 40 minutes with about 150 feet of gain. I drove to the lookout and took the opportunity to snap a few photos. The lookout has a picnic area, and the views out over the hills, forests and valleys were magnificent.
After a few minutes I returned to the main highway and started driving south toward Colorado. I had a lot of driving ahead of me, plus a couple more county highpoints if the weather would behave.
Peak 6120 - FAA Radome

• Highpoint: Goshen County
• Rawhide Hills

Date: May 22, 2004 • Elevation: 6,120 feet • Prominence: 940 feet • Distance: 1 mile • Time: 45 minutes • Gain: 150 feet • Conditions: Cloudy, a little unsettled
PB • FAA Radome Site
From Cement Ridge, I drove south and re-entered Nebraska, visiting the highpoint hills in Sioux County. I then drove into Wyoming again and had lunch at a Subway in Lusk. The two teenage guys manning the place had the hip-hop turned up to 11. I then drove west on US-18 and south on WY-270, placing me in the middle of nowhere.
The skies were looking meaner by the minute. Dark clouds to the north looked especially threatening, possibly twister-producers. I kept an eye on them. Driving south, I had mostly cloudy conditions but calm, in relative terms. The highest point in Goshen County is an unnamed peak in a band of unnamed hills. An FAA radome sits atop the peak, and a decent road goes all the way up to it.
As usual, there were all sorts of signs warning people to not tamper with the FAA dome, but nothing specific about no trespassing. So I drove in, and 4.5 miles later, was at the dome itself. I parked outside the facility. People were home, as there were cars in the small lot. I wonder what they actually do in there.
There were more signs about behaving, no fire-arms or explosives, but nothing about no trespassing. I left a note in my windshield and started the short hike to tag the three highpoint areas.
Two areas are nearby the radome itself, a third about a half-mile away. I hiked out to it first, dropping about a hundred feet then up the same, then returning. Back at the dome, I walked over the larger contour area. It, and the first area I visited, both had cairns. The third area was closest to my car, and it is likely not the highpoint. I walked fast, covering the distance in a half hour. I did not want to get in trouble with the FAA and also had my usual concerns about the weather. I just piled into my car and drove right back down to pavement.
It was mid-afternoon by now. I spent another hour or two driving to Laramie, where I stayed the night. I had planned to hike Medicine Bow Peak the next day but could see it was still socked in with snow. Instead, I drove into Colorado and hiked Thunder Butte, the highpoint of Douglas County.