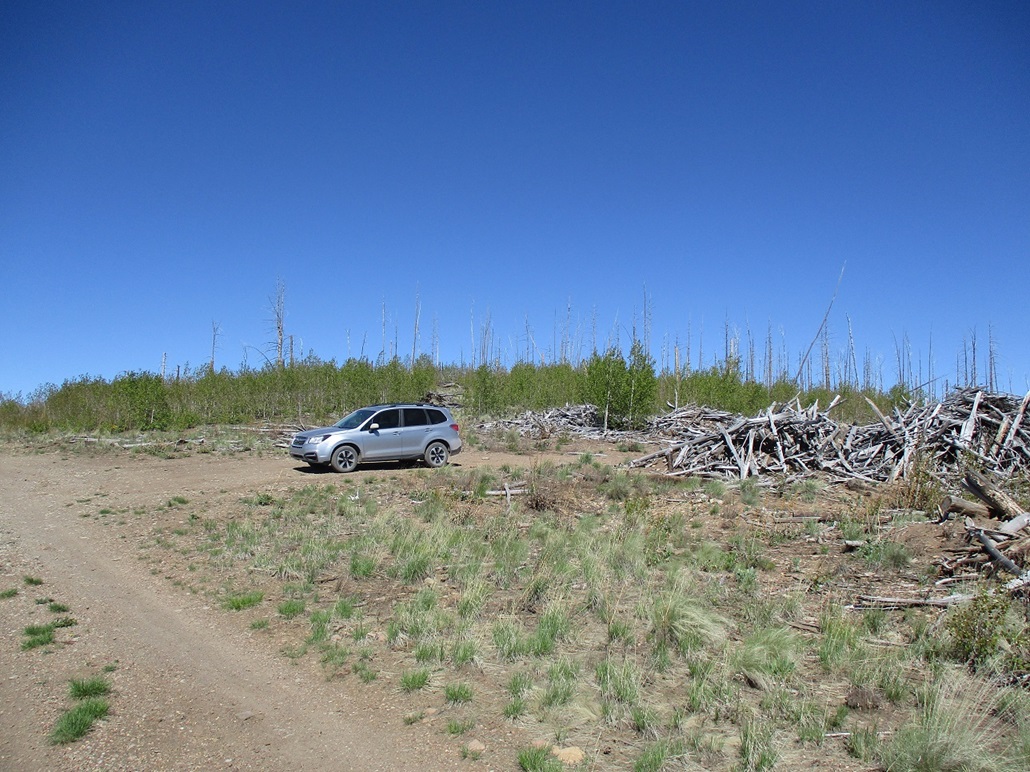 South Mountain is a near drive-up
&nbsp


From the top, looking back down at the car and the radio tower
&nbsp


Timber Top Ridge as I drive down from South Mountain
&nbsp


This track in towards Timber Top wasn't too bad...
&nbsp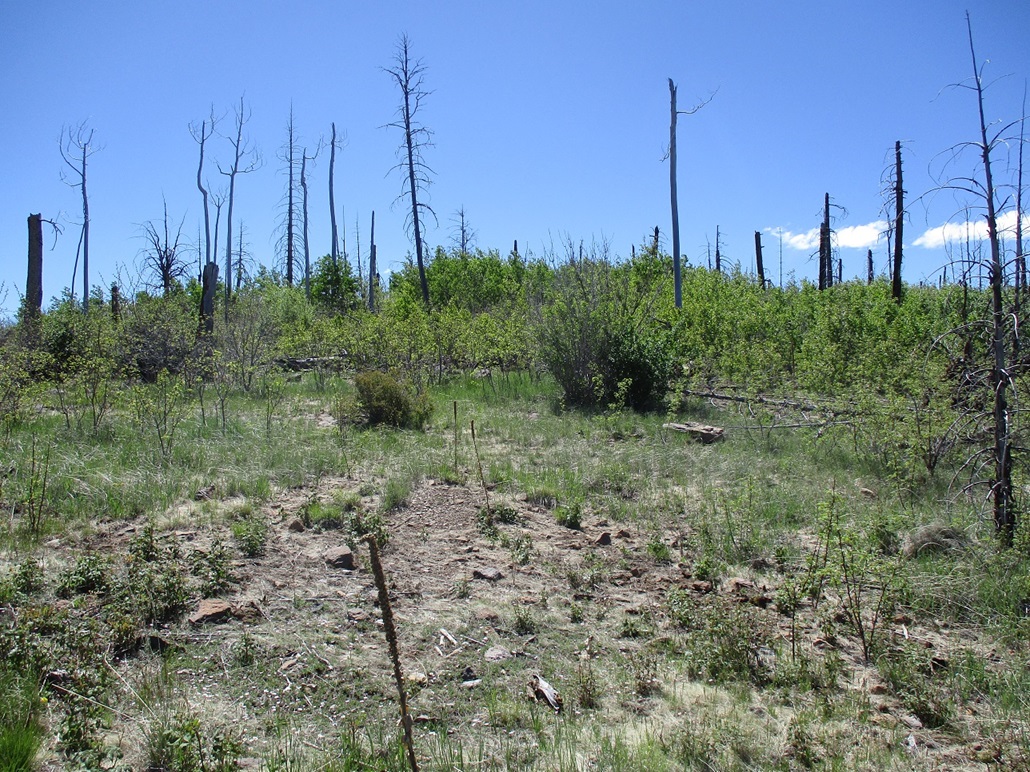 ...then it got nasty. It doesn't look so bad but that stuff grows tight together and is full of thorns. Summit is back there somewhere
&nbsp


South Mountain as viewed from the track on Timber Top
&nbsp


Alpine View Peak as I start up its slope
&nbsp


Ugh. Crazy dense thorny crap, and logs logs logs. Summit is that hump back there
&nbsp


Kind of a typical view along the hike
&nbsp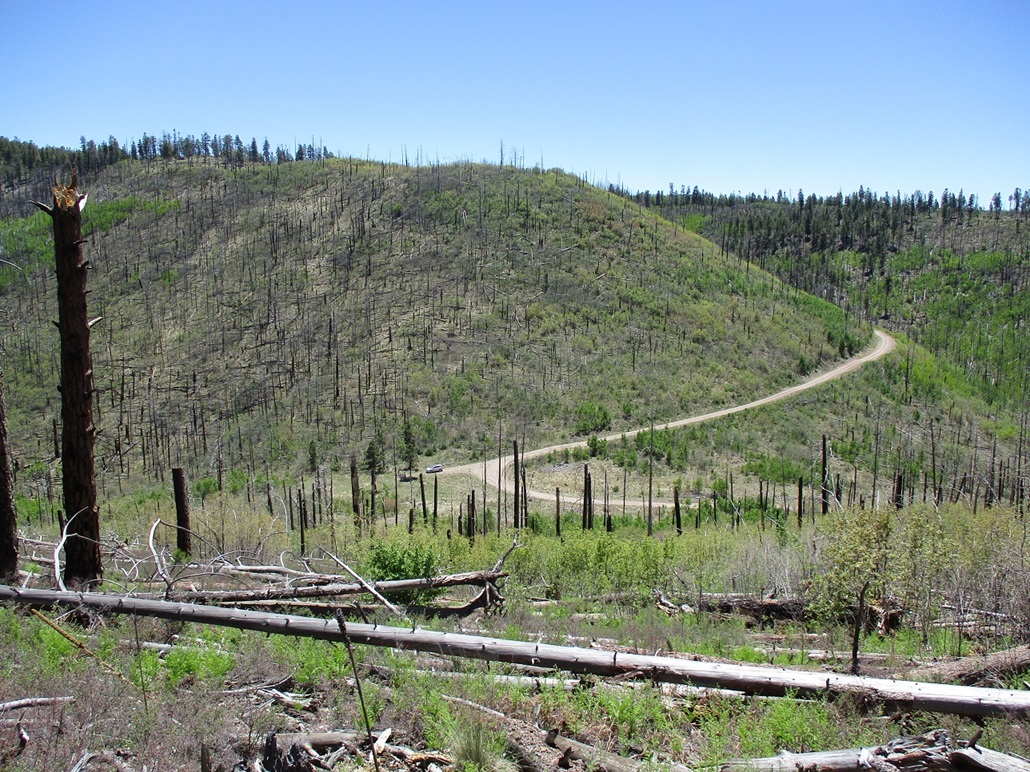 Descending down Alpine View back to my car
&nbsp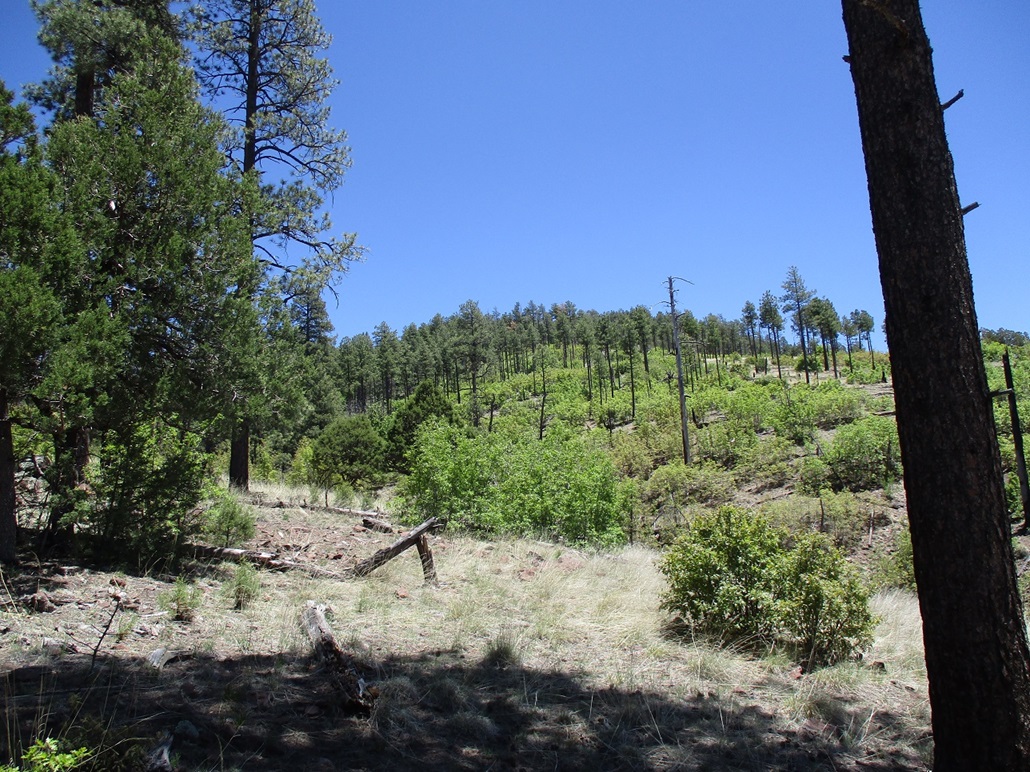 Pace Benchmark Hill looks a lot nicer
&nbsp


Immature gambel oak but there were lanes and no thorns. The rocks up ahead are not the summit ... yet
&nbsp


Summit up ahead
&nbsp


View of Alpine from the top
&nbsp


View into New Mexico
&nbsp

All images
• • •

The Arizona
Mountains Gazetteer
Click to find out more!
Alpine Assortment
South Mountain • Timber Top • Alpine View • Pace Benchmark
This was the second day of a three-day peak-bagging binge in the White Mountains of eastern Arizona. My main theme was to visit as many 9,000-foot elevation peaks as possible, and whatever else came along that interested me. I drove up from Tempe yesterday and climbed three peaks west of Springerville, then stayed the night at a hotel in town. This morning, I headed southeast toward the high country, aiming for the town of Alpine. On the way, I made a side trip to climb Loco Knoll. I finished that peak before 9 a.m., and was in the greater Alpine metropolitan area about a half hour later.
Now on the agenda were a batch of peaks surrounding Alpine. This was my first time back in the town, not counting passing through, in many years. Alpine is a small town of about 600 people, at an elevation of over 8,000 feet. In winter, it gets a lot of snow and can be cut off from the rest of the state if a particularly heavy storm barrels through. In summer, it is very mild and green. When I rolled in, the weather was pleasant, in the 60s, with a breeze. The closest clouds were way on the eastern horizon in New Mexico.
My first peak was South Mountain.
South Mountain

• White Mountains
• Apache-Sitgreaves National Foresr
• Apache County

Date: May 27, 2023 • Elevation: 9,500 feet • Prominence: 800 feet • Distance: 0.1 mile • Time: 5 minutes (hike) • Gain: 30 feet • Conditions: Clear and pleasant with a breeze
Arizona • Main • PB • LoJ
South Mountain rises southwest of Alpine, and is easy to spot as it has a tall communications tower atop it. When driving down the highway into Alpine, the tower and the peak are hard to miss. Because it has a tower, a good road gets close to the top so that the hike itself would take mere minutes.
About 2.5 miles south of town on highway US-191, and passing over a saddle after a mile-long steep uphill grade, I turned west onto FR-403. This is a dirt road but maintained and suitable for most vehicles with decent clearance. I followed it uphill a little over three miles. Once on top the higher plateau, the after-effects of the big Wallow Fire of 2011 are evident: tracts of dead standing trees, and an understory of dense smaller trees such as aspen and gambel oak crowding between the snags.
In about fifteen minutes I was at the little spur road which I followed to a small pull-out near some piles of logs just short of the communications tower. The highpoint is a rise slightly to the west. I just had to walk up a short track with about 30 feet of gain to the top. The walk took just a minute and I didn't even lock the car.
I walked back down then walked to the communication tower and its buildings. These lie on the lip of the plateau, and I had good views down into the valleys below, with Alpine spreading out, and my next peaks just across the way.
I drove out the same way, the whole side trip taking just a half hour. It wasn't much of a hike but it was easy, a shameless way to pad my peak counts.
Once back to the main highway, US-191, I went south on it for about a half-mile to my next objectives.
Elevation: 9,320 feet • Prominence: 680 feet • Distance: 3 miles • Time: 90 minutes • Gain: 330 feet • Conditions: Weather fine, brush awful
PB • LoJ
I eased eastbound onto FR-59 and followed that in about a mile. It was a good road, a little steep in spots but mostly with a good tread that my Subaru Forester handled well. My plan was to drive in and hike the farthest-in peak, Timber Top, first, then drive back out and hike Alpine View Peak next, then possibly a third peak just west of Alpine View.
I drove in until I was at a sharp bend in the road before it made a steep uphill. I parked here, figuring I was close enough to start walking. I walked the road up a little, then when it bent left (south), I followed that briefly to a lesser track that branches off to the east, on a straight-shot toward the summit.
Already on the walk I could see that the foliage was thick with aspen and gambel oak and all sorts of smaller brush. This lesser track was welcome because I was not eager to push through the dense understory for the better part of a mile to the top. As it was, the track led in most of the way toward the summit. Toward its end, thornier scrub and deadfall encroached onto the track. The track then bent away, at which time I left it, staying on an eastbound tack.
I was close to the top, perhaps a quarter-mile, and I found some lanes at first, but soon, all lanes ended and I was faced with a thicket of brush and of downed logs piled one on top of another. This was getting ugly fast. I pushed through one "live" thicket of this stuff, then back into an open area where I could see the top up ahead.
The logs were just a pain in the ass but nothing a deal-breaker. The aspen grew tightly and I usually avoided them, and the gambel oaks I could usually ease through if moving slow. But the thorns, they were abundant and intense. They were thin woody stalks ranging from a foot high to ten feet high, with half-inch curved "prickles" on them. I really should know my plants better. My best guess is they're acacia of some sort, based on pictures on the web. These damn things just grabbed onto my clothing and skin and slowed me down considerably. At times, I would just stop and wonder what the hell to do. I didn't want to bail, being so close. I just gutted it out.
I got to what I felt was the highpoint "area". With the dense brush and foliage, there was nothing there like a cairn that would confirm this for me. However, I walked into and around the "summit" until I was satisfied the terrain dropped in all directions. I would also stand upon a log that gave me some elevation to observe things better. I decided it was good enough, and started my trudge back out.
I followed the same route, more or less, always looking for an easy lane, and was back onto that track, relieved to be out of that mess. The walk back to my car went quickly. I had been gone almost 90 minutes, obviously being slowed by the brush. I didn't care much for this hike but am glad I got it.
Scott Peavy was here in 2016, and his photos show the trees mostly upright, and the undergrowth mostly tolerable. It was quite interesting to see how much has changed, and how the effects of the fire still play out after so many years.
Honestly, I am not sure if this peak will be climbable in the future if the brush continues to grow the way it has. The whole place is asking for another fire. I don't want that, but should one erupt, all this will go up like it was kindling. Any future visitors seriously should bring a machete and loppers. Be dressed head to toe and wear gloves (I did not, and paid the price).
Now to Alpine View Peak. Would things improve?
Elevation: 9,001 feet • Prominence: 361 feet • Distance: 0.7 mile • Time: 75 minutes • Gain: 375 feet • Conditions: Awful brush
PB • LoJ
I drove back down FR-59 not even a mile to a bend in the road, east of Alpine View. Its name (and that of Timber Top) comes from Bob Martin's Mountains of Arizona book. These names suggest that when he climbed these peaks in the 1980s, they had views of Alpine or were topped by timber. My, how times have changed.
It looked ugly the moment I stepped out of the car. I should have bailed but I thought "this is short... maybe it gets better higher up". I was able to get up the main slope okay since it was open and very messy. I was essentially on the lip of the tiny sloping plateau that is Alpine View's top. Then, everything closed in. No lanes, not even bad ones. Just a thick wall of intertangled crud with thorns, with heaps of logs underfoot.
I would just lean my head in, hunker in the shoulders, and push through. I'd see an open spot ten feet away and get there. This would offer maybe five feet of open terrain, before it all closed in again. I usually stood atop the logs to get an elevated view to see where the summit was. I pushed, grunted and cussed my way through the nastiness until I was at the top.
Like on Timber Top, I really couldn't be sure. So I walked around it just to be sure the land dropped. But any specific markers were not there or buried under a tangle of crud. Like on Timber Top, I walked the immediate area until I felt I got it, then just started out. The sooner out of this stuff, the better.
Going down wasn't much better. I looked for open lanes but rarely found them. The logs were much more abundant here than on Timber Top. I got a great workout using all my muscle groups to get past everything. Finally, the ordeal was over and I was back to my car. No, I did not like this one at all either. I'm glad I got it, but would not recommend it. Who knows. I may be the last person ever to climb this peak unless things drastically get cleaned up.
It was about noon, so I got back onto the highway and drove into Alpine, now going east a little bit on US-180 to the road that leads south to the Blue Wilderness, for my next peak, Pace Benchmark.
Elevation: 8,547 feet • Prominence: 427 feet • Distance: 1.2 miles • Time: 1 hour • Gain: 447 feet • Conditions: Much better
PB • LoJ
This peak lies between County Road 2104, the road to "the Blue", and south of US-180, not even a mile south of the highway. I drove the road to its apex at a saddle west of the summit. I could tell this would be a much friendlier peak. It had a healthy forest and "normal" brush.
I eased under a fence, then walked up the open grassy slopes to a ridge ahead of me, then once there, angled right and started up the steeper slopes toward the top. These slopes were forested in ponderosa pine, and somewhat heavy patches of immature gambel oak and other mountain oaks, but unlike on the other two peaks I just gave half my blood volume to, none of that evil thorn brush. I always found a line so that the hiking went well with no snags, literally and figuratively.
I was soon on top, the summit a little pile of rocks requiring very easy moves in a couple spots. There is a non-standard benchmark stamped "PACE" on its summit. It does not appear in the online benchmark databases and I have no idea who "Pace" is or was. But that's its name. The views were excellent, the nest I'd have all day. I got a good look north at Escudilla Mountain, I could see Alpine through breaks in the trees, and looking east, I could see lots and lots of New Mexico, the state line just a couple miles from here. Looking west I could see the Timber Top/Alpine View ridges and bumps. I even actually sat down for a little while up here!
The hike down went well, and I was back to my car, this hike taking an hour and a really enjoyable one. I needed a little pick-me-up after my earlier ordeals and I was pleased how this little peak went.
I still had some energy to climb a couple more peaks as long as they were easy and non-thorny. Up next was Thick Top up on Escudilla Mountain's south flanks. My quartet of peak hikes in Alpine had been a success, and I was pleased to get four of them, but happy to be done with them too.