Little Spring
Valley Mountain

Little Spring Valley Mountain as seen from Wildcat Hill's top, with Humphreys Peak framing it from behind
&nbsp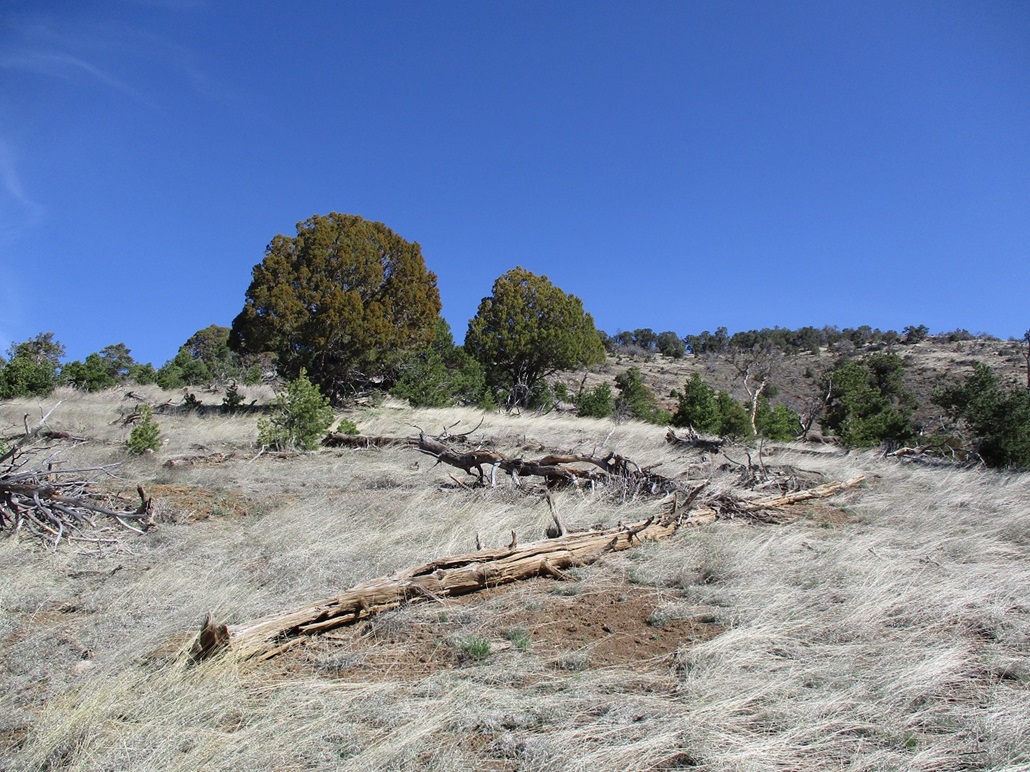 Lower slopes of L. S. V. M.
&nbsp


A tree uprooted
&nbsp


More tree DFOs
&nbsp


Summit, with Sitgreaves Mountain in back
&nbsp


Descending, now looking over at Bill Williams Mountain
&nbsp

Wildcat Hill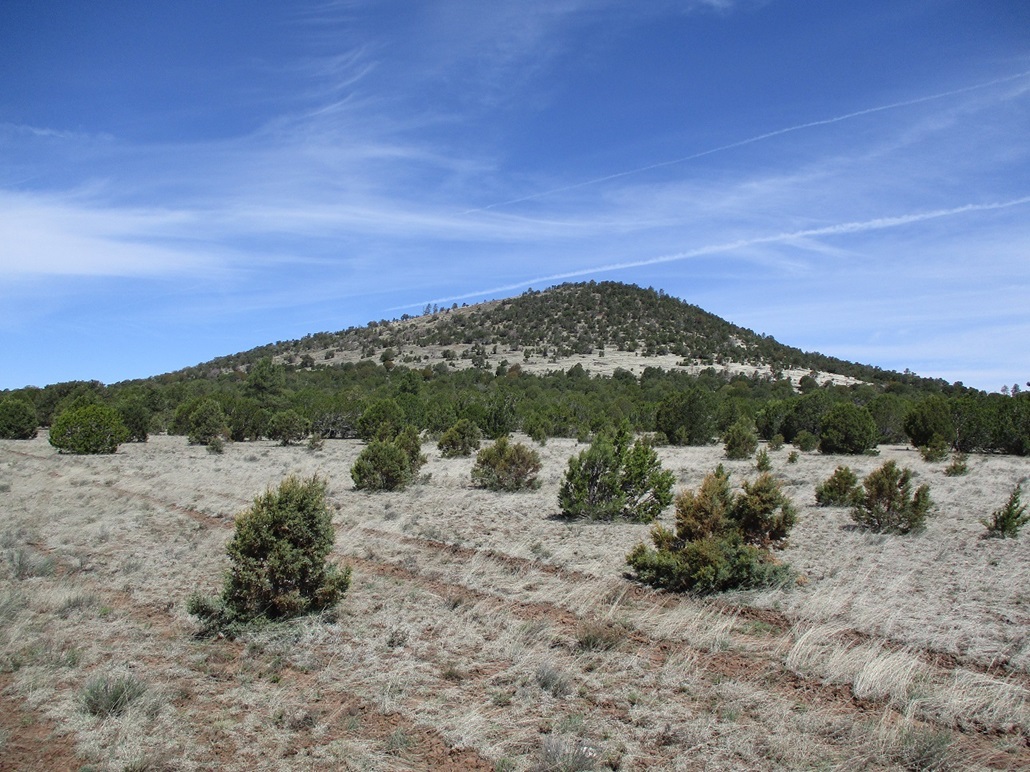 Wildcat Hill
&nbsp


Summit of Wildcat Hill
&nbsp

Horse Trap Hill

Horse Trap Hill
&nbsp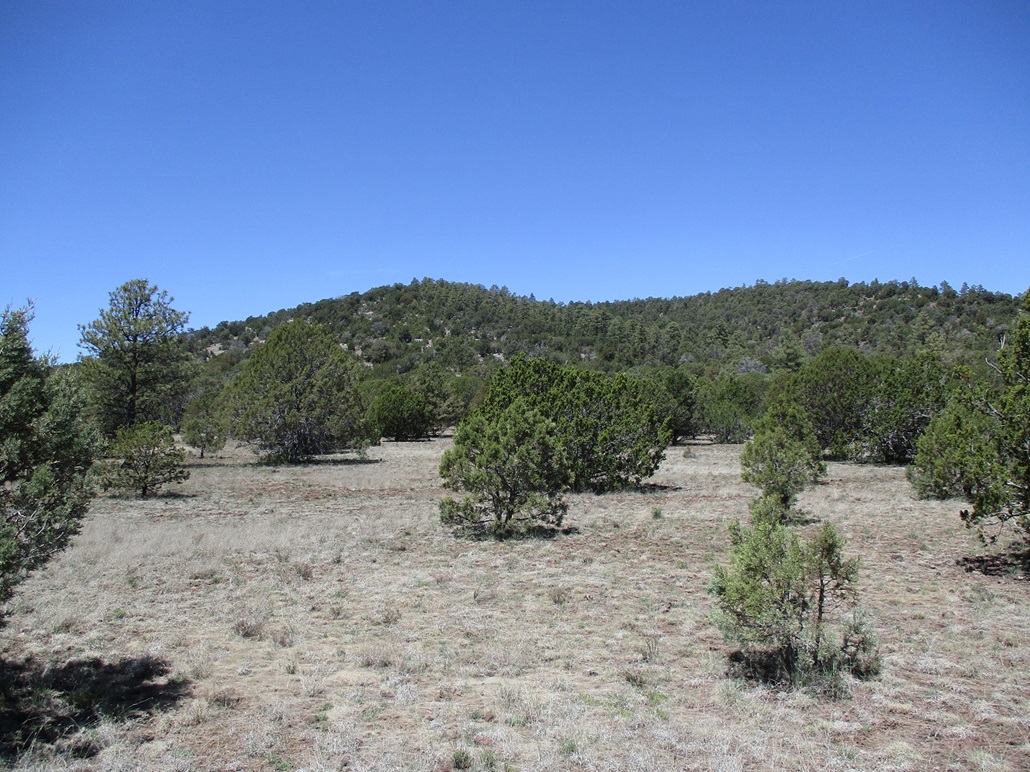 At the base of the hill now
&nbsp


Summit
&nbsp


Summit cairn and Bill Williams Mountain in back
&nbsp


Wildcat Hill as I walk back to my car
&nbsp

All images
• • •

The Arizona
Mountains Gazetteer
Click to find out more!
San Francisco Volcanic Field
Little Spring Valley Mountain • Wildcat Hill • Horse Trap Hill
This was the second day of a two-day getaway to the high country, the weather being perfect now for these kind of adventures. I spent yesterday in and around the Grand Canyon, climbing Cedar Mountain then later, Colton Crater. I then drove into Flagstaff to get some groceries and figure out what I wanted to do next.
I had no particular agenda in mind. I was going to camp for the night but it was cold and very windy, which would have made sleeping on my cot in the open rather uncomfortable. I found a cheap old-style motel from the Route-66 days and stayed there for the night. I watched "The Force Awakens", the Star Wars movie from 2015. I had not seen it yet.
Looking at maps, I chose to tackle a set of three hills in the Spring Valley area west of Flagstaff, north of Parks. I was here a week ago, and figured this would be a good chance to visit more peaks in the area. The three on my new agenda were Little Spring Valley Mountain, Wildcat Hill and Horse Trap Hill. They lie in a line about five miles east to west, with decent road access.

Little Spring Valley Mountain

• San Francisco Volcanic Field
• Kaibab National Forest
• Coconino County

Date: May 6, 2023 • Elevation: 7,900 feet • Prominence: 580 feet • Distance: 2.2 miles • Time: 75 minutes • Gain: 590 feet • Conditions: Sunny and pleasant, very windy
Arizona • Main • PB • LoJ
I left the hotel about 7:30 a.m., headed west on Interstate-40, exited at Parks and stopped in at their neat Texaco for snacks and drinks, then proceeded northbound on Spring Valley Road (Kaibab Forest Road 141). North of milepost-10, the road makes a 90-degree left turn keeping the same name (if staying straight, it continues on toward Highway US-180 as Road 144). I went left. Just ahead was Little Spring Valley Mountain, rising above the trees. The peak was formerly known as Little Squaw Mountain, but its name was changed in September 2022 after all features named "Squaw" were scrubbed of that name. In this immediate area, all such "Squaw" names got renamed "Spring Valley" and its variants.
I followed the main road as it trended southwest past the mountain. Finding a place to pull aside and park was the biggest challenge. The road here has no shoulders. It just has drainage divots on either side making it impossible to ease off the road. I found a very small pullout southwest of the peak and backed in. It was the first good spot I could find. I was about ten feet from the road, but in this case, I had little choice.
I started hiking at 8:05 a.m.. I started into the trees and angled northeast, able to see the peak in breaks within the trees. I just aimed uphill and after a few minutes, was above the trees and on a long open slope that drops south off the peak, off of Point 7802. There was a lot of deadfall on this segment, including instances where a whole tree just seemed to be yanked out of the ground all at once, its root ball in one piece and exposed. It would have taken quite a strong wind to do that.
Speaking of wind: it was very windy once out of the trees and on the more open slopes. Although the air temperature was chilly, mid-50s, with the wind it could be very uncomfortable. I kept moving to stay warm. The uphill hike went well, just steep and loose in spots. I was soon on Point 7802. I cut east across a small ridge to get onto the main ridge and to the top. There was no trick to this, but the fallen trees forced me to curl around them, adding distance.
The top was bare, ringed by a couple trees, with excellent views. The best views were south and southwest, toward Sitgreaves and Bill Williams Mountains. The day was bright blue and clear other than a couple random tiny clouds. But it was windy. I walked the breadth of the summit, did not find a cairn or register, and started right back down.
I retraced my route exactly, and was back to my car at 9:25 a.m., a one-hour and fifteen-minute hike covering a shade over a mile each way. The hike had gone well and I was happy to be successful on my first peak of the day. Back at the car, I relaxed briefly, then started driving to my next objective, Wildcat Hill.

Elevation: 7,542 feet • Prominence: 542 feet • Distance: 3 miles (combined with Horse Trap Hill) • Time: 2 hours and 45 minutes (combined with Horse Trap Hill) • Gain: 540 feet • Conditions: nice but windy
PB • LoJ
I drove southwest a couple more miles on Spring Valley Road (FR-141) to a lesser track, Kaibab FR-260 on the map, FR-310 in the field, signed for "Laws Tank" or something like that. Remember, the lesser road numbers on the Kaibab do not match what's shown on the maps. All references here are based off what's shown on the map.
I went north on this road, a fine road that got a tiny bit bumpy about a mile in. Wildcat Hill stays hidden until the road comes out into a meadow. The road then bends west briefly. Here, two tracks branch off, one to the southwest, one west, while the main road bends north again toward Laws Spring/Tank/Hill. I took Road 240 (map), heading west. This road was in good shape too. I drove it a mile, to where FR-243 branches north. This final road got rough fast, and I parked in a clearing amid the junipers. My Subaru Forester handled these roads well, there being no big rocks or barriers like that. The roads looked like the kind that could get muddy fast when it rains. Road 243 was heavily rutted, much too much for what my Subaru could handle.
From where I parked, Wildcat Hill's summit was less than a mile to the northeast, and Horse Trap Hill's summit about a mile to the northwest. I decided to climb them both on one long hike, with Wildcat first up.
I followed Road 243 north about a half mile to a first junction, staying right, then followed that to another junction, staying right again. The map calls it Road 294. I followed this road south as it bent in toward the hill, into the little basin hemmed in by the two lobes of Wildcat Hill's summit ridge. I kept to the road as far as it would go. It got surprisingly high up on the flank of the southern lobe of the ridge. There was evidence that the road may have gotten as high as the ridge itself. Once on the ridge, though, some rock outcrops block any further hopes for a road. For walking, it was perfect. I got most of the elevation gain done this way.
On the ridge, I angled upward, poked my way through the lower rock band, then up more slope and fallen trees to the summit, which was rocky and partially covered in fallen trees. I found a cairn and a Lilley-MacLeod register therein. I signed in, the first for 2023 apparently. I had decent views to the south, looking at Sitgreaves and Bill Williams Mountains. I also had a good view of Little Spring Valley Mountain, framed neatly by snowy Humphreys Peak. I sat for a few minutes and had a snack, but the wind was heavy, which prompted me to keep moving. I did not carefully track times, but it didn't feel like more than a half-hour to get here, maybe 40 minutes.
I hiked down the same way, coming back to that first junction, which essentially ends this climb of Wildcat Hill and begins my ...

Elevation: 7,393 feet • Prominence: 333 feet • Gain: 340 feet • Conditions: windy
PB • LoJ
... climb of Horse Trap Hill. I walked the road a little more until it felt right to leave it, now aiming directly for the base of the south slope of the hill. The forest was more open down low, not as many big trees and spaced out nicely. As the slope increased, things got a little more dense, a lot more downed crud, things like that. It just meant having to zig and zag more often than not.
After twenty or so minutes, I was on top, more or less. Like all the mounds out this way, the top is a c-shaped ridge where it's not often easy to tell where the highpoint is exactly. I got to where the map has the 7,393-foot spot elevation (and the presumptive highpoint) at the south end of the ridge, but with the trees, I couldn't be sure it was definitive.
I hiked a few hundred yards north along this ridge, just taking it slow. I kicked a few rocks. When I felt I had gone far enough, I walked back to the 7,393-foot spot and agreed it is probably the actual highpoint. I found a register in a cairn atop a rock beside a fallen tree. It was placed here just a couple years ago by the Roaches and I was the first to sign in for 2023.
I took a moment to sit down and relax, and look around. Views were good to the west and south. The winds stayed strong whenever I was on a ridge like now. This humble hill also marks my 700th ranked summit climbed within Arizona. Counting my wandering and sitting, I spent about 15 minutes atop this hill.
I hiked down the same way, getting back onto the tracks and then back to my car. It was 1 p.m. now, and this two-peak hike had taken me just under three hours to hike. With yesterday's hikes and today's earlier hike, I had hiked about 16 miles and I could feel it. I changed into more comfortable clothes and did nothing for about a half hour, just enjoying the warm sun in my camp chair. Now it was time to go home.
On the exit, I continued westbound on Spring Valley Road to where it connects to state route AZ-64 north of Williams, then into Williams. I went slow and looked at other peaks in the area. Just before the road meets with Highway AZ-64, it passes beneath two nearly-identical peaks, the southern one with a home atop it! In fact, it can be viewed online.
I try to vary things up, so this time I drove out following Perkinsville Road southbound, then a branch into Drake, which is just a big cement factory, where I caught highway AZ-89. I had not driven this stretch myself in many years, and there was zero traffic on it.
Once back on the numbered routes, I just went with the flow, southbound toward Prescott, taking the bypass and catching the interstate into Phoenix. Traffic moved well considering it was a Saturday. I was back in Tempe by evening, an end to a fun and tiring six-peak outing.