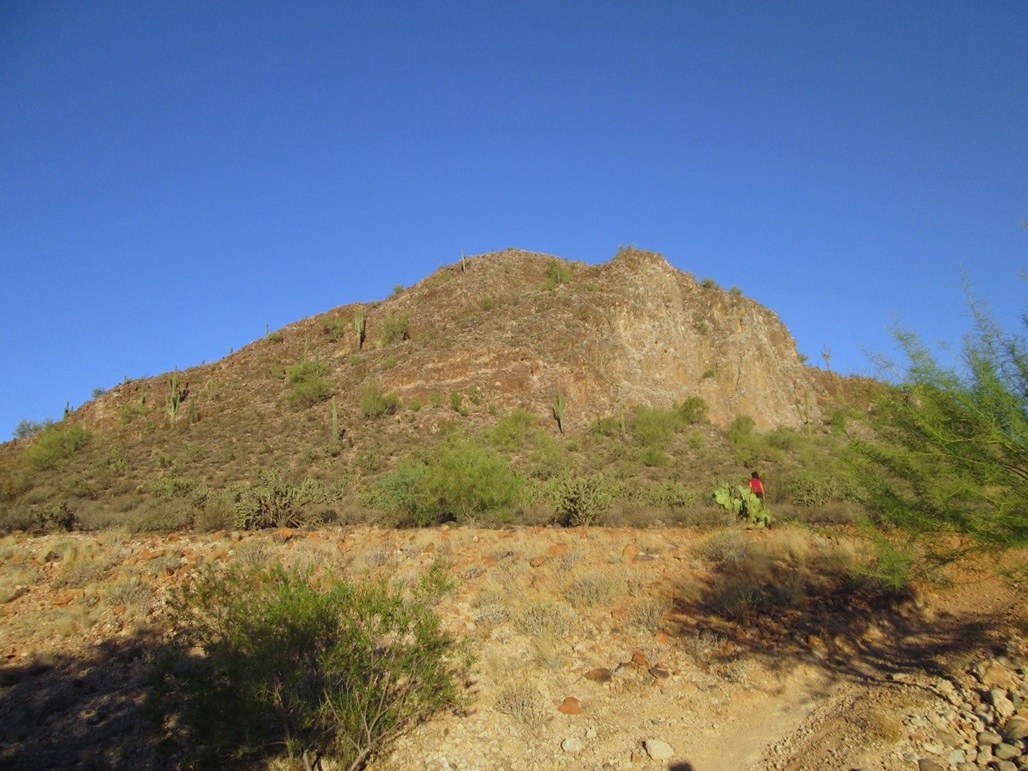 Calderwood Butte from the 99th Avenue Trailhead
&nbsp


Saguaros stand on the steep hillside
&nbsp


The top up ahead
&nbsp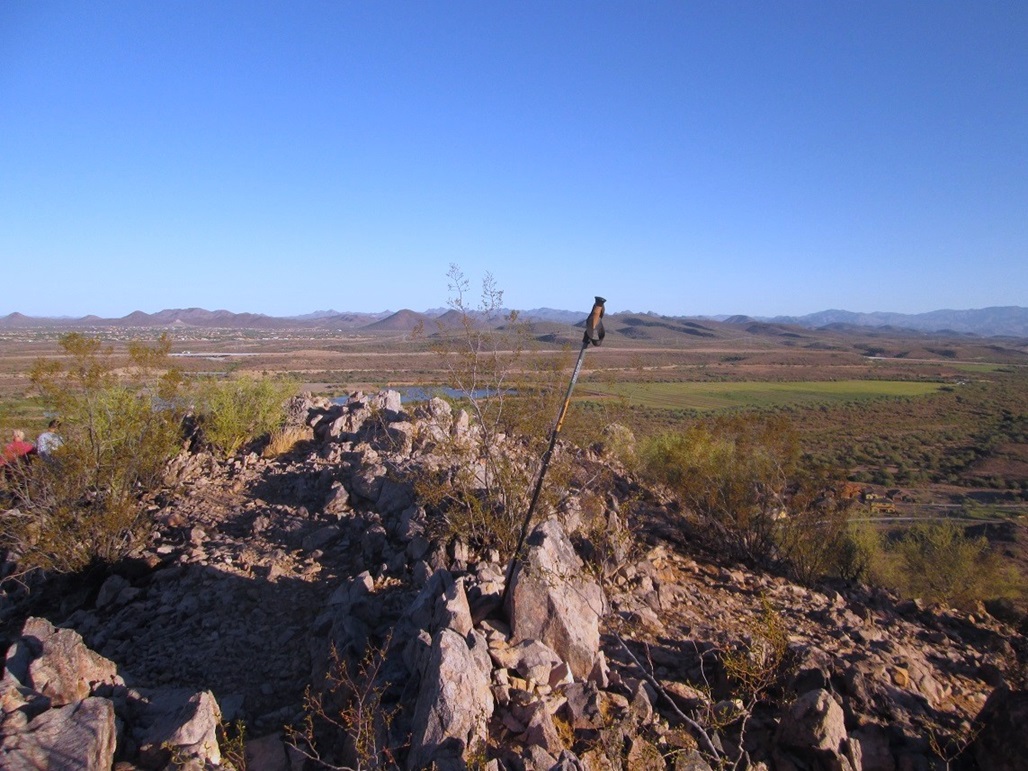 My hiking pole at the top
&nbsp


Southwest view of the ridge that comes from that way, with the White Tank Mountains in back
&nbsp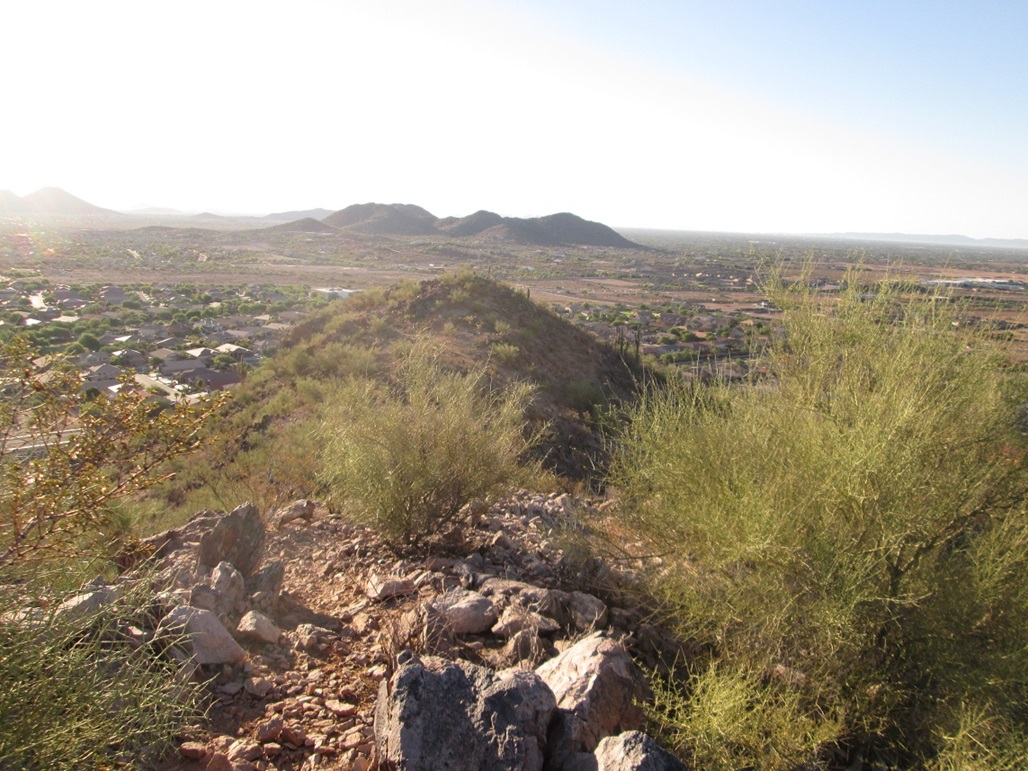 Southeast view toward Sunrise Mountain and the morning sun
&nbsp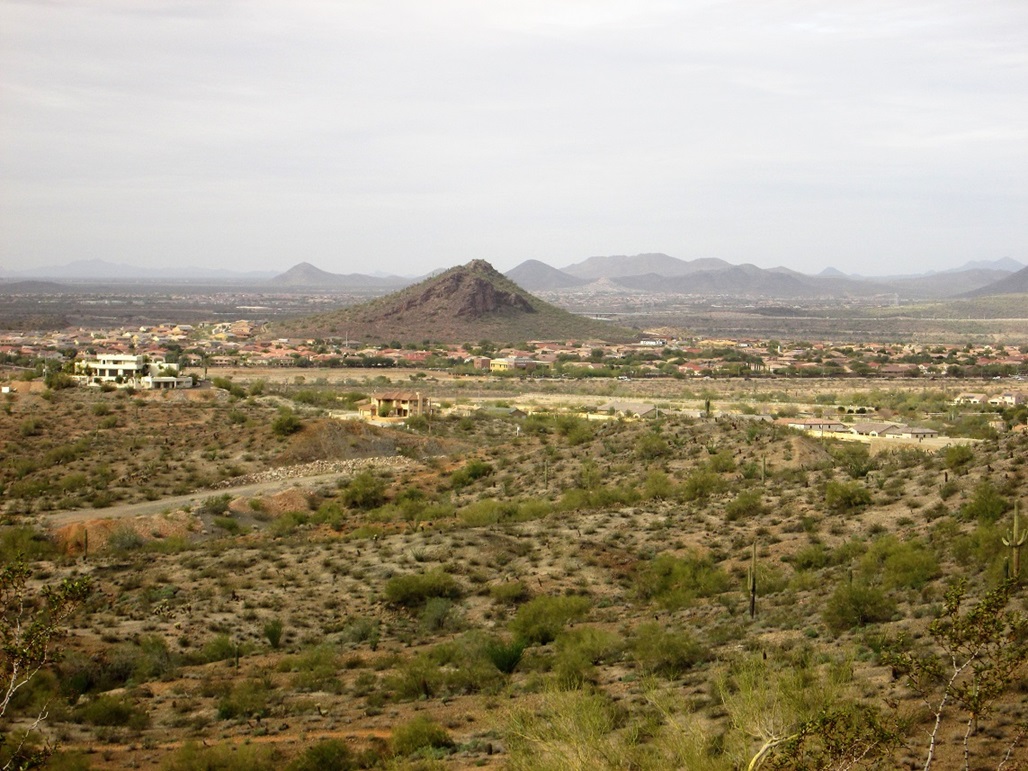 Calderwood Butte from Sunrise Peak, Jan. 2017
&nbsp


From the trail along North Thunderbird Peak, view west toward Sunset Mountain, Calderwood Butte (below the horizon line) and West Wing Mountain
&nbsp


Summit way up ahead
&nbsp


Summit not that far
&nbsp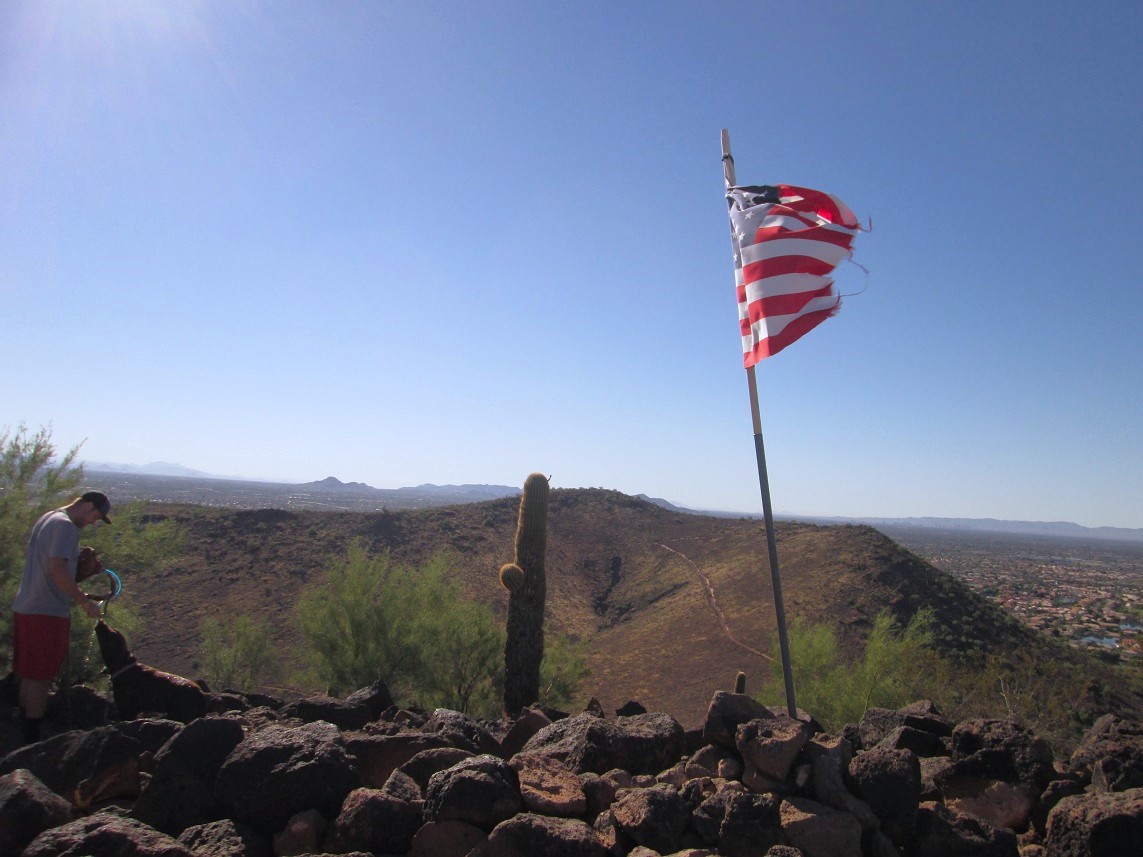 The top, plus a guy giving his dog a drink
&nbsp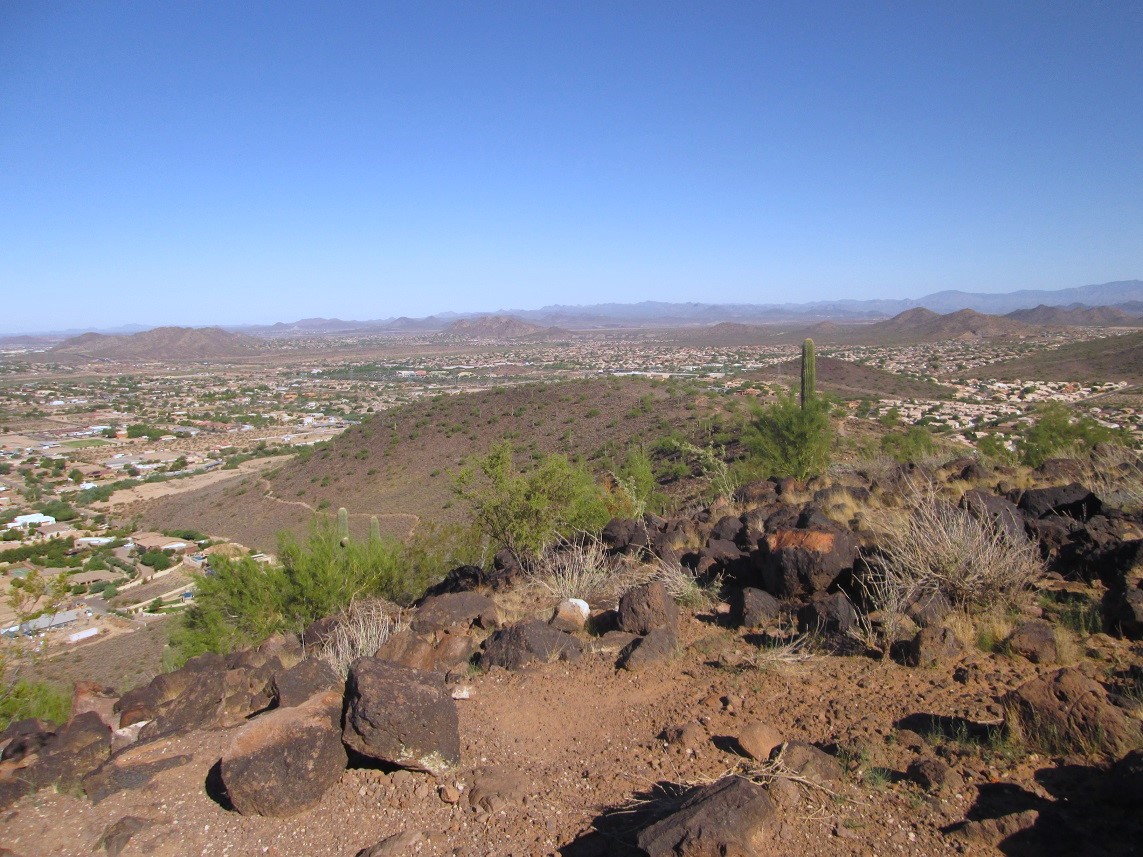 View northwest of the trail I hiked
&nbsp


Summit as I leave, now heading east


All images
• • •

The Arizona
Mountains Gazetteer
Click to find out more!
Agua Fria River Hills
Calderwood Butte • North Thunderbird Peak
During the hot summers, I like to keep a few short hiking options open, and in recent years, have identified a number of little bumps in the metro-Phoenix area that I can "climb" without too much effort or time. For one thing, I had no idea how many such bumps we have here in metro-Phoenix. There are dozens, going by the minimum 300-foot prominence rubric. Many are developed into city-run parks with trails.

Calderwood Butte

• Agua Fria River
• City of Peoria
• Maricopa County

Date: September 4, 2016 • Elevation: 1,703 feet • Prominence: 303 feet • Distance: 1.4 miles • Time: 35 minutes • Gain: 310 feet • Conditions: Pleasant • Teammates: Other random hikers and their dogs
Calderwood Butte is one such hill, located in Peoria, roughly near Jomax Road and 99th Avenue. The Agua Fria River runs along the base to the west. In recent years, a lot of new homes have been built surrounding this little peak. A small parking lot on 99th Avenue serves the trailhead.
I left home early and was here a little before 7 a.m., the sky a sunny blue but, surprisingly, the air temperature rather nice, instead of already hot. My new Subaru's thing that tells temperature had the outside temperature as 75 degrees, which is great for this time of year. I got here by following AZ-101 (Loop-101) to Interstate-17, then Happy Valley Road west a few miles to Lake Pleasant Parkway, then to Jomax and then 99th Avenue. The drive covered 30 miles.
I parked, got my shoes on, and started walking at 6:50 a.m., following the trail up onto the east slope of the butte. The trail angles left (south) then switchbacks up the south-facing slopes, gaining the top ridge after about 250 feet of elevation gain.
On the ridge, the trail drops slightly to the other side, bends left (west) and rounding a ridgebump, the top is in view up ahead. The one-way hike took me 15 minutes, covering about 7/10 of a mile. Four people and one dog were already on the summit. I spent about five minutes looking around. The weather was really nice.
The day was clear with almost no humidity. I don't get out this way much, so identifying all the little hills is kind of tough. The big White Tank Mountains were to the west, and all sorts of hills and peaks up north toward Lake Pleasant.
The hike down went quickly and I was back to the car at 7:25, a 35-minute hike. This hike had gone better than planned. First, I did not expect it to be as short as it was. Second, the weather was so nice, I still had energy for more walking. It seemed silly to drive 30 miles for such a short hike, so I looked for another hike in the area.
Nearby are two more significant hills, West Wing Mountain and Sunrise Mountain, with both trailheads at West Wing Park near 83rd Avenue. I drove there, parked and thought about hiking Sunrise, and got as far as a few hundred feet into the hike. Then I decided not to bother. Instead, I will save these two peaks for one single journey later when it cools some more.
Instead, I drove a little more west and south to hike in the Thunderbird Conservation Area.

North Thunderbird Peak

• Hedgpeth Hills
• City of Glendale
• Thunderbird Conservation Area

Elevation: 1,831 feet • Prominence: 381 feet • Distance: 4 miles • Time: 90 minutes • Gain: 550 feet • Conditions: Pleasant and warm, but not too bad • Teammates: Other random hikers
PB
This hill is in Glendale, part of the Thunderbird Conservation Area, where 59th Avenue and Pinnacle Peak Road meet. I was here three years ago when I hiked Thunderbird Peak, the slightly-higher hill immediately to the south. I don't think these hilltops have official names. I call this one "North Thunderbird Peak".
I had driven from Scottsdale to hike Calderwood Butte, a few miles to the east. That hike was shorter than I expected, and the weather was much nicer than I expected. Having time on my hands, I sought a second hike, and decided to come here and hike this little hill. The hill itself is nothing special, but it does feature a 4-mile loop trail called the Cholla Trail, which looked interesting.
I parked at the small lot near the 59th Avenue/Pinnacle Peak alignments, arriving here about 8 a.m.. The weather was sunny and cloudless, but dry. The temperature was about 85 degrees, but with the low humidity, it was very comfortable. I packed light and was walking within moments, choosing to follow the Cholla Trail in a clockwise orientation.
The trail stays level and heads on a northwest bearing below a long northwest-trending ridge, covering nearly a mile before bending with the lay of the land, north, then east, now on the north end of the ridge. Here, the trail finally starts uphill, in a couple long and easy switchbacks. I was no on the ridge, heading southeast, the summit of this hill up ahead.
There were a lot of people hiking today, and the weather was staying nice, not zooming into the 100-degree range so quickly as it can do in summer. In a few more minutes, I had achieved the top of this hill, a tattered American flag here amid the rocks at the top. There were people coming and going in both directions. I took a couple photos, but didn't stay long. The one-way hike had covered about two miles.
I continued clockwise, now dropping slowly down a long east-trending ridge, putting one foot in front of the other in a nice rhythm. Soon, I was down off the peak, and just had to hike the trail along Pinnacle Peak Road back to my car. I had been gone just under ninety minutes, covering four miles. By now, it was kind of hot, about 95 degrees. I was pleasantly tired, but pleased with this hike.
With my new vehicle, I did something I haven't done since 2008: I turned on my air conditioner to cool off. It felt great! I drove home, got some groceries, cleaned up and napped, happy to get over five miles of hiking in this morning.