Window Rock is an arch in the sandstone bluffs near Window Rock, the capital of the Navajo Nation. From a distance, the opening looks circular. The four of us (Scott Casterlin, Scott Peavy, Chris Gilsdorf and me) rolled into Window Rock after a short but productive two-day jaunt of hiking big prominence peaks in the Four Corners region. We had just hiked Beautiful Mountain in New Mexico, then followed scenic secondary highways into Window Rock.
Window Rock (the arch) is located about two miles north of the main part of town. Just look into the hills on the east side of Indian Route-12, and the circular opening should be evident. We drove past the Navajo Nation government buildings, and parked. The Navajo Nation has turned the area below Window Rock into a monument honoring members of the Navajo Nation who have fought in the various wars, plus a well-done statue and memorial to the Code Talkers of World War II. The park is small and has concrete walkways. You can't walk up to Window Rock itself, but you can get pretty close.
Afterwards, we had a lunch in town then started the long drive back to the Phoenix area.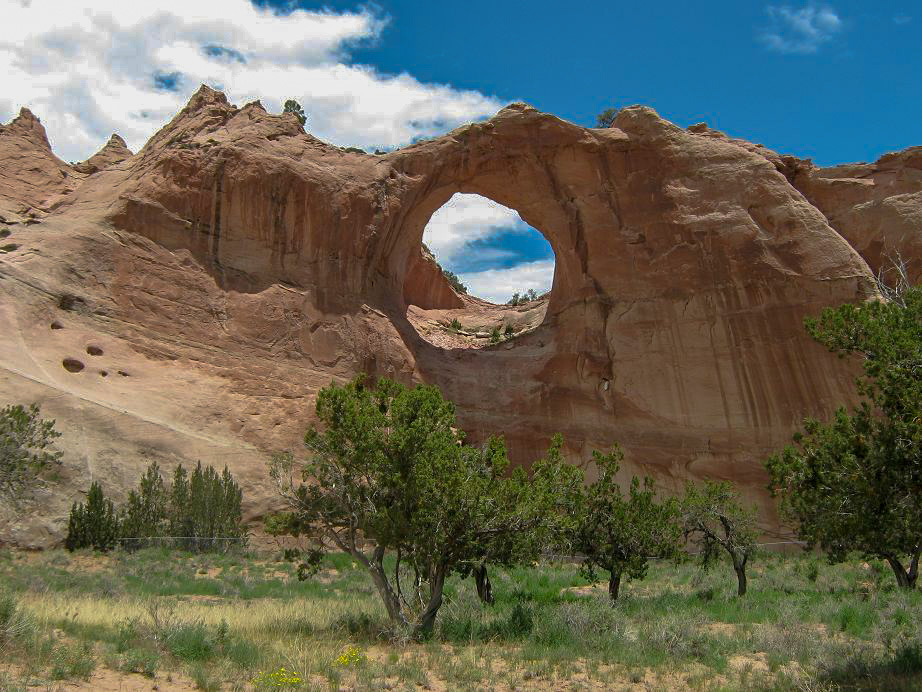 Window Rock

Different angle
Return