Canyon de Chelly is a maze-like canyon cut into the plateaus of the Navajo Nation. The Navajo lived for centuries within these canyons, farming in the valley bottoms and building some adobe and mortar housing structures in the voids of the canyon walls. The most famous is the "White House". The canyons offered excellent protection from outside forces, many of which simply got lost when trying to enter. Even famous Indian fighter Kit Carson had a tough time managing the canyons.
In the 1860s, he was able to conquer, so to speak, the remaining Navajo by using a siege approach, instead of direct fighting. The Navajo were then relocated to a new "home" at the Bosque Redondo in New Mexico. Many died on the long forced march to New Mexico, and Carson himself became a somewhat unlikely ally, realizing that forced relocations cannot and never would work. In his later years he championed for reservations on traditional homelands. The Navajo Nation was established in c.1882, including much of their traditional homelands. As usual, there is so much more to these stories than the five-line precis presented here, so please follow up.
Today, Canyon de Chelly is a Navajo Park, and tourism into the canyon is allowed on a limited basis. You approach "topside" from Chinle. It seems like you're driving over flat featureless plateau and desert, until the big canyons start to appear. The network of canyons here is incredible, and the portion open to tourists comprises maybe 5% of the whole system. It's possible to take a Jeep tour into the bottom via local outfitters. Otherwise, the only open route is a short, interesting hike into the canyon, leading to White House.
I was here in 1993, and we returned in 2004, a day after we hiked Black Mesa. We had stayed last night in Chinle, then spent most of today at Canyon de Chelly. We hiked the trail into the canyon. The trail is hewn into the sandstone, and although it is very safe, it is also steep and exposed and we saw some people simply stop in their tracks at some sections. At worst you may have to friction-walk down exposed slopes. Once into the canyon bottom, the route follows the sandy braids past some fenced plots of vegetables or sheep. People live down here, and you'll be walking within feet of their backyards at times. After maybe a mile and a half, the route ends at the White House. You can only view it from below, but it is remarkable. Our photos do not really show its size or grandeur. We spent 20 minutes down at the bottom, then walked back up to our truck. It was pretty warm, about 100 degrees when we were finished. We spent time driving up and down the roads to other overlooks, then began our journey home.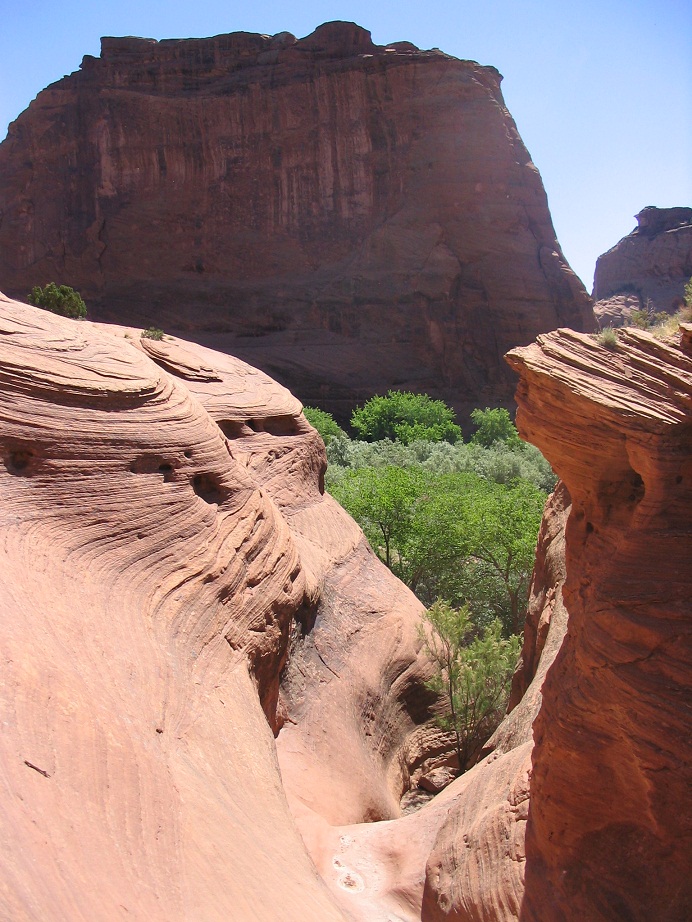 Sandstone formations

Into the canyon

A broader view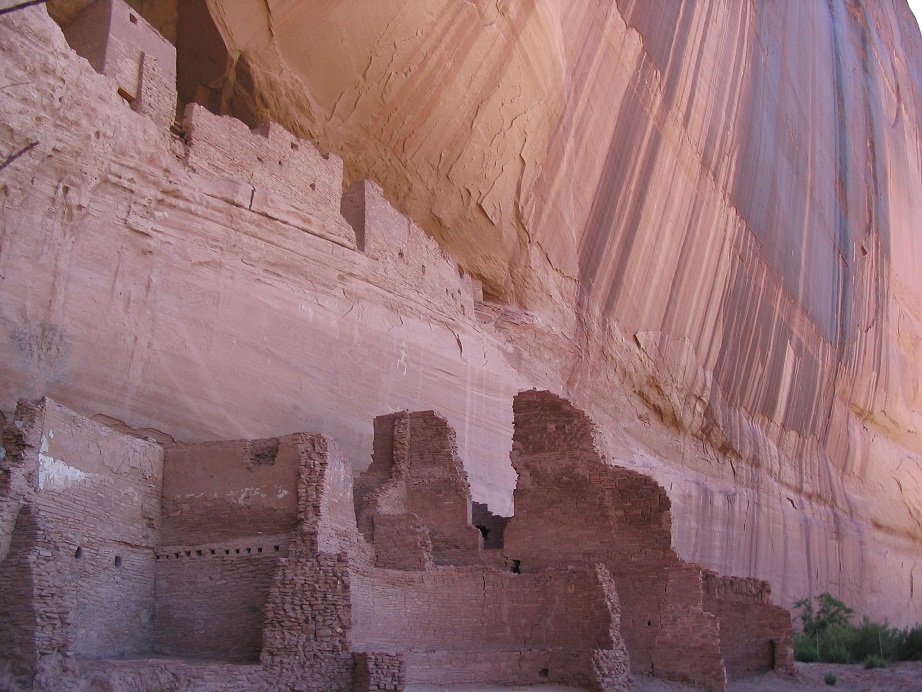 White House

White House
Return
&nbsp