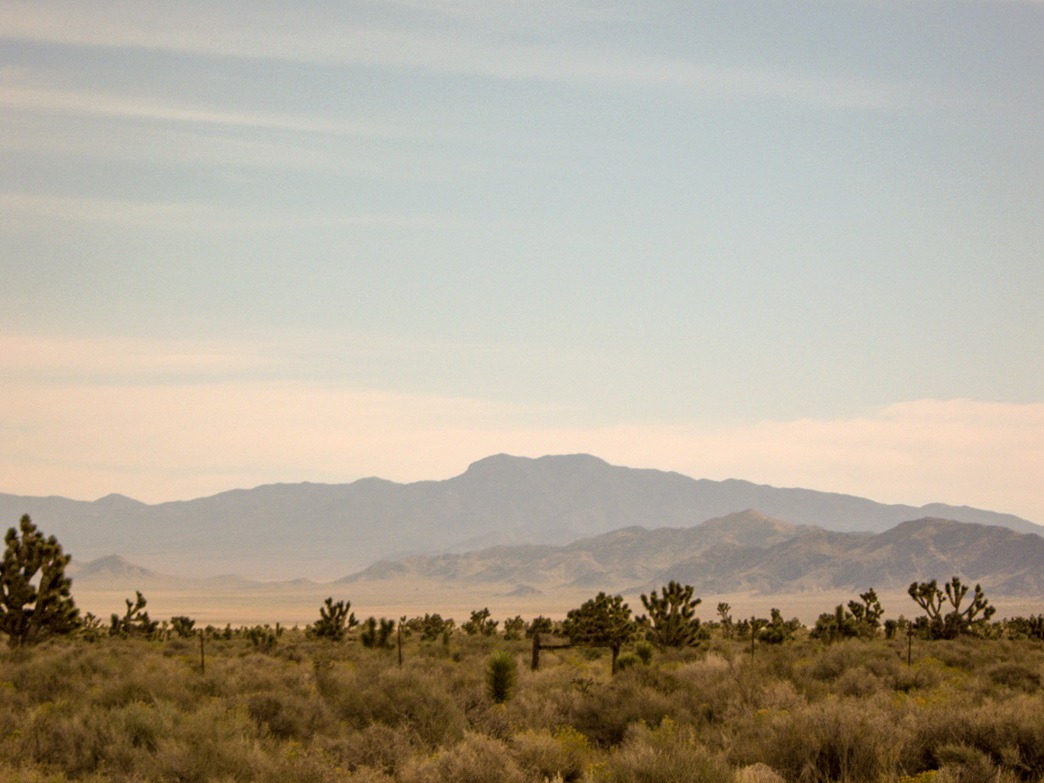 View of the Highland
Mountains from US-93
south of Caliente

My truck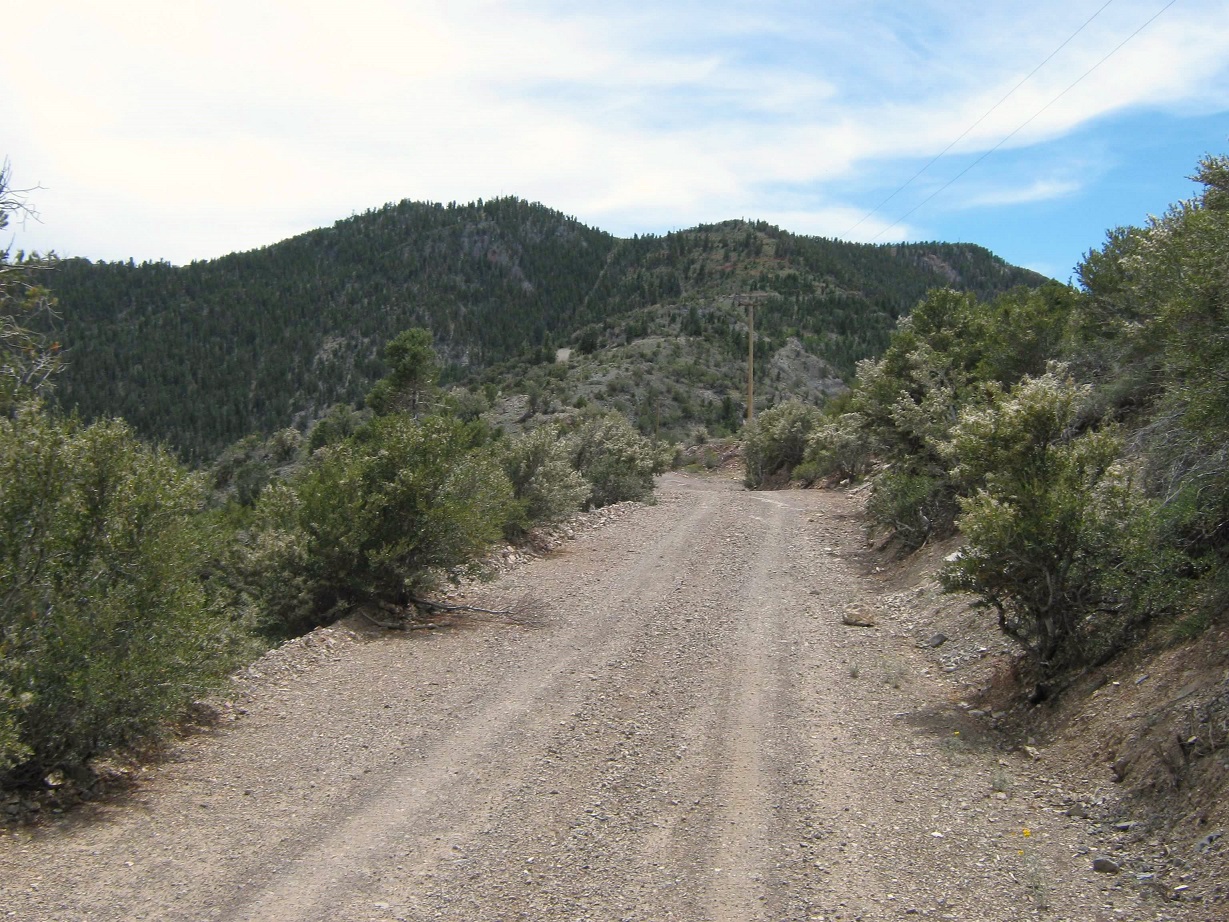 First part of the road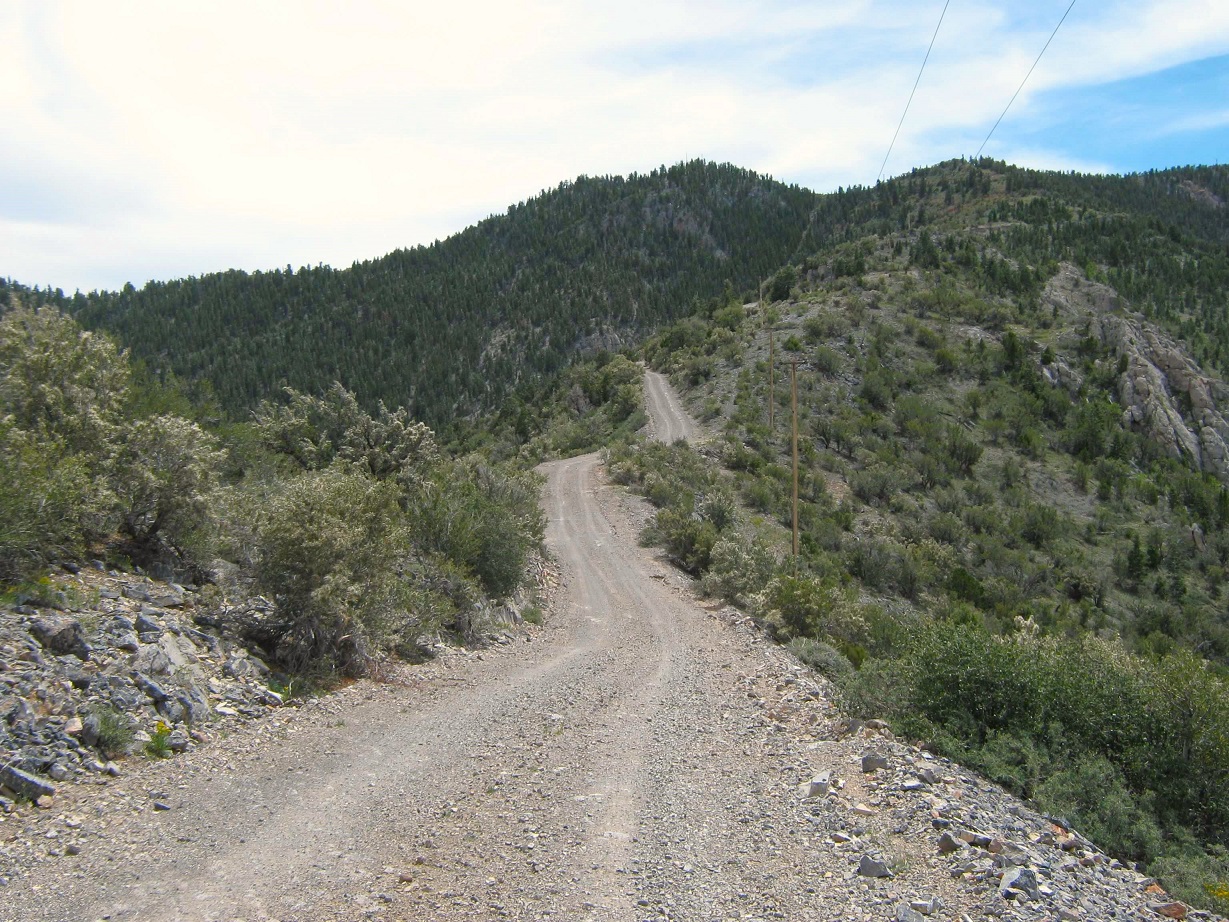 Here, the road is
astride the range crest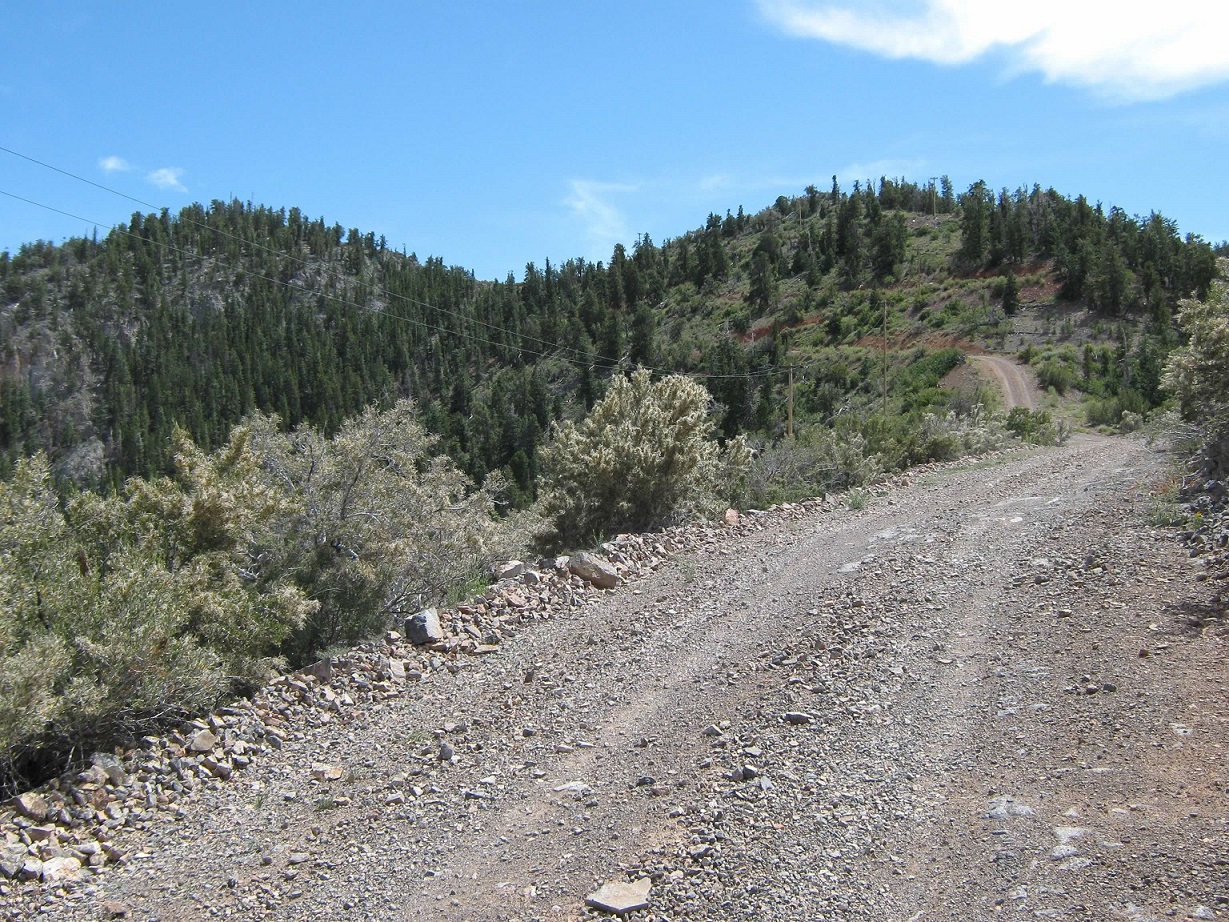 Starts to twist and turn

Summit yonder

The towers...

...and the actual top

Looking back at my route
Date: August 3, 2009 • Elevation: 9,395 feet • Prominence: 3,275 feet • Distance: 4 miles • Time: 2 hours & 45 minutes • Gain: 1,250 feet • Conditions: Warm and clear
Nevada • PB
Highland Peak is near Pioche, Nevada, a small mining town about three hours north of Las Vegas. I had two peaks on the agenda: Mount Wilson, east of Pioche, and Highland Peak, west of Pioche. Both peaks are big and broad, with communications towers and good roads leading to their summits. Thus, in both cases, I would be hiking along the roads. This was by design, as I was nursing a badly-strained ankle from a month ago and could not walk on rough terrain.
I left Henderson before dawn this morning, arriving to Pioche at 9 a.m.. I first headed east and drove to Mount Wilson. That hike was short, taking just three hours. I was back in Pioche at noon, now setting my sights on Highland Peak.
I located myself at the junction of US-93 and state route NV-320, north of Pioche. I followed NV-320 south for 2.5 miles, then west on a graded dirt road, the main road into the range. I went in 1.5 miles to a Y-junction. I went right, the road called Power Line Road. It became clear this was not the right road, but I had the pleasure of watching two wild horses jogging alongside the road as I exited.
Back to the Y-junction, I followed the other road down and up an arroyo, past a garage building, then south and west up Anderson Canyon. Many side roads cross this main road, but the main road is always obvious, including power lines that line this road for much of the way into the canyon. The road narrows but is still good, coming to a sharp right bend 2.8 miles from the Y-junction. To me, getting to this point was important since I had assumed this would be as far as I could get safely, mentally preparing myself to hike from here if need be. This bend is at 7,700 feet and about 3 miles from the summit.
To my surprise, the road looked good, so I continued on, driving up 4 or 5 switchbacks to a flat stretch of road at elevation 8,150 feet. It was 1 p.m., and the weather was warm and still. I planned to hike this peak early tomorrow, but it was still early in the day and I was higher up (and closer) than I figured I would get. So I elected to hike the peak now, not tomorrow.
I was already dressed for the hike, so all I needed to do was put water bottles into my pack, lock everything up, and go on my way. It was warm, about 80 degrees, but with no breeze and lots of insects. Along the way, I took a couple of breaks, enjoying a soft breeze that came up once I was on the main range crest. The road sometimes dropped onto the west-facing slopes, which featured a little more greenery and stands of pine, while the east-facing slopes featured more desert-like scrub, a localized "rain shadow" effect.
The road crests a pass north of the summit, at which time the towers on the summit ridge come into view, and behind them, the rocky highpoint. I arrived on top in 1 hour, 40 minutes, a gain of about 1,250 feet covering two miles. My ankle was feeling good. I walked past the last of the communications towers to the summit, where I sat and took a break. Not surprisingly, I had all four bars on my cell phone's thing that tells signal strength. I sent texts to my wife and folks letting them know I was alive. Irish Peak, Chokecherry Peak and big Troy Peak were to the south and west. Mount Wilson was to the northeast. Off to the north was mighty Wheeler Peak. I had commanding views in all directions.
On the hike down, I inspected a small hump of rock along the road that looked like it could be as high as the presumptive highpoint, but it was clearly lower after sighting back. I did not visit the slightly lower, more forested points on the north end of the ridge. My hike back to my truck took an hour, and my ankle did fine but rolled once within the first few steps, but fortunately I caught it and nothing bad happened. I was back to my truck slightly before 4 p.m., happy to have completed Highland Peak today and pleased the road had been so gentle. In fact, I could have driven the road all the way to the top. This was one of the better dirt summit roads I have ever been on.
I carefully drove down the switchbacks and back to Pioche, looking to stay at its one historic hotel along its main street, but they wanted a small fortune for it. Instead, I walked up and down the main street, getting photos and reading the historic signs. I drove to nearby Panaca to get gas, food and drinks, then stayed the night at Cathedral Gorge State Park, where they had a good campground and showers, plus being a Sunday, no one was there. I hiked the canyons and slots the next morning.
Images of Pioche, Nevada
| | |
| --- | --- |
| Elevated view of Pioche | Sign in Pioche |
| Main Street | Old mining apparatus |
Things had gone well for me today, and I had completed both hikes in one day instead of two, giving me an open date for tomorrow to laze about, do some explorations and make the easy drive to St. George, Utah. A couple days later, I hiked Scrub Peak near the Utah-Nevada border.