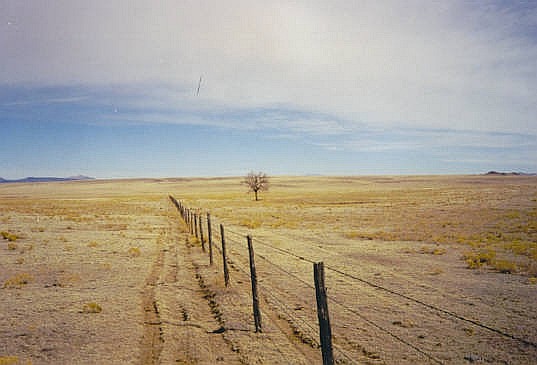 A lonely tree, a fenceline
stretching to infinity
&nbsp


Sugarloaf Mountain
&nbsp


Loma Alta
&nbsp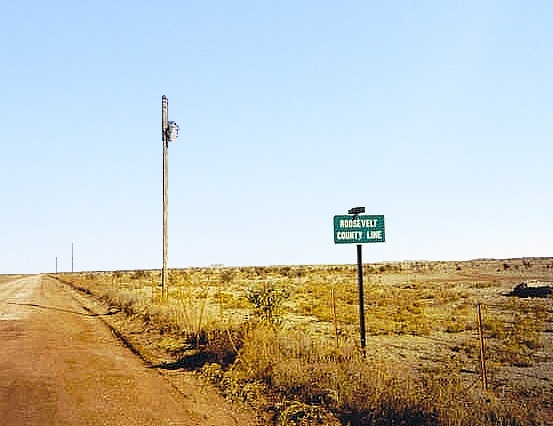 Roosevelt County Line
sign, the highpoint is
to the right somewhere
&nbsp


Lea County
&nbsp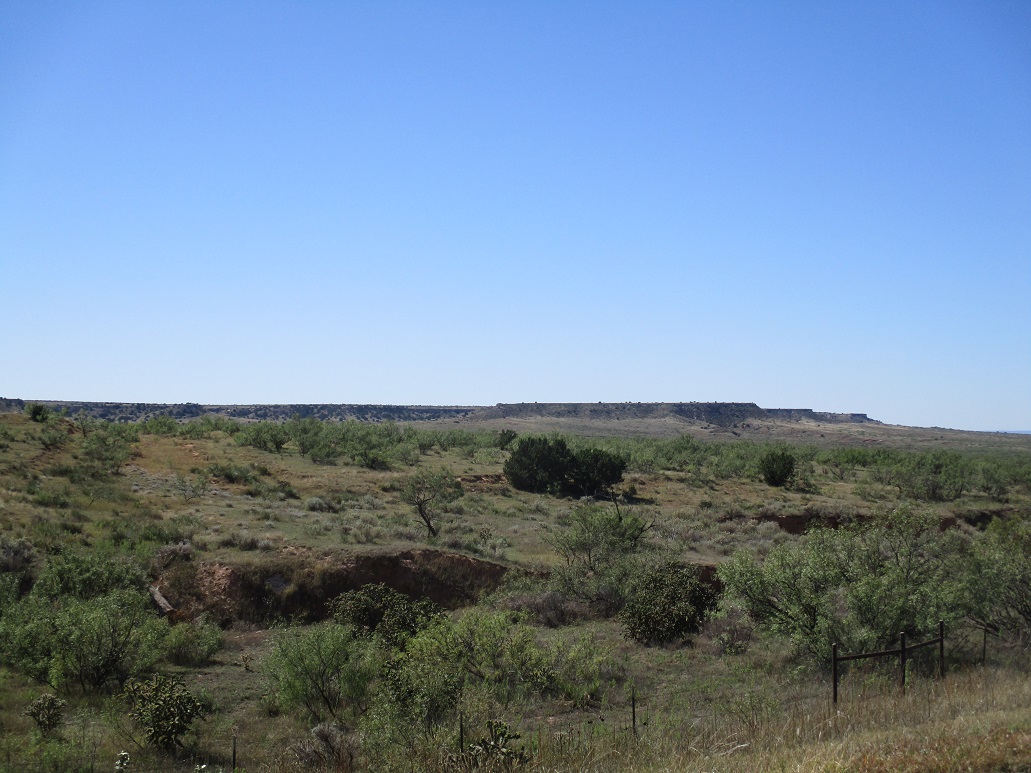 Northern cliffs of the Llano Estacado near San Jon
&nbsp

County Highpoints of Eastern New Mexico
Sugarloaf Mountain • Curry County Highpoint
Luciano Mesa • Roosevelt County Highpoint
Loma Alta • Mescalero Ridge
Yesterday, I drove from my home near Phoenix all the way to Albuquerque, where I hiked (and "trammed") up Sandia Crest. With plenty of daylight still, I drove Interstate-25 to the town of Las Vegas and stayed the night at a hotel. This put me in good position for today's adventures: a quintet of county highpoints, all on the eastern plateaus of the state.
Only two would require any actual hiking, Sugarloaf Mountain, which I hiked first, then Loma Alta, which I hiked at the end of the day. The three in between were drive-ups, with minimal wandering in the flat brush needed to claim the highpoint. These middle-three lie atop the Llano Estacado Plateau ("Staked Plains"), a giant landform that straddles eastern New Mexico and Texas. The top of this plateau is flat, but its sides can feature cliffs a couple hundred feet high, such as those that border Interstate-40 near San Jon.
Sugarloaf Mountain

• Highpoint: Harding County
• Kiowa National Grassland
• Raton Mesas

Date: March 15, 2000 • Elevation: 6,455 feet • Prominence: 360 feet • Distance: 4 miles • Time: 1 hour • Gain: 400 feet • Conditions: Clear but cold and brisk
New Mexico • PB
Sugarloaf Mountain is a volcanic mound in the plains of Northeast New Mexico. It lies by itself, one of many singular mounds, collectively called the Raton Mesas, that dot this corner of the state. The small peak lies within one partition of the Kiowa National Grassland. Not many people live this way. Sugarloaf Mountain is also the highest point of Harding County, which has less than a thousand residents.
This morning started cold, temperatures about at freezing. The day was mild and still, but with a layer of clouds and a steely look to the sky. Later, the sun would pop through but for now, it was cold and gray. I drove to Springer, then followed state route NM-56 east to the locale of Gladstone, which consisted of just a few scattered homes and one small store.
From Gladstone, I followed Union County Road 1 south, all the while being chased and barked at by a local dog. I followed CR-1 a number of miles southwest until it became Colfax County Road 37, which tranded west. I parked due north of the peak, now visible to the south of CR-37. I found a spot to stash my truck off the main road.
From where I parked, I followed a pair of tire ruts southeast for a half mile, until they petered out in the grass. I aimed for a single tree off in the distance, another half mile away. Once at this tree, I was now near a corner of two fencelines (near spot elevation 6148 on the map). I went south along one fence, then hopped over a fence going east-west. By now, I was close to the peak.
The last half mile was up easy slopes strewn with football-sized lava rocks, making footing a chore. But I was on top quickly, a half-hour hike. The views were surprisingly good: I had a cat-seat view of the surrounding grasslands and the little bumps rising up from them. To the west were the snowy Sangre de Cristo Mountains. I spent ten minutes up top, but it was cold if I stayed still.
I followed the same route out, and was back to my truck in 20 minutes. The hike was a complete delight and one I recommend. I'd like to go back some day and see if that lonseome tree is still there.
Curry County Highpoint

• Highpoint: Curry County
• Llano Estacado Plateau

Elevation: 4,792 feet • Prominence: none • Distance: 0.1 mile • Time: 10 minutes • Gain: 5 feet
PB
The highpoint of Curry County was the second of five I would visit today. The highpoint itself is imperceptible to the eye, located at the northeast corner of the county where two ranch roads intersect.
From the north, I drove into the town of San Jon along Interstate-40, then south up the steep bluffs that form the northern boundary of the Llano Estacado, a flat plateau extending over most of eastern New Mexico and parts of Texas.
I followed state routes NM-39 and NM-469 through the town of Wheatland, then east along NM-275 to the Curry County line at Curry County Road 0 (as in zero). According to the map, the county line runs down the center of this road. I went north on Road 0 for two miles to a junction, where Road 0 ended. An east-west road picked up here, but the eastbound segment was gated. I was at the northwest corner of the county, at the presumed highpoint.
Visually, it looked flat. Nothing stood out, and I had to trust the maps. The 7.5-minute topographical map shows a spot elevation of 4,792 feet at this corner, inside a 4,780-foot area extending east about 0.7 mile. All that meant was that the highpoint could be here, or as far as 0.7 miles east. To bolster my confidence, the 1:100,000 topographical map, marked in meters, shows a 1,460-m contour running very close to the northwest corner. Thus, I stayed close to the corner, stepping on berms and mounds, but did not venture farther east so as not to trespass.
Luciano Mesa

• Highpoint: Quay County
• Llano Estacado Plateau

Elevation: 5,561 feet • Prominence: none • Distance: 0.5 mile • Time: 20 minutes • Gain: 5 feet
PB
Although this highpoint is close, as the crow flies, to Interstate-40 near Tucumcari, the only practical access is from the south, along miles of remote highways. I came here after visiting the highpoint of Curry County.
I followed a series of highways to state route NM-156. Thirty miles later, where the highway goes west to north, I came upon the Ima townsite, which today is nothing but ruins. A little north of here the pavement ends and the continuation of NM-156 bends west again, paralleling a long fence. Here, the road is called Quay County Road BK. It gets a smidge confusing here. The road goes through a gate, but apparently the public can drive here. I saw no signs against trespassing. I passed through the gate and followed a rutted track going northwest for a mile. I passed a fence line then parked to start my walking segment of the journey.
The highpoint is somewhere within a 5,560-foot contour that covers about 100 acres of sandy, scrubby rangeland. The map shows a 5,561-foot spot elevation, and I walked to "it", then spent awhile walking back and forth, hither and yon, stepping on anything that looked high. It all looked equal in height to me.
I had to invoke my "Rule of the Shin" here, which says that I probably (95% confidence) stood within a shin's height of the true highpoint, at some unknown time and/or place. Some might call it a Heisenberg Highpoint. I stepped on it but do not know when, and at some point in time stepped on it, but do not know where.
This was the third of five highpoints for me today. I was feeling energetic, so I steeled up some courage to tackle the equally-flat highpoint of Roosevelt County next.
The actual highest point of Luciano Mesa is about 5,580 feet, located about a half-mile west of the Quay County Highpoint, inside Guadalupe County. An interesting geographical oddity about this highpoint is that it is also the highest point of the whole Llano Estacado, which drops every-so-slightly in elevation to the south and east. Thus, this point has a prominence, believe it or not, of over 600 feet. However, I did not visit this point.
Roosevelt County Highpoint

• Highpoint: Roosevelt County
• Llano Estacado Plateau

Elevation: 6,337 feet • Prominence: none • Distance: 0.5 mile • Time: 10 minutes • Gain: 5 feet
PB
From the Quay County highpoint, I drove south toward Roosevelt County. I arrived here at three in the afternoon in clear weather and pleasant temperatures.
I located myself in the village of House, one of New Mexico's least populated incorporated municipalities (about 50 people). From House, I followed highway NM-89 south three miles to a dirt road on my right called Quay County Road-91. This road is on the Quay-Roosevelt county line. I went west 2.7 miles to a windmill, which according to the map would place me near the northwestern corner of Roosevelt County. Surprisingly, the state thought it wise to put a county line sign here.
This is county the highpoint, or close to it. The map shows a 4,780-foot contour that wanders through northeast Roosevelt County, with a 4,782-foot spot elevation south in the brush a few hundred feet. I parked and walked to the fence line, and lined myself up with the county line sign, then scanned the area. I squeezed past the fence and walked south for a few minutes, covering a few hundred yards. Nothing looked high, and there were no mounds or anything. I couldn't tell which, if any point, was highest. I called it good after a few moments, and got moving.
| | |
| --- | --- |
| Loma Alta | • Highpoint: De Baca County |
Elevation: 5,585 feet • Prominence: 128 feet • Distance: 1.5 miles • Time: 45 minutes • Gain: 150 feet
PB
Loma Alta is part of a complex of low mesas in eastern New Mexico straddling the De Baca and Guadalupe County line. The mesas are located south of highway US-60, about a half-hour drive west of Fort Sumner. Roads get near (and even to the top) of the highest of the mesas. Access does not seem to be restricted.
The county itself has few people, about 3,000, making it one of New Mexico's least populated counties. The entire economy seems to be ranching. Tourism is light as De Baca County is off the main interstates, but fans of the Old West know to visit Fort Sumner and the nearby memorial and museum to the shooting of famed outlaw Billy the Kid by lawman Pat Garrett in the 1870s.
It was late in the day and I had already visited four county highpoints, although three of them were easy plains counties in which I had to do just a minimal amount of walking. But I was doing a lot of driving, easily over 400 miles by the time I arrived into De Baca County. I entered Fort Sumner, got gas, then passed through a large grassland fire west of town.
From Fort Sumner, I drove 31 miles west to near milepost 293 and turned south onto an excellent dirt road ("Perez Ranch", if I recall correctly). I drove south along this road for 1.5 miles to a triangle intersection and turned right (west) onto a secondary dirt road that was in decent condition. A mile later, I passed a large set of railroad tracks, taking care to not get smashed by the trains, which seemed to come by about once every 10 minutes. The road after the tracks deteriorated, becoming soft in places. I parked about a half mile past the tracks and started walking.
The hike was short, a gain up easy slopes of sparse grass and low cactus. Quickly, I was on top the mesa. I walked the entire length of this mesa, a half-mile from end to end, covering all the high ground I could see, and seeking out the brass benchmark on the westernmost area. I found it, and satisfied, walked back the way I came.
The sky was clouding up and a front was moving in. After leaving Loma Alta, I stayed the night in Vaughn, 25 miles to the west. The next morning, I tried and failed on my visit to Mesa Leon in Guadalupe County. A slow moving snowstorm was coming through. I bailed and headed south toward the Carlsbad area and bypass this weather. Two days later, I hiked a pair of highpoints in the south-central part of the state, starting with the Eddy County Highpoint.
And one from January...
Mescalero Ridge

• Highpoint: Lea County
• Llano Estacado Plateau
Date: January 2, 2000 • Elevation: 4,478 feet • Prominence: none • Distance: a few feet • Time: 10 minutes • Gain: none • Conditions: Cool and windy
PB
It was the New Year of 2000, and I was in Texas spending a couple days in the Big Bend National Park. On New Year's Day itself, I hiked to the top of Emory Peak. I had achieved the main objectives of my trip: drinking in the New Year at a West Texas bar, and hiking Emory Peak. Now I was on an aimless drive generally west back towards Arizona, with no plan in mind.
I started the day in Alpine, Texas, and spent most of the day touring the fascinating and desolate Pecos River Valley in and around the communities of Orla, Kermit, Mentone and Andrews. By the time I drove into Andrews, the winds had picked up and were blowing dust and tumbleweeds across the road, just like in the movies.
I entered into New Mexico from Andrews, now in Lea County, the southeasternmost county in New Mexico. Physically and culturally, Lea County is indistinguishable from Texas. It's a flat desert county devoted to ranching and petroleum extraction. The scent of sulphur is omnipresent.
I had prepared maps of the various county highpoints in New Mexico and as luck has it, Lea County's highpoint is very simple. The county lies atop the Llano Estacado, and as a result, is as flat as a patch of land can be. The land here tilts ever so slightly to the southeast. Thus, the highpoint of Lea County is along its northwestern boundary.
I drove until I was on westbound US-380, passing into Chaves County. Immediately, I turned onto southbound NM-172 for about a mile. The highpoint is where two fencelines meet a little east of the highway. I parked and walked into the scrub, and quickly found the cairn. Because the land is so flat, I also walked south and east a little to ensure I had not missed any stray bumps. In moments, I was done. By now, it was close to sunset, so I piled back into my truck and continued west on US-380, staying the night in Roswell.
Not far west of the highpoint is the Mescalero Ridge escarpment, a faint band of hills extending north and south for many miles and with about 200 feet of elevation differential. I am not sure if this is considered a boundary of the Llano Estacado, but an interpretive sign nearby seems to think so.
Back in 1994, I had climbed Wheeler Peak, the highest point in New Mexico (and ergo, the highest point in Taos County). Lea County's highpoint has the lowest elevation of all of New Mexico's 33 county highpoints. I was intrigued enough to visit the other 31 county highpoints, which I did, completing the task in October 2004.