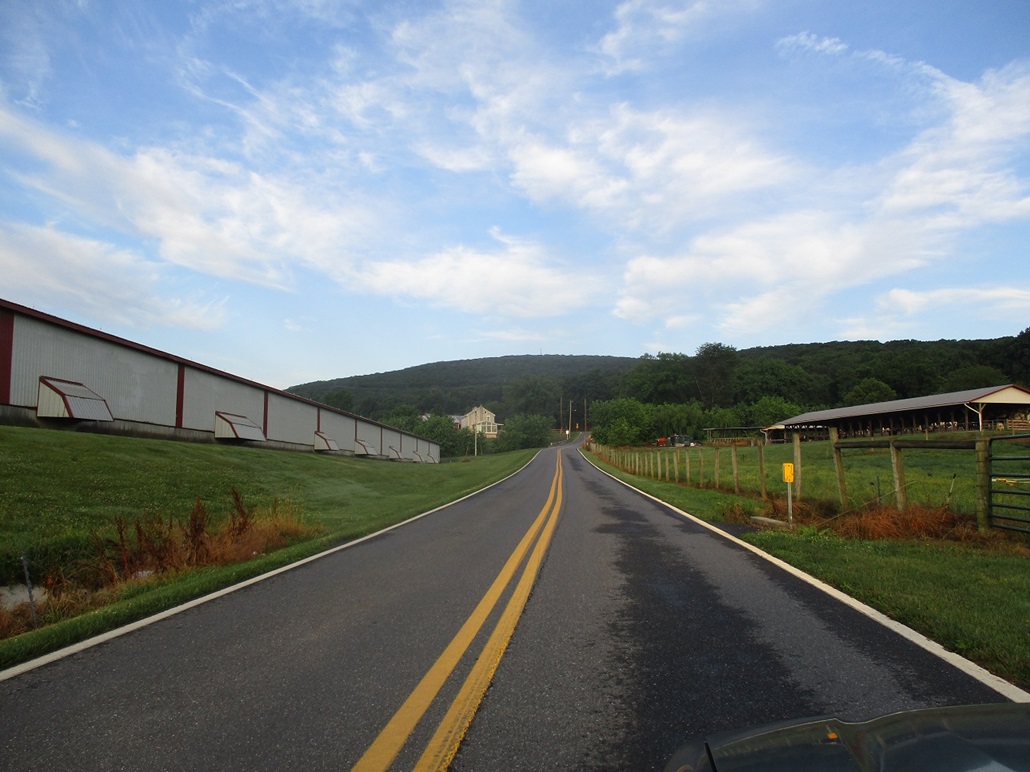 Lambs Knoll from Bolivar Road

The narrow road up,
and the heavy forest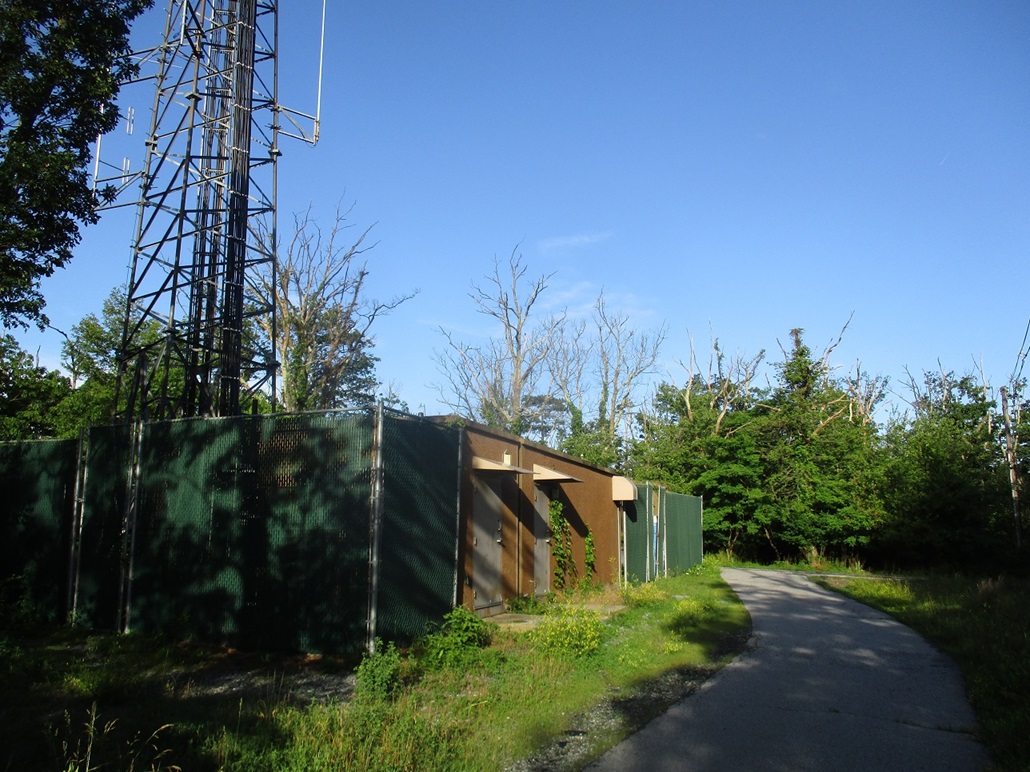 Top buildings

View as I exited
Date: June 26, 2020 • Elevation: 1,758 feet • Prominence: 718 feet • Distance: 4 miles • Time: 90 minutes • Gain: 710 feet • Conditions: Sunny with moderate humidity
Main • PB
I flew out to Baltimore on the 23rd, to help get things ready for shipping and to start our cross-country journey back to Arizona. This was my first time in Maryland since 2008 and it felt good to return. We were here often back in the 2000s to where I had developed a sense of familiarity and affinity for the state.
The preparing, packing and shipping took a week. There were some slow days too, and I viewed the time here as a mini-vacation. We spent the better part of one afternoon walking along Carroll Creek & Baker Park in the heart of Frederick. I thoroughly enjoyed the walk. The day was clear, mild and a little humid. There were geese and ducks in the creek and ponds, and we also encountered a caucasian shepherd out walking with his owner, one of the biggest dogs we'd ever seen ... and he was just a puppy, an 8-month old, 160-pound puppy!
I had looked at possible hikes in the area, but figured we'd be so busy that going on a hike would not be feasible. However, things worked out to where I had a few hours one morning. I zeroed in on Lambs Knoll, about 15 miles west of Frederick. It had pretty good prominence for these parts, was along the Appalachian Trail, and as a bonus, had a Civil War Memorial nearby.
I left Frederick fairly early, about 6:30 a.m., heading west on Interstate-70 to Alt-US-40, the Old National Pike. The drive was scenic. I passed through the historic town of Middletown (everything here is historic) to the crossroads village of Bolivar, where I turned onto Bolivar Road to the Reno Monument Road, then steeply uphill a couple miles to its crest at Fox's Gap. There is a small dirt parking lot for day hikers on the Appalachian Trail, and the Reno Memorial is also located here. It was a little past 7 when I pulled in, the first car here. It was cool and humid, but pleasant.
There is a narrow paved service road to the top of Lambs Knoll, which leads to some government installation up there. What exactly, I don't know. Fort Detrick is in Frederick so maybe the two are related. In any case, the narrow road was a more direct approach to the top, whereas the Appalachian Trail meandered a little bit. I was looking at two miles and 700 feet of gain. I started walking and made good time. A few cars passed me, the drivers were cool and waved to me. The scenery was limited to the dense forest lining the road, but it was cool in the shade and there was a soft refreshing breeze at times.
In about a half hour, I was at the top, a hard-right bend in the road, the right going to a big chain-link gate about ten feet tall and covered in the usual U.S. Government warning signs. This was the installation, apparently. At this bend, a lesser track continued straight and up, so I followed it. It led directly to the top and its small buildings and communications towers. There was nothing stopping me getting here.
The highpoint itself could have been one of a number of rocks partially hidden by the heavy underbrush, so I found a few piles and stepped onto them, looking out for snakes and ticks. I also walked around the building complex and downhill the other side, just to see what I'd find. There is a small open field a little to the east of the buildings which might be as high as the highest rocks nearer the building. I also looked through the trees down at that installation, but could not see anything. I spent about twenty minutes up here, having a break too.
I hiked back down to the bend in the road. A motorcyclist had just come up and rode up to the gate and used his access card to open the gate. I assumed the gate would roll to one side, but curiously, it lifted, using one corner as a fulcrum, turning a full 90 degrees. After he got in, I walked up to the gate just to see what I would see. There was no one there and all I saw was a parking lot and a couple of low buildings. I did not try to enter.
I hiked back down the road about a quarter mile, then got onto the Appalachian Trail where it crossed the road. I followed the AT steeply downhill, now really in some heavy-canopy forest. It was quiet and cool, and very peaceful. I hiked down quite a bit, came to a junction and went right, then walked it out to the car. I saw a few people on the trail, but they all looked like day hikers. The downhill hike took about 40 minutes, and I was pleased to get in a little more on the AT, my first time in over a decade. By now, there were a few more cars in the small lot.
Reno Civil War Monument
I took about a half hour to walk around and look at the signs, a grave marker and the main monument for Brig. Gen. Jesse L. Reno of the Union Army, who was mortally wounded by friendly fire on September 12, 1862. The Union and Confederate Armies were skirmishing one another at the low gaps along this mountainous ridge, and the fighting would culminate a few days later at the big Battle of Antietam a few days later.
The area is small, just an acre or two. There is a small loop hike in the trees one can follow (I did not). Across the highway is an open field, the site (I believe) of the battle with another sign detailing who fought and the results. I enjoy learning about the Civil War battles and am always amazed how little I actually know about how the war was fought. The ground here is where many men died, so it is reasonable to treat it respectfully, to be mindful of this fact.
I always encourage you to read up more on these battles. My tiny summaries barely touch the surface of what happened.

Sign


Another sign


Grave marker


Reno Monument

&nbsp


Second side


Third side


Fourth side


Sign across the way
Once finished here, I drove back to Frederick. We would spend four more days in town, getting stuff packed and shipped. We had one aggravating situation occur, albeit with a good ending: One of our cars, a 2001 Subaru Outback that we'd driven east back in October, had its windshield badly cracked at some point, so we arranged with SafeLite to come out and replace it. They came out yesterday (the 25th), and the guy, Ben, did a fine job and was very talkative and informative. We learned more about windshield repair than we ever thought we would.
I had driven this car this morning to and from Fox's Gap with no issues. Back in Frederick, I boxed up a few things and we drove to a UPS Store to get them shipped. On the freeway, a rock bashed into our brand-new windshield and cracked it! The original windshield had gone 19 years with no cracks, and our new one went less than 24 hours before being dinged. And it wasn't a small one either. It was a star about an inch in diameter, with a couple tendrils looking like they would extend out. We were both sick with frustration at this occurrence.
While I was carting stuff to the UPS Store, my better half was on her phone calling SafeLite to see what we could do. They said that if we could get to Hagerstown, about 25 miles away, by 3 p.m., they could squeeze us in. It was 2:20 p.m.. So we hauled ass onto Interstate-70 and ... slowed down with the Friday traffic. Grrrr. Fortunately, it was more go than stop, and we were able to get into Hagerstown and to the SafeLite in town at 2:57 p.m.. The guy there, Sean, could not promise he could fix it (probably a standard warning), but he took the car back into the bay, and a half hour later, came out with the good news he was able to get the epoxy resin into the crack successfully. Looking at it, you could not tell there'd ever been a crack.
So we ask Sean how much and he just waved it off, saying it was on him. What a cool guy. He was sensitive to the fact our new windshield was just 24 hours old when it was cracked. Even he'd never heard of a replacement getting cracked again so fast. We could not thank him enough. For that, I want to thank Ben, the repairer, Sean, the shop owner, and Alissa, the lady on the phone, for their generous service. Their shop is here and if you have a crack in your glass and are in the area, go see them.