Greenhorn Mountain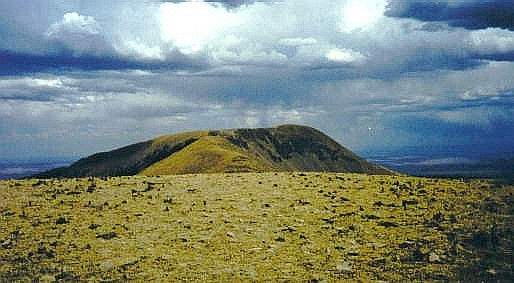 Closing in on the top.
Rain in the distance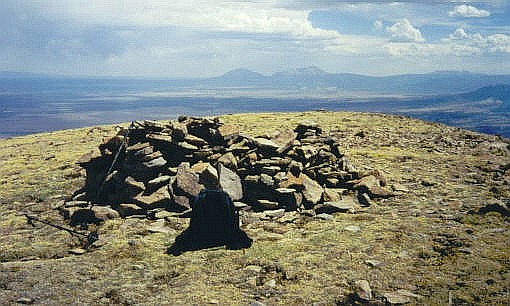 Summit cairn
Date: May 31, 2002 • Elevation: 12,347 feet • Prominence: 3,767 feet • Distance: 4 miles • Time: 2 hours • Gain: 1,500 feet • Conditions: Fantastic, but a little unsettled later on
Colorado • PB
After climbing West Spanish Peak earlier today, I drove to Walsenburg for supplies, then into Pueblo County, planning to hike Greenhorn Mountain while the weather held up. Greenhorn Mountain's summit is 12,347 feet, but a forest road gets to about 11,400 feet, leaving a short hike above treeline to the summit. The weather was holding steady.
I left Interstate-25 in Colorado City and took state route CO-165 west into the mountains for about 24 miles to the Forest Road 360 junction. From here it was another 22 curvy mountain miles to the trailhead. The road is mostly good, but it had long sections of washboard.
I arrived at the trailhead at 2 p.m. in cloudy weather. I got my stuff together and started in. A good trail switchbacks up the side of the immediate slope, letting me off at 11,800 feet. From here, it was a matter of hiking up and down three false summits to the real top. Also, my map blew away! Fortunately I could see the summit and didn't miss the map, although I felt bad about littering.
I arrived to the summit at 3 p.m. and stopped for a quick break, snapped a photo and visited with the ladybugs. I was concerned about the cloud buildup. Although not very heavy, they were puffy and localized on the summit, so a quick lightning bolt was not out of the question. I could see rain in the distance. I signed into the register and started down.
Coming back to the next main hump on the ridge, I saw a good trail that contoured around to the east side and saved me the hassle of climbing up and down that extra elevation. At the next saddle, I spied an old trail and followed that down, then cross-country down yet some more, until I met an old road. I then hiked this road a mile back to my truck.
I relaxed at my truck for about a half hour, then got on the road and back to Interstate-25, where I headed up to the city of Pueblo. While driving, a passing motorist flagged me and shouted "flat!" ... my right rear had a slow leak and had lost about half its air. I didn't notice any handling problems, but I am happy they pointed it out to me. I had to exit and change my tire. This is the third trip in a row where I've had to change a tire.
I stayed in Pueblo that night at a Motel-6, and got the flat patched the next morning at a local Big-O. The next day, I visited a few highpoints in the Denver area, then a half-day up on Pikes Peak.