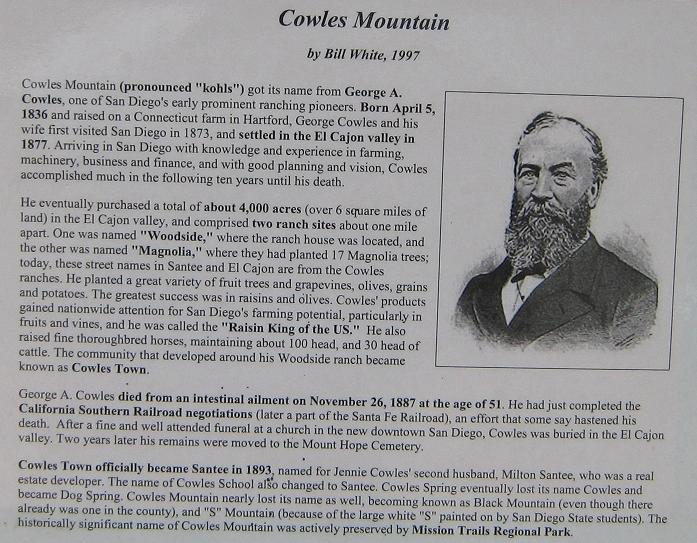 The sign at the kiosk 'splains the history of the peak and how to pronounce it
&nbsp


The trailhead
&nbsp


Another shot, partway up
&nbsp


Summit marker
Date: November 15, 2012 • Elevation: 1,591 feet • Prominence: 1,001 feet • Distance: 3 miles • Time: 1 hour • Gain: 900 feet • Conditions: Overcast • Teammates: Just me, but with lots of company
California • Main • PB
Cowles Mountain is a popular peak in San Diego, north of San Diego State University in Mission Hills Park. I was driving to San Diego for a conference, and left Scottsdale early this morning, hiking Carrizo Mountain near Ocotillo, earlier today. I rolled into San Diego about 2 p.m., and decided to check out Cowles Mountain now instead of later in my trip, as I had planned. It is an extremely popular hike, a "workout" mountain where people hike, run, walk, bring their dogs, and so on. Adam Helman suggested it to me as something short and logistically easy, given I did not have a lot of free time otherwise. At 1,591 feet, it isnít a huge peak, but it is the highest point within San Diego city limits.
I was able to find my way along the road net through a nice residential area, following Navajo Road north and east to its junction with Golfcrest Drive. Cowles Mountain rises behind, a rounded peak covered in woody manzanita scrub. There is a small parking lot on the northeast corner of Navajo and Golfcrest, and I lucked out as someone was exiting as I pulled in, so I scored a nice spot in the lot, rather than parking along the street. I locked the truck up and packed light, carrying a drink and my camera. It was a little before 3 p.m. when I started the hike.
The hike was easy, but I was a little sore and tired from my other hike earlier today. Nevertheless, the grades are very gentle and I made good time up the slope. As advertised, there were many people going up and coming down, an assortment of ages, fitness levels and intentions. A group of three teens ahead of me seemed more interested in finding a place to smoke rather than hiking to the top. The route is a well-trampled trail that weaves through the thick scrub. Some sections are fenced or blocked off to keep people from making "wildcat" shortcuts.
I moved at a pace that suited me and made the one-way hike to the top in a half-hour, a 1.5-mile walk with about 900 feet of gain. The final segment follows long sweeping switchbacks that seem to take forever. Finally, I emerged onto the open and rocky top, where a plaque is affixed near the highest rocks. I tagged the top rocks and shot an image of the summit area and surrounding city. Today was very overcast so the views were nice, but muted. The sun did come out a couple times but otherwise, it was very gray.
I sat a short spell on top, having a drink and watching the other people. There are also a couple of informative picture displays on top, pointing out natural features in all 360-degrees. I could make out San Diegoís city buildings and some of Mission Bay and Coronado. I was happy to be here but kind of disappointed about the dim lighting. I was moving again, and descended in just under 30 minutes. Counting my break up top, I was up and down in one hour, five minutes. I was pleased to see the three teens had found a spot to smoke as I descended.
From here, I drove into downtown San Diego and found my way to the hotel. My conference went well and was productive. On Saturday (two days later), I checked out Lyons Peak, a prominent summit that had caught my eye while on top of Cowles. I thought this would make a fun hike for the drive out. The drive there was scenic, but the gate across the forest road leading to the top was shut with a no-trespass sign. Inquiring at the Lyons Valley Trading Post, I was told a landowner up that road is notorious for pulling his gun on passing hikers and even workers who need to get up that road to the top, where there are communications towers. Obviously, I passed on the hike and ended up driving all the way home to Scottsdale, arriving in the evening.

Panorama from the summit. The big peaks, from left, are Lyons, Tecate, Otay (in back) and San Miguel.