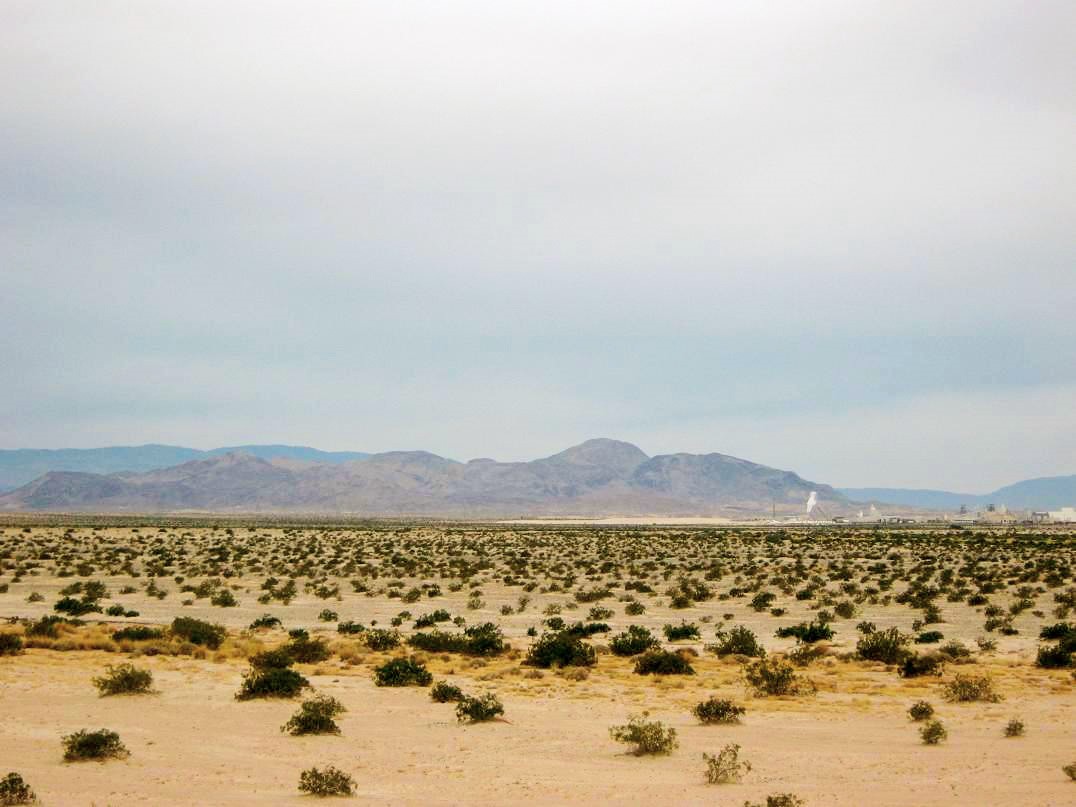 The Coyote Mountains and the steam plume from Plaster City, as viewed from the exit ramp at Dunaway Road, Interstate-8
&nbsp


The road's end below the summit
&nbsp


Stick Scott at the top!
&nbsp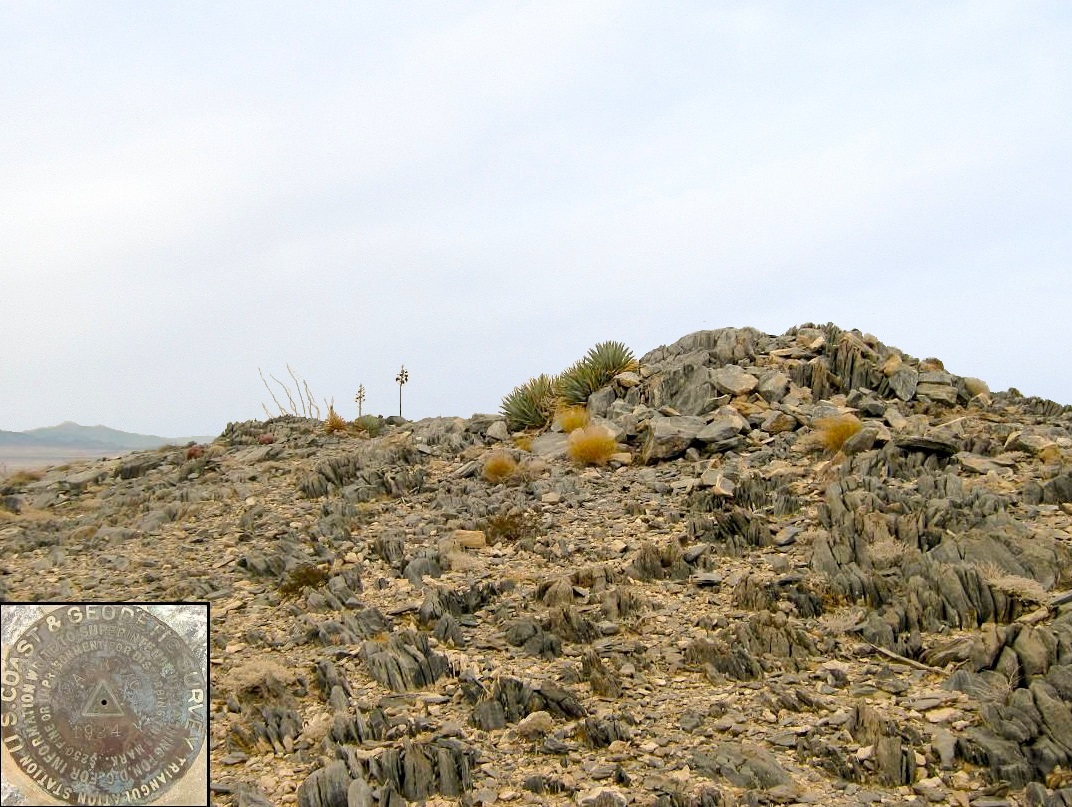 Summit rocks and benchmark
&nbsp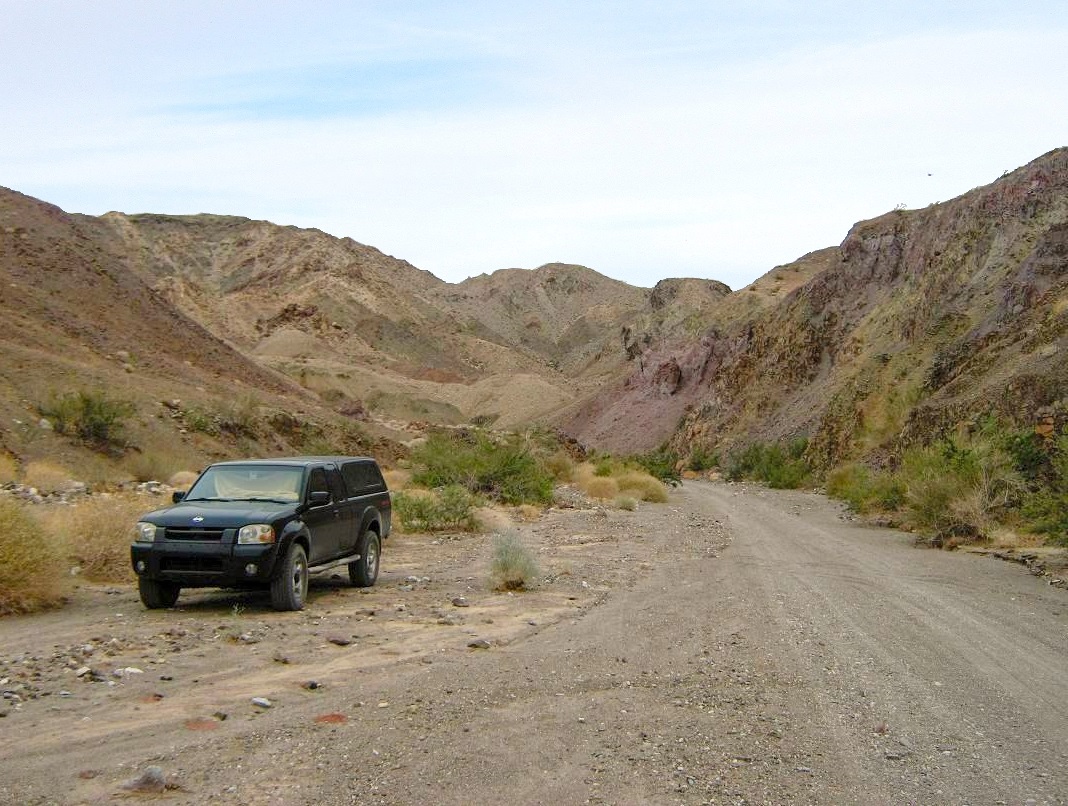 My truck
&nbsp


The gate
&nbsp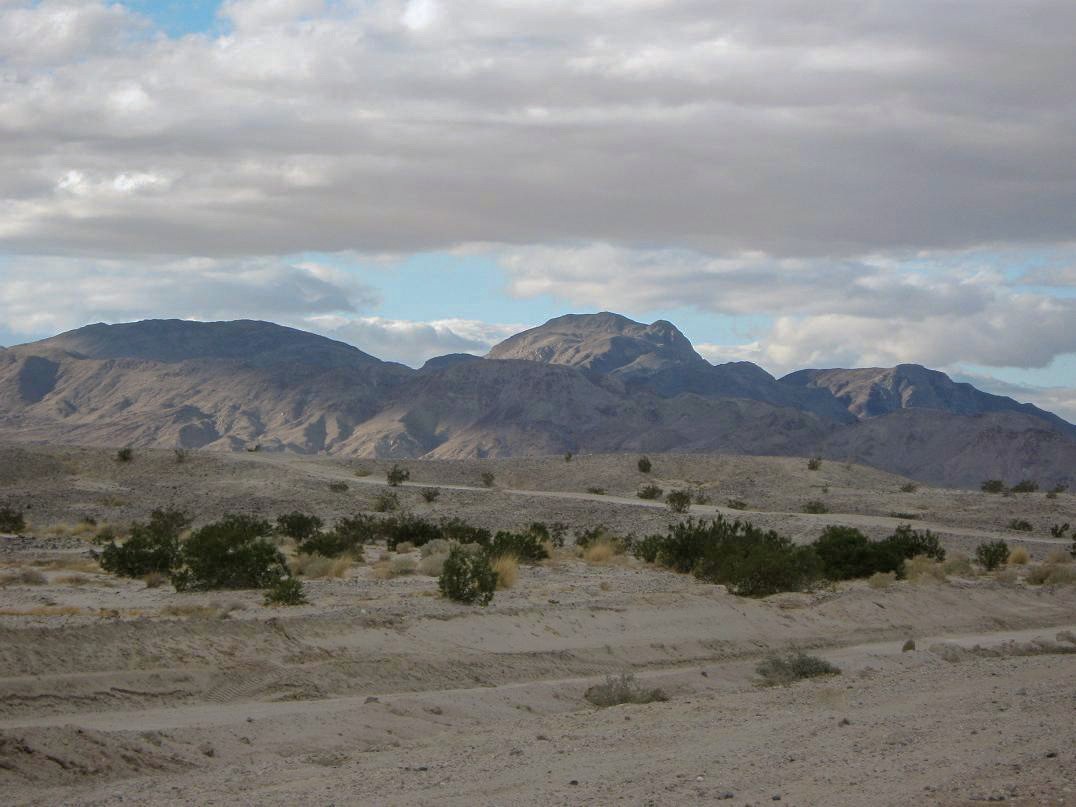 View of the summit from the Hewes Highway, two days later
&nbsp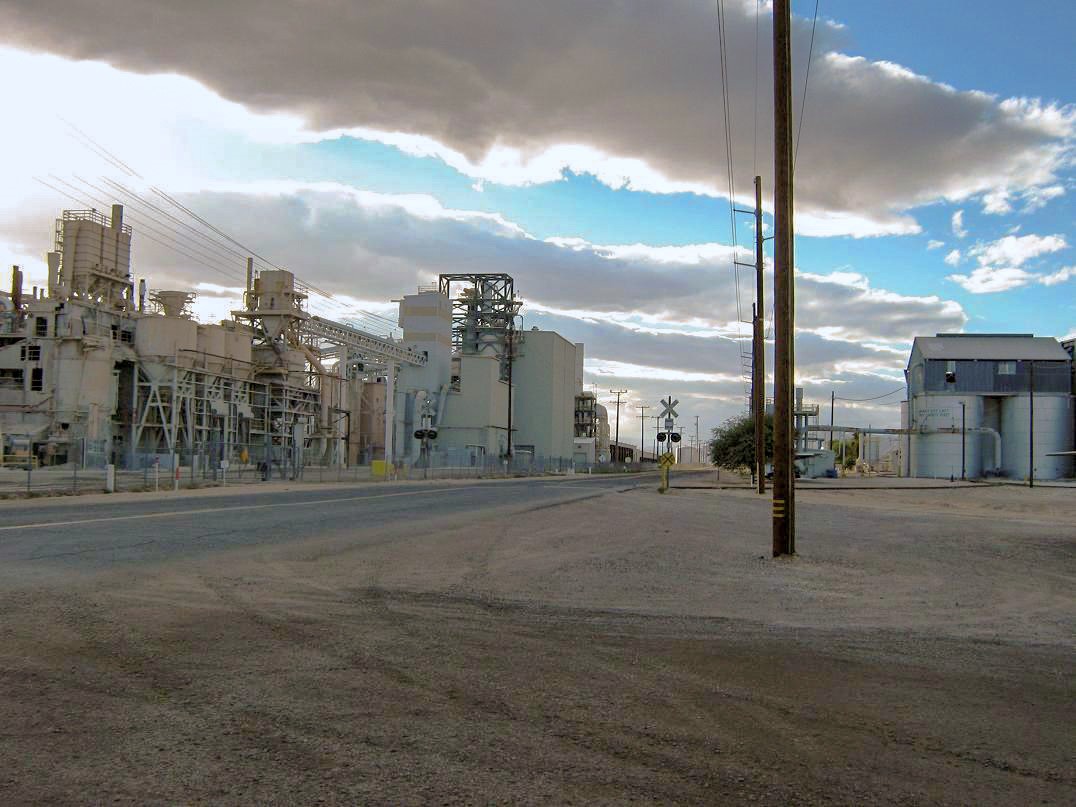 More Plaster City
&nbsp

&nbsp
Date: November 15, 2012 • Elevation: 2,408 feet • Prominence: 1,268 feet • Distance: 5 miles • Time: 3 hours • Gain: 1,800 feet • Conditions: Extremely overcast but dry
Carrizo Mountain is the highest point of the rocky Coyote Mountains, located in the transition zone between the Salton depression of Imperial County, and the mountains and desert valleys of the Anza-Borrego Desert State Park to the west. The range is located not far north of Interstate-8 near the small community of Ocotillo, and is the centerpiece of the Yuha Desert Recreation Area. The most notable feature (and attraction) in the range is Painted Gorge, a narrow canyon with walls about 100 feet tall, colored in hues of green, red, pink, ochre and yellow. The surrounding foothills and desert are popular (or over-run) with off-road vehicles and dirtbikes. A few may even venture up the old road that leads to a flat about 300 feet below the summit.
Beth and I were here last December, camping a night in the foothills, as part of a journey to the Anza-Borrego Desert State Park. We arrived on Christmas night in the dark, then the next morning I drove to a gate that spans the "entrance" to the gorge. The gate is closed from January 1 to June 30 of every year during the bighorn sheep lambing season, although hiking is not prohibited. Although the gate was open, I opted to park in a pullout outside the gate where Beth had reasonable privacy, and I started in, promising I'd be back in 4 hours. The route follows the jeep road to the top. As usual, I was overly confident.
I made good time walking the sandy canyon bottom and admiring the pretty colors, although it was hardly spectacular. The gorge is wide in some places, narrow in others, the track alternating between smooth, coarse sand, and jumbles of rocks. After a mile and a half, maybe two, I rounded a turn then came upon some big rocks, way too big for any jeep to handle. I walked another quarter mile to where the path opened up into a beautiful amphitheater of rocks, a tremendous jumble, and although very lovely to view, I knew this couldn't be part of the road. I backtracked, then found where the road leaves the canyon bottom and makes a hard bend up a hillside. I had walked right past it walking in. My "detour" cost me about 20 minutes.
I followed the road up and out of the canyon. It does not waste time ascending, and in moments I had gained about 200 feet, the road making a long bend around a small hill. The road comes to a junction, another road jutting off to the right. Uncertainty set in: which way do I go? Both roads looked equal in quality. I decided to go straight, but was not sure if I had made the right choice until I had hiked about another quarter-mile, until I was satisfied it was going upward and not dead-ending or descending.
The next mile was easy, staying on the road as it worked its way up slopes and into and out of small canyons. I moved quickly because I was already behind schedule, and still not completely certain I was on the right track. I wanted to know sooner than later in case I needed to double back. Finally, the road ascended up over a lip, meandered a little bit on some higher plateau, and off ahead I could see a craggly ridge line, clearly higher than everything else. I kept walking and in time had come to another junction, with both roads looking equally good in quality. A cairn had been built near this junction but it was knocked over and did not offer any help.
First, I went right, then after a hundred yards, made a left onto a lesser-looking road, slightly greenish in color. Looking across, the hills across the way looked higher, so I descended back to the junction and went up that road, realizing my error pretty fast, and that where I had been the first time was clearly correct. So I went back and re-hiked up the first road, once again getting myself onto the little "green" road (colored due to various minerals in the rock, not due to any brush, of which there was nothing on the entire mountain more significant than spotty ocotillo and creosote). But now, having wasted enough time already, I was not sure I would make my 4-hour promise to Beth. After some thought, I decided to bail. I knew we'd be back, so the decision was not hard to make.
My hike down went fast, and by this time, a number of four-wheelers were coming up the road, with many more people walking amid the gorge. When I got back to the truck, it was a zoo: many dozens of people, lots of jeepers coming and going, a big family having a big picnic, and so on. It was hardly peaceful and Beth was primed to get moving. I explained to her what had happened, and I swore I had already gone past my 4-hour time limit, but Beth told me I had been gone just about three hours. I rushed unnecessarily, but in retrospect, it was wise to just get moving and leave the place to the crowds.
The upshot was the day was beautiful, with clear skies and no humidity. My photos came out well:
December 2011 photos
I bided my time and waited for another opportunity to hike Carrizo Mountain. A chance came when I was invited to attend a conference in San Diego. Although I didn't need to be there until this evening, I left Scottsdale early and drove 270 miles through Yuma and El Centro to the Coyote Mountains for a second round with the peak. I wanted to hike it on a weekday to avoid the crowds. The plan was to park, hike the dang thing, then be on my way. No camping, no stopping to admire the scenery. This was a business summit.
I altered my driving route slightly, exiting Interstate-8 at Dunaway Road, then catching Evan Hewes Highway going west. Along the way is "Plaster City", a place I'd seen on maps and had always wondered about, and today, I'd get to see for myself. It's not a city where people live, but a gigantic set of plants that takes the gypsum that is mined north in the Fish Creek Range and turns it into wallboard. The stuff lining your room now probably came from Plaster City. The plants are huge and ominous looking, just sitting there in the wide-open desert. I didn't stay long, just enough to shoot a couple images.
I stayed on Hewes Highway a total of 8 miles from the Dunaway junction to Painted Gorge Road, then drove this road up into the foothills, past where Beth and I camped, and into the gorge itself. The gate was open and I decided to drive up the road a ways to save on distance. I parked in a pullout, got my stuff in order, and started my hike at 7:55 a.m. local time. There was no one around, but unfortunately, the sky was deeply overcast, the sun a small faint light hidden by the thick clouds. Despite the clouds, the temperature was mild and there did not seem to be any threats of rain.
Knowing exactly what to do (and not to do), I walked briskly and followed the road up the gorge, out of the canyons and up onto the higher plateau. I had google-maps of the terrain, which helped because there were other roads jutting off in all directions. I stayed on the proper road and in about an hour and fifteen minutes, had hiked to its end, a circular flat area just below the top. Here, I angled left and found a footpath, following that up to a saddle separating the summit from its lower eastern subsummit. The last hundred vertical feet was cross-country, up open slopes and rocks, topping out on the peak at a shade after 9:30 a.m.
I shot a few photos but the sky was so dingy gray, the colors were muted and my photos really did not come out well. Looking east, I could see yellow-colored badlands, tan desert and the distant farms of the Imperial Valley. South, I had a nice view of Cerro Centinela in Mexico, and bigger peaks farther south. North was the Fish Creek Range, and west was the multitude of ranges that separate the low deserts from San Diego. I signed into the logbook, but didn't stay long, perhaps 10 minutes. I had not taken a break coming up, but here I stayed long enough to gulp down a Gatorade.
The hike down went fast, too, and I was back to my truck a little before 11 a.m., a three-hour hike. No one had apparently come by while I was gone. I did a quick change of clothes and exited back to Hewes Highway, entering Interstate-8 at Ocotillo. I had about an hour of driving into San Diego, and since I was ahead of schedule, I hiked Cowles Mountain, the San Diego city highpoint and a favorite of San Diego hikers. I was happy to have successfully hiked this interesting little peak. While not difficult, its remoteness and stark beauty has an attraction of its own, and it was worth the trouble to come back.
Comments about Carrizo Mountain and the roads leading to it:
Even Hewes Highway is choppy, the asphalt breaking up in large chunks in sections of the highway. However, Painted Gorge Road is generally good, but high clearance is advised due to some ruts, rocks and erosion damage caused by the offroaders. It is graded sand for the first mile, passing through a small community apparently called Clarksville according to a hand-made sign. At key junctions, signs point which way to go, and after passing the last homestead and some power lines, the quality drops a notch, with more rocks, ruts and erosion. About 3 miles in from the Hewes Highway, the road comes to a Y-split. The right turn is correct, but it gets bumpy here as it threads a small notch in the hills.
Here, the main road comes into an open basin, completely bare of brush, with a single shot-up BLM kiosk sitting in the middle. Pass the kiosk on its left (your right) and find a road directly ahead. This road bends west and leads into the gorge, coming to the gate after about 4 miles. Past the gate, the road is a little softer. If dry, 4-wheel drive is not necessary. If wet, the whole area is probably a big muddy mess and not worth the trouble. Winter is ideal, as summer it way too hot. It is a popular hangout for off-roaders, campers and shooters. Although we had no issues on our first trip here, it does get crowded.
The road in the gorge is usually pretty good but narrow in spots and some rocky intrusions to get past. Here, 4-wheel drive will be mandatory after a certain point. Once out of the gorge, the road has sections of very bad rock (with other sections being nice and smooth). A strong 4-wheel drive vehicle will be required here. Higher up, the road is cut into the rock and is very rough, with some outwards leans to it. It looks like a scary road to drive, but it's easy to walk.