Looking down into the
Imperial Valley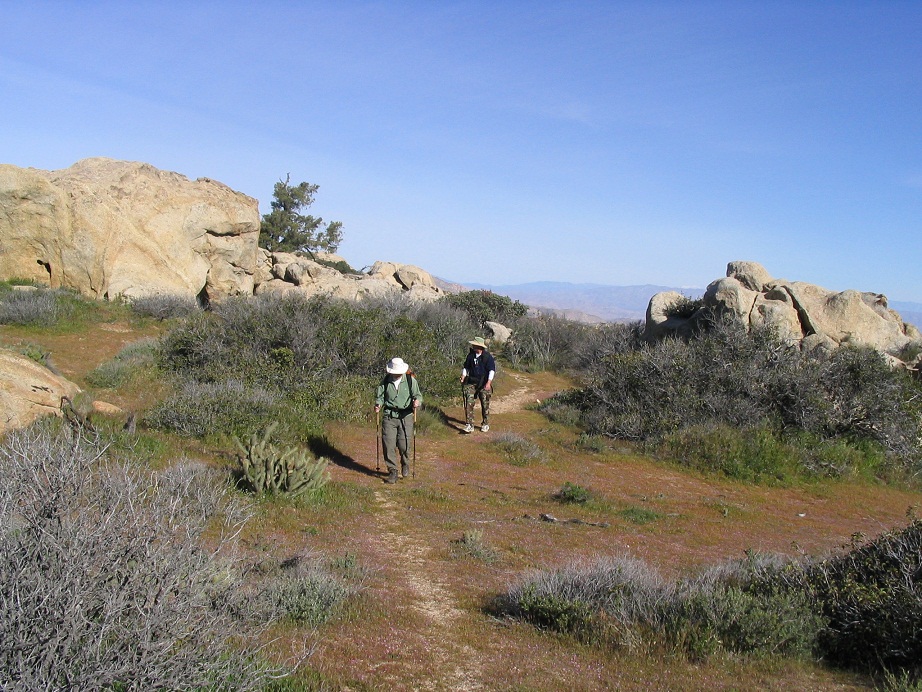 Dave (white hat) and Rick
on the hike to the top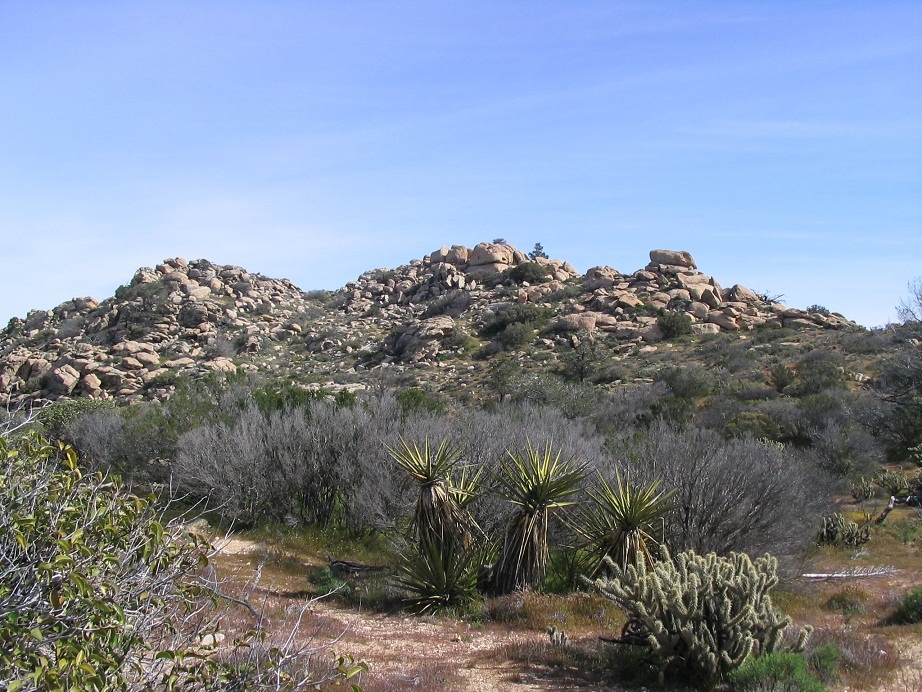 The summit(s) of Blue Angels Peak

Rick and I on the summit

Here's Dave getting ready to
surmount the second summit
(This one may be the highest)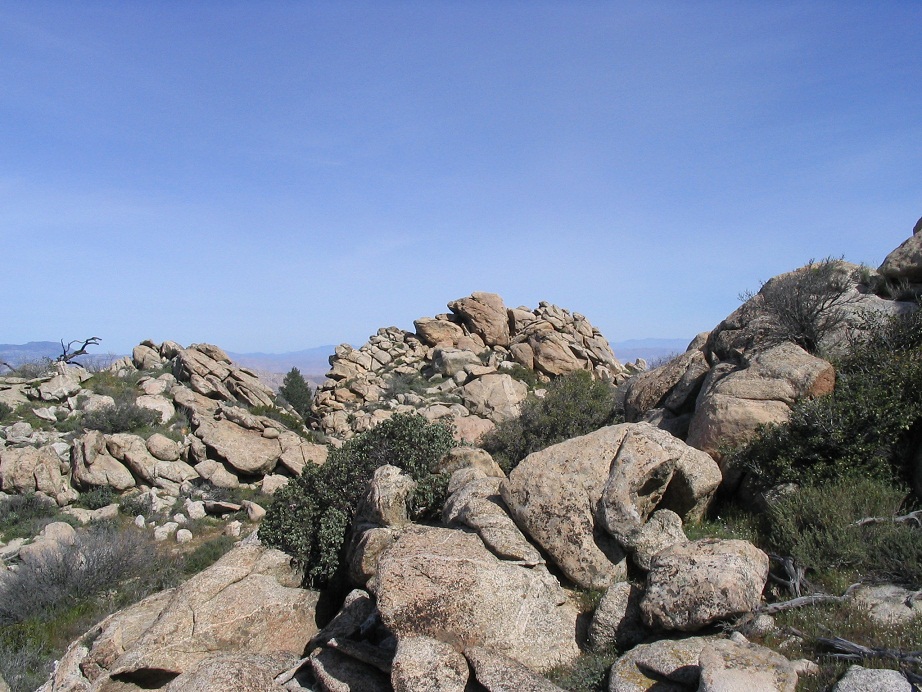 Looking back at the first
summit from near the second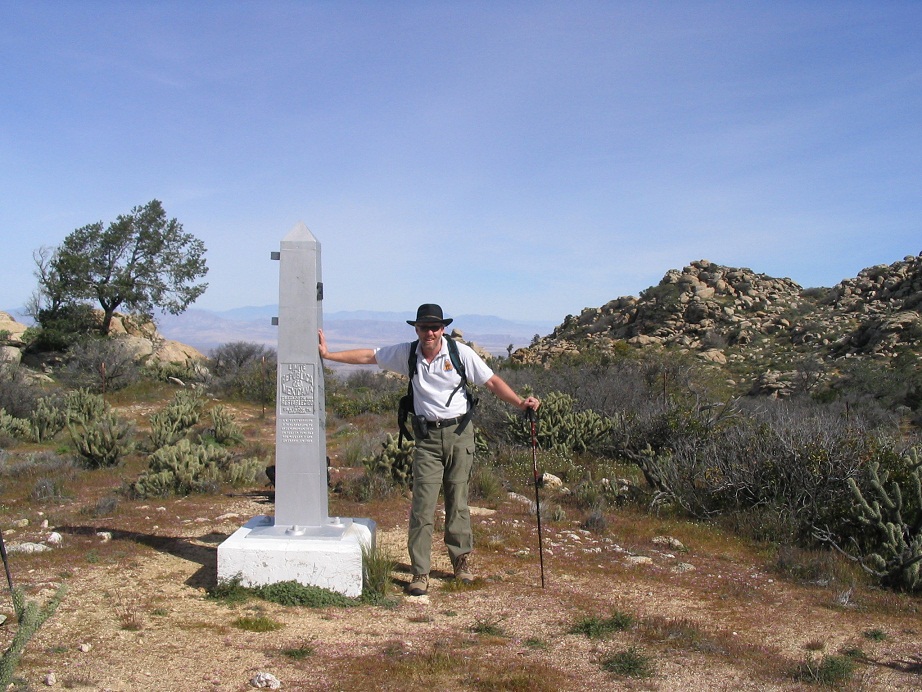 The International boundary
marker. Ground in front
is Mexico, behind is the U.S.A.
Date: (1) December 19, 1999; (2) March 27, 2005 • Elevation: 4,548 feet • Prominence: 99 feet • Distance: 5 miles (1999); 2 miles (2005) • Time: 3 hours each time • Gain: 1,300 feet (1999); 500 feet (2005) • Conditions: Nice both times • Teammates: Ken in 1999; Dave Covill and Rick Hartman in 2005
California • Main • PB
Imperial County is in southeast California, abutting the Arizona and Mexican borders. Most of the county is low-elevation desert, with much of it devoted to farming. In winter when the rest of the country is digging itself out from 8 feet of snow, it's nice and warm in the Imperial basin. If you bought fresh produce in January at your local grocer, chances are it came from here. A lot of the county is below sea level, but mountains ring the basin on the east and west.
The county highpoint is a band of rocky hills in the southwest corner of the county, a little carry-over of the rocky ranges from nearby San Diego County and from Mexico. The highpoint is called Blue Angels Peak, but the benchmark reads "Smuggler". I leave it as an exercise to the reader to glean why that name is used. Winter is the best time to be exploring this interesting highpoint, which sits yards from the Mexican boundary. I have been here twice: in 1999 and again in 2005.
First visit, December 1999: Ken and I were on a two-day journey to hike a couple of county highpoints. Yesterday we had visited Signal Peak in Yuma County, Arizona. From there, we drove into California and camped on the Algodones Sand Dunes ... literally on the sand, me just an ensolite pad and sleeping bag, no tent.
Early today, we continued west along Interstate-8 to the In-Ko-Pah Exit, then followed a series of paved and dirt roads to the south side of the highway. Although the road gets to within a few hundred yards of the highpoint, I parked at a convenient pullout below a steep rocky segment of the road, and we hiked the remainder.
From my truck, we walked the road until it reached a pass. After the initial steep section, the road continued south with lenient grades. About a mile later, we were in the general vicinity of the highpoint, wherever it was. Three or four heaps of rocks vie for the top and we scaled these, each time thinking the next one was the highest. Finally, we scampered up the rockpile containing the benchmark, and called it good. Higher peaks are nearby, but over the boundary in Mexico.
After a few minutes of rest, we descended and started hiking back to my truck. Well, I did. Ken wanted to go visit the nearby boundary marker, but I wasn't that interested. For some reason, my tummy was feeling unwell, and wanted to get moving without delay. The hike back took about an hour. Then I waited another hour for Ken, who got lost (he said) hiking out. Ken.
We (meaning I) celebrated with authentic Mexican food from "El Jalicience" in Brawley. From there, I drove us back to Phoenix via Glamis and Blythe. I was pleased to have hiked two more peaks, in particular these two since we knew little about them before going in.
Second visit, March 2005: Dave Covill mentioned he was visiting the desert county highpoints in Arizona and California, and I expressed an interest to re-visit this highpoint with him and whoever else might be tagging along. I left my home in Chandler on Saturday the 26th and motored west, catching Interstate-8 in Gila Bend. I exited again at Painted Rock Road and visited a confluence at 33N, 113W, then got back on the highway, stopping again to explore Yuma and the territorial prison.
I planned to camp again at the Algodones Dunes Area, but when I got there, there must have been thousands of RVs, dune buggies and sand runners. The place was a madhouse, so I drove west through Calexico (along CA-98), caught Interstate-8 at Coyote Wells, then up the grade and exiting at the In-Ko-Pah off ramp. I talked to the Border Patrol guys on Jacumba Road then found a neat, secluded place to camp in the bush about a quarter-mile back and less than a mile from the Mexican border. Dave and Rick Hartman joined me about 11 that night after hiking Yuma County's Signal Peak. We chatted a bit, then crashed.
We got rolling about 7:30 the next morning and drove a mile to the proper pull-out leading to the highpoint. Rather than parking down low like I did in '99, we coaxed our vehicles up the steep road and parked near "Quirk" Mountain, just a mile from the highpoint. We walked the roads and worked our way to the highpoint itself. Everything looked familiar, but over 5 years since my last visit I couldn't recall every last detail. We surmounted the traditional highpoint, the one with the benchmark, and took photos.
From the top, Dave sighted to the nearest jumble and surmised it may be slightly higher, so we descended off and walked up the next pile of rocks, which included a couple of nimble moves. Afterwards, we walked over to the international boundary marker and "visited" Mexico. We then returned to our vehicles, drove out and ate a late breakfast in El Centro. From there Rick and Dave went on to Tucson while I visited another nearby confluence at 33N, 115W. I arrived home about 6 p.m., after having smooshed every bug in the desert with my windshield.
The hike took 90 minutes, and along the routes we noted multiple water stashes, empty bottles, shoes and clothing, old batteries, and recently open cans of food. This region is definitely used by border crossers. Other than the human-smuggling element, it's a very pretty range. There are also many natural "caves", formed by voids created when big rocks lean up against other big rocks. It's no wonder people like to sneak into the country from here. The weather was breezy and sometimes cool and overall it was a nice hike and scramble.

North 33, West 113 Confluence Hunt
This was actually my second time here. A few weeks earlier, my wife and I came here to visit this confluence, which is about three miles north of Interstate-8 at the Painted Rock exit. This was our first lat-long confluence visit ever. But, alas, we used the NAD-27 datum, not the more common WGS-84 datum. So this visit, I used the 1984 datum. As it turns out, the two datums agree to within a hundred feet of one another. I even found the small cairn we built at the NAD-27 confluence point.
| | | | | |
| --- | --- | --- | --- | --- |
| West | East | South | North | GPS |
North 33, West 115 Confluence Hunt
I visited this confluence by following roads through Glamis, then onto Vista Mine Road which goes south, abutting the Algodones Sand Dunes. I drove on, then hiked, progressively scanter tracks until I was at the confluence. Not surprisingly, it is remote scrubby desert out this way. I snapped my images then turned around for the walk out. This side trip took about an hour.
| | | | | |
| --- | --- | --- | --- | --- |
| West | East | South | North | GPS |