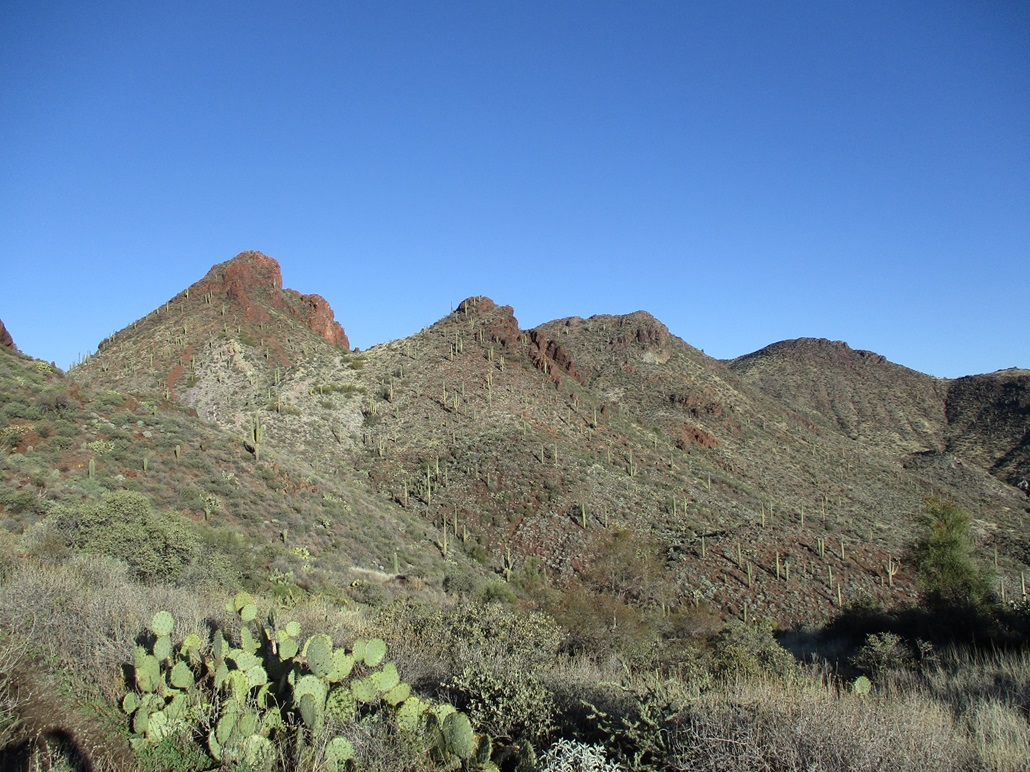 On the hike to Crater Benchmark. These two peaks I call the "goalposts"
&nbsp


Approaching the goalposts. The trail is below, climbing steeply
&nbsp


Peak 4378
&nbsp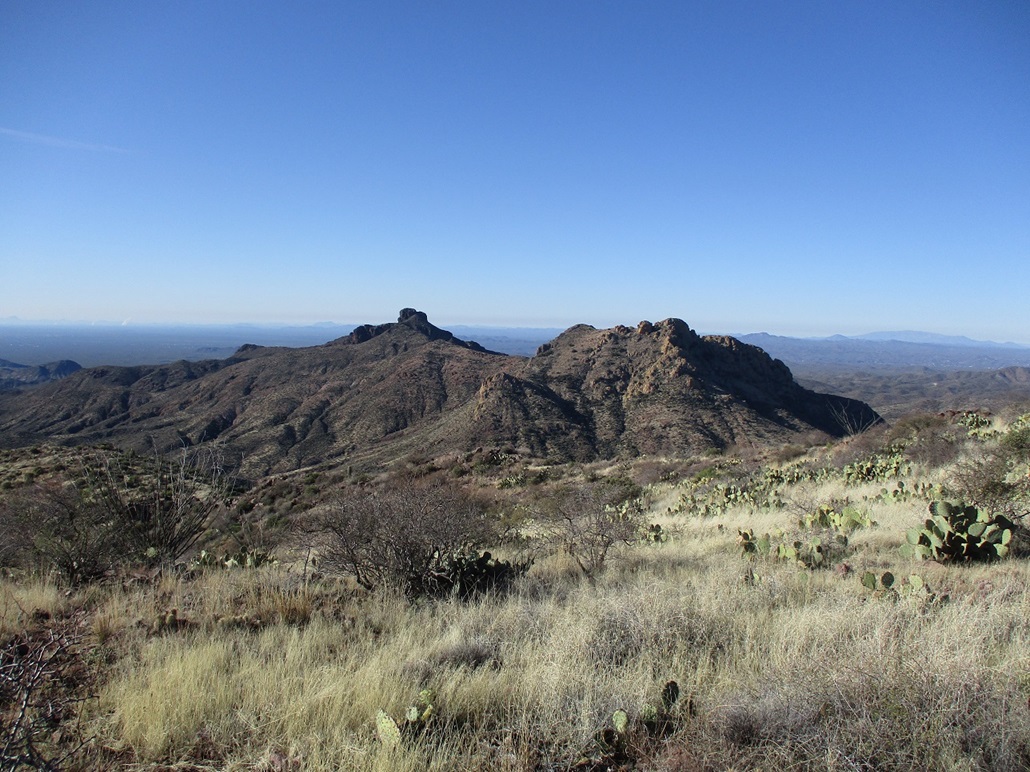 Look back at Red and White Picacho
&nbsp


The top of Peak 4378
&nbsp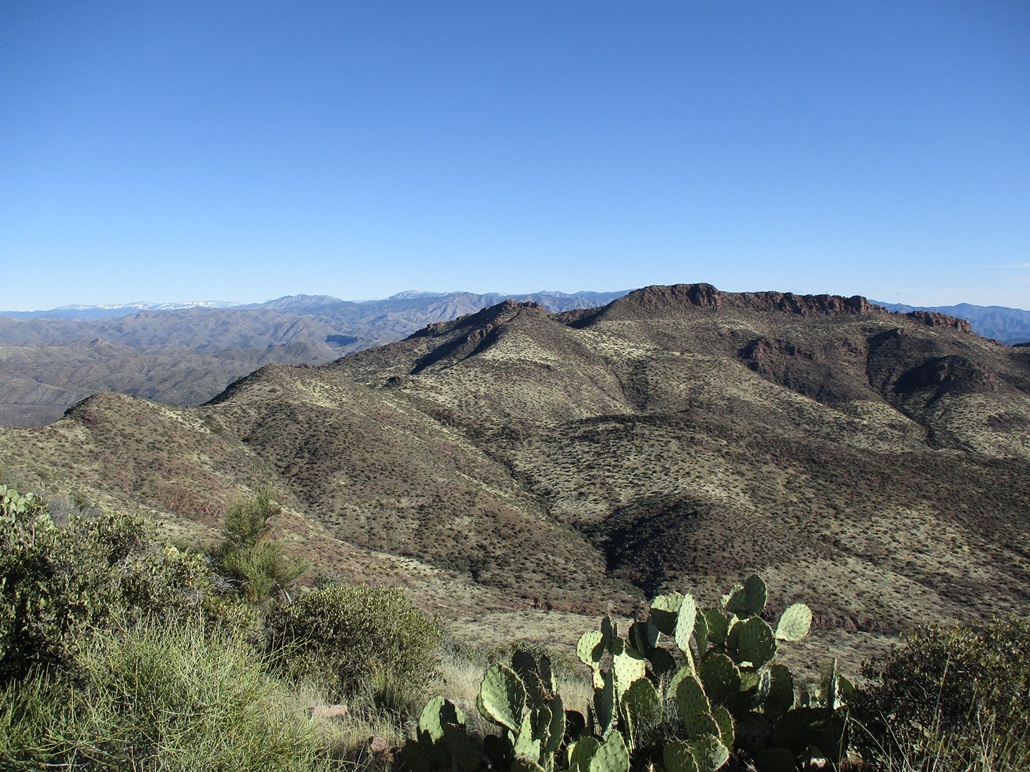 Crater Benchmark and its bumpy ridge leading to it. Nah, not today I decided
&nbsp


Cairn atop Peak 4378, the Picachos in back
&nbsp


Twin Peaks East and West
&nbsp


Twin Peak West. I went up the steep slope facing east (left). I suggest to go up the longer north slope (right)
&nbsp


Twin West, cactus and rock formations
&nbsp


Close up of the white formation
&nbsp


Interesting scarp
&nbsp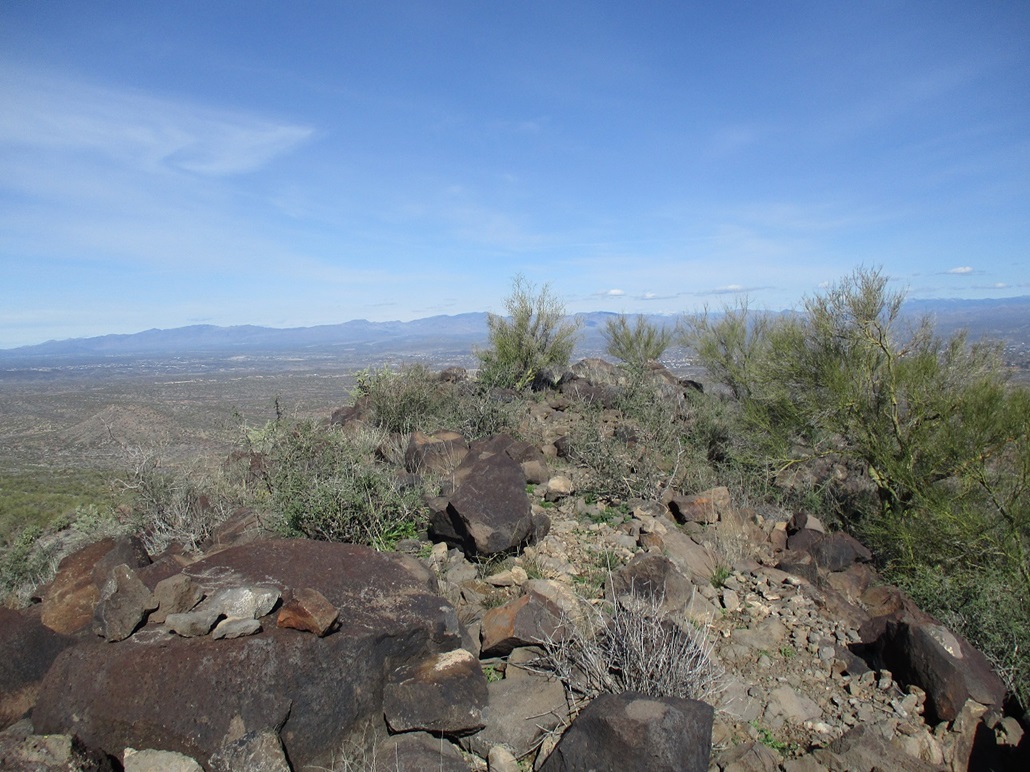 Summit of Twin West
&nbsp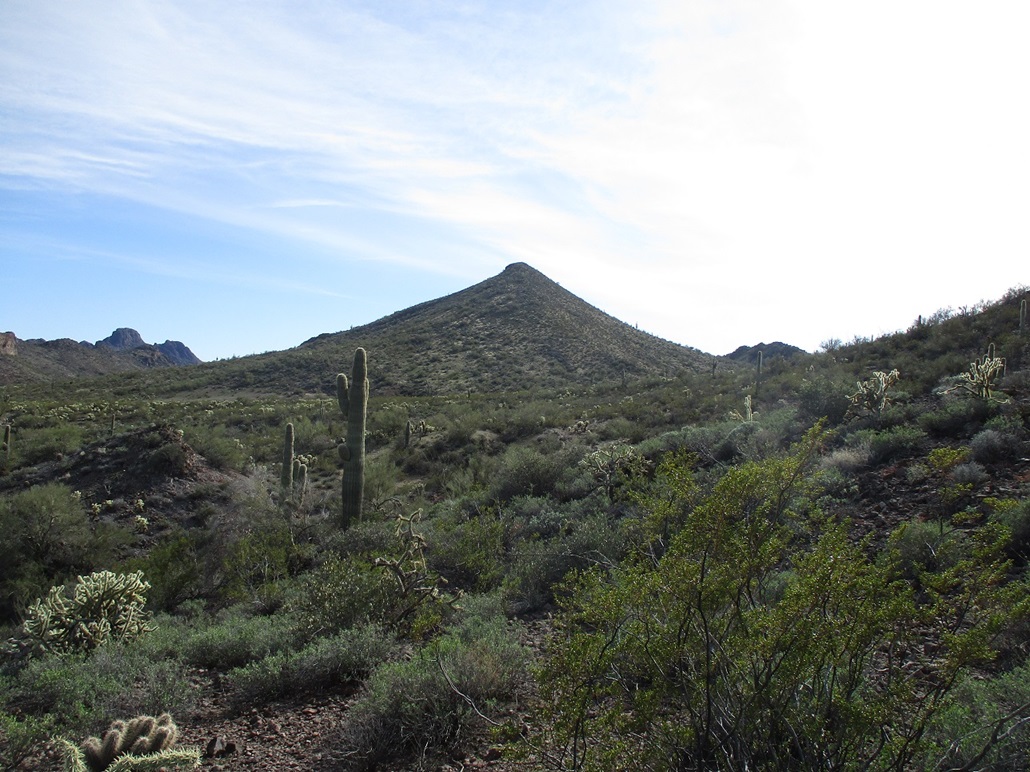 Twin East
&nbsp


Lovely ridge hike to Twin East
&nbsp


Vulture Mountain from the summit of Twin East
&nbsp


Twin West from the summit of Twin East
&nbsp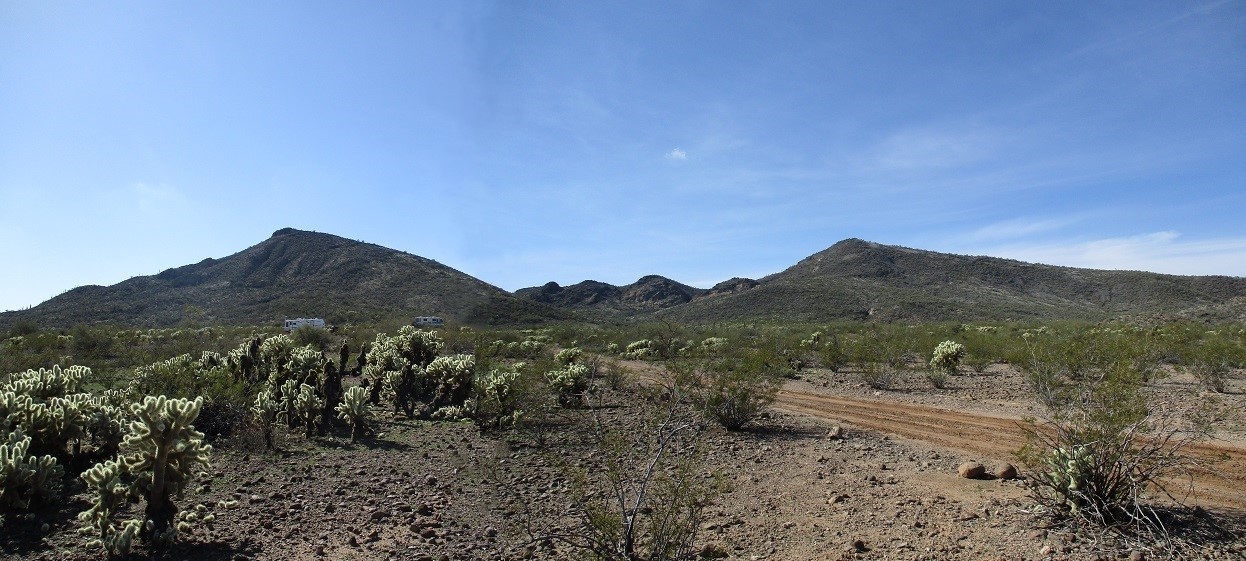 The two Twins
&nbsp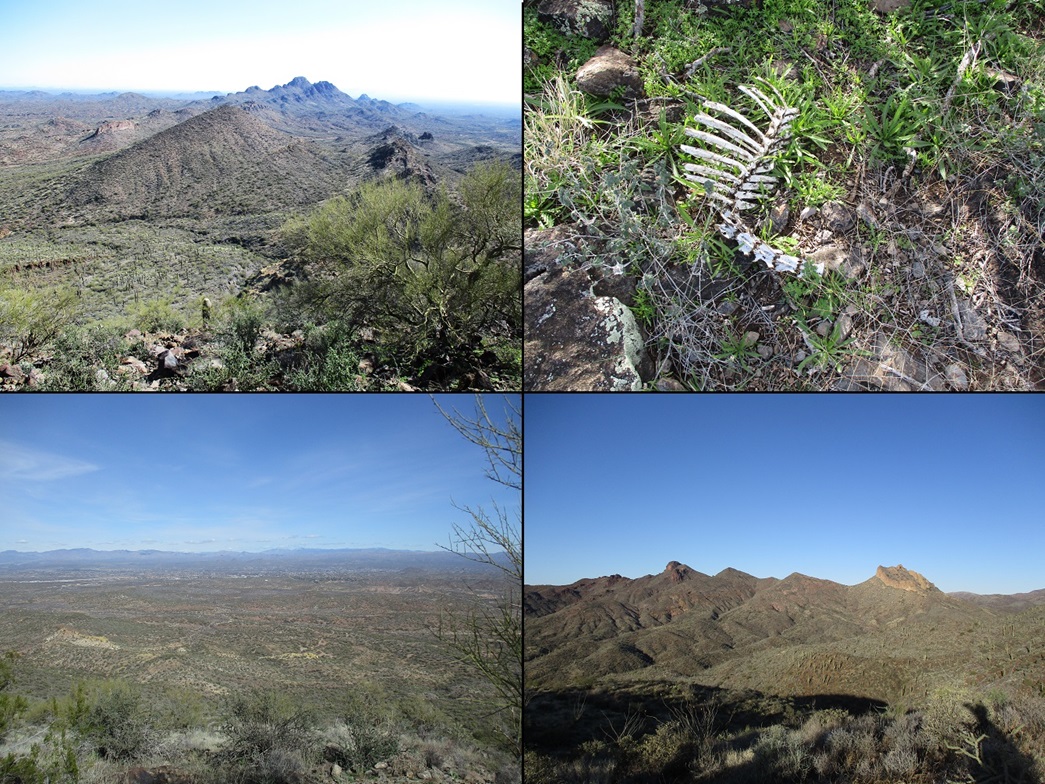 Montage: Twin East from Twin West, a rib cage (or an alien from Alien), Wickenburg in back with snow way in back, another shot of the Picachos
&nbsp

All images
• • •

The Arizona
Mountains Gazetteer
Click to find out more!
Wickenburg Wanderings
Peak 4378 • Twin Peak West • Twin Peak East
Eleven days ago, I hiked two peaks along Castle Hot Springs Road in the Hieroglyphic Mountains, at which time I wanted to come back and hike to Crater Benchmark, the highpoint (maybe) of possibly the Hieroglyphic or Buckhorn Mountains, or maybe not. With a day open, I returned to the area, now intending to tag Crater Benchmark. Well, that didn't happen as you shall read below (hint: mud).
I then tacked on two more peaks, the Twin Peaks pair about 5 miles south of Wickenburg, along Vulture Mine Road. So while I didn't meet my primary goal, I was able to summit three more ranked peaks, plus experience the joy of Interstate-10 during rush hour on the way home.

Peak 4378

• Buckhorn Mountains
• Yavapai County

Date: January 19, 2023 • Elevation: 4,378 feet • Prominence: 308 feet • Distance: 4 miles • Time: 3 hours, 20 minutes • Gain: 1,170 feet (net) • Conditions: Sunny, chilly at first, muddy ground
Arizona • Main • PB • LoJ
I was on the road well before dawn, and an hour later, as the sun was now up but still low in the east, I was now on Castle Hot Springs Road, traveling north. It didn't look much different than it did 11 days ago, except muddier in spots. I drove in until I was past milepost 11. The turn-off I sought was a lesser road branching uphill to the left, opposite a hill with radio towers on its summit. I drove up this road a few feet and parked in a flat clearing. It was 7:45 a.m., sunny and clear, but very cold, temperatures a shade above freezing.
I was moving within moments, following the right branch of an old track. Immediately, it is washed out completely, but a footpath allows passage past the washed-out part. About a hundred yards later, it branches again. I went left, uphill, this branch marked by surveyor ribbon. I figured it must be there for a good reason, so I followed it.
The road barged uphill, often very steeply, and interestingly, is built exactly on the ridge — not slightly lower on a slope, as is normal. Following it wasn't difficult, but a couple days of rain from earlier in the week had made the tread a little slick or sticky in spots, which did not help when on the steeper parts. A band of burros also stood by, watching me and braying. They ran off but then turned to watch me some more.
I kept to the road going up and up and up. To my left (southwest) were Red and White Picacho peaks. Up ahead on my route were two rock formations, one an impressive red-colored pillar. The trail would pass through the gap between them, so I called these features the "goalposts".
The road soon ended and reduced to a track. Mountain bikers (and possibly motorbikes?) travel this path. At times, the path was heavily eroded, channels about a foot or two deep. When it wasn't directly on the ridge's apex, it dropped steeply into the draws before regaining steeply to get back onto the ridge. In these drops and regains, the wetness and mud made footing precarious.
The track then gains onto the saddle below the left goalpost, then traverses below. Here, the trail is narrow and built into the hillside, a "shelf-trail". The runout below was steep and a fall in some spots could be real bad, as in fall-down-for-a-long-way-and-die bad. I moved slowly here. It was getting muddier too, which made footing tricky. More than once I would slip, and especially on this narrow trail with exposure, my heart would race like crazy.
The trail then gains a higher ridge, then ... ends. Kind of. Here, the ribbons were tied to a lot of branches trending to my left and downhill, so I followed them, but within about 50 feet, knew this was not the way I wanted. I think this trail eventually leads down to the canyons below and a road that comes in from Wickenburg. Back at the "end", I found a scanter use-path that went right, now going uphill on a gently-sloped grass-covered hillside. Peak 4378 rose above me. But, the trail by now was just sopping-wet goopy mud. It collected onto my shoes. My poles would stick into the mud. I slipped and slid often. Finally, this scant trail ends, there being no more trail to follow.
Since Peak 4378 was right there, I busted upslope and was on its summit within minutes. I found the top, found a register and signed in, the last signer-inner from 2012. I had a good look at Crater Benchmark Peak, and the ridge to it, with its five littler bumps to get past.
I started to descend off Peak 4378 toward the the lower ridge and first of the bumps. I got about halfway down, still contending with mud and uncomfortable footing. Then I called it. This wasn't what I signed up for, and I'd be at this for another few hours, and who knows what kind of mud awaited me. I was pleased to get at least this peak in and had gained over a thousand feet, so it wasn't a bad morning's effort. I hiked out the same way, arriving back to my car a little after 11 a.m..
Later, I studied the topographical maps and saw that the aforementioned road "from Wickenburg" passes below Crater Benchmark on its north. I wondered if it would be possible to come in from that way, and gain the lower saddle directly, then just go up to the top. Hmmm, I think it might work, but I'll find out another day.
One cool thing that happened was that two fighter jets from Luke Air Force Base came roaring through the area. One stayed high, but another was weaving through the peaks, banking left and right, the roar so loud it reverberated for many seconds thereafter. I'll never get tired of that stuff.
I was bummed to not make it to Crater Benchmark, but knew I had made a correct decision. The mud was too much, an extra level of challenge that I grew weary of fast. It was not yet noon. Now, I figured since I'm all the way out this way, maybe I'll go look at some peaks I normally would ignore due to distance. Thus, I zeroed in on the Twin Peaks pair about five miles south of Wickenburg, north of the famous Vulture Mine.

Twin Peaks West

• Vulture Mountains
• Maricopa County

Elevation: 3,382 feet • Prominence: 642 feet • Distance: 2.7 miles • Time: 90 minutes • Gain: 730 feet • Conditions: Sunny, cool
PB • LoJ
I drove into Wickenburg, sopped for snacks at a minimart, then folloowed Vulture Mine Road south a few miles until I was near the Twin Peaks, which stand out well and are obvious. I drove in on a rutted dirt road about a quarter-mile. People encamp here in their RVs, this being State Trust land. I found a spot and parked. It was about 1 p.m. now, still cool and slightly cloudier.
The West Twin is the higher of the two. I intended to hike to the saddle between the two, go up to the higher West peak, come back down, then the East Peak. That was my plan, but then topography got in the way. The saddle is not "close", it is kind of around back, and there are rocky sub-peaks and outcrops along the way.
I found a track that went down through the drainage and up onto the lowest flanks of the West peak, then just started hoofing it upward. It was not difficult at first, the brush and cactus spread out nicely, the rocks mostly solid. Up ahead were a couple of rocky extrusions, one looking like a sidewalk, another a scarp with an overhang. I got to these and admired their peculiarness. All was well so far. But once above these things, with about 150 more vertical feet to go, the slope steepened and the tread much looser. It was scree about the size of softballs. It held together ... most of the time. I was able to make it up, but decided that I wasn't going down this way.
The top is a flat perch about 50 feet end to end, maybe 20 feet wide, mostly big volcanic boulders. I tagged one or two highpoint contenders. I did not find a register. It was cool up here, the breeze a little stroger, and high clouds were moving in from the west. I spent about ten minutes having something to drink and just looking around.
For the descent, I dropped off onto the long north ridge, which is very leniently sloped. It worked splendidly. I followed to another ridge that dropped east back toward the parking area. This worked well too. Once down into the arroyo system, I just followed whatever lanes and openings until I was essentially back to the aforementioned track. My north ridge route worked very well and did not add much distance, maybe 0.3 mile. I would recommend this as an approach route as well. In other words, don't be seduced by trying to go up from the saddle between the two peaks like I was. Essentially, treat these two peaks as separate hikes.

Elevation: 3,245 feet • Prominence: 345 feet • Distance: 0.8 mile • Time: 45 minutes • Gain: 525 feet • Conditions: Slightly cloudier
PB • LoJ
I took a brief rest at the base, getting mentally ready for more uphill grunting. I found a path that circled around the base for a few yards, then started upslope. The first little bit was up through brush and the scree rock, but the grade here was so low, nothing moved and it was easy-going.
I was soon at the rocks, big volcanic bouldery things. The grade stayed friendly and the rocks didn't pile up too often. There was always a way through or around them. The slopes on either side soon steepend to where I was on the main ridge.
Everything was great, for now. I kept thinking this was too easy, there is surely something higher up that will slow me or stop me. But, nothing ever did. It just stayed this way and boom, I was on top! It was one of the most consistent ramp-ridges I've ever been on. Cool. After two hearty hikes, I was pleased to have such a simple hike for my third peak of the day.
The top was small, just a few feet from end to end. I found no cairn nor register. I took some photos and then sat there for ten minutes, enjoying the day, resting my weary legs, and watching the cars, motorcycles and ATVs go back and forth on Vulture Mine Road below me. Somewhere down there is a cattle grate, and every time a car when over it, it made that fast percussive sound. I never realized how annoying that sound is. It's one thing to do it in your car where you just hear it once, but if you lived near one, it gets annoying fast.
I hiked down the same way. This hike had gone fast, about 45 minutes and covering less than a mile easily. It was about 3:30 p.m. now. I was officially tired. I changed into my driving clothes, now to head back to Tempe.

The drive was quite an adventure. I proceeded south on Vulture Mine Road to the middle of nowhere, where it intersects Aguila-Tonopah Road. There was no one out here, and I was going about 60 miles per hour, not in any rush. I get in behind a little pink-colored sporty car that was going about the same rate. Then it slowed down by 10 m.p.h., then suddenly sped ahead, with that lawn-mower engine sound those little cars like to make.
Me, I don't care. They're ahead of me far enough that they don't matter to me, and I was in no hurry. But then I caught up to this person... who would speed off then slow down. At one cattle grate, she/he/him/her/they/xim came to a near complete stop to drive over it. I was wondering if they'd ever seen a cattle grate. Then this person would speed off, then coast down slower, I'd catch up... finally, this person suddenly signals and makes a sudden stop in the gravel beside the road. I figured this was too weird so I took off, going quicker than I should have, just to get some distance between me and sporty-car driver.
So now I'm on the road net in Tonopah. I get onto 339th Avenue, intending to get on Interstate-10 there. But the eastbound freeway is closed! The exit and entrance ramps were closed with cops manning them. There were no cars on the freeway and up ahead, I could see more cop lights... so something serious must have happened. I had no way of knowing.
People were being forced to exit, and there was a lot of uncertain driving where people would pull to the side, or start up then stop again, obviously not sure what to do. This far out of Phoenix, there's just one viable alternative to follow. I knew what to do because I've driven these roads before, but someone's on-board GPS may not know of an alternative route.
I stayed southbound on 339th Avenue until it connected with Salome Highway. A few others were behind me, these people probably doing the same thing. Once on Salome Highway, there are options. I took it briefly, then left onto Baseline Road, then a few more miles to Palo Verde Road, then that north back to Interstate-10, where I got back on. I don't know what happened to close the freeway. I went on the websites like Az511, but no luck.
It was now rush hour traffic. I just rolled with the punches. Things were okay until I got to the Deck Park Tunnel in downtown Phoenix. There, traffic came to a standstill, not helped by a very inconvenient merge of two lanes. It took about 15 minutes to go 2 miles. Once I was on the 51 freeway, then things picked up. Since I had done so well today, I rewarded myself with the four-taco special at El Jefe's, on the frontage along the Loop-101 southbound.