Looking up the road, with Whiskey Spring Head to the right
&nbsp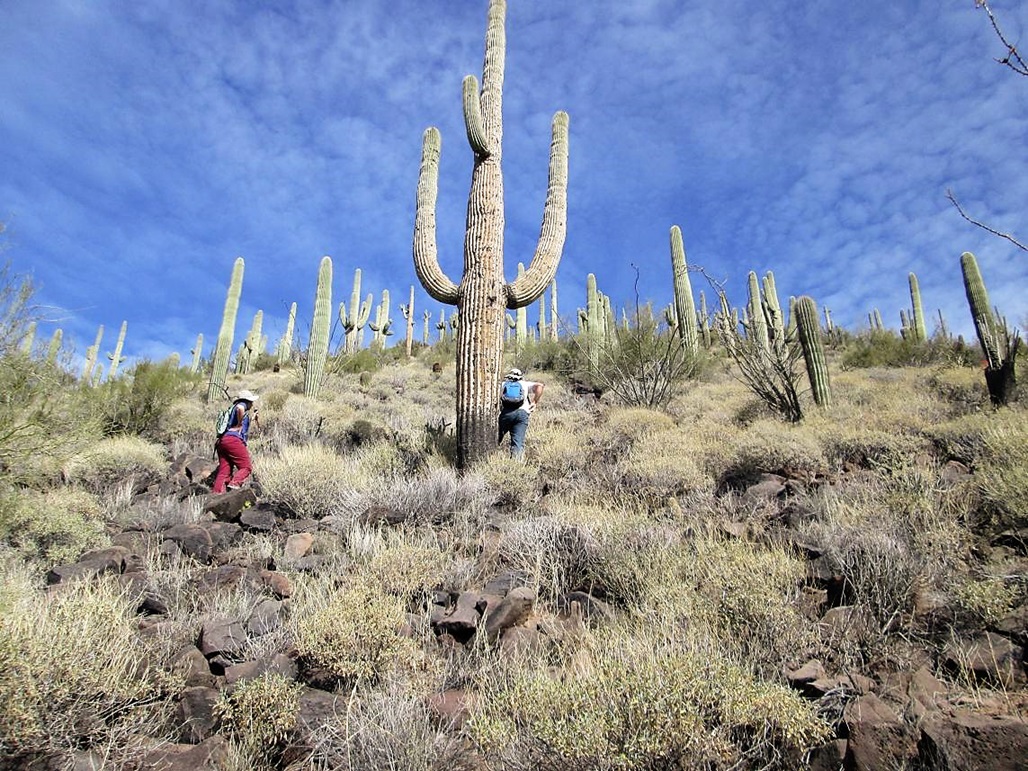 Sarah and Andy Martin slowly walk up through the big saguaro
&nbsp


Andy, John and me atop Whiskey Spring Head. Photo by Sarah
&nbsp


View southwest at Peak 2765, our next objective
&nbsp


Andy's truck down below
&nbsp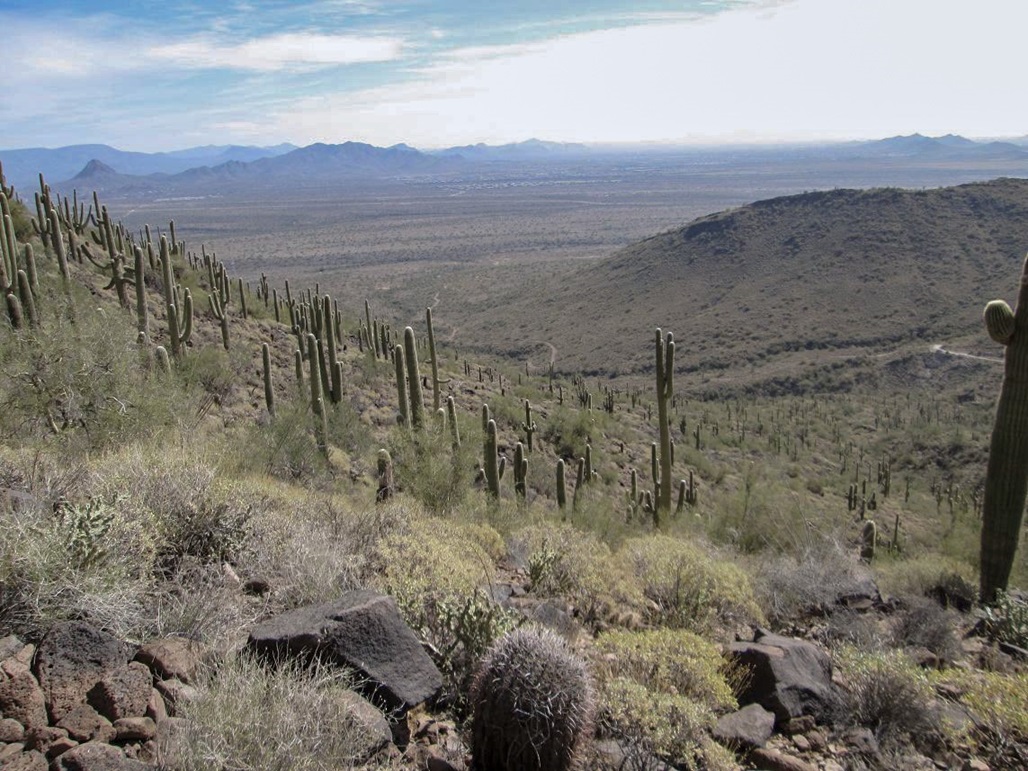 View east. My truck is somewhere down there
&nbsp


Hiking up to Peak 2765
&nbsp


And just like that, we're here. Andy, me, Sarah
&nbsp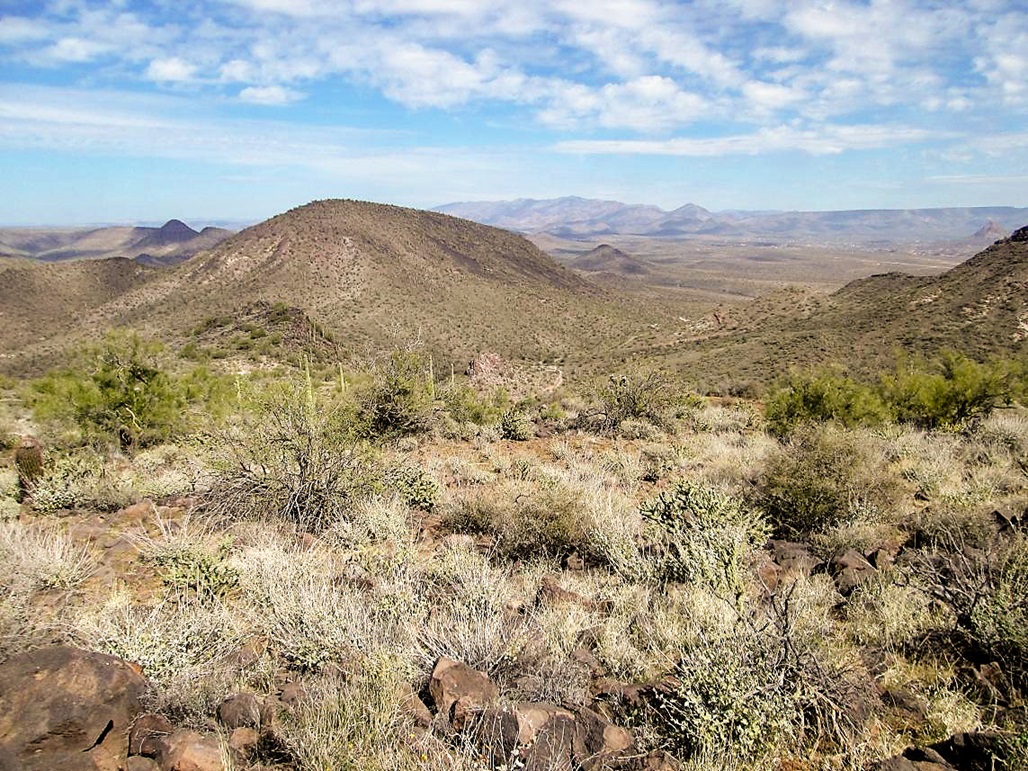 View of Whiskey Spring Head as we descend Peak 2765
&nbsp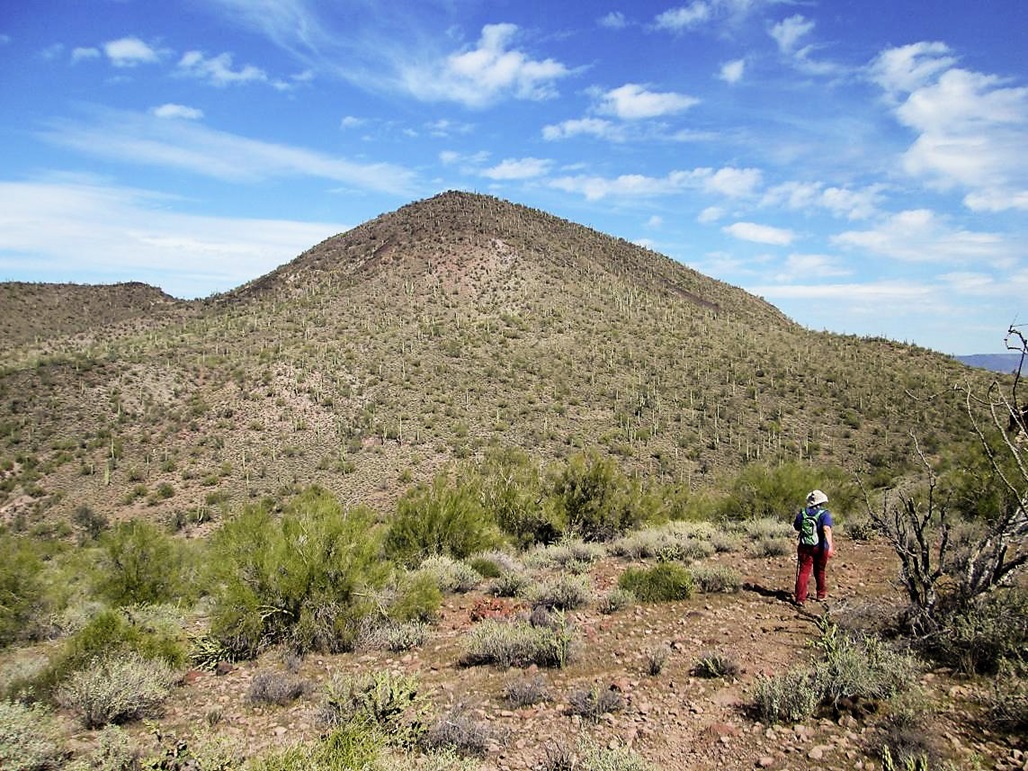 Another view of Whiskey Spring Head


• • •

The Arizona
Mountains Gazetteer
Click to find out more!
Lake Pleasant Hills
Whiskey Spring Head • Peak 2765
About a year ago, I determined the highpoints for all of Maricopa County's two dozen incorporated towns and cities. Today, John Mitchler, Andy Martin and his wife Sarah would convene to climb two of the city highpoints, that of Phoenix and of Peoria, which by lie about a mile apart from one another.
For years, the highest point in Phoenix was Camelback Mountain, at 2,704 feet, or South Mountain, with an interpolated summit elevation of 2,710 feet. However, Phoenix has incorporated land farther north, encompassing hills that border Lake Pleasant. Anonymous Peak 2866 got absorbed and is now the new city highpoint. Peak 2866 even has an unofficial name, Whiskey Spring Head, since it sits above Whiskey Spring.

Whiskey Spring Head

• Lake Pleasant Hills
• Highpoint: City of Phoenix
• Maricopa County

Date: February 23, 2014 • Elevation: 2,866 feet • Prominence: 546 feet • Distance: 1.5 miles • Time: 2 hours • Gain: 1,000 feet • Conditions: Warm with high clouds • Teammates: Andy Martin, Sarah Marton & John Mitchler
Arizona • Main • PB • City HPs of Maricopa County
We met one another at 9 a.m. where 67th Avenue intersects with New River Road west of Interstate-17. The day was clear and going to be warm. Up here, there's no development. The land is mostly Arizona State Trust land. Even though 67th Avenue is a major boulevard in the main part of Phoenix, up here it's just a dirt section road bulldozed into the desert. We drove north and in a mile, came to a posted gate and a home. Not wanting to deal with the occupants, we backtracked south onto a gas-line road.
We followed the gas line road about a mile northeast, then eased left onto a track trending mainly north to where it intersected another road that paralleled some power lines. John parked his car here and rode with me. I followed Andy on the powerline road and less than a mile later, we came to a left turn, onto a very rough road that wiggled west up toward a pass just south of Peak 2866.
I wanted no part of this road, so I decided to park here and hike in. Andy bashed his truck with Sarah and John up to the pass, then waited for me. It only took me about 15 minutes to walk up this road, about a mile of distance and 300 feet of gain. We convened again, then started the climb to Peak 2866.
The peaks here are volcanic, shaped like bread loaves and covered in consistent slopes of rounded basalt boulders, brittle brush, saguaro, and thickets of cholla. There's no trick to gaining Peak 2866. We hiked north directly uphill and about 30 minutes later, we were all on top. Along the way, we had to work around and through a very thick cholla patch, and I got a few onto my pant leg and a couple onto my skin.
The last hundred or so feet was steep, with looser rocks, but we walked slowly and had no issues. The day was fairly warm, and we spooked a snake at some point. We heard a weak rattle, so he may not have been close by. Up top, we took a few moments to locate the summit rocks. Believe it or not, others have been here before us. But just the usual suspects, Nick Scouras and Bob Packard.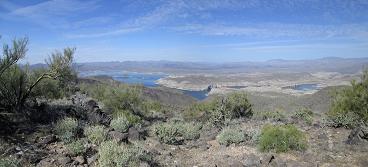 Lake Pleasant as seen from atop Whiskey Spring Head
We took a few minutes to rest and relax up here. The views were nice, and our next objective, Peak 2765, was visible southwest of us. The main treat here was the unique vantage of Lake Pleasant. The sky was blue with high clouds and some glare from the sun. Our hike down went well, trying to avoid slipping, scaring snakes, or getting caught up with the cholla.
We were back to Andy's truck, and we were going to drive the half-mile to another saddle below Peak 2765, but Andy had left his lights on and the engine wouldn't turn over. No big deal. We walked the road toward Peak 2765, and would deal with the battery issue when we got back.

Peak 2765

• Lake Pleasant Hills
• Former Highpoint: City of Peoria
• Maricopa County

Elevation: 2,765 feet • Prominence: 525 feet • Distance: 1.5 miles • Time: 2 hours • Gain: 500 feet
We walked downhill to a distinct rock outcrop that rises about 30 feet. On its other side, a road crests at a saddle, immediately below Peak 2765's northeast flank. We found an old fence line and a rough, but open, path that generally paralleled the fence. This path allowed for easy, unfettered passage, and we were very happy to discover it led almost all the way up to Peak 2765's top. In fact, it ended at a higher saddle, less than 100 vertical feet below the top.
That last hundred vertical feet was up open slopes of basalt rock with some brushy sections. Soon, we were on top this hill, and located the summit rocks. John's sight-level confirmed which rocks were the top. We brought a register and built a tiny cairn here, then relaxed again and enjoy the views.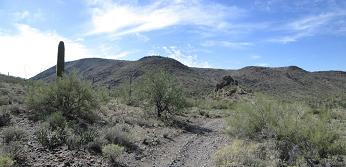 Peak 2765 to the left, surrounding hills and slopes nearby
The views were just as we had on top of Peak 2866, nice in all directions. We spent about 15 minutes up here, then began the trek down, retracing our steps back to Andy's truck. Andy was able to get the engine to turn over, saving us the need to hike down to my truck, bash it up to the saddle, jump him, then bash back downwards.
All four of us rode in the truck, me in the back. The road was very rough, filled with large rocks, embedded bedrock, and ruts. The drive down took about 15 minutes, and I was happy to be down and out of the back, as I was starting to get a major case of motion sickness otherwise.
John then drove with me back to his vehicle, then the three of us drove back to where 67th Avenue meets with New River Road. We stopped to say our goodbyes. It had been a productive day, getting two little, yet interesting, peaks. We may be the first to knowingly hike the highest points of Phoenix and Peoria.
I don't think Whiskey Spring Head is going to see the hordes of hikers like on Camelback. It's even possible there may be a new Phoenix highpoint in the future. The city limits extend about one more mile north. However, beyond that is another peak, Sweat Peak, at 2872 feet elevation. Should Phoenix absorb that land, then that would be the new highpoint. Phoenix could conceivably incorporate Anthem and Daisy Mountain, but I sense that is very unlikely. For now, Peak 2866 is the city highpoint, in all its anonymous glory. Peak 2765 is even more anonymous. It seems likely to remain Peoria's highpoint for years to come, but I doubt it sees more than a few people a year on top of it.
One last thing: the "range" to which these hills belong to is uncertain. The Hieroglyphic Mountains surround Lake Pleasant to the west. However, the Agua Fria River, which is dammed to create Lake Pleasant, splits the range, so that the Hieroglyphics are to the west of the river. I could find no names for the range east of the river. If I had to guess, I'd assume the east side hills to be part of the Hieroglyphic Mountains as well, but I call them the Lake Pleasant Hills for this website.
Update (2021): Peak 2765 is no longer the highest point within Peoria city limits. The city added more land west of Lake Pleasant, north of highway AZ-74, absorbing Syenite Peak (elevation 2,783 feet). That peak is now the highest point in Peoria ... for now. Since there is so much room to grow and Peoria likes annexing land, the city highpoint status may change in the future, again. Stay tuned.