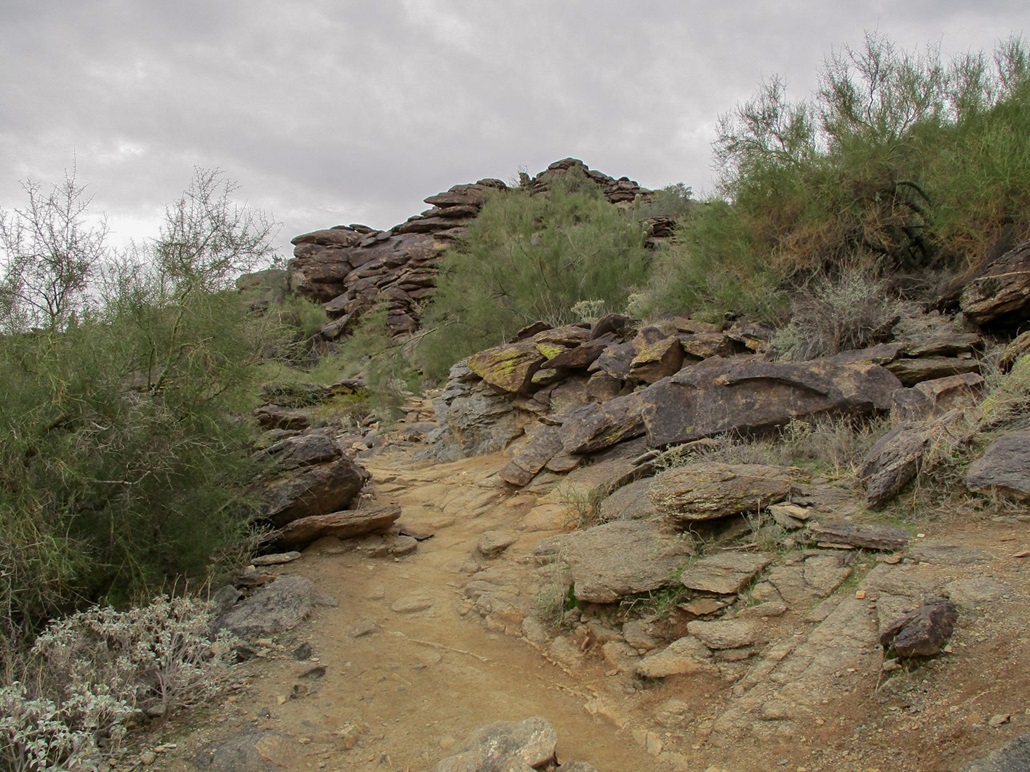 On the trail
&nbsp


Two Peaks ahead, the western one partially obscured
&nbsp


Approaching the top
&nbsp


Summit, looking west at the towers. Harvester Benchmark hill is the rise to the mid-left
&nbsp


Look over at the peak from the slightly lower one
&nbsp


Mormon Hill


• • •

The Arizona
Mountains Gazetteer
Click to find out more!
Date: December 31, 2021 • Elevation: 2,205 feet • Prominence: 135 feet • Distance: 3.8 miles • Time: 90 minutes • Gain: 1,085 feet (gross) • Conditions: Cloudy, gray and drizzly, but not too cold
Arizona • Main • PB • LoJ
Today being the last day of 2021, I wanted to send off the year with a hike, and I wasn't too picky about where and on what. The day was rainy, gray and cloudy, but not that cold, in the low 60s. I did not want to go far either. I studied the maps and saw this hike in the South Mountains, and liked it immediately. It was close and an opportunity to hike another trail in the range I haven't yet been on.
The drive took about twenty minutes, as I stayed on surface streets. The trailhead I wanted was the Mormon Trailhead, at the south end of 24th Street. I rolled in about 1:30 p.m., and luckily got a spot. The lot hold about twenty cars. It's a popular hike, lots of people from the neighborhood come here on foot. I saw people of all ages, including a lot of kids. Glad to see them getting out and exercising
I got onto the Mormon Trail and followed it upward. The trail is wide and well maintained, and occasionally passes over or on long sloping rock, but footing was always good. Higher up, the trail switchbacks through interesting rock formations, looking like oreo cookies stacked atop one another.
I neared the top and rounding a bend, saw the Two Peaks. The good trail angles below and left of the peaks. I found a scant foot path and followed it upward. This path went the whole way up (or more accurately, it braided with other paths in such a way that I could keep to a path the whole way). The higher summit is the western one. There was a small cairn up here, and a good perch to look around. West were the towers atop Suappoa Peak, and the hump to its left (east), Harvester Benchmark hill, which I hiked in July when it was hot. Today, with all the gray, the views weren't the best.
I then hiked to the eastern bump. The map says there is a benchmark here but I saw nothing. Just a hump of bare rock. I retraced my route down, back to the Mormon Trail.
With time to burn, I continued "up" the Mormon Trail another hundred or so feet, taking a left up a track to the top of Mormon Hill, just a small rise (prominence about 60 feet), but with good views too. There were some people here, so I didn't linger. A sprinkle started coming down.
I hiked out to my car, my total time 90 minutes. The rain stayed light and stopped after a few minutes. As I descended, there were still plenty of people coming up. The lot was still full and cars coming and going.
I rarely hiked in the South Mountains during my first fifteen years in the Phoenix area. I went there once in a while, but I could count my visits on the fingers of one hand. I only started hiking in the South Mountains recently. I still do mostly out-and-back hikes, but over the past couple years have hiked "many" of the trails, although I have no idea of a rough percentage. Today is a good example: I was very impressed by the trail and the scenery. I wish I could transport myself back to 1996, and have a chat with my younger self. I'd tell him to go check out the South Mountains more, and to get rid of that damn mullet.