Tolson Peak (Peak 2934)
&nbsp


Going up
&nbsp


Top, big cairn
&nbsp


Better look at Tumamoc Hill
&nbsp


Southwest view, Cat Mountain
&nbsp


Northwest view, Golden Gate Mountain
&nbsp


I parked near the house with the white roof
&nbsp


Pistol Peak into the sun
&nbsp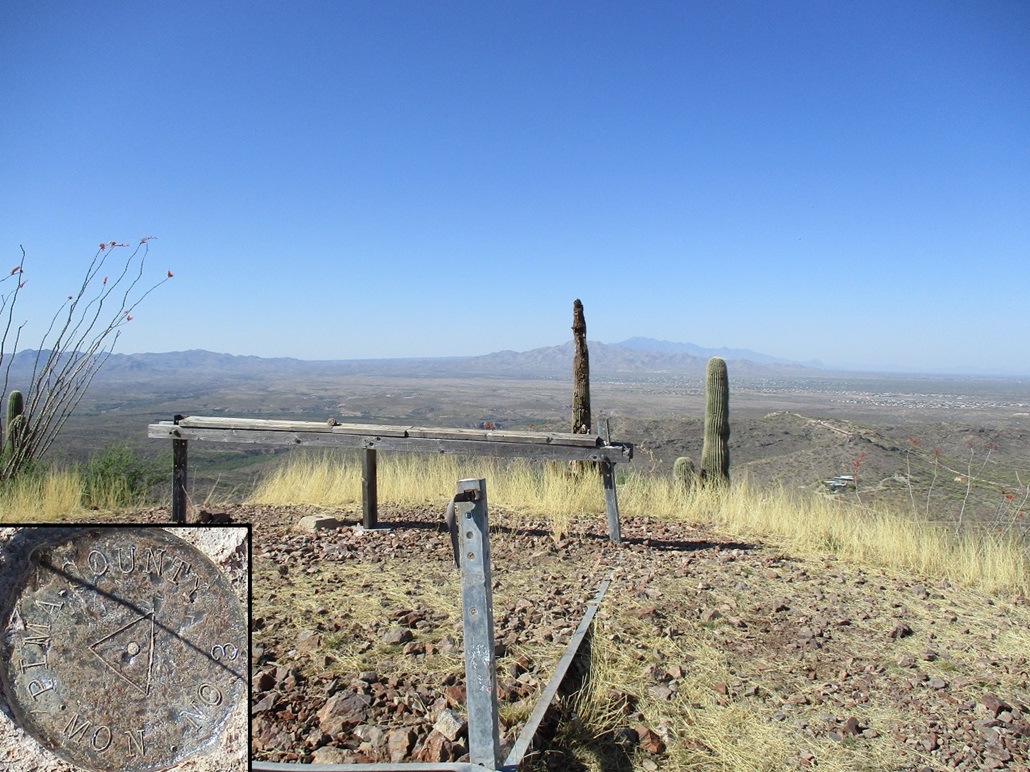 Top, with Benchmark
&nbsp


North view, Tanque Verde Ridge
&nbsp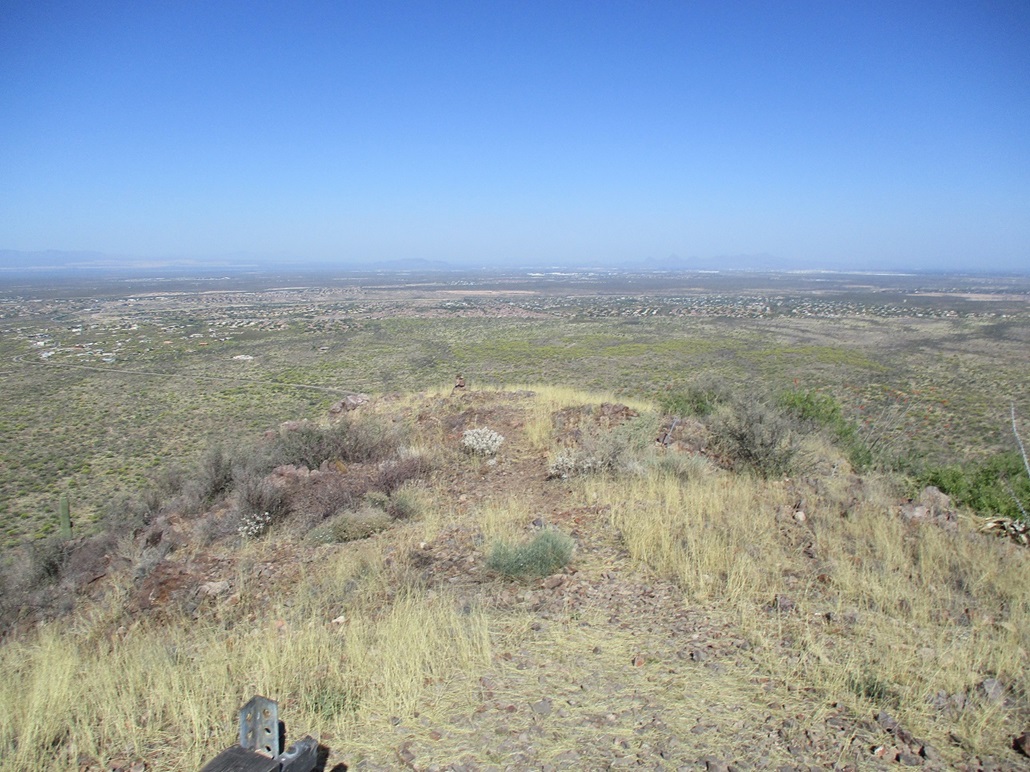 West, Tucson
&nbsp


Bull snake
&nbsp

• • •

The Arizona
Mountains Gazetteer
Click to find out more!
Tucson Two-fer
Tolson Peak (Peak 2934) • Pistol Hill
I was passing through Tucson, first in the east direction then in the west direction, attending to some particularly important matters. My time for any hikes is severely limited. My knee is also still bothering me so that really long hikes are out for now. Also, it's getting hot these days. The combined effect is that I have done almost no hiking in the past month and what I can do is curtailed to short quickies with a trail.
For this trip, I honed in on two peaks, neither of them on any bucket list, but they fit the current criteria well. On the way to the place where the important matters are being attended to, I stopped for an hour and hiked Peak 2934. Then, on the way from the place where the important matters are being attended to, I stopped to hike Pistol Hill and nearly step on a snake.

Tolson Peak • Peak 2934

• Tucson Mountains
• City of Tucson
• Pima County

Date: April 29, 2022 • Elevation: 2,934 feet • Prominence: 314 feet • Distance: 1.2 mile • Time: 50 minutes • Gain: 420 feet • Conditions: Warm, slightly hazy with dust
Arizona • Main • PB • LoJ
Tolson Peak (Peak 2934) rises west of Tumamoc Hill, the most visible of the hills in this area, which is west of Interstate-10 at the Starr Pass exit. Tumamoc Hill is big with a flat top. To the east is Sentinel Hill with the big "A" on it, and to the west is Peak 2934, hiding in plain sight. I saw online it has a trail and was short. Good enough for me.
I took the Starr Pass Road exit, went west a couple miles to northbound Greasewood Avenue, then west on Calle Morado, in a subdivision of homes. At the road's end is a small turn-around, room for about three cars. There are no signs prohibiting access and it appears the hill is hiked often, probably by the locals mainly.
It was warm and very hazy. My car's air temperature gauge toggled between 83 and 87 degrees, not so hot to forbid any hiking, but not terribly cool either. For me, 87 degrees is about as warm as I can hike comfortably. Now, I have hiked in temperatures in the mid-90s and even into the low 100s, but I hiked those uncomfortably.
I got suited up ... or not. Since it was a short hike and I'd be on trail, I just wore a pair of shorts, my shoes, a hat, and a small day pack. I walked around a cable barrier and skirted widely around a beautiful palo verde blooming with thousands of its yellow flowers. Problem is, the bees like those flowers too. The whole tree was humming and I had no desire to get stung or swarmed upon.
I followed the trail upward. Down low, it's rocky and a little haggard, showing the effects of erosion. The trail achieves a low ridge, where it improves in quality. It was wide enough so I could see my feet and not have to worry too much about the encroaching brush and the creatures therein. A couple spots were steep and loose but otherwise, it was in good shape.
The one-way hike is short, about 0.6 mile taking into account the switchbacks and turns. I was on top in about 20 minutes, walking to a large cairn about 5 feet tall and 10 feet in diameter. I assume the rocks all came from the summit, which means the original summit probably had a lot of loose rocks on it.
Views were okay, given the dusty haze. Here, it wasn't so bad as it was up by Phoenix. I snapped a few images, but didn't lollygag. I hiked down the same way and avoided that palo verde, back to my car in less than an hour. Not a bad peak. It doesn't get any glory, but it's a decent hike with easy logistics. Glad I hiked it.
I continued on to the place where the important matters were being attended to for a couple days. Then, on the way back to the Phoenix area, I detoured to Pistol Hill and the aforementioned snake.
The name, Tolson Peak, is new, and I do not know its origin. I am aware that this peak was up for a new name at the most recent Arizona Board of Geographical Names as of 2021/22, so it's possible this is the new name. It just started appearing on maps, November 2022.

Pistol Hill

• Rincon Mountains (outlier)
• Pima County

Date: May 2, 2022 • Elevation: 4,134 feet • Prominence: 574 feet • Distance: 1 mile • Time: 1 hour • Gain: 595 feet • Conditions: Warm, sunny, snake & bee
PB • LoJ
Driving westbound on Interstate-10, I exited at the Colossal Caves/Vail exit, going north then northwest, aiming for the Colossal Caves State Park. Pistol Hill rises in front of the park, so to speak. It has a conical shape when viewed from the south and southwest. Pistol Hill is outside the park boundaries, on State Trust land.
I was here in March for the same reason but had trouble locating the "correct" scraggly ATV track that leads partway up the hill. Satellite images show a trail all the way up from the end of this ATV track. I followed another ATV track and got nowhere, and not having any better ideas, bailed and returned to Tempe to stare at the walls. This time, after studying the satellite images more, had some sense where I needed to be.
The correct track is not easy to spot even from ten feet away. If heading north, there is a road on the left with a State Trust lands sign, and also a 45 mph sign on the east side (right as one drives north). The track is about 5 feet south of the sign but angled such that northbound travellers would never see it. One look at the track and I concluded it would not be smart to take my vehicle on it. Instead, I parked across the road near the State Trust sign. This added about 30 feet to my hike, both ways. My State Trust permit actually expired yesterday, so I was outlaw for the moment, but when I got back to Tempe, I purchased another one, good for a year.
It was not too warm, in the low 70s, but very sunny, the thermal effect of the sun much greater than the surrounding ambient temperature. It felt very hot on the skin. I walked up the ATV track, coming to a flat area with a small concrete foundation on it. The trail picks up from here.
The trail was a decent trail, steep at times, then at other times, making long switchbacks so that the gradient was very gentle. It was wide enough to look out for critters. Bees were busy with the palo verde flowers. The ocotillo are also flowering now, too, with their neat red flowers at the end of each stalk. I just walked carefully past the bees.
I was soon on the summit. It features a small metal frame, from an old airway beacon from about a century ago. These days, it's just the low frame, a Pima County benchmark, and good views of Tucson and of Tanque Verde Ridge to the north. I signed into the log. The peak sees a lot of hikers, the previous people here three days ago, but probably hiked a lot by the locals who don't sign in.
I did not stay long. I snapped some images, but the bees and flies were bopping into me, so I turned around and started the walk down. Going down went well, except for some loose sections. Then I saw a snake sunning itself in the trail. That got my heart racing.
He (him/they) was just laying there, not coiled or anything. I stood a respectful distance away and studied its pattern. It has a more "boxy" pattern, plus seemed too long and narrow to be a rattler. But I couldn't see its tail to be sure. So I did the smart thing and carefully entered the brush to detour around the snake. Just then he started to move, so I got back to where I was and then could see his tail. It had no rattles or buttons, just a narrow point. Not a rattler, thank heavens. It was a bull snake. They can get long. This one was about three feet long, maybe an adolescent. I am told that bull snakes are our friend as they are non-venomous and eat a lot of rats and other vermin. But looking at one, they can still give one a fright. I always like seeing a snake in the wild. As long as I don't get bit, they (him/he) are really cool creatures.
I was back to my car in about an hour. I changed into looser driving clothes and got back on the interstate, arriving in Tempe a little after 11 a.m.. Pistol Hill went well, and I "appreciated" the snake encounter, which added spice to the hike.