Ascending Hill 5122
&nbsp


View of Peak 5241 from Hill 5122's top. Gibson Peak in back
&nbsp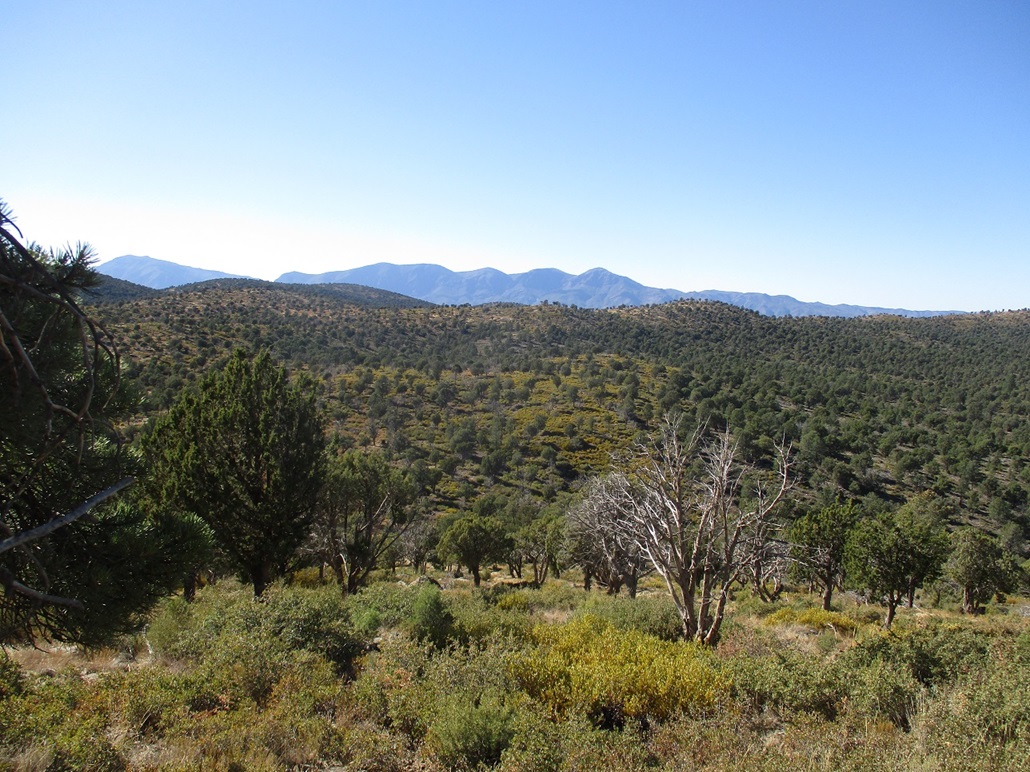 Looking back at Hill 5122, Table Top Ridge and the distant Mazatzal Mountains
&nbsp


Approaching Peak 5241's top
&nbsp


Summit of Peak 5241
&nbsp


View of Gibson Peak
&nbsp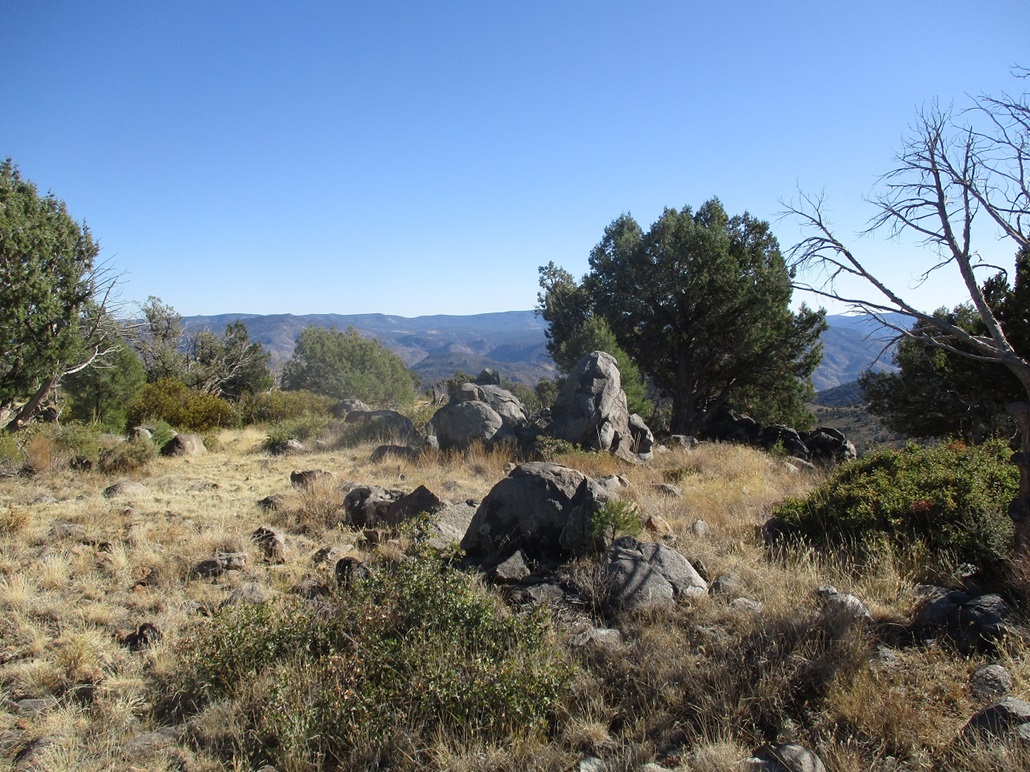 The highpoint rock
&nbsp


Look back at Table Top Ridge
&nbsp


Table Top Ridge as seen from FR-208
&nbsp


The broad slopes approaching Table Top Ridge's top
&nbsp


View east, the Hellsgate Wilderness and distant mountains
&nbsp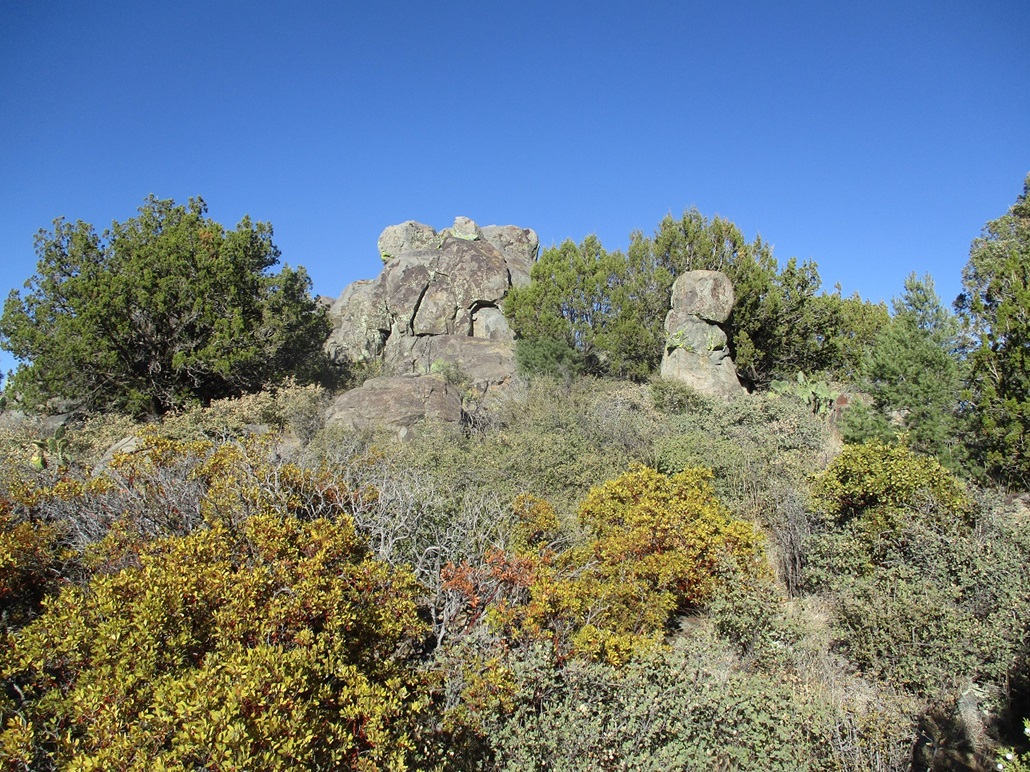 The summit rocks. The one at the left is highest
&nbsp


View below the rocks, this one is not the highest but the highest point is about ten feet away
&nbsp


Table Top overlook to the southeast


All images
• • •

The Arizona
Mountains Gazetteer
Click to find out more!
The hiking agenda for today was to tag two ranked summits, mere hilltops south of Payson in the foothills of the Mogollon Plateau. The hills are Peak 5241, and Table Top Ridge Highpoint, and I figured a well-chosen route could capture both peaks in less than 5 miles, most of it though open country, dirt roads and jeep tracks. The latter summit lies near the Jim Jones Shooting Range, adding an extra challenge to the hike.
Peak 5241

• Mogollon Foothills
• Tonto National Forest
• Gila County

Date: November 24, 2020 • Elevation: 5,241 feet (5,237 feet per Lidar) • Prominence: 297 feet per Lidar • Distance: 4.3 miles (whole hike) • Time: 2 hours and 30 minutes (whole hike) • Gain: 810 feet (whole hike) • Conditions: Clear blue skies and cool
Arizona • Main • PB • LoJ
I had to work from home, as usual, but not a whole lot was going on. By noon, I had a map and may basic hiking gear together and headed out the door. The day was magnificent: cool (in the 50s), dry and clear, the skies bright blue and not a cloud to be seen. The drive was short, less than 10 miles. I drove southbound on AZ-87 a few miles to the Jim Jones Shooting Range (Tonto FR-208). The road to the shooting range is hardpack, and cover 1.8 miles, says a sign. I parked in a clearing near the entrance, outside of the facility's boundaries. I started hiking a little before 1 p.m..
The plan was to head northeast toward Peak 5241 first, then circle around and tag Table Top Ridge on the way back to my vehicle. From the road, I started up the gentle slopes of Hill 5122, attaining its top a few minutes later. For good measure, I tagged its highest rock (the hill has about 160 feet of prominence). I wanted to be as high as possible to see what was ahead of me.
Peak 5241 rose about three-quarters of a mile to the northeast, with long easy slopes down to a saddle below the peak. I made good time going downhill, just needing to weave through patches of manzanita and watch for rolling rocks. I was soon at the saddle. There is a jeep track here that comes up from the southeast, and a fence-line and gate. I passed through the gate, then started uphill on Peak 5241's west slopes.
The uphill covered about 300 feet of gain, and went well. The tree cover was light and there were plenty of lanes to follow. I was soon on top, the highpoint being a rock jutting up about 5 feet above the ground on the summit's east edge. Views here were excellent. I snapped a few images, looked around for a register (found none), and took a very short break, but did not spend more than a few minutes up here. The one-way hike had covered about a mile and taken me about 40 minutes. Peak 5241 was now in the books.
Table Top Ridge

• Mogollon Foothills
• Tonto National Forest
• Gila County

Elevation: 5,265 feet • Prominence: 405 feet • Conditions: Shooty
PB • LoJ
Going down, I descended the west slopes but with a slightly more southerly tack. I would hit that jeep track no matter what, and I did. I followed the jeep track for a little less than a mile, catching FR-208 near Joe Tank in Weymouth Flat. I was now about a mile east of Table Top Ridge's highpoint. I walked west along the road for about 20 minutes, until I was close enough to hear the gunshots from the shooting range and to see some of the buildings. The Table Top Ridge highpoint was visible, an obvious hilltop with a pointed profile.
Clearly, I wanted to be nowhere near the shooting range. Nor did I want to be seen by anyone there. I left the road and started up toward a ridge still a half-mile east of the range. I was not concerned they'd be shooting upwards. Still, the sooner I was on the ridge and down slightly on its opposite side, the better. Once situated, I aimed west and encountered a couple fence lines, scooting under one and over another, now on the long east-facing slope of the highpoint.
I walked upward, angling to the shooting range fence. Here, there was no danger of bullets or shooters. Nevertheless, I stayed on the outside until I was as high and as close as possible to the top. I hopped the fence here, and walked a few dozen yards toward the large rock outcrops that compose the summit. I looked at its south side, then its north side, seeing a way up from this side. I dropped my pack and poles and scampered up a lovely cleft about 10 feet to be able to tag the topmost rock, which sits at the west edge of the rock outcrop. I did not want to spend any more time here than necessary. Once I tagged the top, I got down, got my stuff and located myself back outside the boundary.
Hiking out, I basically retraced my route, the main concern to be as far away and as invisible as possible from the shooting range. Thus, I tacked a little more east, but in time I was off the slopes and back to the forest road, which I walked back to my car. I had been gone a little over two hours, happy with today's results. I just drove home, showered and rested, then caught up on work emails.
I was pleased with the whole hike. I was expecting more trees and brush, but had little of either. The navigation was easy and the terrain and sights more attractive than I was expecting. I was able to tag a couple ranked peaks and get some exercise.
Peak 5241's prominence: The peak's prominence-defining saddle is hemmed in roughly equally by 4,920 and 4,960-foot contours, suggesting the saddle's elevation is in the middle somewhere, which would make this peak's true prominence close to 300 feet. The recent 1-meter Lidar dataset (USGS 1 Meter 12 x47y379 CA_AZ_FEMA_R9_Lidar_2017_D18) shows a summit elevation of 5,237 feet and a prominence of 297 feet.
FR-208's condition: This road is good hardpack when dry as far as the shooting range entrance. It gets washboarded due to regular traffic on it. There are a few pullouts in the area that could be used for camping but much of it is trashed with shooting detritus. Beyond the shooting range, the road drops down and heads east toward Weymouth Flat. The road looks pretty good and I think my car could have handled it.