Photos taken October 2021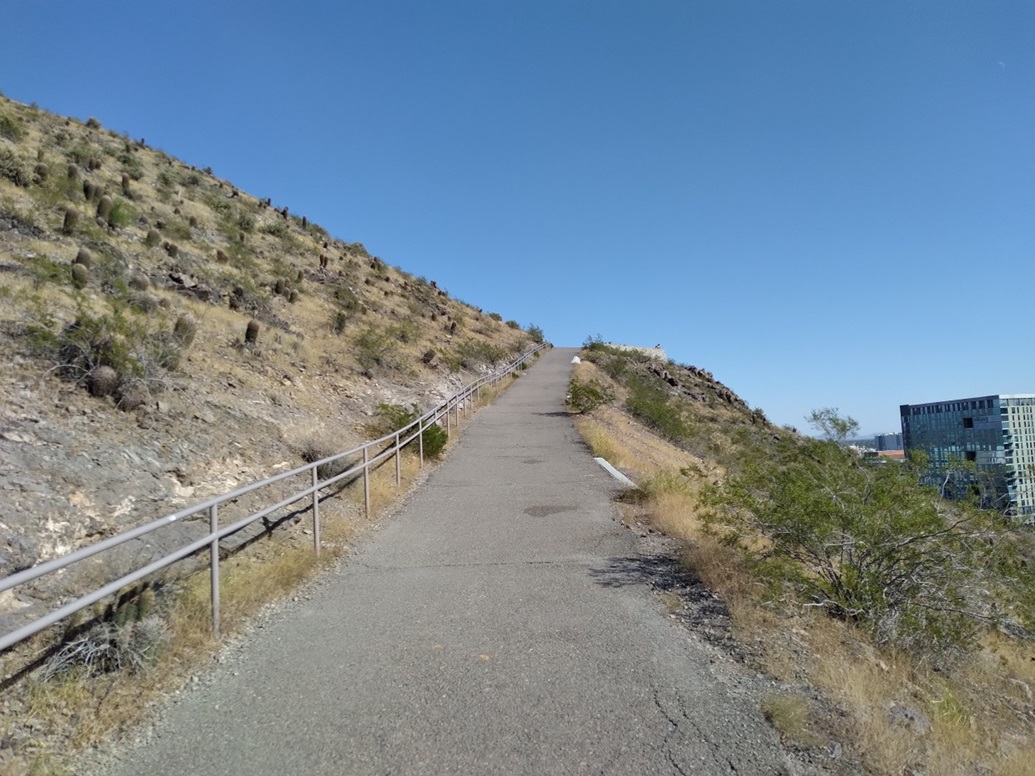 The lower asphalt road
&nbsp


Railing near the top
&nbsp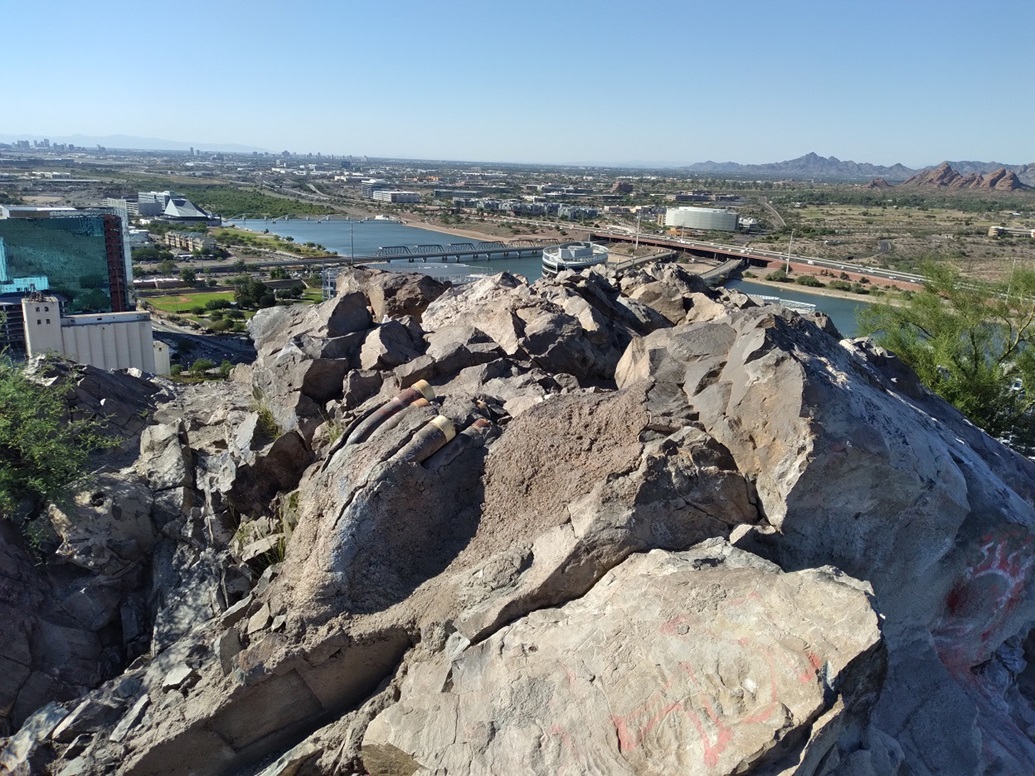 The top, looking west
&nbsp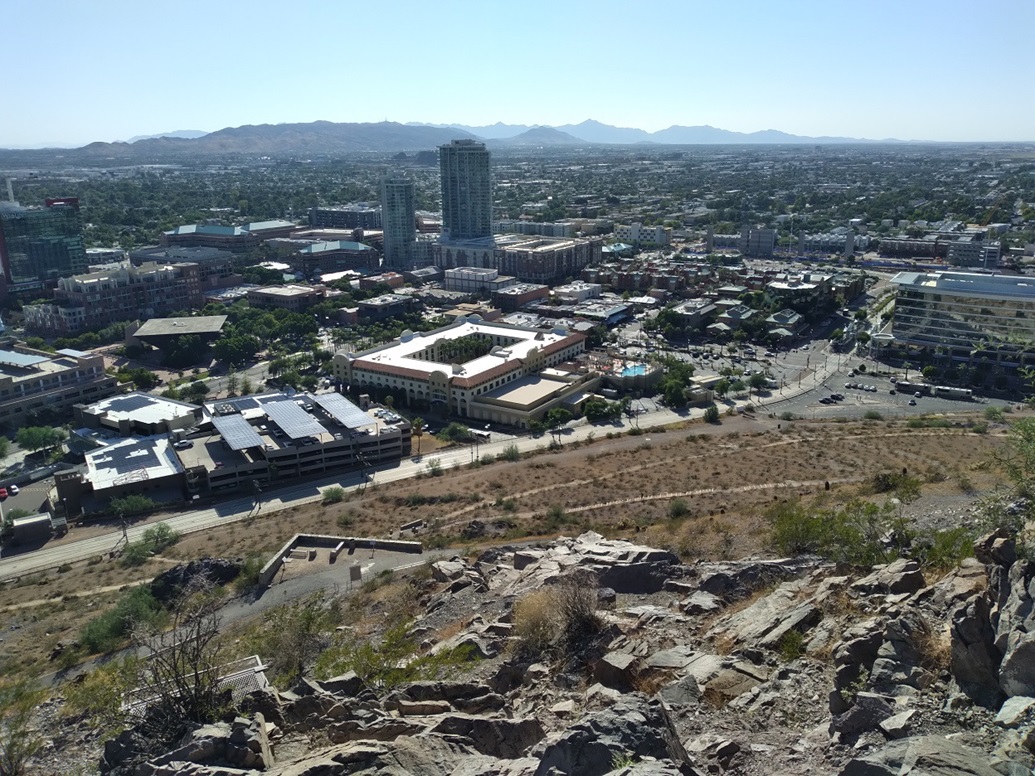 Southwest, South Mountains
&nbsp


South, Tempe and some of ASU
&nbsp


Southeast, mostly ASU
&nbsp


Southeast, football stadium, more of ASU
&nbsp


East, State Farm Building, Tempe Town Lake, Lot 59 parking lot
&nbsp


Tempe Butte as seen from the CAVC Building on ASU's campus
&nbsp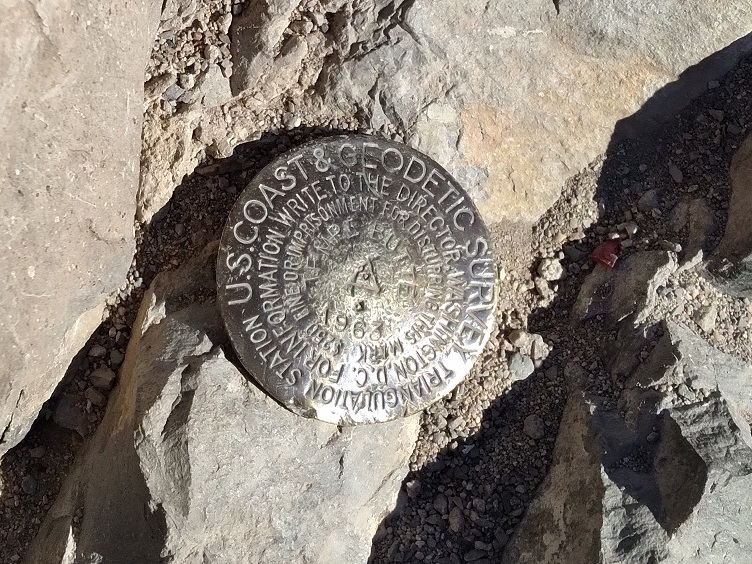 The benchmark


All images
• • •

The Arizona
Mountains Gazetteer
Click to find out more!
Date: Starting in 2010, many dozens of times; photos on this page taken October 11, 2021 • Elevation: 1,495 feet • Prominence: 340 feet • Distance: 2 miles • Time: 45 minutes • Gain: 340 feet • Conditions: Cloudy and cool
Arizona • Main • PB • LoJ • City HPs of Maricopa County • USGS BM Datasheet
Tempe Butte is a rocky hill in north Tempe, near the Arizona State University campus, where I work. It is also known as "A Mountain" because of a big concrete A on its south slope. Its historical name is Hayden Butte. It gets climbed thousands of times a year. An asphalt road gets up about halfway (so workers can access some water tanks), then a dirt, rock and concrete path, with railings, goes to the top. Up until 2020, the very tippy top was enclosed within cyclone fencing and razor wire, guarding a small set of towers. But that's been removed, so the top is now accessible. Prior to then, you got credit for a summit if you got to the fencing. The difference was perhaps a foot, too little to make a fuss about it.
This butte is, for all intents and purposes, where Tempe got its founding. Charles Hayden established a ferry crossing across the Salt River and other businesses, including an iconic flour mill. At the time, the Salt flowed freely, even in summer. Crossing it was not the easiest thing to do. There wasn't one continuous city back then. The distance from here to current-day downtown Phoenix is about ten miles. Back then, it would have been ten miles of desert.
I have hiked this hill many times over the years, many many dozens of times. I hike it when I want a little exercise and don't want to go very far. I can walk to it from my office on campus. One of my colleagues likes to do an impromptu hike up the hill, so I often tag along. I sometimes hike it in the dead of summer to see how I do in the extreme heat. I can make it up once okay, but not twice. I've hiked it in temps close to 110 degrees. It sucks.
Given its location near ASU's campus, many students hike it, as do tourists. It's often crowded, but not so much that you can't move at a good pace. Some people run up the peak and use it for training. The hike up is short and steep and actually a decent workout. Before all the buildings were put up around this Butte, the views from the top were pretty good.
This butte would have been an impressive sight back in the old days. It sits south of the Salt River and rises about 350 feet above the river plain, with no foothills. It still is a worthy hike and a good way to waste a half hour. Unfortunately, the surrounding areas are prone to being trashed or simply overused. It looks a little haggard.
(October 2021) I returned today to hike the peak for the first time since February 2019. The day was sunny and clear, warm but pleasant. I started hiking at about 3 p.m., temperatures in the high 80s.
This would be my first time up this peak since they took down the towers and fencing. Thus, I would actually get to tag the summit for the first time ever.
The hike went well. I went slowly, in no rush. Up at the top, they've installed a lame gate saying "End of Trail, Please Turn Back". The gate was open and I don't expect many people turn back. Not me. I wanted to finally tag the summit. I also found a scratched-up USGS Benchmark. That was a pleasant surprise. It was still readable.