Peak 2762 is the main one seen here, Peak 2802 is the gentler hump seen farther back, as I hike in early in the morning
&nbsp


Peak 2802
&nbsp


View south from Peak 2802's top. The tiniest bit of Lake Pleasant can be seen
&nbsp


Looking north at Peak 2762 from Peak 2802's slopes
&nbsp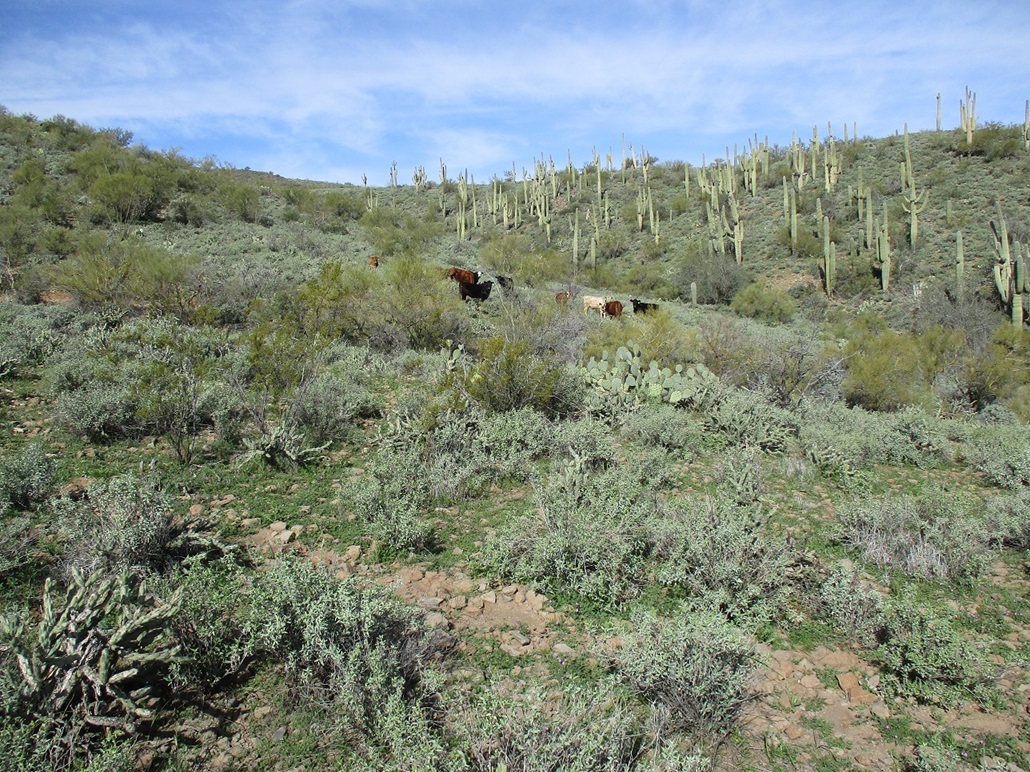 Cattle feeding. From left: Josh, Zach, Cody, Jaden, Dakota, Chad, Bo and Todd
&nbsp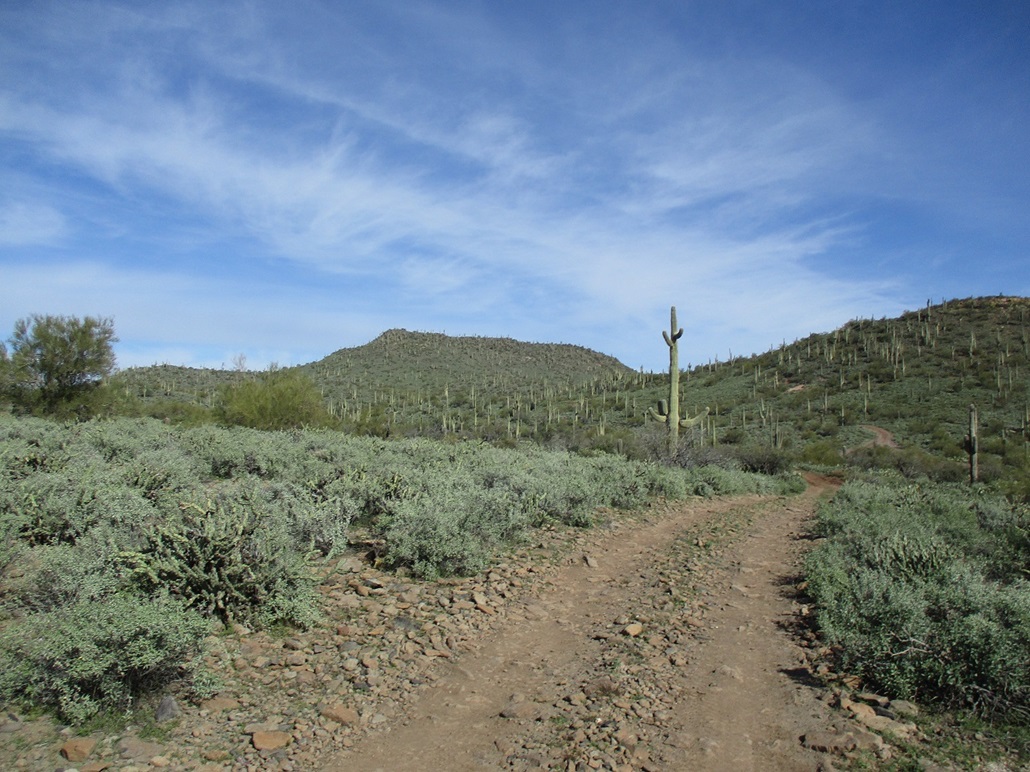 Peak 2762 as I aim for it, the sun came out finally
&nbsp


Hiking up Peak 2762's slopes, amid tall saguaro
&nbsp


View of Peak 2802 from the south tip of Peak 2762's top
&nbsp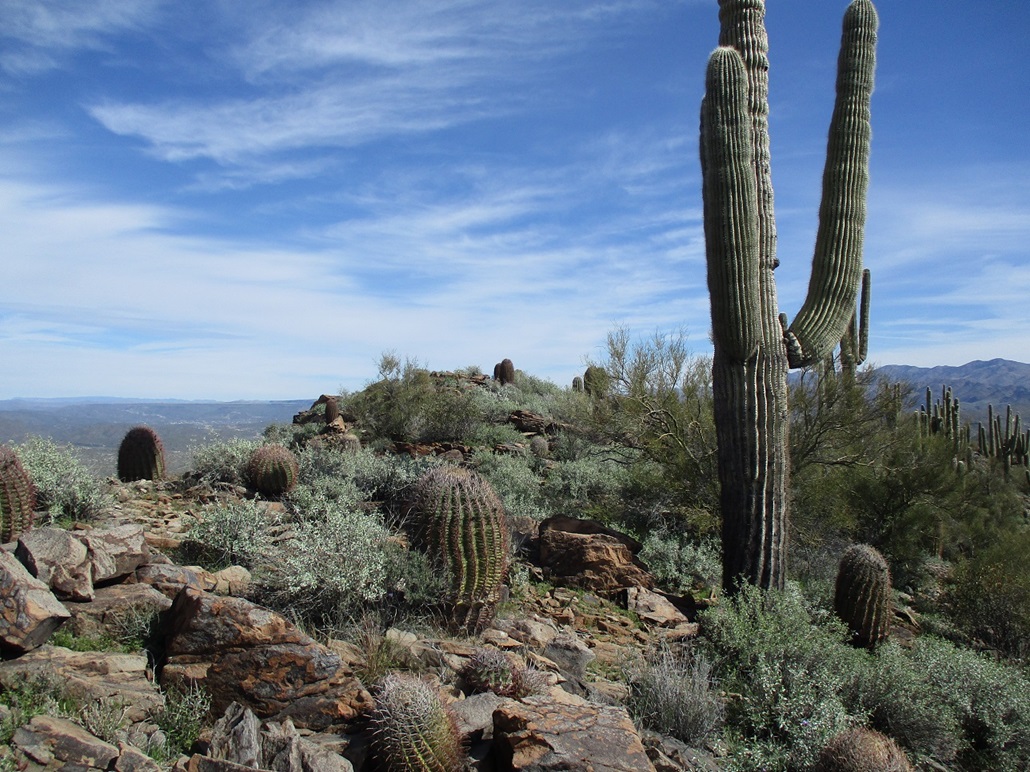 The highpoint of Peak 2762
&nbsp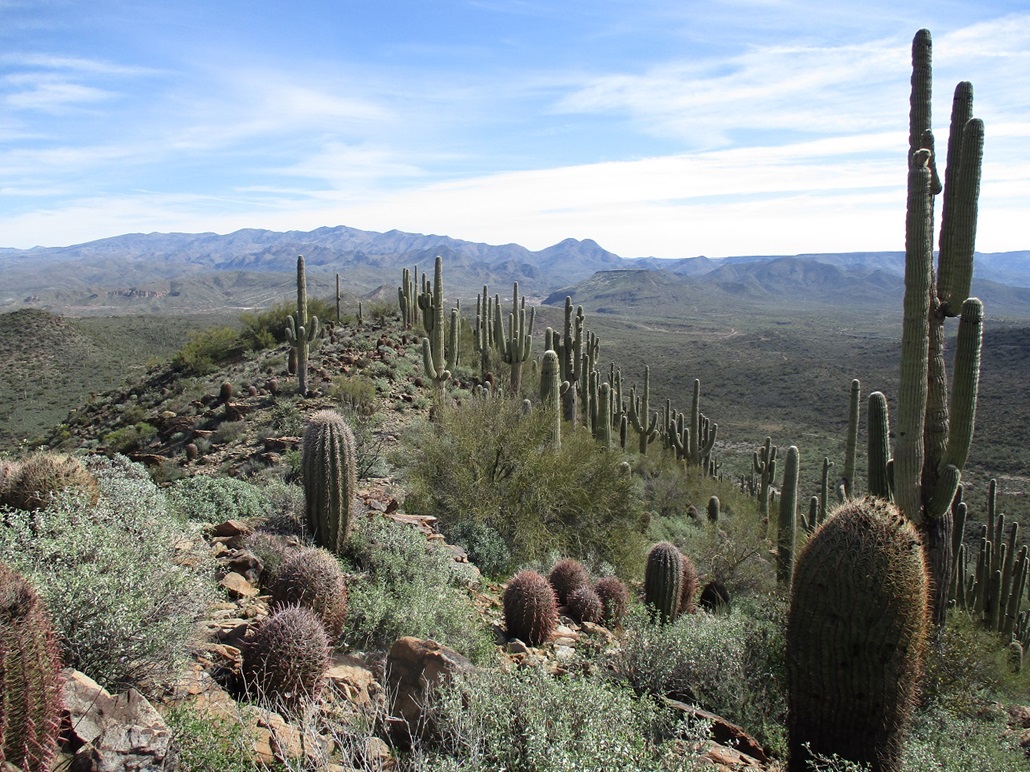 View northeast, with lots of the rare Arizona saguaro, and peaks in the New River range way in back
&nbsp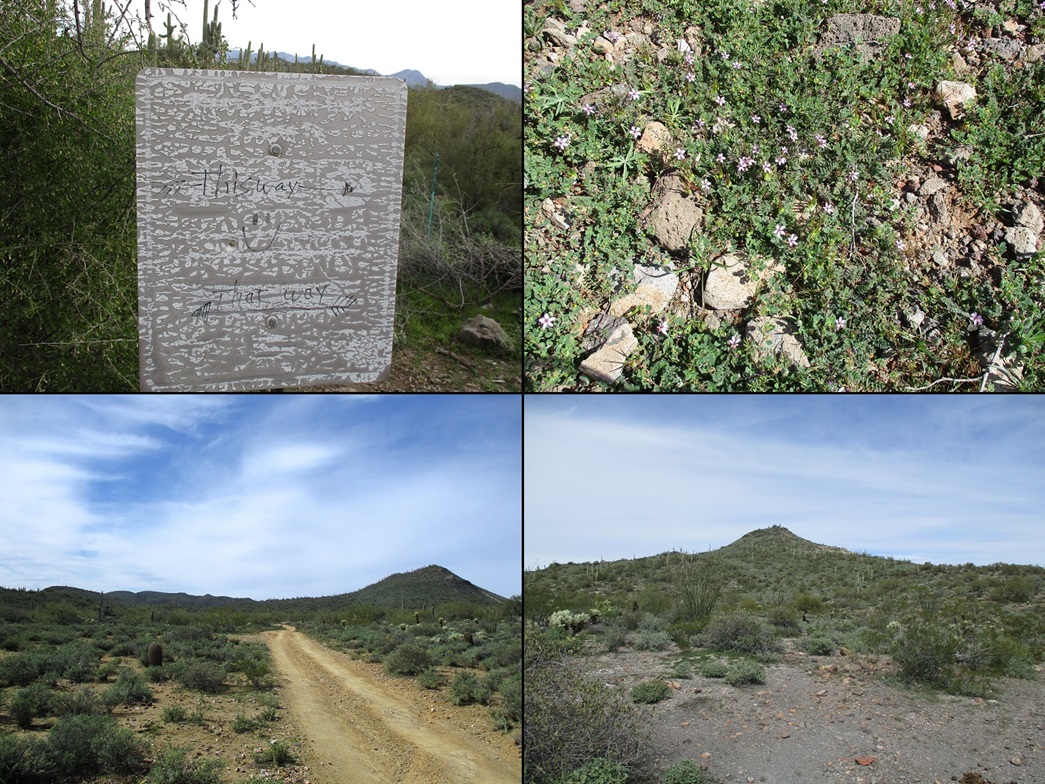 Top left: a useful sign, wildflowers, the peaks as I walk out and the sun is higher, and Carl Benchmark Hill, which I did not climb because I was tired by now
&nbsp

All images
• • •

The Arizona
Mountains Gazetteer
Click to find out more!
Hieroglyphic Mountains
Peak 2802 • Peak 2762
These two ranked peaks lie west of Interstate-17, southwest of the Table Mesa exit. They are one of many volcanic hills that lie east of Lake Pleasant, ostensibly in the Hieroglyphic Mountains (out of laziness, I consider anything west of the interstate the Hieroglyphics, and east the New Rivers). I've been trying to climb all the ranked peaks in this general area, trying to visit them before the heat starts to build. Today would start mildly and stay pleasant, but not cold or even cool.

Peak 2802

• Hieroglyphic Mountains
• Maricopa County

Date: March 7, 2023 • Elevation: 2,802 feet • Prominence: 482 feet • Distance: 8 miles • Time: 4 hours, 40 minutes (total) • Gain: 950 feet (gross gain) • Conditions: High clouds, cool, sunny later and warming
Arizona • Main • PB • LoJ
I was up early and on the road before dawn, stopping for gas at the Carefree Highway exit, getting my hiking snacks of cheese and jerky and drinks. I motored north to the Table Mesa exit and eased to its west side, then north on a crumbly frontage road for about a hundred yards, coming to a cleared area below a tower. I rolled in about 7:20 a.m., the sun still low and a bank of high clouds keeping everything muted.
A road continues from this cleared area, gaining steeply to the tower, then beyond it into the hinterlands. But it would be too much for the Subaru. I could have done it, but I would risk hurting the vehicle, and I wouldn't get much farther anyway. I was looking at almost 4 miles to the farthest peak, Peak 2802, but most of those being road miles and mostly flat, so that walking them would go fast.
I was suited up and walking at 7:30. I followed the road generally southbound, paralleling the interstate for almost a mile. It would curl away or down into a draw, but I was always within earshot of the noise, plus all the construction noise going on, as they're widening the interstate now. I then took a right, following another road west. Peak 2762, one of the peaks on my agenda, was visible, a trapezoidal-shaped mound. Peak 2802 lies about a mile south, much more rounded and hard to tell which round hump is the highpoint from a distance.
The road-walking went fast, as expected. I covered a little over three miles to place me essentially due east of Peak 2802's top, although from where I stood, I could not see it. I followed the road until it reached its own apex. I was as close to the top as the road would take me. I covered this road segment in a little over an hour.
I started up the easy slopes, covered in low brush and patches of pencil cholla, but open enough so that I could make good time through the brush, always finding a lane. I gained to a ridge, then saw a nice-looking peak ahead of me, with a slightly-pointy profile. That must be it, I thought. So I hiked to it, and up it, turned around and saw a higher peak across the saddle from me. I'd climbed the wrong peak! Well, it wasn't that bad. I had to descend about 50 feet, then up to the real summit, this "detour" setting me back maybe 10 minutes.
This peak has a very gently-rounded profile. The very top has a low rock band about a foot high. I found the register. Its original container, a glass jar, was in pieces. Its temporary container, a small Gatorade bottle, had decayed. I had to forcibly remove the tiny booklet from it with my needle-nose pliers. I signed in, the first in about three or four years. I left it in another plastic container, this one larger, and hope it stays in decent shape until the next person comes here.
Up to now, the sun had been mostly hidden by a band of high clouds, which muted the light and kept temperatures in the low 60s. Then the clouds parted and I had much better light for photographs. I stayed up top for about ten minutes, snapping images and looking around. The one-way hike had taken about two hours, including my detour. My next peak, Peak 2762, was visible, a mile to the north.

Elevation: 2,762 feet • Prominence: 322 feet • Distance: 1 mile • Gain: 392 feet • Conditions: Warm
PB • LoJ
I walked back to the road, about where I had left it a little while back. On the road, though, were a small herd of cows. One was in the road, head down, eating. Rather than walk through them, I detoured around them by going into the brush again. They watched me, then suddenly, they'd run, about five feet, then watch again. I just don't like to hike amid big thousand-pound stupider-than-a-bag-of-doorknobs animals that get skittish at a moment's notice. It's just a matter of physics. They have more of it than I do. If they decide to butt into me, I'd be conserving an awful lot of momentum.
Back on the road, I walked about a mile until I was on Peak 2762's southeast aspect, in an open area used by shooters in the past, but empty today. I aimed for a ridge, got onto it, then started uphill toward the top. It was an easy hike with trivial navigation. Toward the top, the grade steepened just enough for the smaller rocks to tumble. I stepped carefully and was soon on top.
The spot elevation shown on the map is marked at the south tip of the summit ridge, but the highest point is a rocky mound about a hundred feet to the north, and maybe three feet higher. I found a register, and it took me about 5 minutes of gently tapping the top against a rock until I could unscrew it. The last people to sign in did so in 2016, and not many over all, just the usual half-dozen people. The summit ridge is kind of narrow and a bit rocky, and scenic. I had fine views in all directions, the sun now officially out, all clouds having moved on.
I took more time to relax. I had something to drink, and looked around. Saguaro grow thick on the peak's east slopes, not so much on the west side, where the slopes are steeper. I could hear some engines and saw a group of three Polaris-type vehicles down on a road. I could also hear occasional gunshots.
Two days ago, I achieved a momentous something when I climbed my 1,000th ranked peak world wide. Well, this peak also is a momentous achievement. At 675 ranked peaks climbed within Arizona, I have now climbed exactly 9% of all the ranked peaks within the state. According to ListsofJohn, there are 7,497 ranked peaks in the state, including "soft" ranked peaks (those on the borderline). And I've been on 9% of them. Naturally, I want to make it 10%. That will be momentous too.
Sufficiently rested, getting a little warm in the sun and being harrassed by a fly, I started back down. About half-way down the slope, I took my only spill of the day, when rocks below me rolled and I fell backwards onto the rocks and brush behind me. I was almost all the way down when those three Polaris vehicles came rumbling by. I was soon on the road, now needing to walk out about 2.5 miles to my car.
The walk went well. By now, there was more activity on these roads. I soon came upon a father and son out shooting (they were the ones making those gunshot noises I heard). They were both really cool, and we had a short chat. The father gave me some sage advice: no matter where you live, as long as there's a good Mexican restaurant nearby, all is well. Couldn't agree more. I then came upon a couple guys go-proing themselves as they drove through a muddy patch, getting mud all over their rig. They were both real cool too. We had a good laugh. I think there's a primal desire among guys to have mud on their vehicles. Whenever I've had it on mine, yeah, I keep it on there for a week or two. I also was passed by a couple others in Jeeps. These roads do need a strong 4-wheel drive with good clearance and appropriate tires.
I was back out to my car at a shade past noon, a 4-hour and 40-minute round trip hike. I estimated that I covered 8 miles round trip to Peak 2802, then a mile spur to Peak 2762, for a 9-mile day. The elevation gain wasn't much, a little over a thousand feet if drops and regains are factored in. The hike had gone well and as expected, the road-walking went fast and allowed me to cover a lot of ground efficiently. The immediate area is State Trust land, while the peaks lie on BLM property, and what few people come back here are mainly here for the driving or shooting opportunities.
After changing and vegging, I got back on the interstate, noting the work they're doing now. At the moment, they're just breaking down and hauling away mounds of earth to create room for new lanes. I was lazy and took the freeways all the way back to Tempe, but I did get the 4-taco special from El Jefe's on Price Road in Tempe. I needed the vitamin-T after all the hiking I had done.