Sycamore Mesa with the sun low in the east
&nbsp


Now much closer
&nbsp


The summit knoll. I ascended through the ramp at right
&nbsp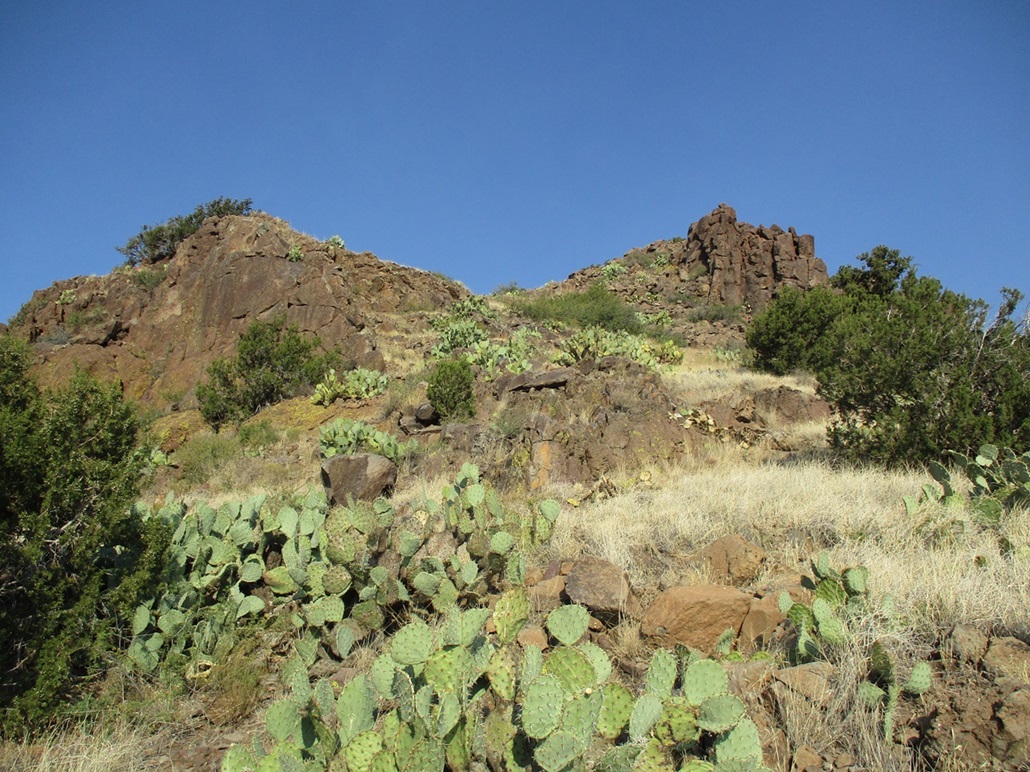 Ascending said ramp
&nbsp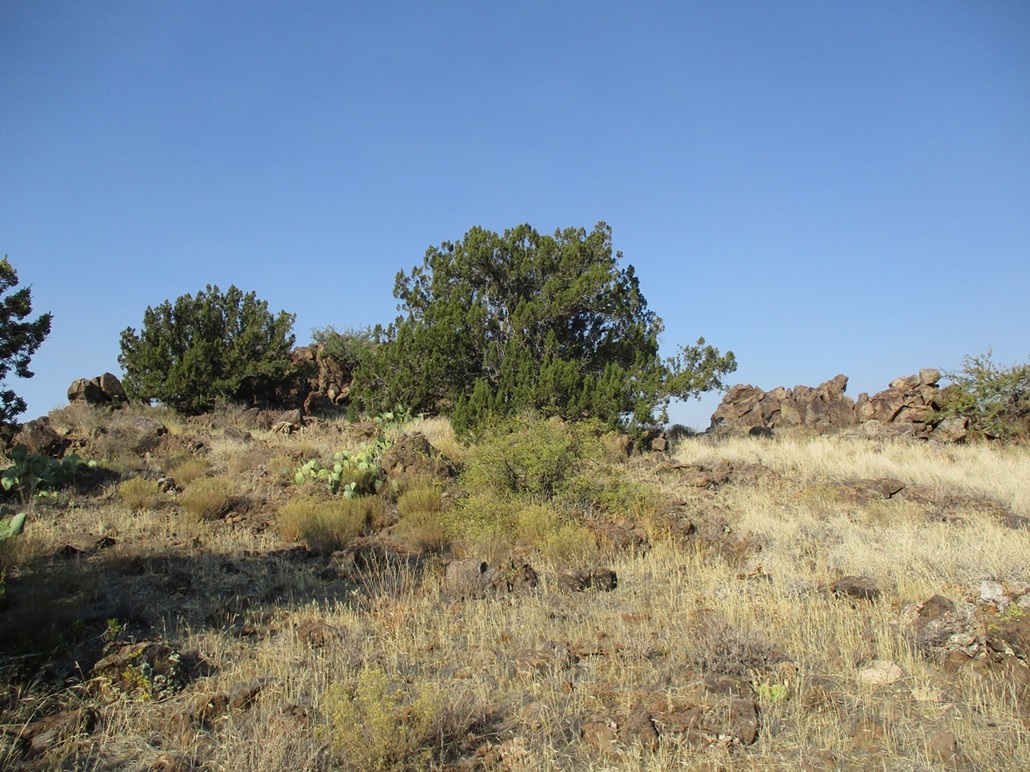 Summit rocks to the left behind the tree
&nbsp


View west, haze
&nbsp


View east, haze
&nbsp


Now ascending Peak 3938, summit not yet visible
&nbsp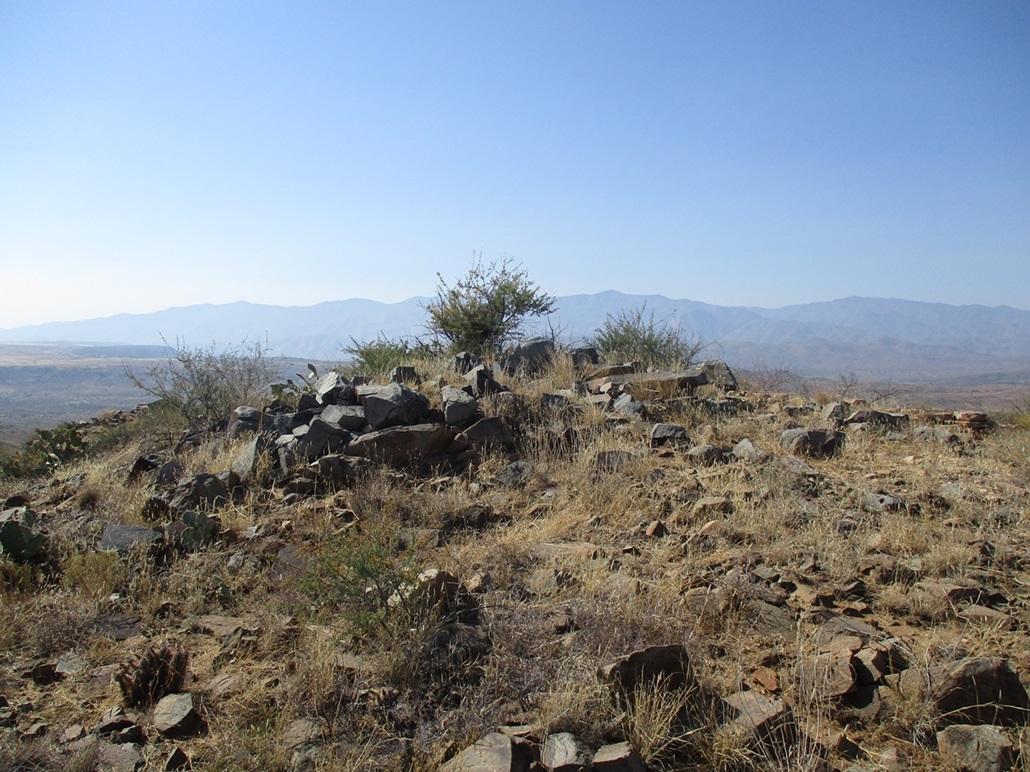 Summit of Peak 3938
&nbsp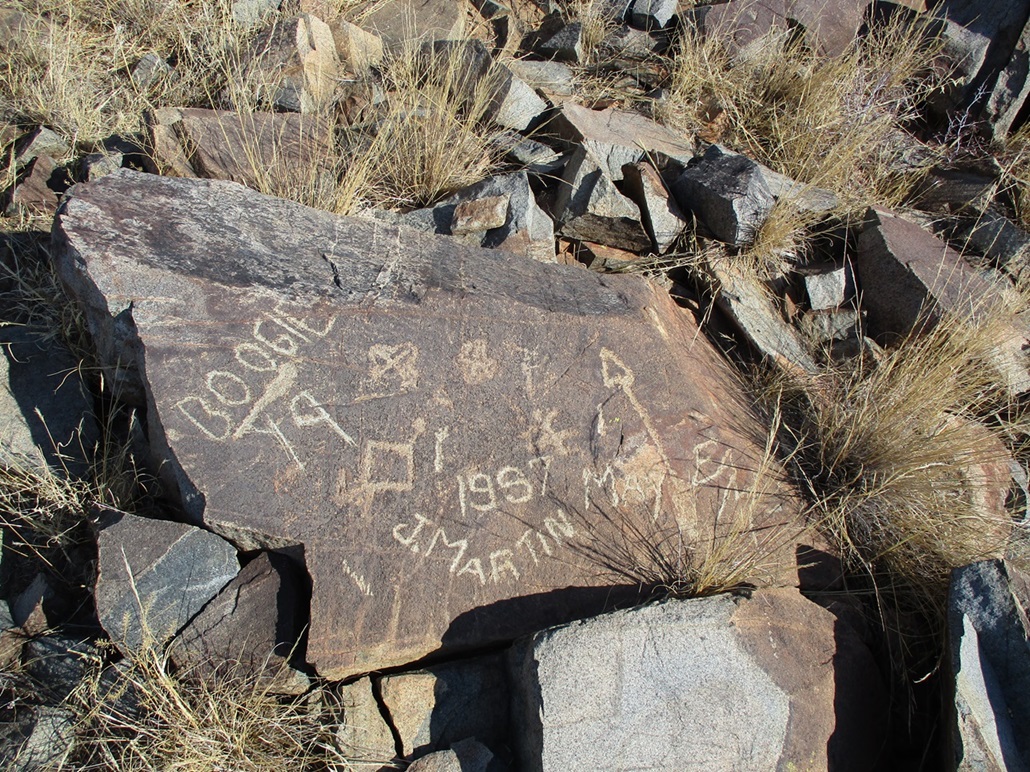 Summit register. I forgot my chisel. I wonder how J. Martin is doing these days
&nbsp


Peak 3960 as seen from Peak 3938
&nbsp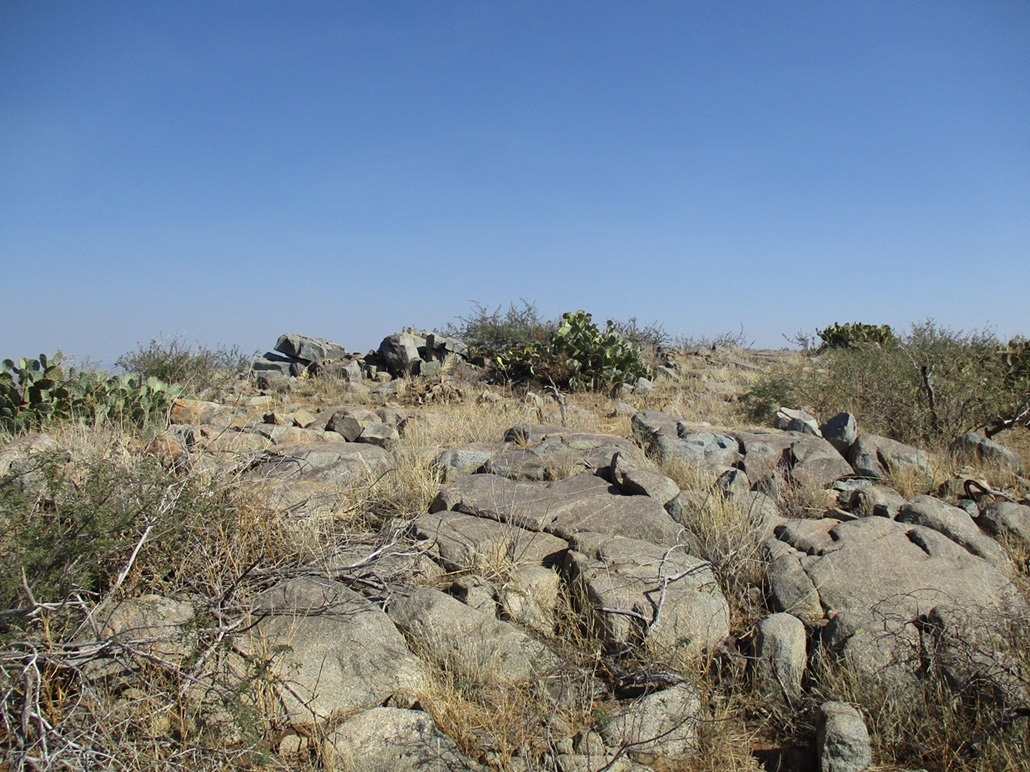 Summit of Peak 3960
&nbsp


View south, the Agua Fria River canyon. That soft rise in the distance is Joes Hill
&nbsp


View north, the Horseshoe Ranch, and somewhere in back is Sycamore Mesa
&nbsp


Peak 3960 as I exit
&nbsp


Peak 3938
&nbsp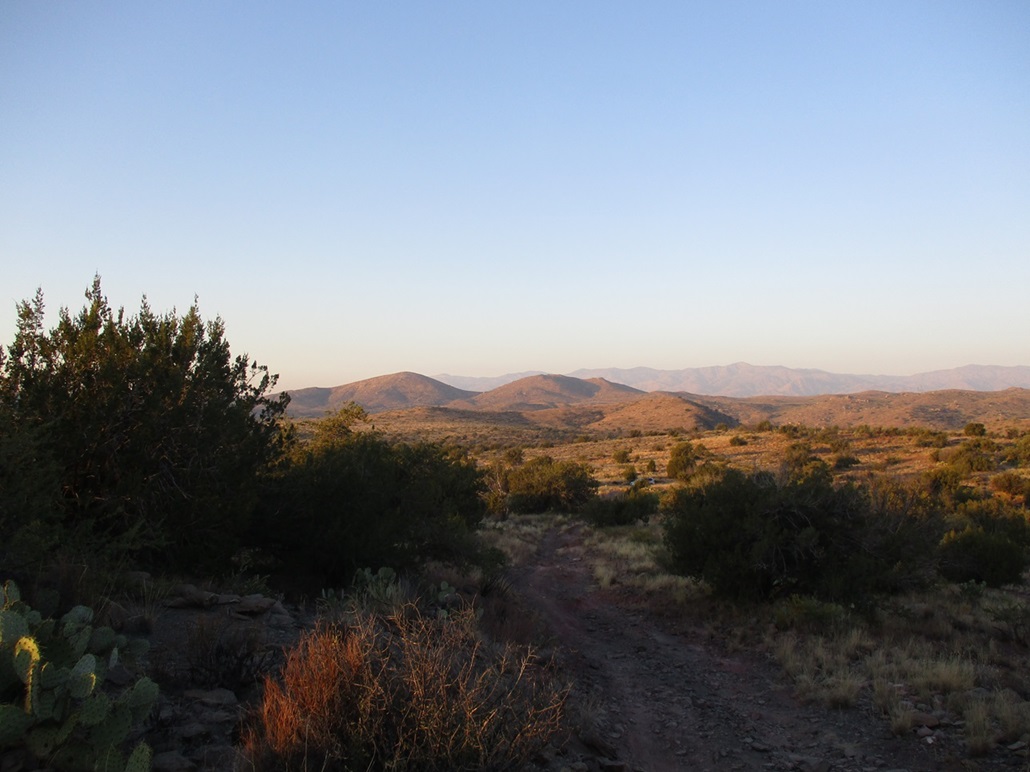 Peaks 3960 and 3938 from early this morning when I started my hiking
&nbsp

All images
• • •

The Arizona
Mountains Gazetteer
Click to find out more!
Agua Fria National Monument
Sycamore Mesa • Peak 3938 • Peak 3960
Today I would be concentrating on three peaks on the Agua Fria National Monument, about an hour north of Phoenix atop the plateau. My main goal was Sycamore Mesa, the highpoint of the National Monument. The other two peaks lie south of Sycamore Mesa, near the road I would be driving, so I tacked them on as bonus peaks.
I have been interested in climbing Sycamore Mesa for some time now. Unfortunately, all of the possible approaches to it are blocked early on by ranch or other private properties. It is not a difficult hike and the terrain here is generally friendly, but getting close to it is the main challenge.
I chose to come in from the south, off Bloody Basin Road and the Horseshoe Ranch. There are approaches that get closer, but this particular approach had roads and lesser tracks that got close to the peak, meaning that if I had to start hiking farther out, the road miles would go by fast.
Sycamore Mesa

• Highpoint: Agua Fria National Monument
• Yavapai County

Date: November 4, 2023 • Elevation: 4,561 feet • Prominence: 321 feet • Distance: 9.5 miles • Time: 4 hours • Gain: 1,060 feet • Conditions: Sunny and warm, hazy, smokey scent
Arizona • Main • PB • LoJ
I was on the road at 5:30 and exited the interstate at Bloody Basin Road about 6:30 a.m., the eastern sky starting to light but the sun still below the horizon. I drove Bloody Basin Road about 6 miles, going a little past the Horseshoe Ranch. By now, I had better light and could see things easier. Bloody Basin Road is a wide well-graded road, but now on a lesser road (BLM-9017), having more light was welcome.
This road doubled back north, now east of the ranch property. I passed through a gate (public welcome). and slowly drove past the ranch fences. I passed two more wire-stick gates and also signed in at one of those Arizona Sportsman kiosks. The log was a hodge-podge of signatures and a complete mess. Names and dates went back two years and it was obvious no one monitors it. But I signed in, as a show of good faith.
Past the third gate, the track runs along an old air strip, then veers left. I had no idea how far in I would get. I had already psyched myself up for the possibility of starting the hike from just outsude the ranch property, meaning a 6-mile one-way hike. Any distance I could shave off was gravy. I surprised myself, getting in another 1.3 miles before being forced to park where the road went up a hill and was a lot of exposed rock, too much for the Subaru. A beefier 4-wheel drive could have handled it. I was happy to get in this far.
It was cold now, in the 40s, but comfortable. The sun was just starting to rise over the hills to the east. It was calm with no breeze and no clouds, but hazy with a smokey scent. A prescribed burn somewhere? That was my guess. I started walking about 7:15 a.m..
Once I had gained a little elevation and could see farther, it still took me a few minutes to get my bearings as to where Sycamore Mesa actually is. It does not stand out. It's a rocky knoll that lies at the east tip of a big mesa, its elevation just about 15 feet higher than that of the main mesa.
The road walk went fast, as expected. In about an hour, I had covered three miles to a point marked "corral" on the map. Here, a lesser track branches off, heading north toward Sycamore Mesa, now much closer to where I could study its lines and appreciate that it actually looks like a peak from up close.
This lesser track runs about a mile, then drops into a drainage and one last gate to pass through — the seventh overall including the three I drove through earlier. The track resumes a steep uphill climb, now just a pile of rocks and rubble. I doubt a vehicle has been on this track in 40 years. For hiking, it was a chore because nothing was solid, but it got me where I needed to be. It levels off on the lip of the plateau, east of the summit knoll.
A ramp up the east side of this knoll looked promising. The cross-country hiking was easy as the brush wasn't too thick and it was spread out. It was steep, but not severe. The rocks mostly stayed in place as I stepped on them. I even found hints of a path in a few spots.
I was soon on top the knoll, now just needing to find the highest of the rocks. The highpoint is at the west tip of the knoll. I found some old wooden planks and wire suggesting an old survey station, but I did not find a benchmark, nor a register. It was 9:15 a.m., and it had taken exactly 2 hours for me to get here. I was beat, but feeling good.
The views were not bad, but the haze was thick and muted the colors. The sky was kind of a gray-blue and the countryside a muted yellow and tan. I took a couple images and enjoyed pop-tarts, spending about ten minutes up here.
I descended the same way, taking the steep loose rocks carefully. Once back on the tracks, I made better time, taking a couple breaks. At one point some guy in a Polaris came up behind me but then veered onto another track, where to, I have no idea (later, I looked it up on the satellite images and it's one of those other ranch properties). It was warm now, well into the 70s. I was surprised how warm it was up here, at this elevation in November. The highs in Phoenix, it turned out, would reach into the low 90s, a warm day everywhere.
I was back to my car at 11:25 a.m., a four-hour-and-change hike covering slightly under 10 miles round trip. I was tired but since all I had done was just a lot of road walking, I was still feeling energetic to hike a couple more peaks and not feel the need to get back to Tempe so quickly.
This route worked well for me. Were it not for that one nasty stretch of the road that stopped me, I might have been able to drive a couple more miles. The road was generally in good shape, a few spots that got rocky. The land back here is not often travelled. The ranch properties keep casual visitors to a minimum. There were three gates along this stretch, all fancy metal gates with stone support columns on either side. This is all National Monument land now and the gates may be relics. All three were open as I passed through.
Elevation: 3,934 feet (per old Lidar) • Prominence: 301 feet • Distance: 3 miles for whole hike • Time: 2 hours • Gain: 385 feet ascent, 300 feet descent • Conditions: Much warmer
PB • LoJ
I did not have to drive very far. Once back on Bloody Basin Road, I drove a couple miles until north of the two peaks, then I followed a lesser track south briefly, parking in the shade of a tree beside a large dry stock tank. I was already dressed and packed from my last hike, so all I had to do was lock the car and start walking.
I planned to hike both peaks in one go, starting with this peak first, then down its opposite side and up Peak 3960, then I'd circle back around back to the car. The track actually continues south and curls into a small basin formed by the two peaks, but it was way too rough to drive on. I wasn't very far from the first peak anyway, less than a mile on a straight line.
The warmth had crept up into the almost-hot category, in the low-mid 80s now. I walked slowly up the road to its apex, then I left the road and started up the slopes, aiming for a rock outcrop up above. The terrain was open and the brush spaced out, so I could see my feet easier. It was definitely warm enough for the snakes.
The gradient was lenient and I made good time, for me that is. I angled below the first rock outcrop, then up the slopes to the top ridge, the summit being at the south tip of this ridge. I was here within a half-hour after starting.
The top is open with a low pile of rocks, one featuring a few etched-in names and dates and other symbols. I could not find a more recent register. I rested briefly to drink, then start my descent toward Peak 3960, which rose just across the way less than a half mile away.
Afterwards, looking up the peak's data on the Lidar sites, it gave a summit elevation of 3,934 feet and a prominence of 301 feet. But this is the coarser 1/3-arc second data, so it's not definitive, but seems to agree with the maps.
I descended down the southeast slope toward the saddle connecting the two peaks. The descent went well, just a little slippery in spots, but no cliffs, no cactus thickets, and the brush stayed spread out.
Elevation: 3,960 feet • Prominence: 360 feet • Distance: included in Peak 3938 data • Gain: 360 feet gain, 120 feet regain on hike out
PB • LoJ
I then slowly climbed the slopes to the top of Peak 3960. I encountered no challenges, no difficulties, the slope being consistent all the way up, and the brush staying sparse. I was lagging by now, the warmth catching up to me, so I stopped a few times to rest. I was on top Peak 3960 about a half-hour from the saddle below. I didn't keep track. It felt like a half hour.
The summit was open with a few low piles of rocks. I found the highest ones and stood atop one, and tagged a couple others. I could not find a register here, either. I stopped for a brief drink break. This time, I packed extra liquids and had plenty, but I was going through them quickly.
Views were decent, but hazy. To the southeast was Perry Mesa, and the thousand-foot-deep canyon where the Agua Fria River descends off the plateau into the lower desert. To the southwest, I could see cars and trucks on Interstate-17. The Bradshaws were almost completely hazed out. Same to the north. I should have been able to see the big volcanos near Flagstaff, all I saw was the haze. It was not a great day for crisp views.
I descended down the southwest slope, aiming for the road I could see below. The descent went well, no problems like before, occasionally rubbly and slidey but surprisingly, I never fell, not even a slip. I'm getting good at this. I saw plenty of little lizards but no snakes.
Back on the road, I followed it back out, but had to regain about 120 feet to that apex I mentioned earlier. I was bushed by now and even that wimpy 120-foot regain slowed me down. By now, I was on my 13th mile, it was hot, and I was tired. Back at my car, I slumped in the seat for a little bit, then changed. It was now a little before 2 p.m.; I had been gone for 2 hours.
I was happy to get these peaks in. They're nothing special but they're not trivial either, and they're perfect as add-ons if hiking other peaks in the area. I got back onto Bloody Basin Road, surprisingly busy with cars and Polaris-type vehicles. I got back on the interstate, picked up a 4-taco special from my nearby favorite Mexican place, got back to my apartment, showered, ate and crashed.