Red Hill Lookout from a meadow
&nbsp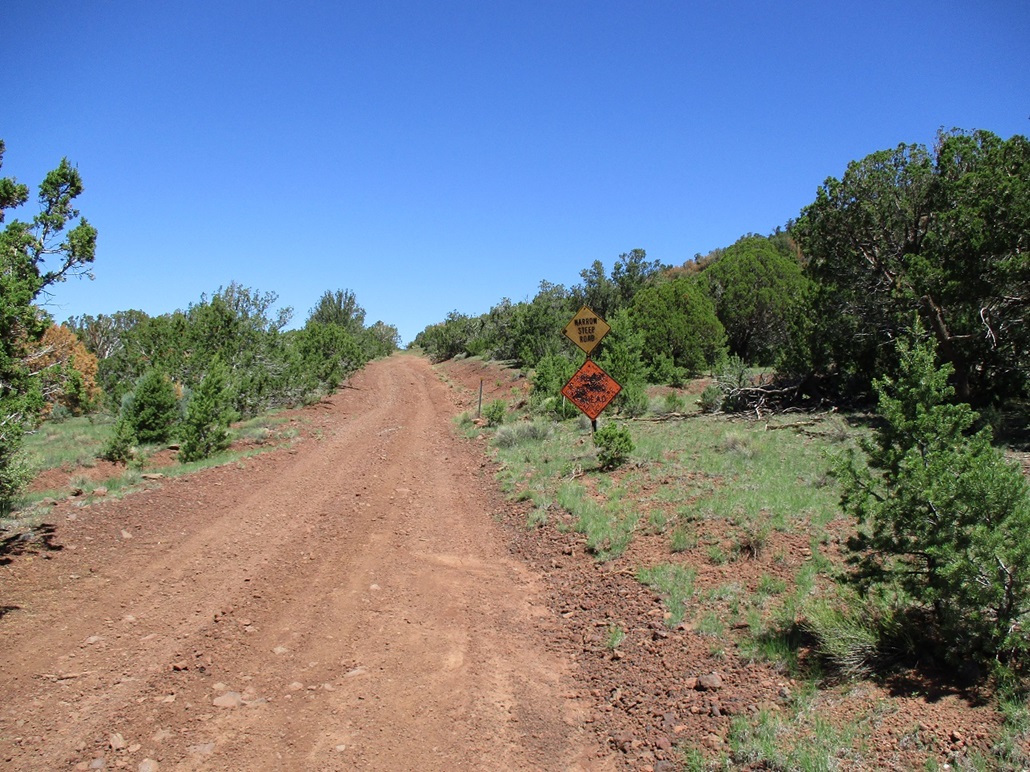 Start of my hike
&nbsp


Rounding a bend, the top nears
&nbsp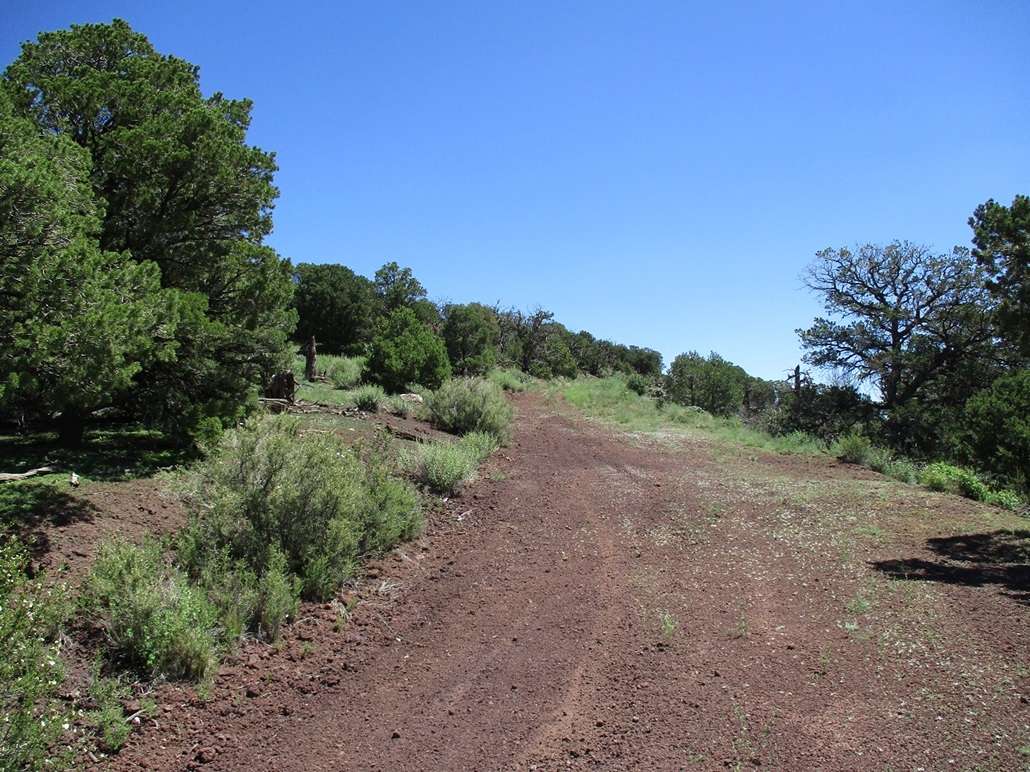 Last bend, the top is nigh
&nbsp


Kendrick Peak and a sign
&nbsp


The top
&nbsp


Surrounding peaks: UL: Moritz Ridge & Kendrick Peak; UR: Spring Valley Knoll & the Governments; LL: Scarp Hill; LR: Buck Mountain
&nbsp


Winona Benchmark Hill as viewed from near the interstate and the Winona exit sign
&nbsp


Upper ridge of Winona Hill
&nbsp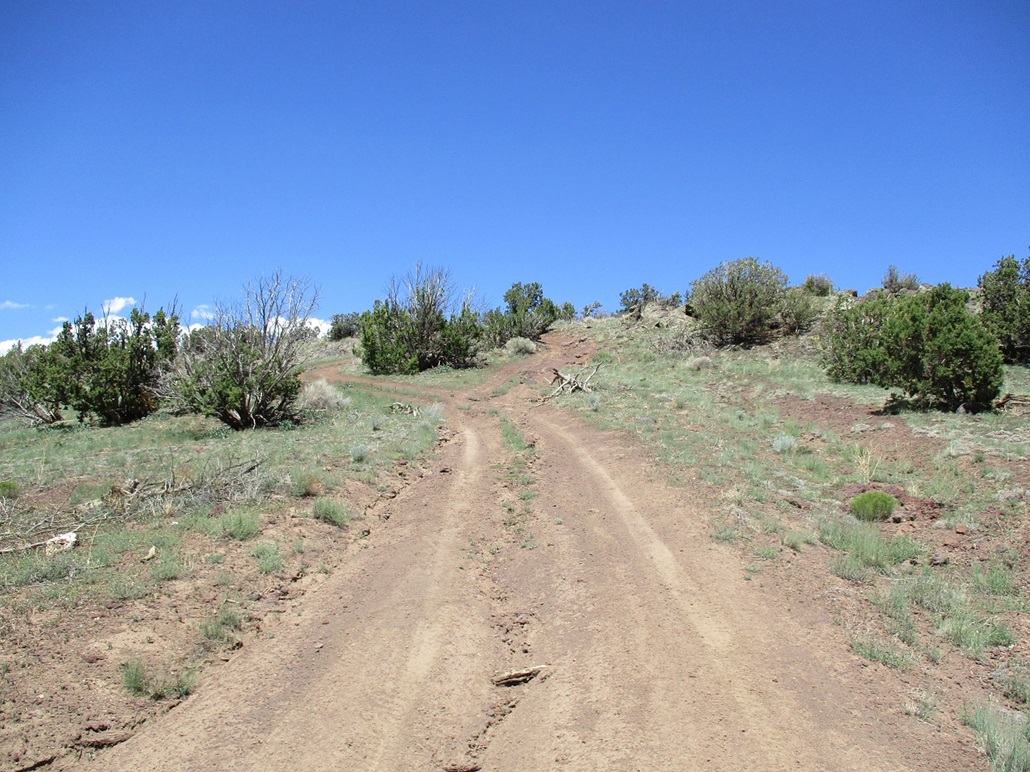 Road to the top
&nbsp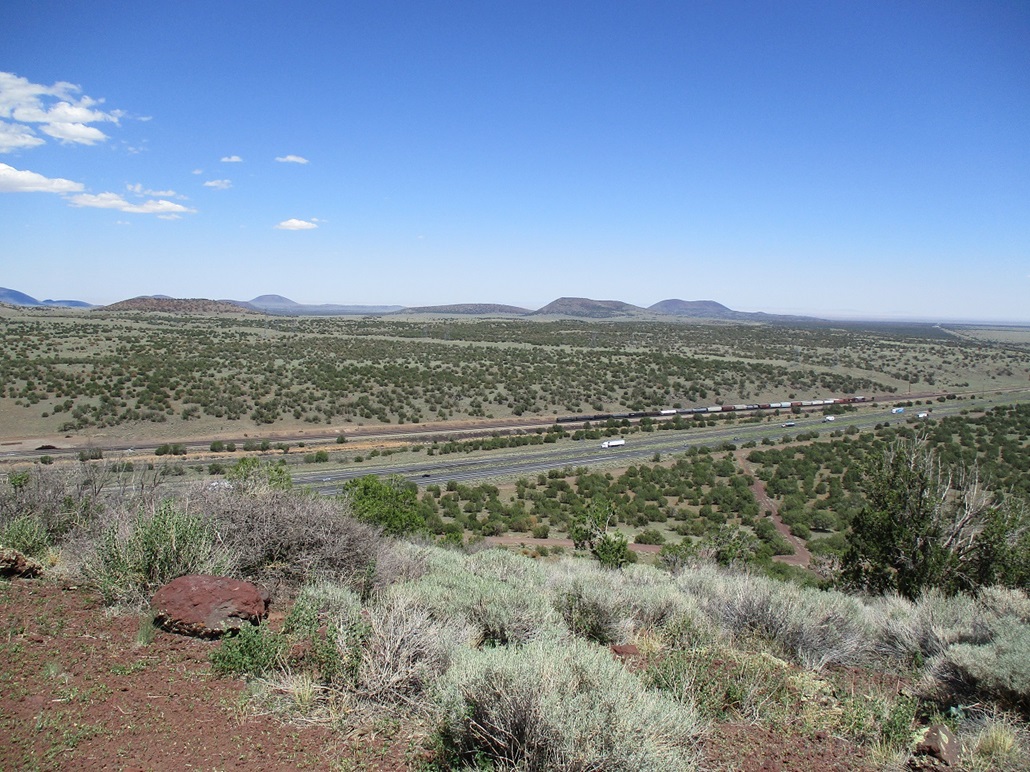 Northeast view from the top, with Rattlesnake and Merrill Craters
&nbsp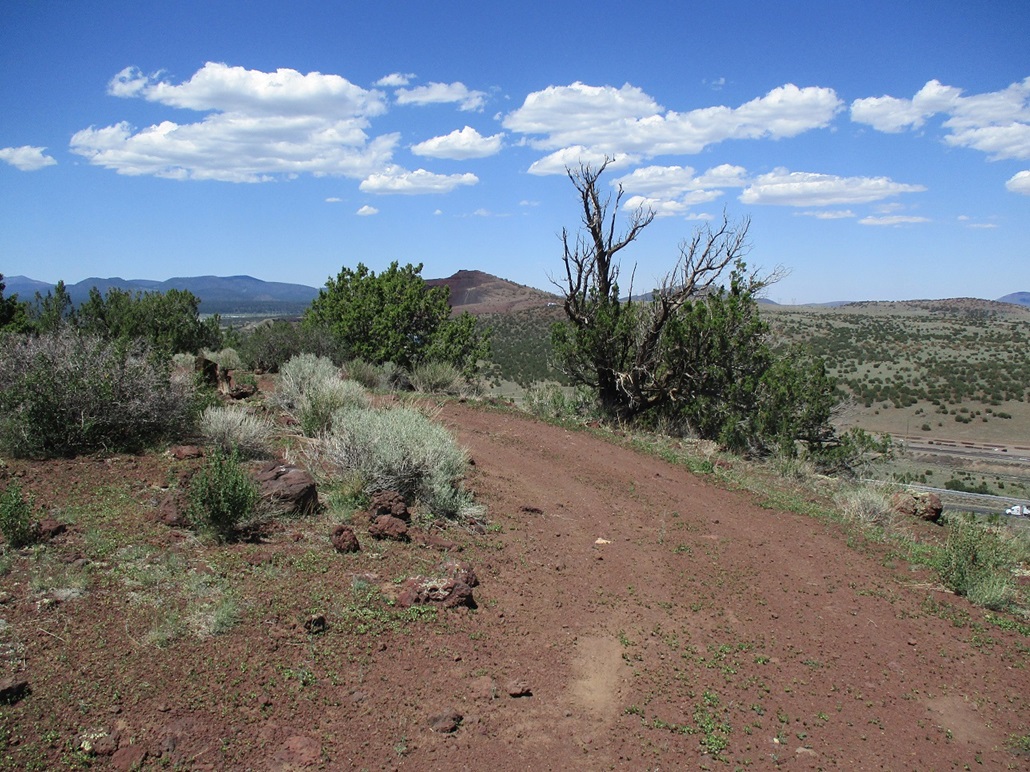 Northwest view
&nbsp


West view, the post is where the benchmark should be, but all I found was a witness marker


All images
• • •

The Arizona
Mountains Gazetteer
Click to find out more!
San Francisco Volcanic Field
Red Hill Lookout • Winona Benchmark
These two summits lie about 50 miles from one another. Red Hill Lookout is a prominent volcanic mound in the Kaibab Forest west of Kendrick Peak, while Winona Benchmark is a hill abutting Interstate-40 about 15 miles east of Flagstaff.
I was in Flagstaff and planning to return south to home by the end of the day. I wanted to hike Red Hill Lookout because it looked terribly easy, with a wide road to its top. I planned also to hike Spring Valley Knoll, but discovered that the roads into it were closed, due to private land.
Later, now heading east on Interstate-40, I visited the simple summit of Winona Benchmark, using the visit as an excuse to scout and drive some other roads in the area for future hikes and explorations.
Red Hill Lookout

• San Francisco Volcanic Field
• Kaibab National Forest
• Coconino County

Date: August 8, 2021 • Elevation: 7,751 feet • Prominence: 771 feet • Distance: 2.8 miles • Time: 1 hour • Gain: 650 feet • Conditions: Sunny and slightly warm
Arizona • Main • PB • LoJ
The day started calm and sunny with no clouds, temperatures mild with highs in Flagstaff expected to be in the low 80s. There was no reason to be moving at dawn, so I did not get moving until a little before 10 a.m.. I drove northwest on US-180, the Grand Canyon route from Flagstaff, driving about 30 miles before exiting the highway at Kaibab Forest Road 141, near Ebert Mountain.
On FR-141, I went south and southwest roughly 11 miles to where FR-171 makes a sharp turn left, and FR-88 (marked FR-430 on the map) goes right. I eased onto FR-88, which was a notch less in quality than FR-141. The road was fine, but had sections of rocks and a few mudpits and uneven tread. I drove slowly on the road about 4 miles, first through ponderosa forest, then into a meadow, then into a ponderosa-pinon-juniper mix as I neared the base of Red Hill Lookout. I parked in a small pullout as the road started to steepen, near two signs, one saying "Narrow Steep Road" and the other "Road Closed Ahead", but shot up about a thousand times. The other sign had just a few bullet holes. The final mile of the road was slightly rough for my Subaru Forester. The road had a few ruts, got steep, and was uneven, but I went slow and had no troubles.
I started hiking at 11:04 a.m.. In moments, I came to the gate spanning the road, and walked around it. Then it was just a matter of walking uphill along the road to the top. The road meanders to keep a gentle gradient. Views were outstanding in every direction. This was one of the nicest days in weeks up here in the high country, after weeks of smoke from various fires, or humid haze and rain from the monsoon storms. I was on top in about 25 minutes, a one-way hike of 1.4 miles, gaining about 650 feet. The flora transitions from pinon and juniper to ponderosa about half-way up.
The top features a small radio repeater, a sign with the hill's name, an old transmission pole, and the summit, which held a lookout tower up until late last year. All traces of the tower, including concrete foundations, have been removed, and the top itself looked like it had been worked over. I looked for a benchmark but found none, nor did I find a register. I did not stay too long, just a few minutes.
I hiked down the same way naturally, arriving back to my car a little after noon. No one else had come by, but someone was shooting targets in the trees somewhere within a mile of me. I got out my camp chair and sat for a spell, enjoying the sun and warmth and deliberately killing time. After about a half hour, I got packed and started the slow drive out.
Next on the agenda was Spring Valley Knoll, which sits between Government Hill and Government Mountain. It looked fast, with a road to its top, but I quickly discovered all roads in the immediate area are closed to the public. The peak wasn't that important to me, so I did not linger and continued driving, catching Interstate-40 at Parks.
Winona Benchmark

• San Francisco Volcanic Field
• Coconino National Forest
• Coconino County

Elevation: 6,570 feet • Prominence: 281 feet • Distance: 0.5 mile • Time: 30 minutes • Gain: 170 feet • Conditions: Very warm
PB
About a half-hour later, I was on the east fringe of Flagstaff at the Winona exit; this is the last exit heading east that is part of the Flagstaff roadnet. Past Winona, the land drops some more, the hills flatten and the terrain more rangeland and vacant. Winona Benchmark hill lies immediately beside the highway.
I exited and went south, immediately taking another right on FR-82, curling counter-clockwise around the hill and taking the first left (east). To the right (west) were a couple homesteads, but east, nothing except for a few scattered pinon. I drove in just a few hundred yards and parked in a glade of pinon. People come here often judging by the incidental trash lying around. The big blue Budweiser cans seem to be a popular thing to leave behind.
I hiked uphill, following roads, gaining the top in just 15 minutes. The top was scraggly but pretty, with rock outcrops and a low cliff band. I shot a few images and looked for the benchmark with no luck. A nearby witness marker was the best I could do. The din from Interstate-40 was easily heard, mainly trucks engine-braking on the slight downhill grades.
I hiked down the same way, back to my car in just a half-hour. This hill was just a quickie, about what I expected, although it offers a unique vantage to take in the full sweep of hills and mountains surrounding Flagstaff.
I had other plans while here. I wanted to drive FR-510, also called Angell Road, which is a frontage to Interstate-40 and also to the train tracks that run through here. I was curious to see its quality and how far it went. I drove in about 8 miles to the Angell Railroad Siding, south of Merrill Crater. The road to here was in fantastic shape, so I will definitely return. I suspected this road may be an old alignment of Route-66 and later, reading up on it, confirmed it to be so, if only for a few years. In particular, I learned it gets close to an old bridge spanning Padre Canyon. I did not drive that far but now I am very interested. Old bridges, especially ones way off any beaten tracks, fascinate me.
By now, it was about 2 p.m., and warming up. Being a Sunday, I knew the usual routes through Payson would be choked with trailers and RVs. Instead, I drove into Winslow, then took AZ-87 south to Payson. This worked well and I had little traffic, except at the usual choke points where the road drops off the Mogollon Plateau into Strawberry, Pine and into Payson.
I had some business to attend to in town, and also deliberately wasted time to let the remaining traffic southbound ease a bit, and let the day cool as well. I had to drop off and remove some items from a storage unit, and I inadvertantly left my small traffic cones that I carry in my car on the roof. I got about a half-mile on the main drag through town when a Payson officer pulled me over. As soon as I saw his lights I knew exactly what I had done, and felt stupid... although appreciative that he pulled me over. Those cones stayed put somehow, not falling off. He only had me stopped for just a few minutes, but I stuck around afterwards to let the adrenaline wear off.