Mount Peeley
&nbsp


The trailhead
&nbsp


Some of the trail
&nbsp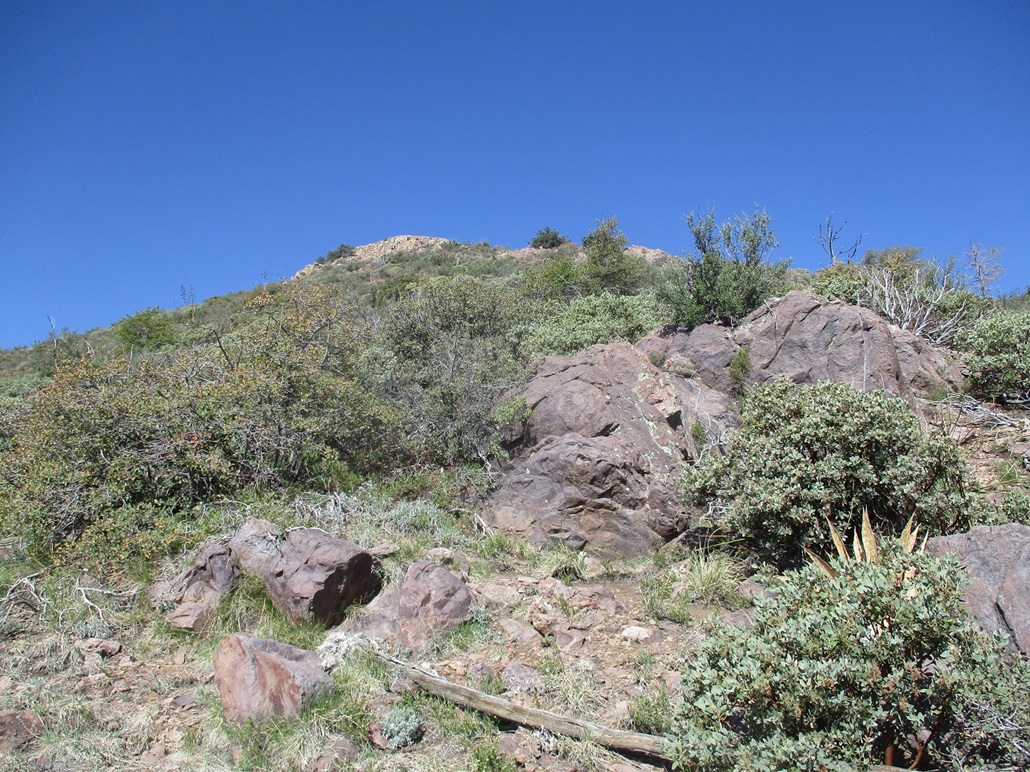 Now on the brushy east ridge, nearing the top where the brush wasn't so bad
&nbsp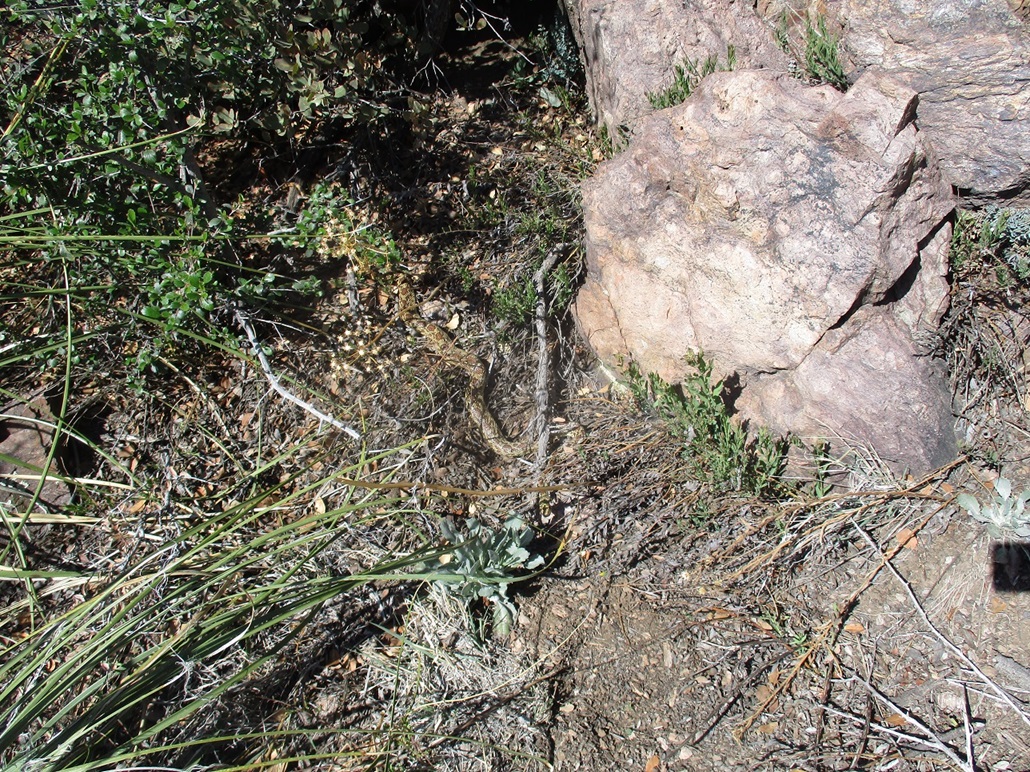 A snake! Almost stepped on him. I think it's a gopher snake but if you know better, please email me
&nbsp


Look back east at some storm clouds and sheets of virga
&nbsp


The summit
&nbsp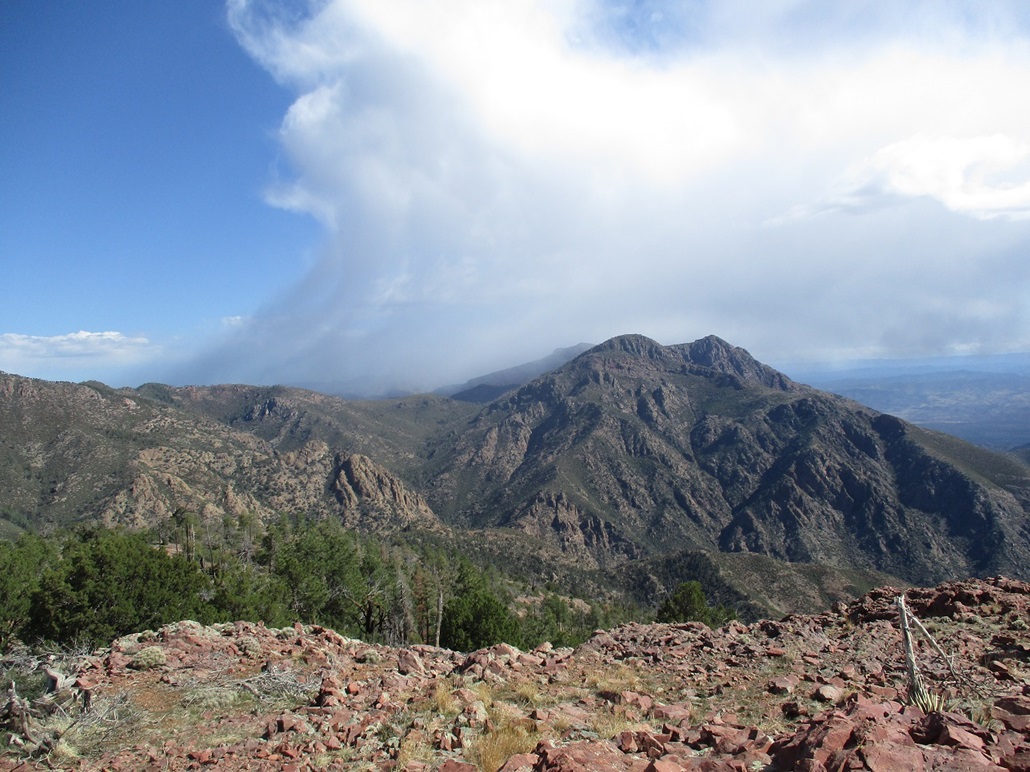 South view, Peak 7579 and a little bit of weather
&nbsp


Matthias at the summit rockpile
&nbsp


Southwest view: Saddle Mountain and Sheep Mountain
&nbsp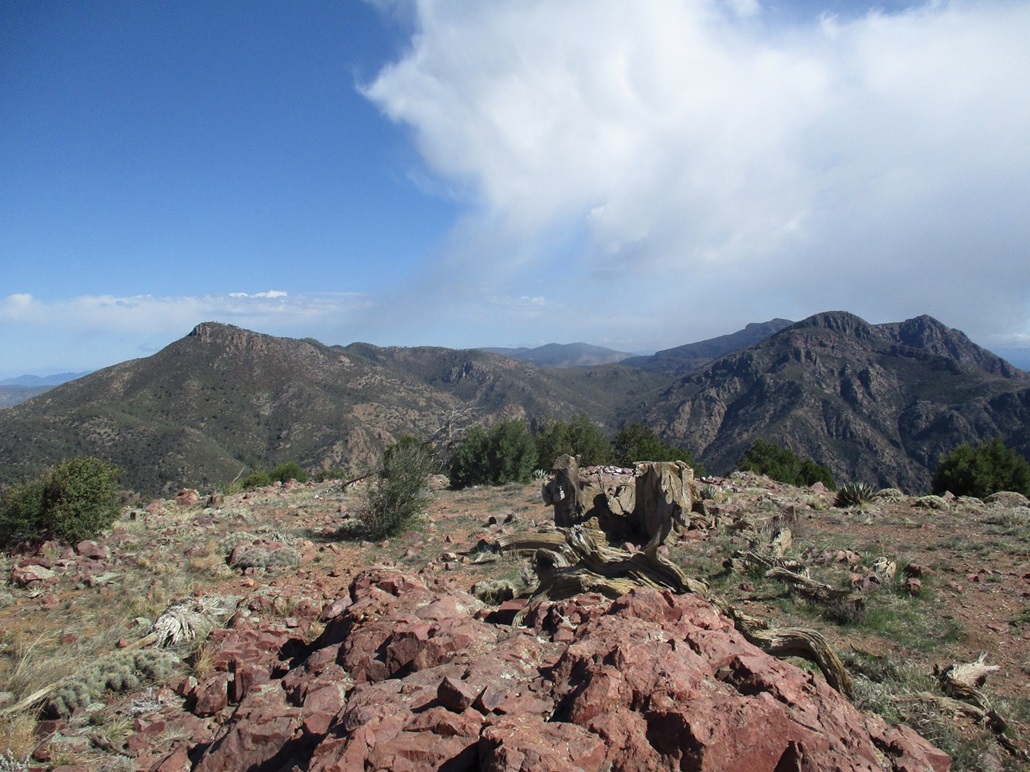 North view, Mount Catherine and Peak 7579
&nbsp


View east, the road we drove in on, and Peak 6340, plus clouds. I had to play with the contrast settings to reduce the glare in this image
&nbsp


Peak 6340
&nbsp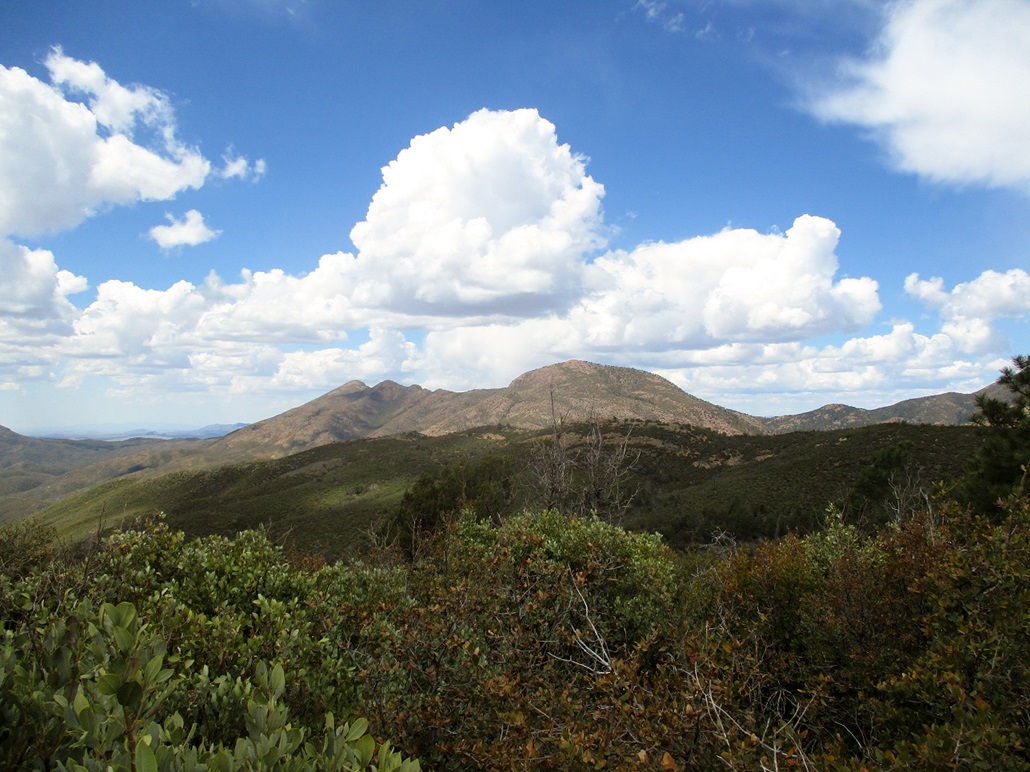 Mount Peeley from Peak 6340
&nbsp


BM Tonto, a sign on the AZ Trail showing we're roughly halfway between Mexico and Utah, the boring brushy top of Peak 6340, and a close up of the snake


All images
• • •

The Arizona
Mountains Gazetteer
Click to find out more!
Date: April 18, 2021 • Elevation: 7,030 feet • Prominence: 810 feet • Distance: 4.7 miles • Time: 2 hours • Gain: 1,450 feet • Conditions: Breezy, sunny with clouds, nearby rain clouds and virga • Teammate: Matthias Stender
Arizona • Main • PB • LoJ • USGS BM Datasheet
Mount Peeley is a major summit in the Mazatzal Mountains, rising south of Mazatzal Peak and nearby Pine Butte. The peak lies along the Mazatzal Divide Trail (MDT), which here is also co-incident with the Arizona Trail (AZT). Peeley is popular because a pretty good forest road leads to the east base of the peak, and the peak itself has good trails and easy cross-country routes. The trailhead is a major access point to the MDT/AZT, which likely explains why the road is maintained regularly.
Matthias and I teamed to hike the peak today. We met early, on Sycamore Creek Road just off the Beeline Highway (AZ-87). From there, we convoyed down the road more, to Tonto Forest Road 201, then up FR-201 for about three miles. I parked in a clearing, then rode in the rest of the way with Matthias. The road was in good shape, narrow with steep drops, but nothing out of the ordinary. It took about another half hour to cover the remaining distance, about 8 miles. We rolled into the small parking area at the end of the road about 8:00 a.m.. There were two vehicles there and two people sitting in camp chairs, both having camped here overnight. The woman was doing a through-hike on the AZT. We talked to them briefly and they were super friendly. The little parking area isn't that big, perhaps large enough to fit five vehicles at most.
We followed the good trail (Trail 86) toward Mount Peeley. A half mile later, it meets the MDT/AZT (Trail 23) at a Y-junction. The sign there told us we're roughly halfway between Mexico and Utah at our location. Now on the main divide trail, we followed it uphill through the brushy manzanita. The trail switchbacked a few times and always kept a lenient gradient, and the tread itself was smooth and free of loose rocks or encroaching brush. We made good time on the trail.
We were now east of the summit when we came upon a cairn in the trail and a meager footpath heading upslope. The summit was above us, a little over 600 feet higher and about a half-mile away. We knew we were to leave the trail at a cairn, but this seemed too soon. We hiked up the footpath which disappeared after a few feet. We could see a ridge above us that would go to the top, so we figured since we've started up already, to just keep on this ridge and see how it would go.
The brush closed in and while we were able to follow lanes for most of the way, we had a few sections of heavy brush and pointy succulents to push through. About halfway up, I nearly stepped on a snake. He was just laying there motionless, sunning himself. The temperature was still cool so he was not moving at all. Nevertheless, it gave me a scare. I backed up then took a better look (plus his photo). I don't think it was a rattler. I could not see his tail end, and I wasn't going to move brush to find out. I think he was a gopher snake. His picture is on the left sidebar. If you know for sure, please let me know.
A little higher up, the brush let up and the last fifty vertical feet was up open slope with easy grades, and soon, we were on the summit, which is broad with one large batch of rocks toward the southeast being the highest, and a lower batch of rocks to toward the west edge where benchmark "Tonto" is affixed. We stopped at the higher rocks first and took a break, signing into the register. Someone was here yesterday and it appears the peak sees a steady stream of visitors, a handful each day when the weather is good. We had fine weather above us, but to the east and north were rain clouds with virga, but the clouds seemed to stay put, not moving toward us even though they lingered for the better part of an hour. It was cool and breezy, and we spent about ten minutes up top. The views were fantastic, with the bigger peaks by Mazatzal Peak to the north, and lower peaks trending south toward the deserts.
We did not want to descend the ridge we had taken on the ascent. We knew we'd messed up anyway. Sure enough, we found a cairn just a few feet north of the summit and followed these cairns all the way down back down the north slopes and to the MDT/AZT. Here, we found the big cairn we were supposed to have found on the ascent. We then walked out, meeting up with the through-hiker lady where we stopped for more chatting and a chance to catch our breaths. When we returned to the cairn we had seen earlier, I took it apart. I don't know what purpose it served anyway.
We were back to Matthias' vehicle quickly, the round-trip hike covering just under 5 miles and taking a little under two hours. The hike had gone very well and was worth every step. Even our bushwhack up the east slopes and the snake encounter was fun, mainly because there was no venom transmitted and that it did not slow us down too much. However, I would not recommend what we did. This is a pleasant, easy hike and an Arizona classic.
We had one more hill to tag, a brush-covered bump between Mount Peeley and Pine Butte that only was of interest due to its prominence.

| | |
| --- | --- |
| Pigeon Spring Peak • Peak 6340 | |
Elevation: 6,340 feet • Prominence: 640 feet • Distance: 1.1 miles • Time: 45 minutes • Gain: 220 feet • Conditions: Cloudy, a short sprinkle of rain, thorny
LoJ
We parked in a tiny clearing a few feet northeast of Hill 6170, which itself lies immediately east of Peak 6340. We then walked the main road west a short ways to the north toe of the ridge that comes off of Peak 6340. We had to shimmy up about five feet of loose road-cut to get onto the slope.
The first ten feet went great. Then the brush closed in. We were able to angle a little to our right (southwest) following a rough path in spots. Above and ahead of us was thick manzanita and thorn brush, growing tightly together. We followed open lanes whenever possible, not always with success, and a few times had to directly push through the dense thicket. Higher up, we scooted underneath a fence line, now on slightly open ground, then hopped over the same fence moments later, and soon, we were on top this hill.
The summit closed in and was wooded. I built a small cairn for the next visitor in ten years, and shot a couple measly images, but we did not linger. This peak was homely, crowded and scratchy, and only worth the trouble because we could claim another ranked summit for our records. The hike was tolerable only because it was short. Had it gone on another mile, I would not have bothered. We were out and back to Matthias' vehicle quickly, the round trip taking about 45 minutes. By now, the clouds had built and we had a short sprinkle of rain, but nothing sustained.
There is a ridge immediately west with a spot elevation of 6,335 feet and another area with no spot elevation but within a 6,320-foot contour, suggesting it could be as high as our position. Older maps show a spot elevation of 6,355 feet on the east summit we had just visited, and newer metric maps show an extra contour for this eastern hill, suggesting the east hill was highest. We had no desire to hike that western ridge and deal with the brush over that way. Purists who insist one must tag every contending contour can come here and do battle with the famous brushy hell that is the Mazatzal Mountains, then see what tune they sing.
Done with our hikes, Matthias drove us back down the road to my vehicle. Along the way, we had to pull aside for a Toyota Prius coming uphill. We were not sure whether to be impressed or not. I would not suggest a small vehicle on this road, if you ask me. Back at my car, we got the gear sorted out and I changed my shirt, and then parted ways. It had been a successful few hours with one really worthy peak completed, and a brushy second peak too. My thanks to Matthias for driving.
My drive back to Payson went well. It was crowded today and merging onto the highway wasn't easy, with all the speeding vehicles and many big trailers. I was home within an hour.

The road: FR-201 is in good condition and regularly maintained. It is not appropriate for trailers or other large vehicles due to some very tight turns higher up. Trailers generally only get in about a mile above a Y-split (back where FR-25 splits off and goes downhill). Beyond that, there is no place to turn around and the turns can be tight. In dry conditions, the road is passable by cars with decent high clearance but 4-wheel drive not required, although nice to have. If wet or snowy or icy, then 4-wheel drive is mandatory, or the road just may be closed for those times. The road is very narrow and squeezing by oncoming vehicles will be challenging at times.
The name: I tried looking up the history of the mountain's name, assuming "Peeley" was someone's name. I had no luck. The older topographic maps call it "Pele" and the USGS datasheet references an old name "Pelee" (or PEIEE in typed capitals). The word "Pele" could refer to the Hawaiian goddess of volcanoes and fire, and "Pelee" is a volcano on Martinique in the Carribean that last erupted in 1932. My own instinct is that I doubt either name was the inspiration for this peak's name. This peak is not a volcano nor does it look like one, and it would seem a stretch to name this peak for something over in Hawaii or the Caribbean.