Peak 4925

Peak 4925 from the east
&nbsp


I went up the right slope, down the left
&nbsp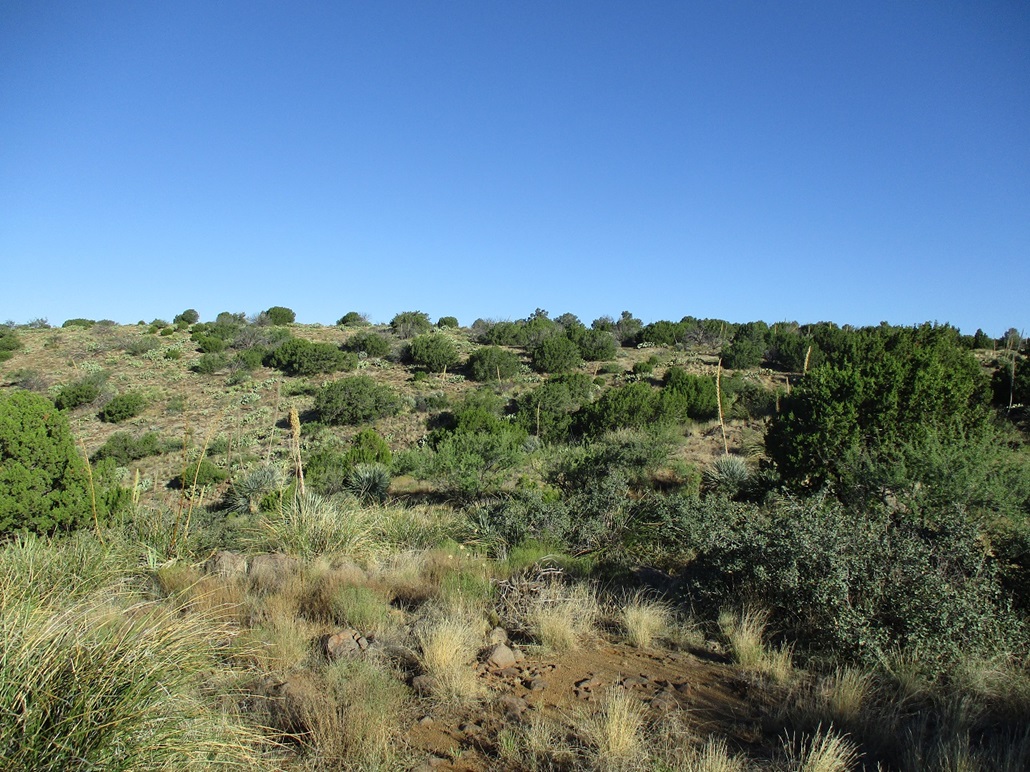 The top is up there somewhere
&nbsp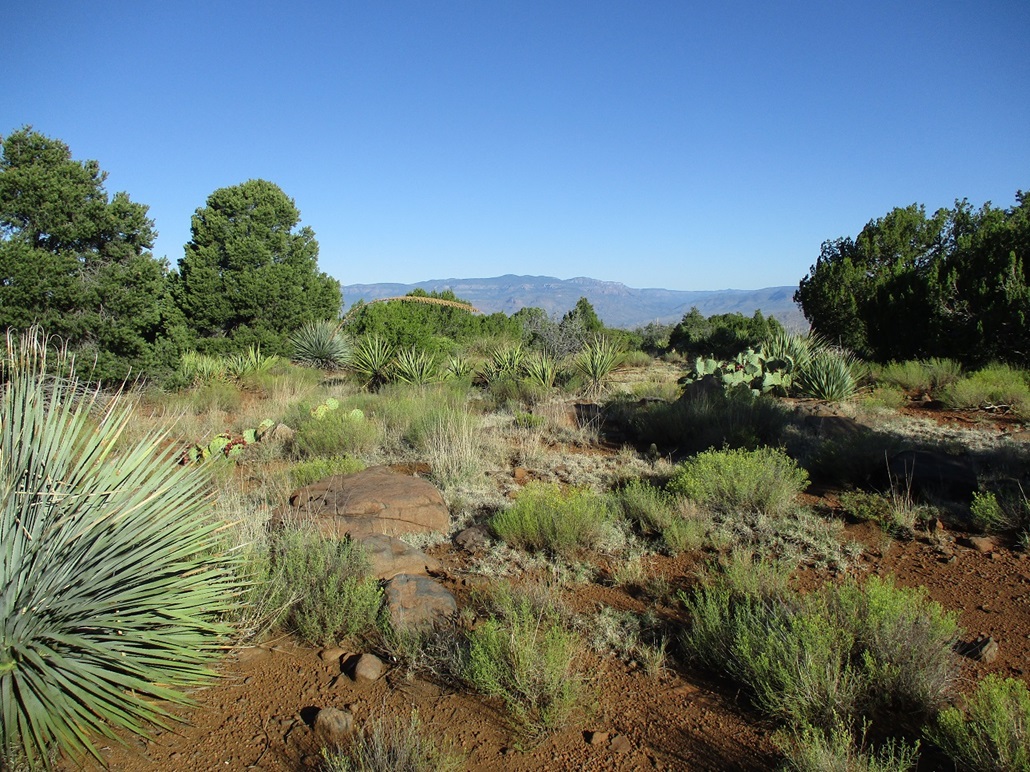 View from the top, looking northwest
&nbsp


The Apache Peaks, looking southwest
&nbsp


The general "top"
&nbsp


Hiking down, car glinting in the sun
&nbsp

Peak 5905

Peak 5905
&nbsp


The lower slopes. Looks easier than it was
&nbsp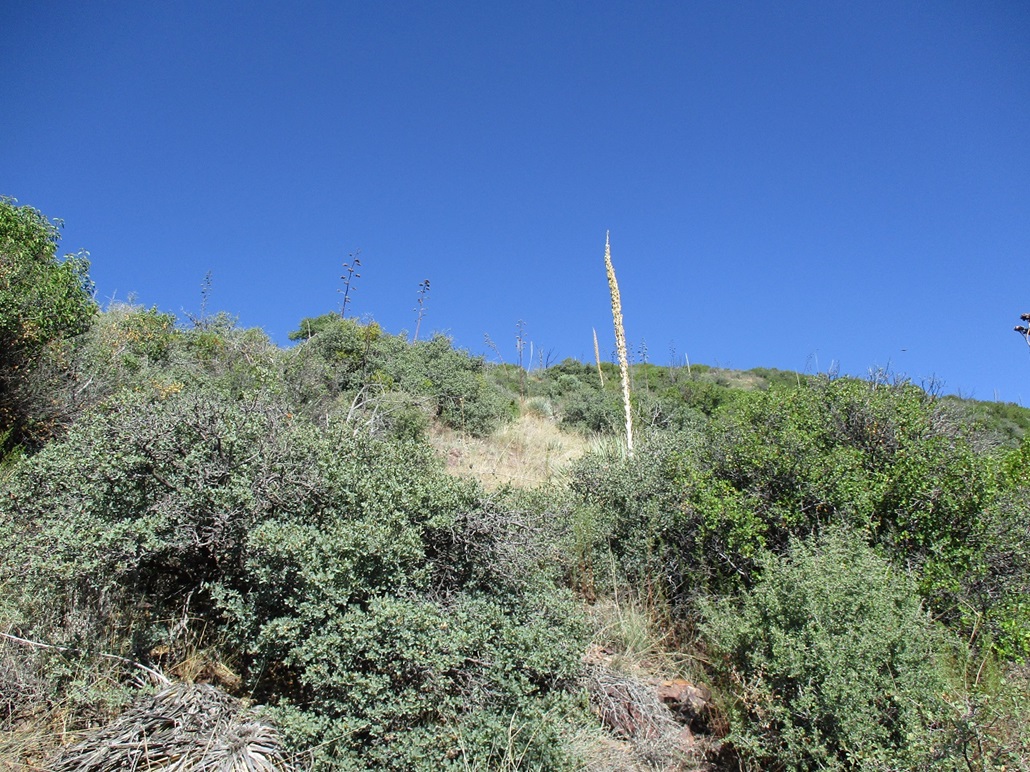 About a third of the way up, agave stalks
&nbsp


The true top finally comes into view
&nbsp


The first false summit
&nbsp


The real top now
&nbsp


The summit rocks
&nbsp


Hiking down, the car awaits me
&nbsp


Cool round barrel cactus
&nbsp

All images
• • •

The Arizona
Mountains Gazetteer
Click to find out more!
Apache Peaks Foothills
Peak 4925 • Peak 5905
I wanted to explore the hills lying east of the Apache Peaks of the Tonto National Forest, about a dozen miles north of Globe. I've been here before but not in about 18 months. With the weather state-wide barely starting to moderate, I hoped conditions at these mid-elevations would be conducive to hiking.
There are a bunch of ranked peaks in this area I have yet to climb, so I chose a couple that I knew had good road access and wanted to explore these roads for future visits for the peaks that lie farther back. Peak 4925 lies along the "Yankee Joe" backcountry loop road, its summit within a half-mile of the road. Peak 5905 rises about four miles to the south, along the Winters Ranch Road. I had a third peak also on the agenda, high up on the Pinal Mountain's crest. But I wanted to concentrate on these first two and see how things went.
Peak 4925

• Apache Peaks Foothills
• Tonto National Forest
• Gila County

Date: September 16, 2023 • Elevation: 4,925 feet • Prominence: 405 feet • Distance: 1.5 miles • Time: 55 minutes • Gain: 375 feet • Conditions: Sunny and clear, pleasant temperatures
Arizona • Main • PB • LoJ
I left Tempe at 5 a.m. and was in Globe a little after 6, no traffic to slow me. I got drinks and snacks at a gas station on the east end of town, then drove north on eastbound US-60 into the hills. I eased onto Forest Road 303, then about three miles later, went left at a Y-junction, now on FR-645. This road bends west and aims for the hills in the near distance. Peak 4925 is a rounded hilltop lying immediately north of the road.
This road was in good shape and I was able to get in a couple miles with no problem. I had to power through one mud pit, and a couple spots were eroded due to recent rains. I parked at the road's apex, just west of a cattle grate in a pullout, the peak's south-facing slopes just across the road. I started hiking at 6:40 a.m.. It was sunny and clear, temperature about 65°.
A fence runs parallel to the road, and I was able to get through by passing through a wire-stick gate that seemed out of place. There was no road here and the gate itself seemed to not have been opened in years. The wire loop holding the gate itself seemed to have rusted onto it and I had to yank it apart.
I started upslope immediately. The ground was loose and rocky, nothing out of the ordinary. There was plentiful grass and brush and almost always a way around any thicket. Trees were limited to smaller pines and junipers.
The grade was lenient and I made good progress. Once on top, I aimed for the highest ground. The summit ridge runs about 150 feet end to end and two or three spots could have been the highest point. I tagged each but found no sign of past visitors, no cairns or registers.
Views were good, with the clear air and cloudless skies. I could see the peaks toward the Salt River to the northwest, and the big Apache Peaks summits to the southwest.
Rather than retrace my route, I descended the slope south of the highpoint. I had to squirm under the fence once I neared the road. This placed me on the road about 200 feet west of my car. I was back at the car soon, the round trip covering slightly less than an hour, a 1.5-mile walk by my reckoning.
It was warmer now, but not bad, into the lower 70s. But the sun was bright and intense and I could feel its thermal effects. In these conditions, it's "hot" in the sun, but as soon as I stepped in shade, it felt 20 degrees cooler.
I drove back to the main highway and aimed south.
Elevation: 5,905 feet • Prominence: 465 feet • Distance: 2 miles • Time: 2 hours and 10 minutes • Gain: 1,025 feet (gross) • Conditions: Warm but still pleasant
PB • LoJ
I drove south a few miles to FR-584, Winters Ranch Road. This road is just south of milepost 265 and if coming from the north, as I was, comes after a bend and is not obvious at all. But I had already scoped it on my way up earlier this morning so I knew to be slowing down.
The road is ... or was paved. The pavement is very old and chunky, with holes and grass growing in the cracks. But it looked like a substantial road at one time. On the maps, it shows as reconnecting to US-60 farther south near Richmond Mountain. I suspect this may have been an older alignment of US-60 before it was realigned in later years, but I cannot find any confirmation of my guess, and older maps don't show the detail well enough to confirm anything.
I drove westbound on this road about two miles, Peak 5905 rising up ahead, a compact hump of a peak covered in trees, brush and grass. I parked in a clearing near a gate that appears to always be open. The Winters Ranch buildings are a little farther head, but I did not go that far. I was at the base of the south ridge of the peak.
I started walking at 8:40 a.m.. It was warmer now, pushing 80°. The lowest slopes looked the toughest, being brushy and steep. I walked onto these slopes and yes, almost immediately, the grade steepened severely.
The grade wasn't impossible, but the rocks were troublesome. The slopes were covered in shale-like scree, little rocks about the size of a hand, but flat and angular. They just lie atop one another and do not hold together at all. Any force causes them to move downward, so making uphill progress was difficult.
I veered toward a jumbly rock band thinking that the rocks will be more solid. I got to it and hoisted up a few big boulders. This worked reasonably well. Above the band, it was more steep slope and consistent low brush including a lot of dense mountain oak, holly brush and agave with the tall stalks.
The grade lessened ever-so-slightly as I gained elevation. About half-way up, I came upon a fence that goes up the spine of the ridge, presumably that of the Winters Ranch. I could not imagine cows getting this high but then I saw a few cow patties and pondered these hardy beasts for getting up this hill.
I generally kept close to the fence because by now I was on the spine too and there was no reason to dip below to one side. Paths came and went, and I could usually find a lane but sometimes had to bust through a thick patch of brush. I would hop to one side of the fence or the other if it looked easier to do so.
I came to the first summit, which I knew was not to the top, but from here I could see the top, two bumps ahead, about 200 feet higher. It was very warm now, into the 80s. But if I stood in the shade of a tree, it felt comfortable. I was slightly dehydrated too.
I just walked slowly through the brush and rocks until I was at the top. The fence ends here, coming to a corner, just shy of the top. I found a spot to step over it then walked to the rocky highpoint, glad to be here. This had been a tiring hike.
To be sure, I walked the short summit ridge about a hundred feet in case there was a higher rock or cairn hidden somewhere, but like before, I saw no evidence of previous visitors. The views were good from up here too.
I was feeling a bit hot and wanted to be moving down as soon as possible. I did not stop for a rest up here. Down near that lower first summit was a large tree with good shade and convenient sitting rocks, so I took a few-minutes break here, having a drink and a snack.
The bottom few hundred feet was the trickiest because I was back on those steep slopes with the sliding scree. I moved very slowly and methodically, testing each footfall before committing to it. More than once the rocks gave out from under me, but I was able to avoid an actual spill, which is impressive for me.
I eased down that same rock band, then down more slope and back to my car at 10:45 a.m.. It felt like I had been up there for five hours, but it had only been a couple hours. I was thrashed. It was quite warm now, high 80s said my car's temperature thing. I was pleased with how this hike had gone and happy with the experience so I have no complaints at all. But it took a lot out of me, and I decided this was good enough. I chose not to go for the third peak on my agenda.
I changed into driving clothes and stopped in Globe for drinks and gas, then drove back to Tempe, arriving about 1 p.m.. It had been a fruitful morning and I was happy with the two-peak haul.
I now have, according to my records, 751 ranked summits in Arizona. The state has almost exactly 7,500 ranked peaks, so I passed the magical 10% mark today.