Twin Butte summit
&nbsp


Diablo Stadium
&nbsp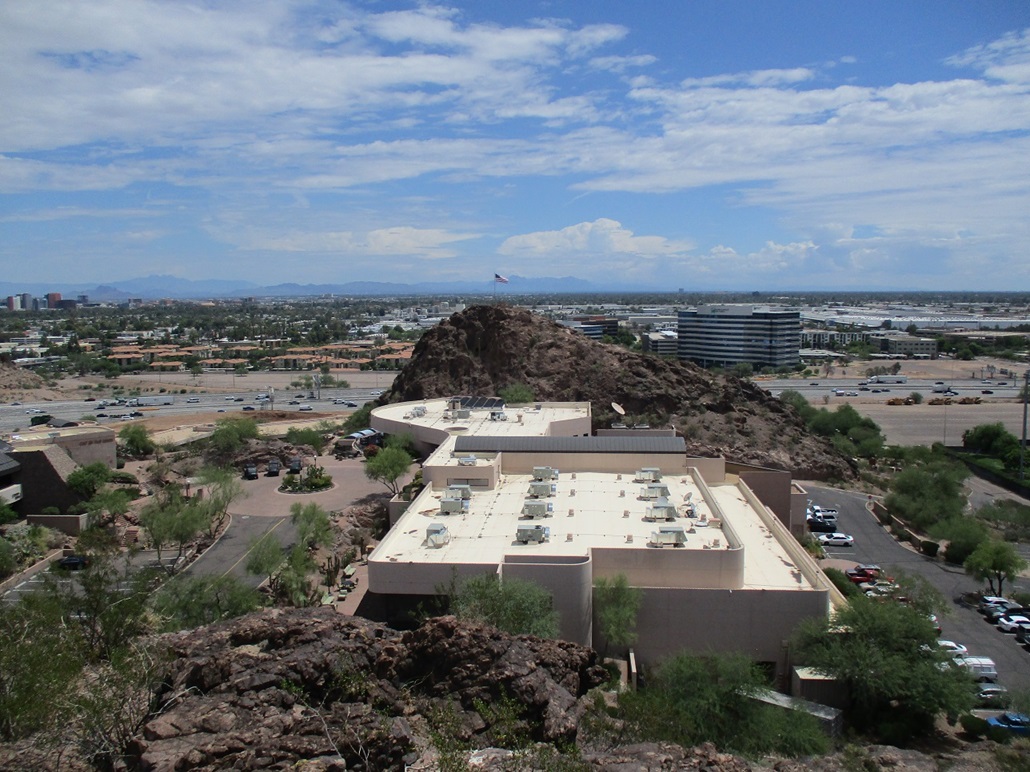 The Marriott, and a flag atop a slightly-lower butte
&nbsp


A ball game going on
&nbsp


The little itty bitty arch at the summit!
&nbsp


Some of the rounded buttes at Papago Park
&nbsp


Papago "Big Butte". Our Mountain Rescue team often did its rappeling practice off a lower platform abutting this formation. I have never been to the top and don't plan to
&nbsp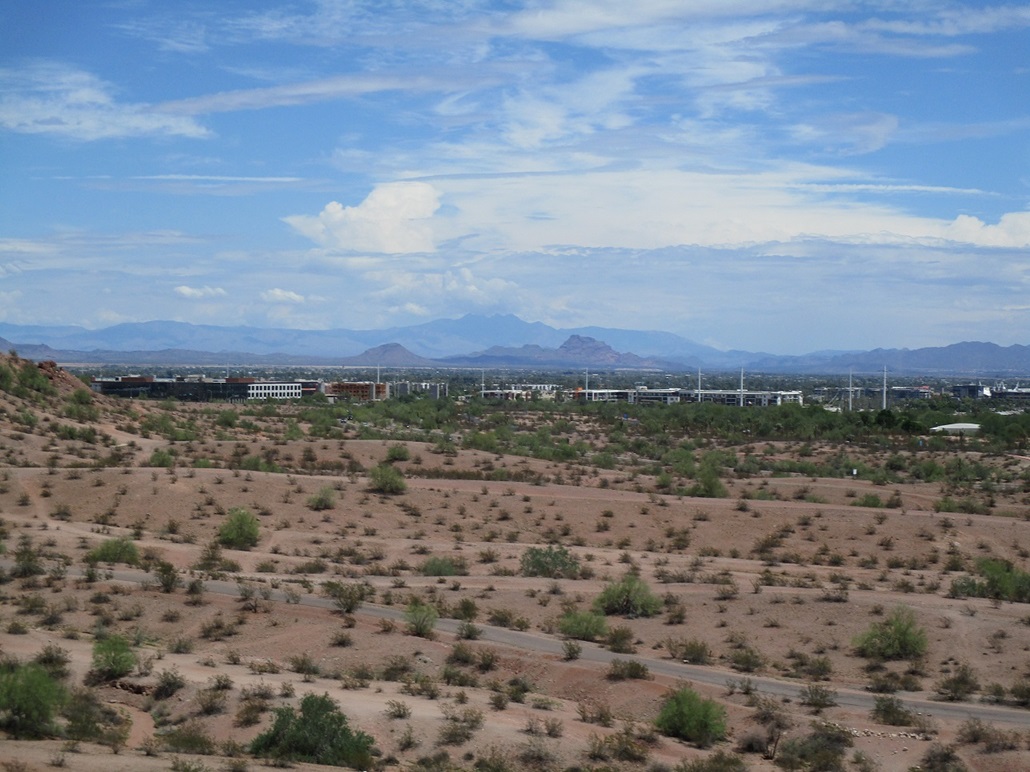 Nifty shot of the Four Peaks, framed by Sawik Peak and Red Mountain
&nbsp

• • •

The Arizona
Mountains Gazetteer
Click to find out more!
Date: August 19, 2022 • Elevation: 1,334 feet • Prominence: 174 feet • Distance: 0.2 mile • Time: 20 minutes • Gain: 170 feet • Conditions: Very warm and humid, but with a breeze
Arizona • Main • PB
This Twin Butte lies in Tempe, near the Diablo Stadium, where the Angels of Major League Baseball have their spring training. A fancy Marriott hotel is tucked into the hills below this little peak.
Diablo Stadium has been around since 1969, when it was erected as the spring training site for the new Seattle Pilots, who lasted just one season. They became the Milwaukee Brewers in 1970. The Brewers continued to use the site as their spring training facility for a couple more seasons. The Seattle Mariners, who were established in 1977, used this site for spring training from 1977 through the early 1990s. The California Angels of Anaheim near Los Angeles now use it as their spring training site.
The butte gets into the background of a number of baseball cards from that era. Back then, most player photos for baseball cards were taken during spring training. Below are a few of the better ones. It seems that Bill Voss was especially fond of standing in front of the butte.

Jim Gosger
Seattle Pilots
1969


Tommy Harper
Milwaukee Brewers
1970


Bill Voss
Milwaukee Brewers
1971


Bill Voss
Milwaukee Brewers
1972
Today started cooler than usual, a lot of clouds blocking out the sun. A big plume of moisture is headed into the state from the south, so the clouds knocked down the temperature but increased the humidity. But, it wasn't too bad. I had some morning obligations, then about 11:30 a.m., I wanted to get out for my daily walk. I elected to come here, seeing that I have not been here in many years. I could do a "walk-hike". This climb would not entail much effort or time at all. It would be something new for me. And I was bored silly sitting at home. All that conspired to prompt me to check the place out.
The drive wasn't far, about 8 miles from where I live. I got onto 48th Street on the Phoenix-Tempe city limits, then right onto Tempe Diablo Stadium Road. The butte rises behind the complex. I followed a few roads at random until I located myself north of the playing fields, on the Marriott grounds. Across from the main check-in area is a partially-paved trail that goes up the butte. I parked in a lot to the north, only one other car there.
I just carried my camera and a bottle of water. I walked up the road briefly to the let-in point onto the paved trail. I followed this up to a viewing platform situated between a smaller clump of rocks to the north, and the butte's highpoint to the south. Next, I walked up over rocks and trail to the top, all this taking maybe 10 minutes from my car.
The top was pretty cool. It is flat, and there is a natural opening in it, an arch, about a foot high and two feet in width. Up here I had good views of the main Diablo Stadium, the various other playing fields, the hotel, South Mountain, the buildings over by Tempe Butte, and lots of Phoenix looking north and west. There was a game going on below. Probably a low-A summer rookie league game. I've been to a couple over at the Cubs' facility (Sloan Park) near where I live. At one of those games, I spoke to a guy there who explained to me what was going on. He had a camera and lots of notes. I'm thinking he was a scout. He said these are mainly 17- and 18-year old kids fresh out of high school or from the Carribean. From the top, I could see the Angels players in their red tops, learning the finer points of playing baseball the Angels way, which will ensure the Angels will be a solid 4th-place team for years to come.
I was back to my car quickly. I was gone 20 minutes including my stops, and even though this was a short hike, I enjoyed it. The views from the top are worth it.
Next, I wanted to check out Bell Butte, which is the other main "twin" of this butte. Bell Butte lies about a half-mile northwest, with Interstate-10 passing through the low pass connecting these two buttes. But this was a no-go. It's fenced all the way around and I drove by the ingress point (a service road) and saw it was gated. This butte was not worth the hassle it would take to hike it. I just drove on by.
Since I was still in my hiking boots, I motored north to the Papago Buttes Park, where the Phoenix Zoo and Desert Botanical Gardens are located (I've been to both many times and they're worth it). I had no peaks on the agenda. Instead, I just wanted to walk some more, maybe get in another mile. It was warming now, but still tolerable, about 95 degrees. I parked in one lot and walked on trails through the desert brush, and partway up one hill, mainly to get some photographs. I walked a little more and returned to my car, this walk taking about 30 minutes. I was sufficiently sweaty by now.
From here, I ran a couple errands and drove back home to shower, eat a little and type all this up.