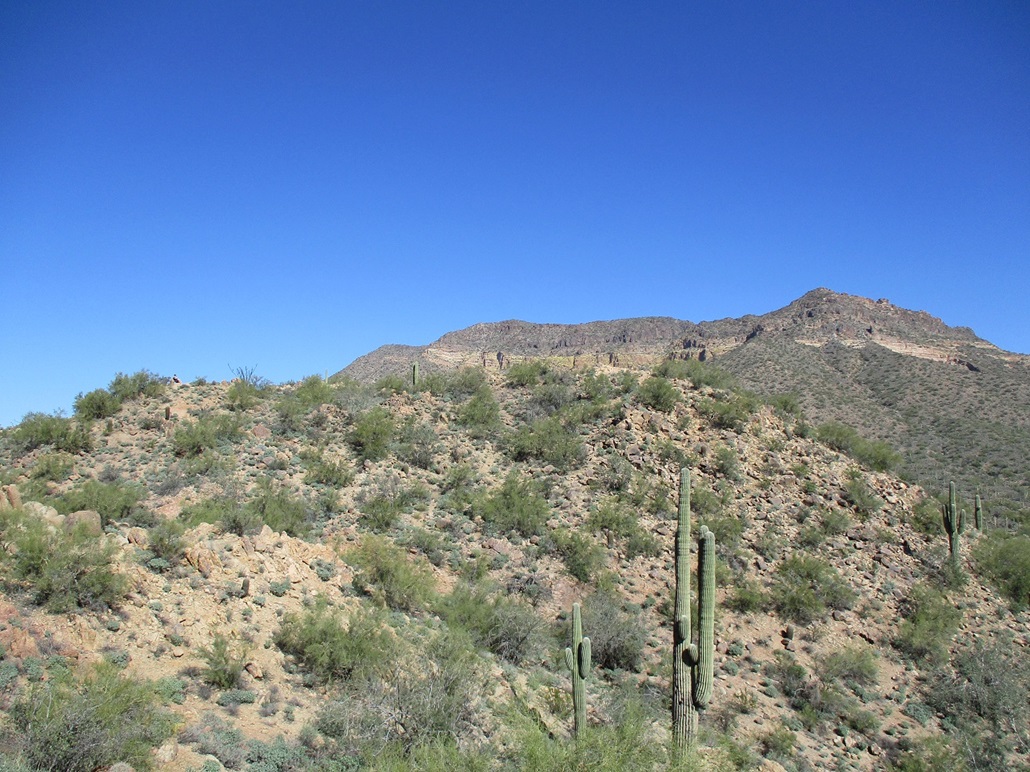 Approaching the top of Merkel Hill, with Pass Mountain above in the background
&nbsp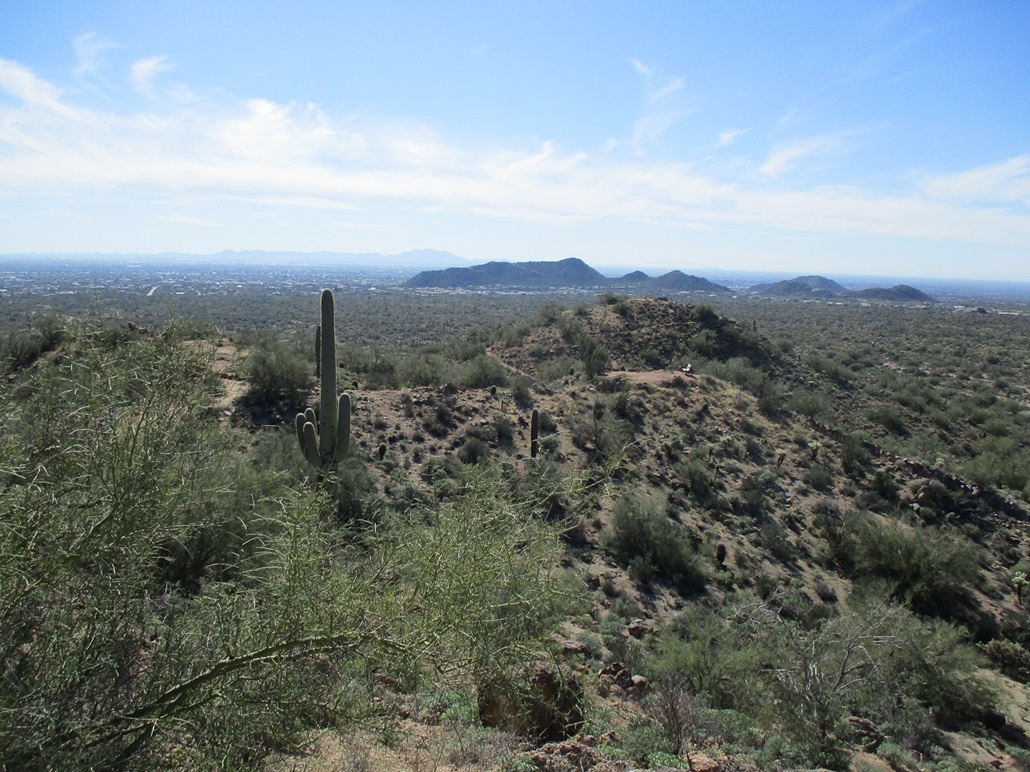 South from Merkel Hill
&nbsp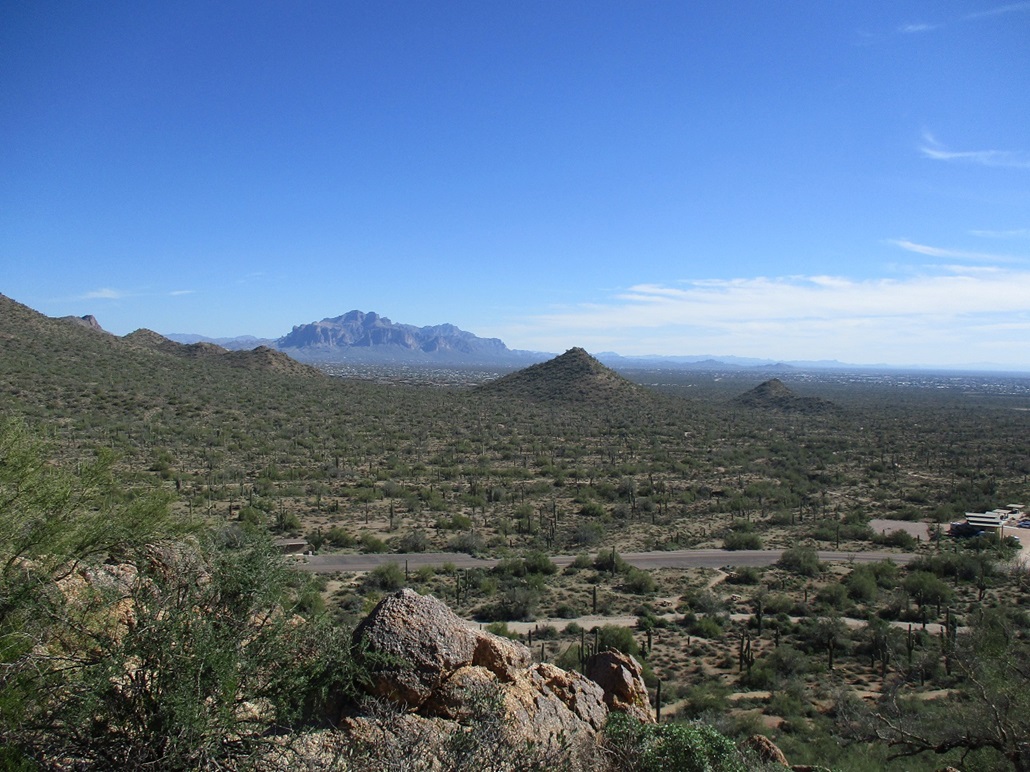 Southeast, Cat Peak North is the pointy bump, and the Superstitions loom in back
&nbsp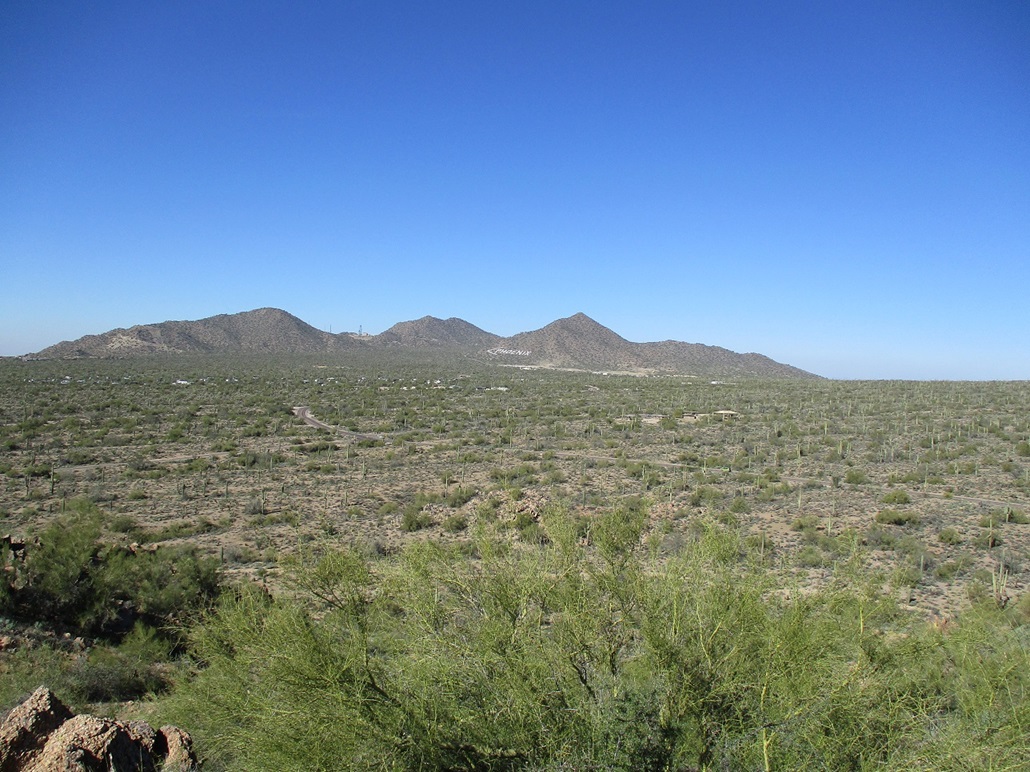 View of the Usery Mountains: from left is the Mesa City Highpoint Hill, then the main Usery Mountain peak, then the "Phoenix Arrow" Peak
&nbsp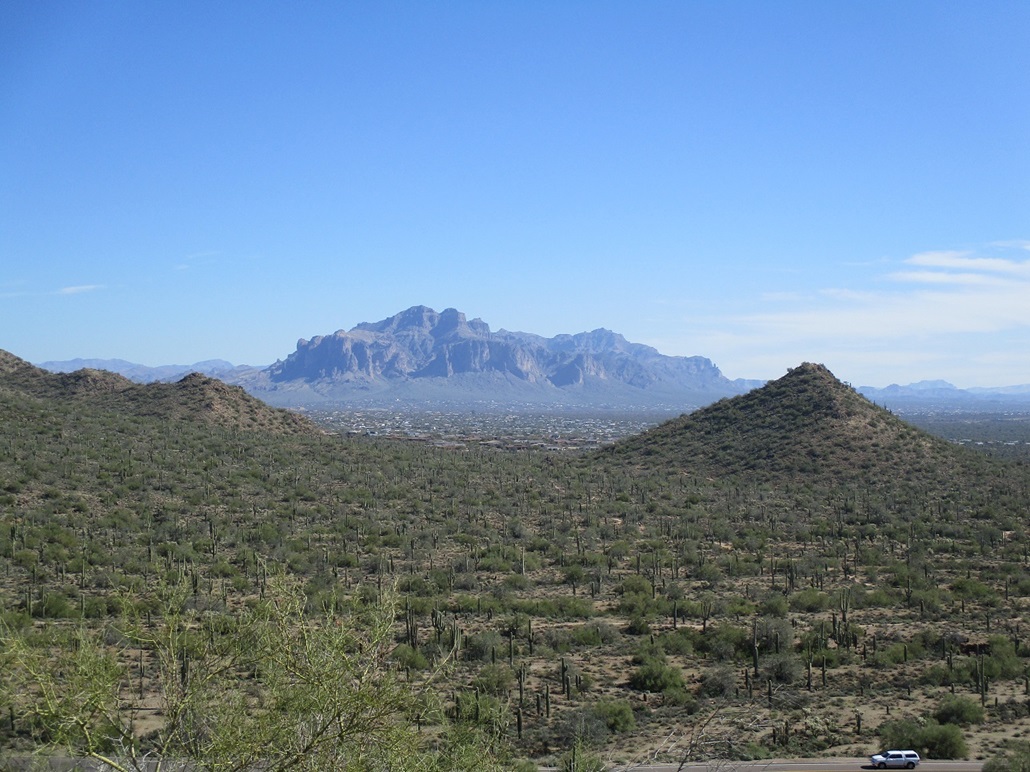 The Supes, slightly zoomed
&nbsp


Cactus forest
&nbsp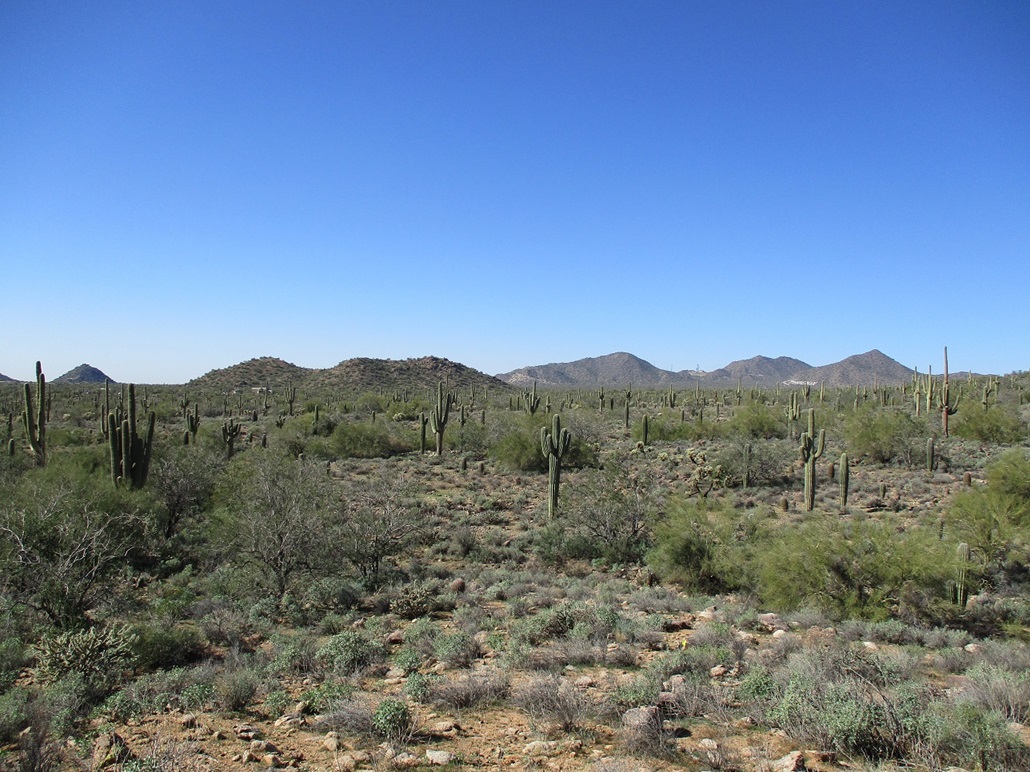 Look back at Merkel Hill
&nbsp


One more shot of the Supes with a saguaro
&nbsp


Top of Cat Peak North
&nbsp


West view, Merkel Hill is closer in, the bluish phantasms in the distance are Camelback Peak and Mummy Mountain
&nbsp


A long unbroken slope of saguaro practicing social distancing
&nbsp


Cat Peak North as I exit
&nbsp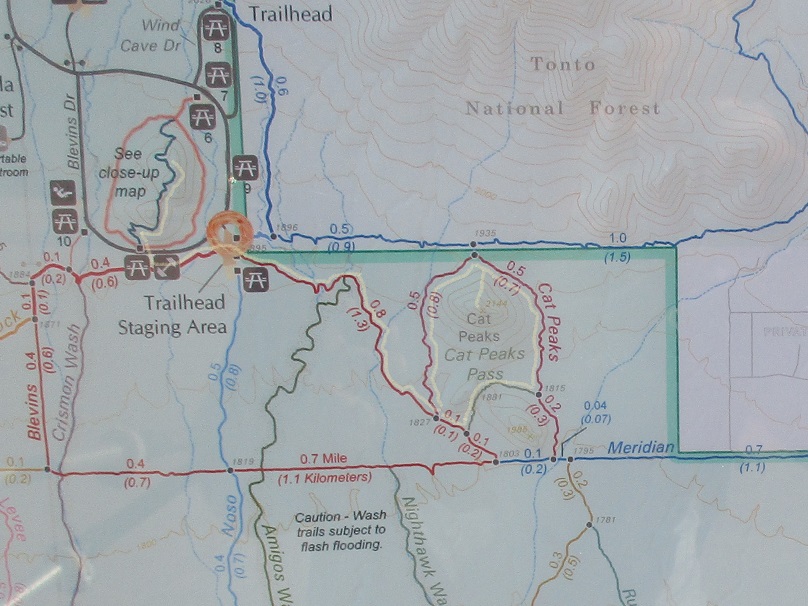 A map, and my route kind of highlighted


• • •

The Arizona
Mountains Gazetteer
Click to find out more!
Usery Mountains Regional Park
Merkel Hill • Cat Peak North
Today's exciting adventures took me to the Usery Mountains Park, north of Mesa. I have not been here since 2011, when I climbed Pass Mountain. I had zoom meetings in the morning, then the day open, so I wanted something close and easy. I zeroed in on Merkel Hill (or Hills, depending on what map or sign you are reading) and the Cat Peaks, North and South. These are outlier hills that, in my opinion, belong to the Goldfield Mountains, even though they're in the Usery Mountains Park. To me, the hills and peaks east of Usery Pass are the Goldfields, and to the west, the Userys.
From where I live to here was not far, about 20 miles. I was here by 1 p.m., the day warm, blue skies and very dry. I paid my day fee ($7/vehicle) and drove the main road south and east toward Merkel Hill. The road loops around the hill. For reference, the parking lot and trailhead for Pass Mountain and Wind Cave is north of this loop. I parked in a small lot on the south side of the hill.

Merkel Hill

• Goldfield Mountains
• Usery Mountains Regional Park
• Maricopa County

Date: January 25, 2022 • Elevation: 2,078 feet • Prominence: 128 feet • Distance: 0.4 mile • Time: 20 minutes • Gain: 180 feet • Conditions: Blue skies and lovely
Arizona • Main
I was on the Vista Trail immediately, mere feet from my car. The trail goes up, weaving through low brush and rocks. The rocks here are all that granitic breccia, where it degrades into pebbly grus. And it was everywhere. It makes some of the footing a little slippery.
The trail levels quickly, drops and gains a couple times, then aims for the obvious highest point up ahead. So I get there and it's "closed". The trail just swings by the top, finishing at a bench overlooking the deserts below. Two women were at that bench walking out.
I did not want anyone to see me go outlaw. So I just stood around like I was taking a break. They walked past. Once they were gone, I hustled up the trail to the top. Yes, there's a trail. It's closed, presumably to guard against erosion. I had to gain about 15 feet. I tagged any high rocks, snapped a couple images, then walked back down to the legal trail. I was off-trail perhaps a minute. The views were nice
<rant> I get a little perplexed and annoyed when trails deliberately bypass summits, even dinky ones like this. There was a trail to its top, so why close it, I wondered. I bet it's just a preference not to have to do maintenance on it. So people are going to go up anyway. Not everyone wants to sit on a bench. Us hard-core types want summits! </rant>
I retraced the trail back to my car. I wasn't gone long, maybe 20 minutes. This was not a bad hike. The views were pretty good.

Cat Peak North

• Goldfield Mountains
• Usery Mountains Regional Park
• Maricopa County

Elevation: 2,144 feet • Prominence: 215 feet • Distance: 3.2 miles • Time: 2 hours • Gain: 220 feet (peak only) • Conditions: Like a postcard
Next, I wanted to do a loop hike, just to lazily walk some flat trails and not have to think too hard. I crossed the road, walked through a fitness area, then got onto a trail which went east to another parking lot. Here, the Blevins Trail starts. I followed it east and southeast for 0.8 mile (going by the sign), then got onto the Cat Peaks Loop, going north. Cat Peak North itself rose above me, a conical summit with a slightly-rocky face looking south.
I hiked around its north side, the trail rising slightly anyway. I studied its lines and saw a good spot to start uphill. At first, I poked my way through small rock piles and palo verdes. Then suddenly, it was just low grass, in clumps holding the ground together nicely. Within minutes, I was up top. The one-way hike covered about 0.2 mile, probably less. The top was cool, with a rock fin and a small cairn.
The day was very clear, so I took some images. Superstition Mountain looked like it had been plopped there by someone, it didn't look real. I could see detail on it from where I stood.
I eased back down to the trail, followed it south now, then up and over a side trail that crosses between the North and South Cat Peaks. I immediately declined to hike South Cat. It just did not interest me. I stopped for a spell on a bench and enjoyed the scenery. Clear January days in the deserts, you can't get better than that.
I resumed hiking, completing the loop, then hiking back to my car. The whole hike was a little over three miles, with just the tiniest bit being to the top and back. The peaks were fun diversions. I enjoyed the stroll a lot.