Date: March 31, 2012 • Elevation: 7,258 feet • Prominence: 1,098 feet • Distance: 10 miles • Time: 7 hours, 25 minutes • Gain: 4,300 feet • Conditions: Sunny and warm
Mount Kimball is a principal summit in the Santa Catalina Mountains overlooking Tucson. The peak tops the Pusch Ridge, which are essentially the westernmost foothills of the Catalina Range. Viewed from Tucson, the Pusch Ridge (and Mount Kimball) can seem to blend in with the whole mass of the Catalinas. Better vantage points --- where one can see the whole ridge and the peak --- are from the west along Interstate-10 at about Ina Road, or from points slightly north in Marana. The entire ridge, including Mount Kimball, is within the Pusch Ridge Wilderness.
The Catalinas are one of the premier hiking ranges in all of Arizona: trails cross the range in every direction with a multitude of attractions to visit deep within the range. By myself or with Beth, I've been to the Catalinas four or five times over the years but usually to drive up the Catalina Highway and make easy day-hikes of Mount Lemmon. Beth and I had a memorable hike in Sabino Canyon during a 108-degree afternoon back in 2004. Other than that, I've done very little hard-core hiking in the Catalinas. Mount Kimball caught my attention for a variety of reasons: a good trail runs to the top, and there are amazing views along the trail as well as from the top. And, as usual, I wanted a peak as my goal.
The opportunity to hike this peak came about when I had to be in Tucson for a meeting. The meeting was on a Friday afternoon, and since I was in the area, I stayed the night at a local hotel and made plans to hike Mount Kimball Saturday morning. In recent days, conditions across the state were stable, clear, dry and a little warm. This time of year, the summer heat is starting to rouse from its hibernation, and temperatures in the desert had been in the high 80s and low 90s. But mornings were still cool and pleasant. I wanted to start as early as possible so that I could take as much advantage of the cooler morning temperatures as possible.
I left my hotel room at 5:15 a.m. and made my way across town, arriving at the Finger Rock Trailhead parking area on the north end of Alvernon Road at 5:35. I was the first to arrive, and after getting situated and everything locked up, I was on the trail at 5:45 a.m., just as the sun was lighting up the eastern sky. I had just enough light to make my way along the lower trail without any trouble.
I followed the Finger Rock Trail (#42), and was well aware of the task ahead of me: the peak is 5 miles away and nearly 4,200 feet higher. This was going to be a monster day hike. Rather than think about that too much, I just worried about the immediate hike in front of me, trying to get into a breathing and hiking regimen. The first mile of trail skirts some homes, then swings right (northeast) and enters into Finger Rock Canyon, so named for a huge pillar of stone visible high up in the canyon, elevation 6,400 feet. Down low, the going was easy. The gradient was very mellow and the terrain was classic desert, with saguaro, ocotillo, grasses and all sorts of smaller cacti. Shortly, the walls of the canyon began to close in, and after 30 minutes I had covered one mile and about 400 feet of gain, coming to a sharp bend in the trail.
Looking up, Finger Rock stood very tall, and behind it, a rounded, forested mountaintop that at first, I assumed to be Mount Kimball, although I knew I was being optimistic. From this sharp bend, even Finger Rock was still about 2,800 feet higher up. It underscored just how much uphill was ahead of me. I took the right-hand path at this bend (a straight goes to a cement tank, apparently). Immediately the trail gains steeply, switchbacking up the immediate slopes, then making long, sloping uphill traverses up steep grassy (and cactusy) slopes. Although steep and sustained, this was good, as I gained elevation fairly quickly. I deliberately paced myself, and every few minutes would turn around and be gently surprised how much I had gained.
I kept at this segment for over an hour. The trail would shoot off up the slopes, then switchback in a few spots, then start another long sweep up the hillsides. The flora slowly changed: the hardier desert cactuses such as the saguaro gave way to grassier, lower vegetation and a lot of pretty wildflowers. I was still in shade and the temperatures were very cool. A couple places the trail tops out on a promontory, and then the canyon opens up even more dramatically. In general, the canyon seems to bend consistently to the right at each of these points. At about 4,600 feet elevation, the trail works up through some rocky cliff bands, and in spots the trail is just the sloping rock itself, with no room for error in the event of a slip. The views were astounding. At one later promontory, I had my first views of Mount Kimball. The trail flattens here, and the scale of the rocks, cliffs and forest highlands just gets more impressive.
The trail makes a sharp right bend at about this flat portion and works toward a saddle ahead called Linda Vista (a local name, it does not appear on the map). A side trail leads to this saddle, but I was feeling good and I just kept at the main trail, having covered over 3 miles and about 2,400 feet of elevation to this point. From this Linda Vista waypoint, the trail is high enough so that the forest starts to build, with junipers, some pinon and a lot of mountain oak. In places the trail goes right up to the base of the rocky cliffs, working in and out of the natural folds.
I took another break about a mile up past Linda Vista, elevation roughly 6,000 feet. I was still in the shade and everything was going very well. No sooner had I sat down than another guy shows up out of nowhere. He was cool, and we chatted. I had been looking back every few minutes on the trail but saw no one. I took a long break here, about ten minutes. Directly across the canyon were huge blocky cliffs and interesting rock pinnacles atop them. Up ahead toward the headwall, the hump of Mount Kimball was visible, above a jumble of forest and rocks. I still had a couple miles and about 1,500 feet of uphill to go.
Moving again, I entered into a small pocket of ponderosa, the trail covered in a mat of pine needles and small pine cones. The air was noticeably cooler, too. No sooner had I entered this slice of heaven, the trail swung left and into more open, scraggly hillsides. I was now in the sun, and the big pretty ponderosa were left behind. The good news was that I had achieved the uppermost headwall of the canyon, now in a "bowl" hemmed in by Mount Kimball and many subsummits surrounding it. The trail continues to wind upward through the terrain, not as consistently steep as it had been while going up-canyon. I just kept at the walking.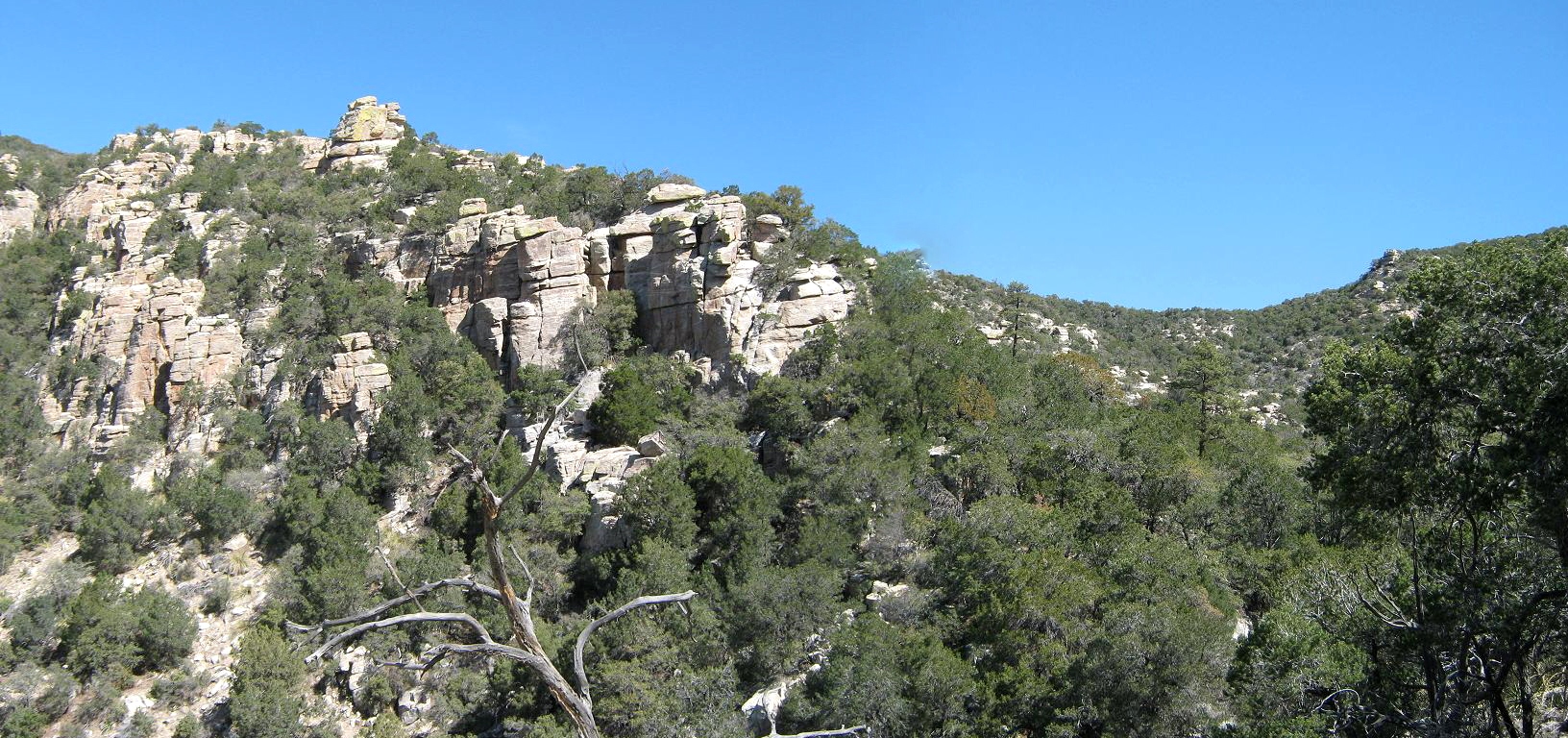 Looking up at the imposing rock formations and Kimball's gentle hump.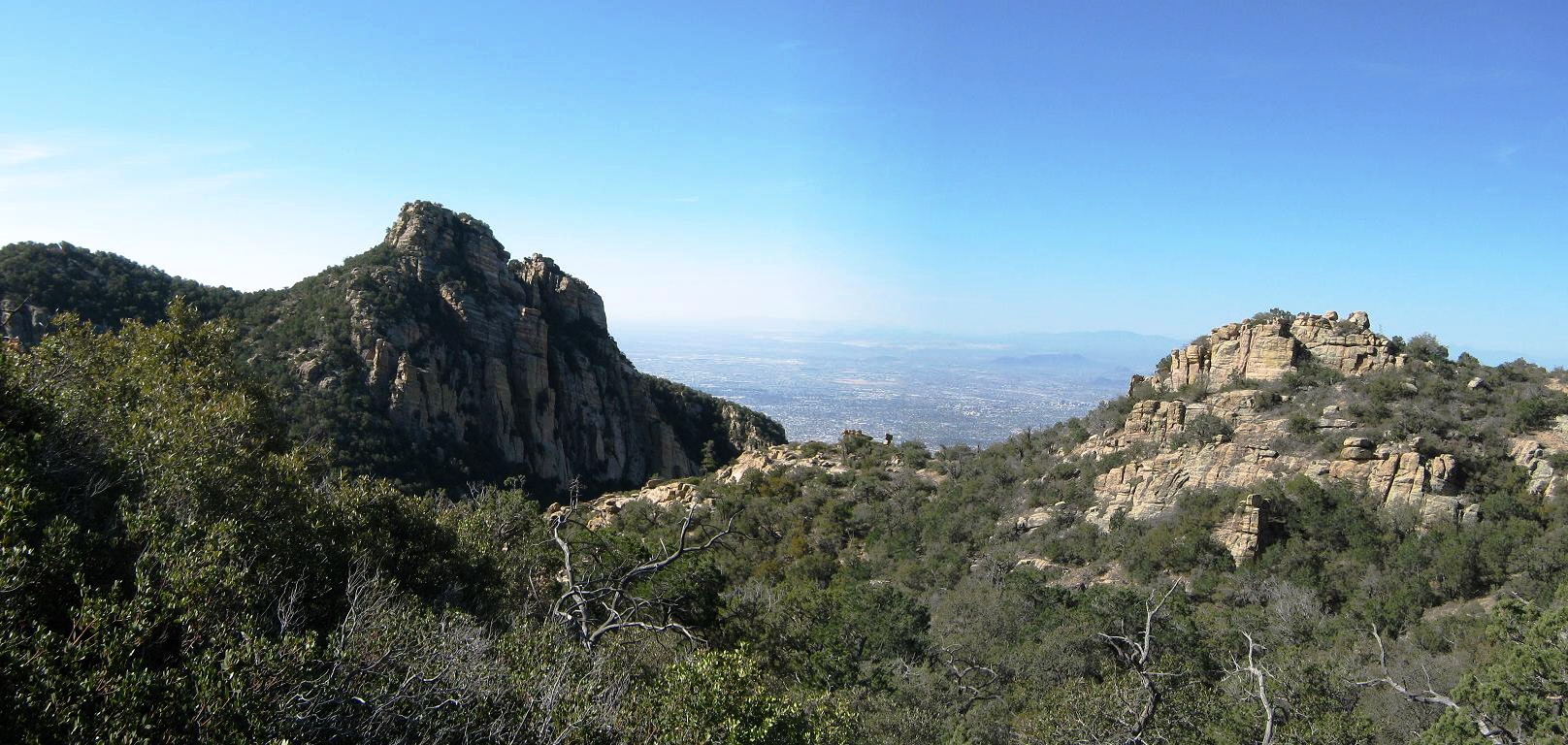 Looking back at the ridges from the high saddle.
The guy who had passed me earlier was now on the descent. He had intended to only go to the trail junction with Pima Canyon Trail (#62). After he passed me, I came upon this junction (and sign) after about another couple minutes. I left the Finger Rock Trail and started on this new segment, Mount Kimball's mass above me. This portion was nice and moderate. The trail gains at a steady, easy grade and enters into another small section of bigger trees including ponderosa. I found a scanter path that I though went to the summit, and it did, but I ended up bashing through some brush along the way, only to come upon the trail again. The real top could be any one of a small series of humps either long or nearby the trail. The trail eventually leads to a spectacular overlook, with thousand-foot drops below me. I had made it!
It was 9:45 a.m., and it had taken me exactly 4 hours to cover the five-plus miles and 4,200 feet of gain to get here. I was impressed with myself, and as I sat down to rest, I hear someone else coming up behind me. This guy had run up the trail from the cars, taking him just a little over a couple hours. He was friendly and we talked, and he snapped a shot of me at the top. The views are amazing: the full sweep of the Catalinas with Mount Lemmon in the back, and the Wilderness of Rocks closer in. South, the profiles of the Rincon Mountains took up the view, while north, the deserts around Oro Valley and Oracle laid out a full vertical mile below. The buildings of the Biosphere were visible off to the north near the Oracle Ridge. Looking northwest, the jagged cliffs and summits of the Pusch Ridge were visible. In the sun, the warmth was evident, but for the time being, conditions were very moderate. The other hiker stuck around for about 10 minutes before starting down, while I stayed another few minutes (about twenty minutes total) to relax and shoot some more photos. However, I knew I needed to get moving, as I had a lot of hiking still to go.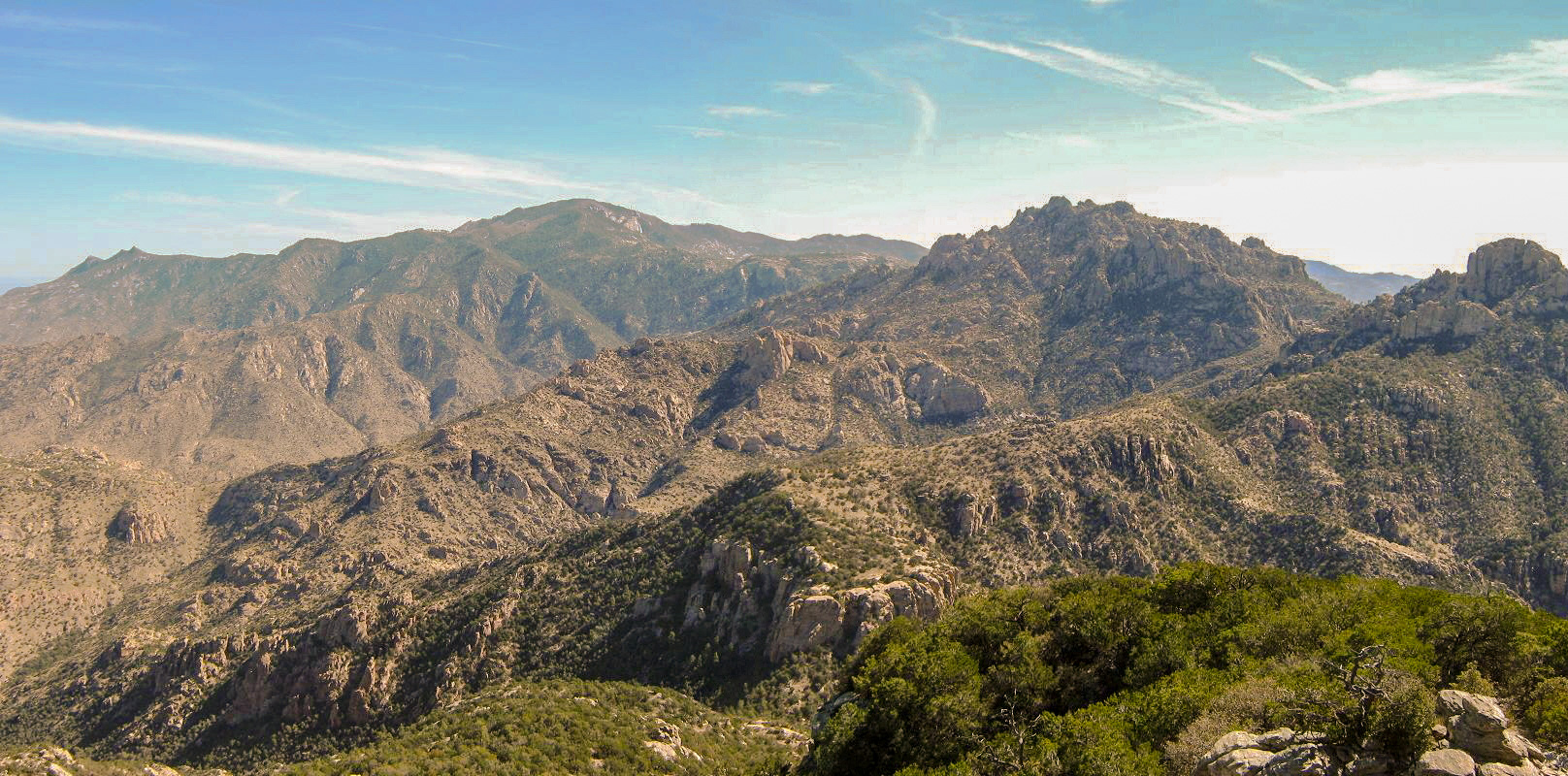 Grand view of Mount Lemmon and the Wilderness of Rocks.
For the descent, I went slow as I checked out every possible highpoint to be sure I had visited the actual summit. A big rock not far from the viewpoint looked promising, as did about three or four mounds of earth or other rock piles. I hit them all. Although I can't say for certain where the real top is, I know I tagged it at some point. I descended the better trail and after a few minutes had descended back to the Finger Rock Trail junction. From there it was just a long walk back down.
I made good time and steadily lost elevation. I met many people coming up as I was hiking down. I took the descent in segments, just trying to keep a good pace as I would eyeball a point ahead of me, and make it my immediate life's goal to get to that point. This kept my mind occupied (that, and the Flintstone's jingle for some inexplicable reason, over and over again in my head, repeatedly, without end, one after another, and so on...). By now everything was in the sun, and warming up as I lost elevation. I scared up a little garter snake at one point, then a few moments later, heard movement in some brush along the trail. I kept a sharp eye out for rattlers, knowing full well this is their active time of the day.
Somewhat surprisingly, I met a few hikers who were looking to hike to Finger Rock. Not that I am an expert, but this trail stays on the side of the canyon directly opposite Finger Rock, with no easy way to get down and across. Plus, they had started late and were making the ascent in the heat, which by now was well into the 80s even at about 4,500 feet elevation. I wished them the best of luck. I took a couple short water breaks, including one where I sat in some small cactus. I was starting to get beaten down by the heat, but I just kept moving and finally, had descended off the steep canyon walls into the canyon itself, which meant just a mile of easy gradients to get back to my truck.
This last mile was easy, but hot. There were a lot of day-hikers just out to look at flowers (it was a good wildflower day), plus a scout troop and an assortment of other people. I was back to my truck at 1:10 p.m., a three-hour descent and an overall 7 hour, 25 minute day. But I had kind of rushed it coming out and I was very beat (and hot) as I got to my truck. I changed into some drier clothes and started the drive out after a few minutes. The day had turned out to be fairly warm, with highs in the mid-90s. I had a lot of water with me, so I was fine there, but still a little dehydrated. I was thankful, as always, to come out in good shape, all in one piece, after a great day in the hills. I certainly agree with the multitudes who have hiked this route before me, that it is one of the best hikes in all the Catalinas.
I gassed up in town, then drove directly home to Scottsdale with no troubles other than dealing with the heat and the fact my truck's air-conditioning hasn't worked in over two years. Another summer begins, apparently. Still, I was elated to have hiked Mount Kimball and I enjoyed every minute of it, and the cool people I met along the way.