Top of Hill 4775.
&nbsp


Peak 4951 in the distance.
&nbsp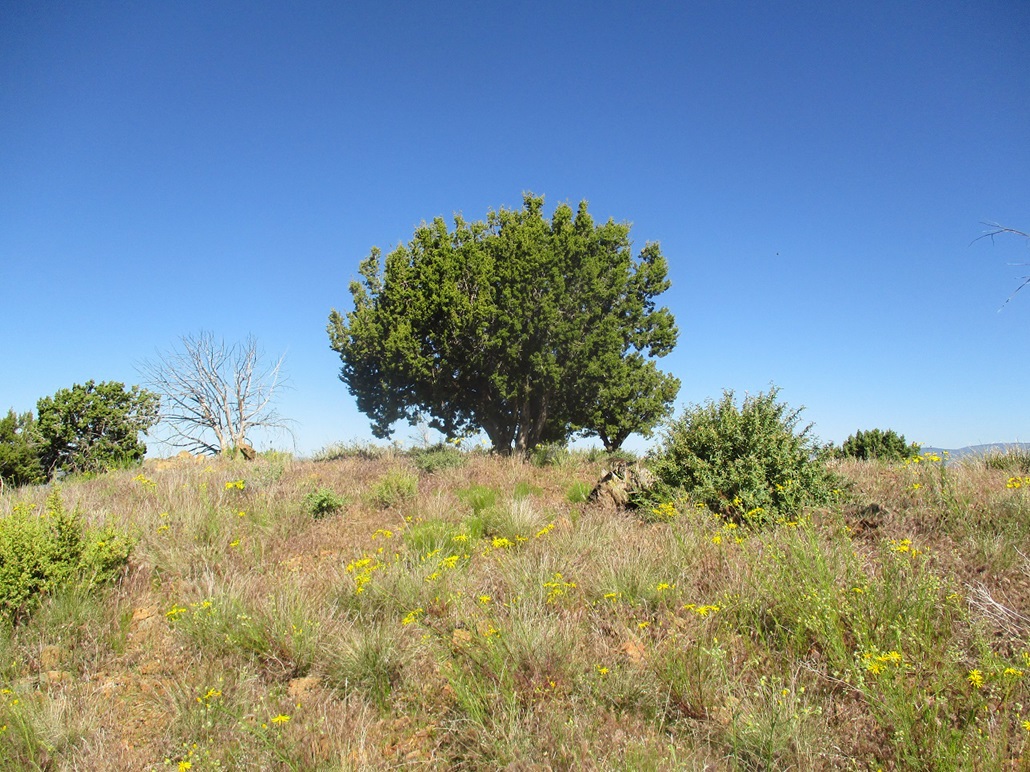 Top of Peak 4951.
&nbsp


Looking over at Peak 4932.
&nbsp


The northern Mazatzal mountains.
&nbsp


The pass where Gold Dike Mine should be.
&nbsp


A curious cairn on the road to Peak 4932.
&nbsp


Oxbow Hill.
&nbsp


The hill and power line clearing, plus the benchmark that got pooped on.
&nbsp


East view, Table Top Cliff, Bishop Knoll, and the Sierra Anchas.
&nbsp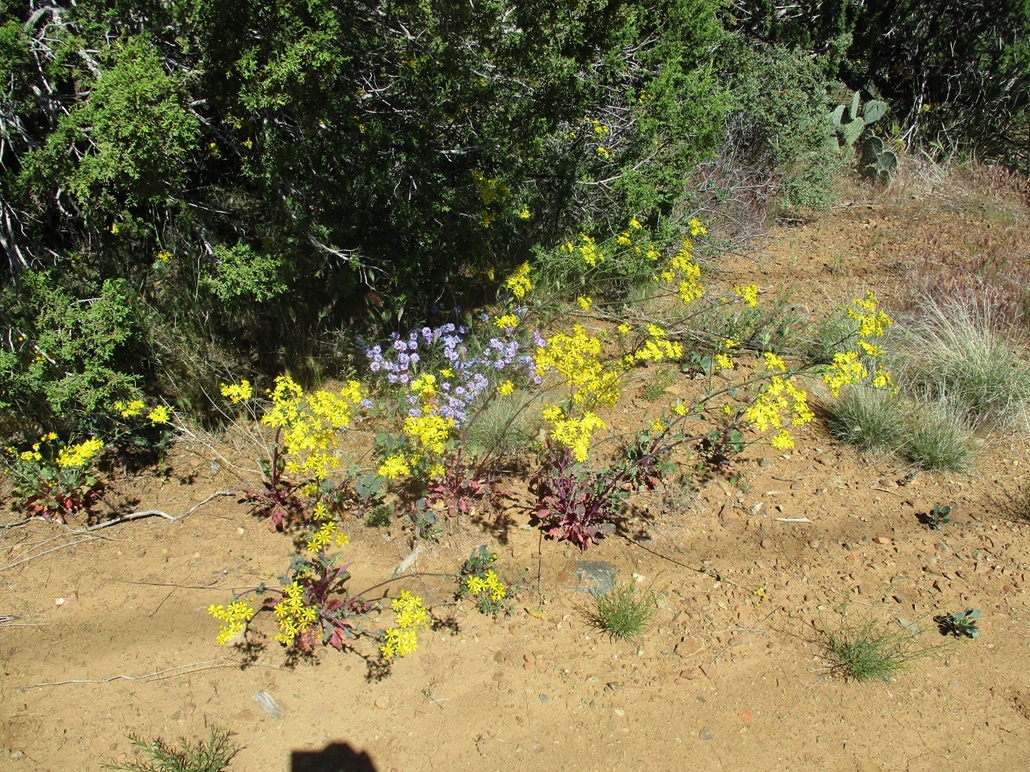 Wildflowers alongside the road.
&nbsp


Peak 4951 from Oxbow Hill.


• • •

The Arizona
Mountains Gazetteer
Click to find out more!
Gold Dike Mine Hills
Hill 4775 • Peak 4951 • Peak 4932 • Oxbow Hill
These hills lie south of Payson, and south of the small Oxbow Estates subdivision, west of highway AZ-87. Oxbow Hill is astride the highway: it's the hill immediately west of the highway where it bends from south to east as it descends from Payson down into the Tonto Basin. There's a big "Brake Check" pullout below the hill. The other hills lie west, centering the old Gold Dike Mine, a defunct gold and copper mine from the old days.
I was here to resolve a nagging question: Peak 4951 might be a ranked peak (300 feet or more of prominence). Its saddle lies east about a mile, interpolating to 4,620 feet. However, an older map shows the saddle to interpolate to 4,660 feet. Since I live so close, I could be here in minutes, so I chose to investigate this issue with my GPS. It sounded like fun detective challenge.

Peak 4951

• Mogollon Rim Foothills
• Tonto National Forest
• Gila County

Date: May 1, 2020 • Elevation: 4,954 feet (per Lidar) • Prominence: 298 feet (per Lidar) • Distance: 1 mile • Time: 30 minutes • Gain: 175 feet • Conditions: Sunny and warm, with wildflowers
Arizona • Main • PB • LoJ
I drove south on the Beeline to a well-hidden pull-off that allows access to Tonto Forest Roads 535 and 537. Road 535 goes west to the Gold Dike Mine area, and Road 537 south to Oxbow Hill. I went west first, on FR-535.
I drove the road up to the top of Hill 4775. I walked up the ten feet to its top, and laid my GPS on a rock. I wanted to see what elevation it would give, and I could use it as an exemplar to give me a sense of how my GPS and the topographical map may differ.
After about five minutes, the GPS seemed to hone in on a reading of 4,780 feet, plus/minus 5 feet, with about 17 to 20 feet of accuracy. The sky was clear with few trees to block a signal. My GPS had about 7 satellites.
I then drove down to the saddle, the "col" for Peak 4951. The road goes through the lowpoint, so I pulled into a clearing and looked around to be sure I was at the proper saddle point. It's somewhat vague to determine exactly, but I would have been within a foot of it where I was.
I let the GPS do its thing (I laid it on the dirt). After five minutes (or one full-length Eagles tune), it came back with 4,655 feet, plus/minus 5 feet, 15 feet of accuracy, with 8 satellites.
I drove more on FR-535. It comes to a split, the better road going left to the old Oxbow Mine, a right (still designated FR-535) going up to the Gold Dike Mine. The old mine sits at the saddle between Peaks 4951 and 4932. The road was rougher, so I got in about a hundred yards, then parked in a small camping pullout.
I hiked to the saddle, then up a track and then cross-country to the top of Peak 4951. The brush was light, and it was "cool-warm", as in cool (low 70s) but with an intense sun. I was mindful of snakes on my short cross-country segment.
At the top, I laid the GPS on the top rock and let it settle down. For whatever reason, it really jumped around, from 4,925 feet to 4,960 feet. However, it finally, after awhile, settled between 4,940 and 4,945 feet, with 7 to 8 satellites. I'd watch it "find" another sattelite and suddenly the elevation figure would move again.
I had good views of the Tonto Basin from here, and of the Mazatzal Mountains. It was warm and a little insecty, but the wildflowers were out in abundance. It was very pretty, and I sneezed in appreciation. I saw a number of purpletons interspersed with yellowaniums.
I then walked back to the saddle between Peak 4951 and 4932. I took a few minutes to find the mine, but I think it was down slope a bit and I did not want to be bushwhacking in this weather.
Update: Studying the LIDAR maps & data (USGS 1 Meter 12 x46y379 CA_AZ_FEMA_R9_Lidar_2017_D18), it lists a summit elevation of 4,954 feet and a saddle elevation of 4,656 feet. Thus, a prominence of 298 feet, which is what I now list above in the metadata.

Elevation: 4,932 feet • Prominence: 152 feet • Distance: 0.6 mile • Time: 20 minutes • Gain: 150 feet • Conditions: Warm and sunny
I walked downhill from the saddle, catching a track that bent left and up to Peak 4932, about 0.3 miles each way from the main road. I was on top in about 15 minutes.
There is a well-hidden rock outcrop in the small copse of trees here. I set the GPS on the top rock and it settled on 4,930 feet. Eyeballing between the two peaks, it seemed that Peak 4951 looked higher, maybe by 30 feet. But I also remembered the trick of the false horizon effect. The map says they're 19 feet in difference, the GPS says 10 to 15 feet, my eyes think closer to 30 feet.
I hiked down and was to my car fairly quickly. Just for the heck of it, I drove back to the saddle and let the GPS measure it again. This time, it measured 4,645 feet, same conditions.

Elevation: 4,887 feet • Prominence: 127 feet • Distance: 1 mile • Time: 30 minutes • Gain: 170 feet • Conditions: Warm and sunny still
PB • LoJ
I drove back to where FR 535 and 537 meet, near the highway. I was close enough to hear the traffic and see the garbage everywhere. I parked in a small pullout behind some bushes, hidden from the highway. Oxbow Hill is just a half-mile to the south. I was not that interested in it, but it was close and had a benchmark, so that sold me.
I walked on FR-537 to a clearing below power lines. This clearing is a narrower road in terible shape. It went up twenty feet, then dropped about 30 feet, then up about a hundred feet. Near the track's apex, I angled into the light forest, following an opening that may have been a track from decades ago. It was too straight and open to be random.
At the top, I found the benchmark, with bear scat on it, looking like from a few days ago. The highway was below me, and I had good views of the hills to the east. I did not stay long. I turned around and exited the same way. The area was kind of haggard, but the wildflowers were lovely to look at.
I was back to my car, the whole entire journey taking about two hours including the drive times and times sitting around while the GPS locked in on its values.

Given the inherent inaccuracy of the GPS unit and the fact that even at different times it can hone in on different values, I conclude that the saddle is likely a little higher than 4,650 feet, the main summit a shade lower than 4,951 feet, and would place the prominence at 280 feet, possibly as high as 290 feet, but unlikely to be 300 feet. Lidar suggests a top figure of 298 feet of prominence.
I had fun playing detective. The area was pretty and I enjoyed the wildflowers. This is not an amazing hiking area but it is pleasant and easy to get to.