Fraesfield Mountain rises above foreground hills from the trailhead
&nbsp


The main peak
&nbsp


About half-way up, looking northwest at Cholla and Granite Peaks
&nbsp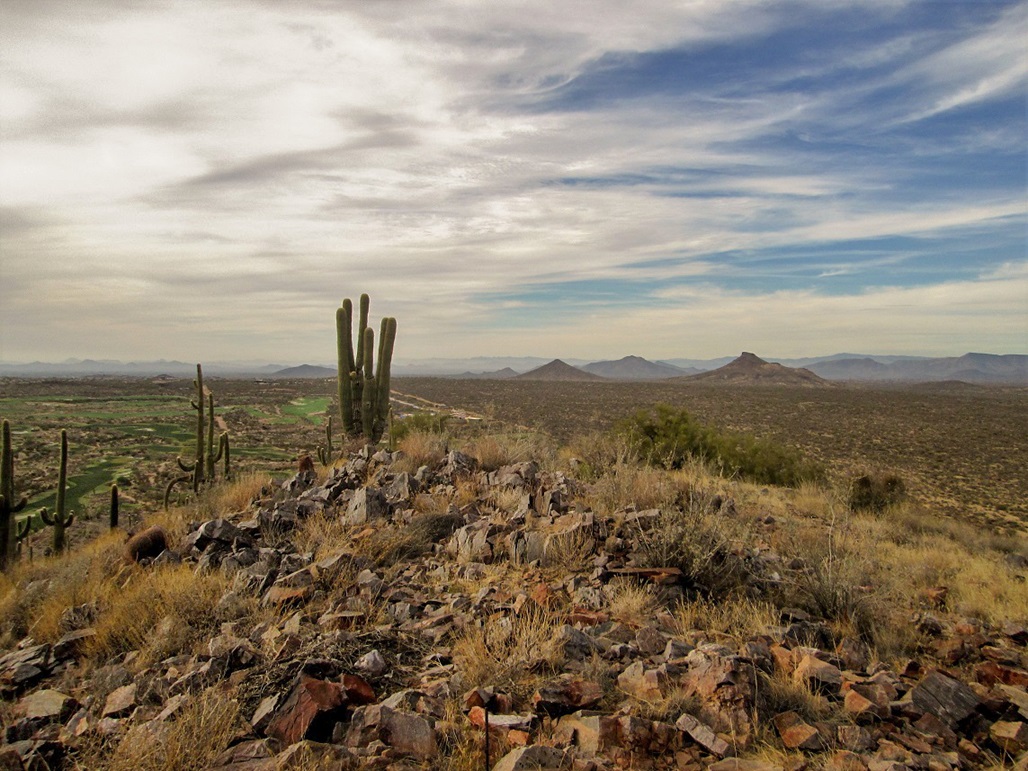 Summit view west of Cone and Brown's Ranch Mountains, plus other peaks such as Black Mountain in Carefree
&nbsp


East view: Four Peaks, Weavers Needle and the Superstitions
&nbsp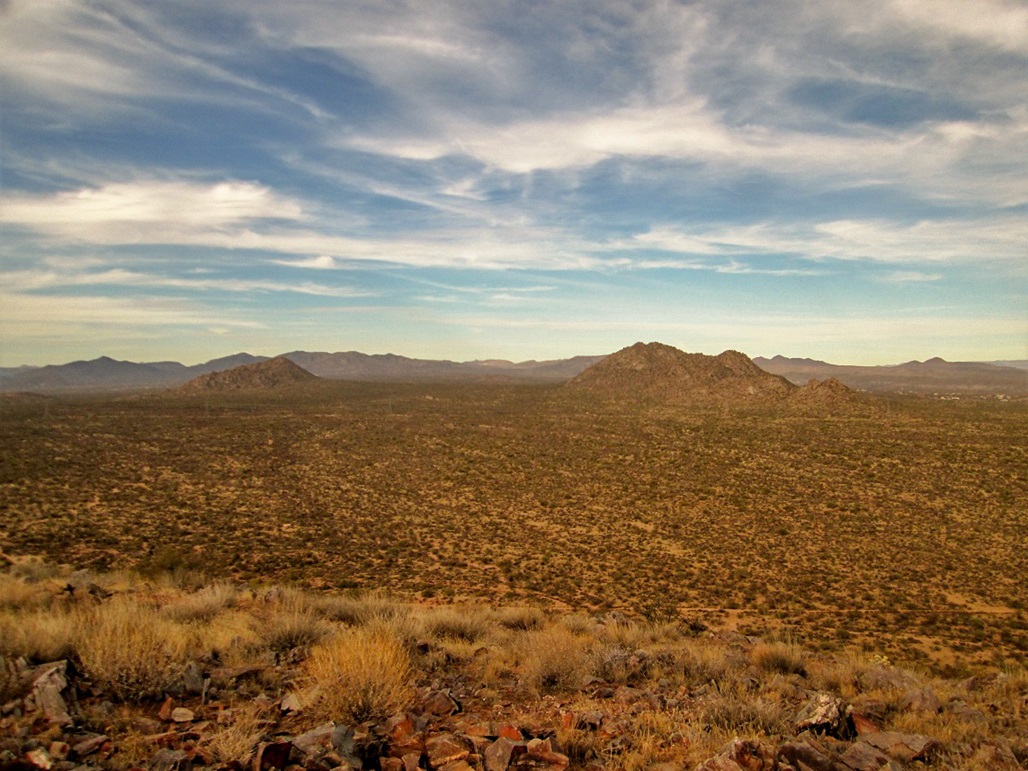 North view: Cholla and Granite, and farther back, Butte Peak and the New Rivers
&nbsp


South view: The McDowell Mountains with East End, Toms Thumb, and Troon Mountain


All images
• • •

The Arizona
Mountains Gazetteer
Click to find out more!
Date: December 25, 2017 • Elevation: 3,055 feet • Prominence: 355 feet • Distance: 3 miles • Time: 90 minutes • Gain: 530 feet • Conditions: Overcast with some sun
Fraesfield Mountain is a rounded hill in the McDowell Sonoran Preserve of Scottsdale. It sits in the southeast corner of the preserve, near where Dynamite Road and 136th Avenue intersect, about four miles north of the McDowell Mountains. Compared to the surrounding peaks, which are all very rocky, Fraesfield Mountain is smooth, with few rock outcrops. According to Will Barnes, the mountain was once called Round Mountain on older maps. In his book, Barnes does not give any history to the name "Fraesfield", admitting he has no information where it came from. Presumably, it's someone's last name, but whoever Mr. Fraesfield was and why this hill is named for him, it's been lost to history.
About mid-day Christmas Day, not much was going on, so I got myself dressed for a hike and drove the 25 miles to the Fraesfield Trailhead, arriving about 1:30 p.m.. The day was cloudy and cool, with the sun sometimes coming out, then hiding again. There were a bunch of horse-trailers parked here, plus about six vehicles. There seemed to be more bicyclists and horse-riders here than hikers.
I followed the Whiskey Bottle Trail, which gains on the slopes of the foreground hills, then drops and weaves in and out with the contours. In about a mile, I was below Fraesfield Mountain itself. It was just a matter of picking a line up and following it. I met one hiker here, out with her small dog.
I started upslope, the grade easy at first, then progressively steeper. The slopes were covered in low grass, some brush and lots of small rocks that rolled when I stepped on them. It was slow going, but easy. In about fifteen minutes, I had put myself on the small ridge, from where it was an easy walk to the summit. It had taken me 40 minutes to get here.
The views in all directions were lovely, but a little muted due to the sun being blotted by the clouds. Still, I could see all the famous surrounding peaks plus others I don't know. Down below me is a golf course. I did not see anyone playing. I could not find any benchmarks on the summit. I found some old wires and a rebar stuck into the ground. I spent about 10 minutes up top.
I followed the same general line down as I had coming up. I took one spill when a small rock rolled out from under me. I inched down the slope and was soon back to the trail, and then to my car, total time on the hike about 90 minutes.
This was a hike I had saved for a day like today, that I could do on a moment's notice with no fancy planning. The peak is nothing special but it goes fast and the views were better than I was expecting. There are many trails up in this big swath of the Preserve, so I'll be back, although I doubt I'll reclimb this hill again. Once is enough, but I have no complaints.
The name "Fraesfield" appears in print going back to 1904, It shows up in books listing geological surveys. There's an entry for "Fraesfield, Maricopa County", in which the station marker is "on a lone hill near the divide between the Verdi River and Paradise Valley, about 14 miles west of old Fort McDowell. Station mark: a bronze tablet cemented into solid rock under a large rock monument."
I saw no such bronze tablet nor any rock outcrops but then again, it could be anywhere, or long-since removed. But at least the name was being used for that general location as far back as 1904. I have not had any luck finidng out more about the name or its origins.