Aerial view of Peak 6666 (Four Sixes) and Peak 6495, as viewed from the summit of Peak 7100 (August 2021)
&nbsp


Peak 6495 in late-dusk light, the reds contrasting against the greens very elegantly (August 2021)
&nbsp


S P Mountain and my car
&nbsp


Peak 6666 peeks into view
&nbsp


On the slope up Peak 6666
&nbsp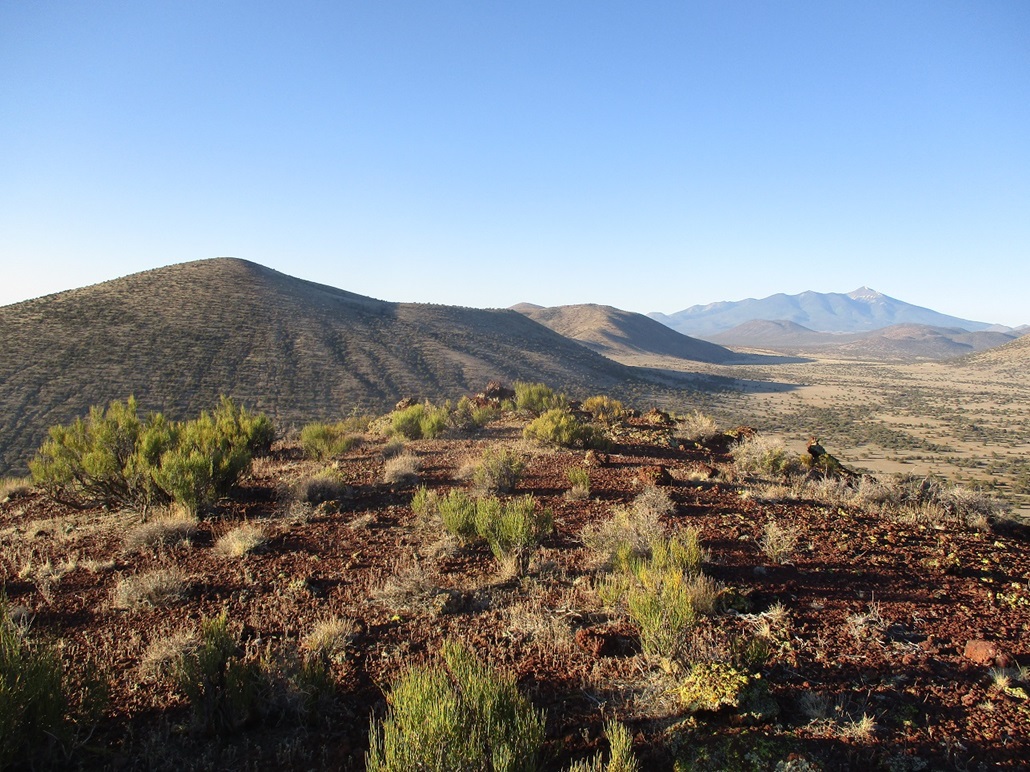 Top of Peak 6666, looking south, with Peak 7100 next, and Humphreys Peak in the back
&nbsp


North view, Peak 6495, and smoke from the nearby Slate Fire lying in a valley beyond
&nbsp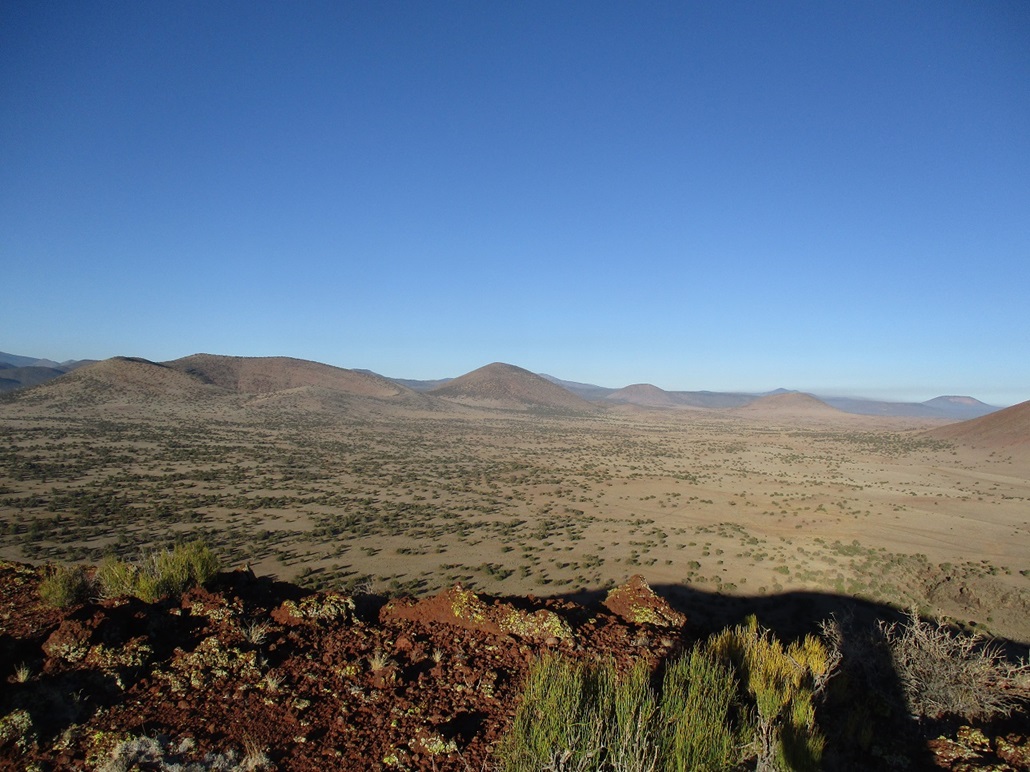 Southwest view, Colton Crater and more peaks beyond
&nbsp


View of Peak 6666 from farther out
&nbsp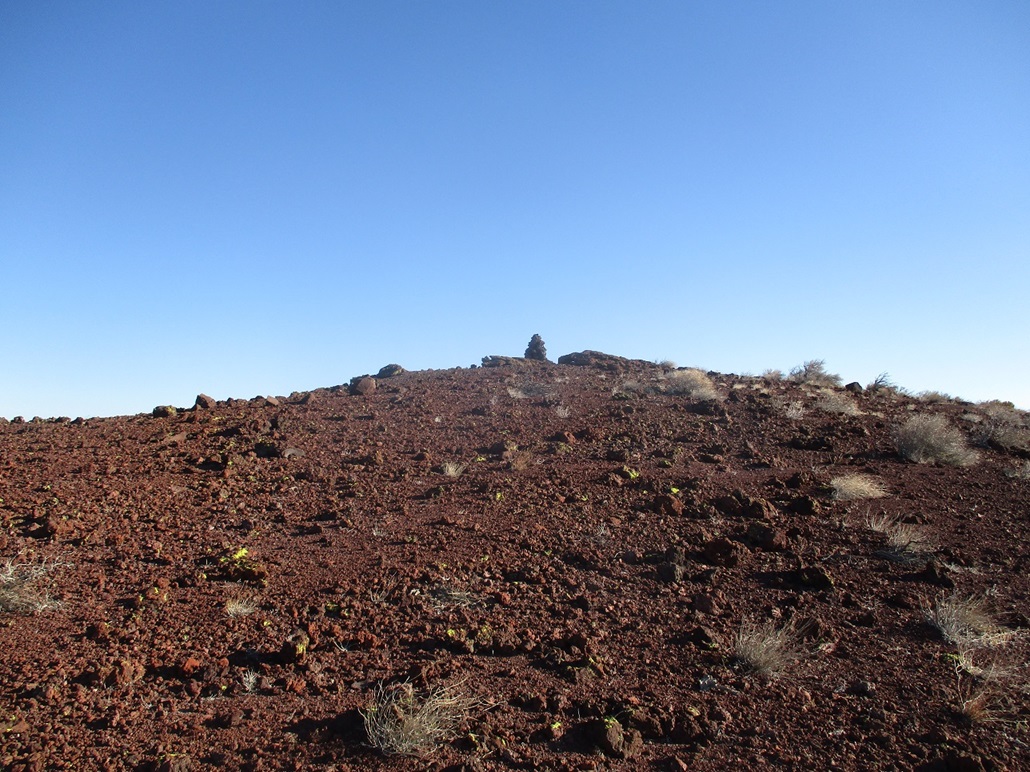 Approaching Peak 6495's top
&nbsp


Big cairn on top
&nbsp


South view, Peak 6666 and Humphreys
&nbsp


North view, the crater fissure, and smoke
&nbsp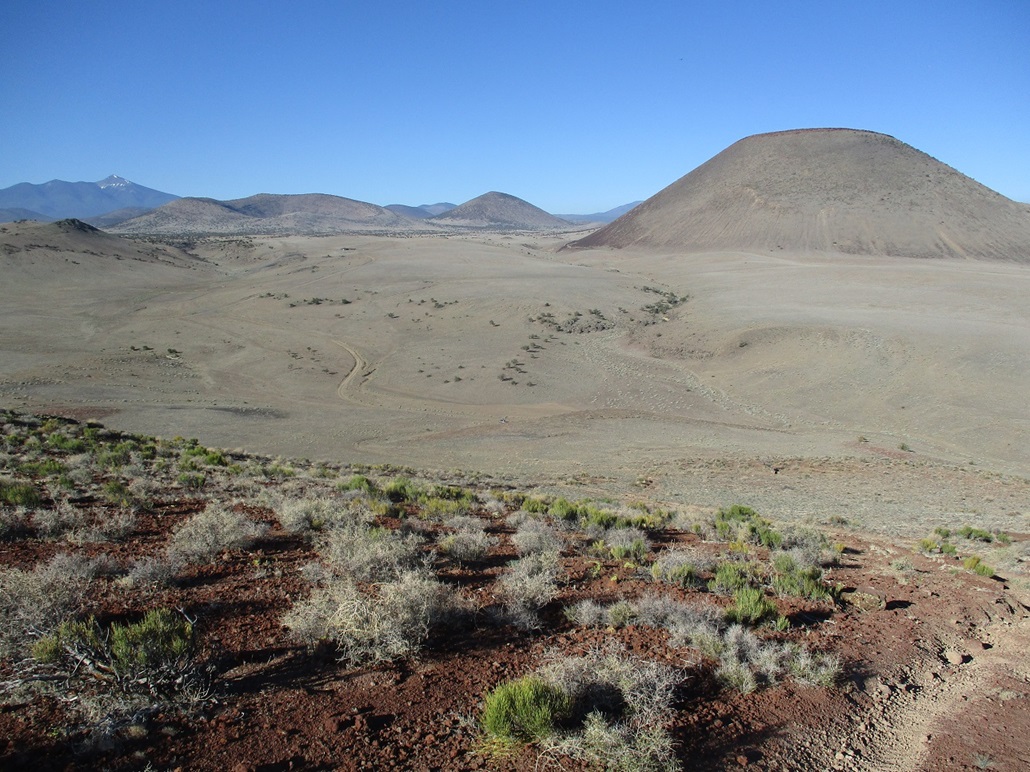 S P Mountain. My car down there, roughly centered
&nbsp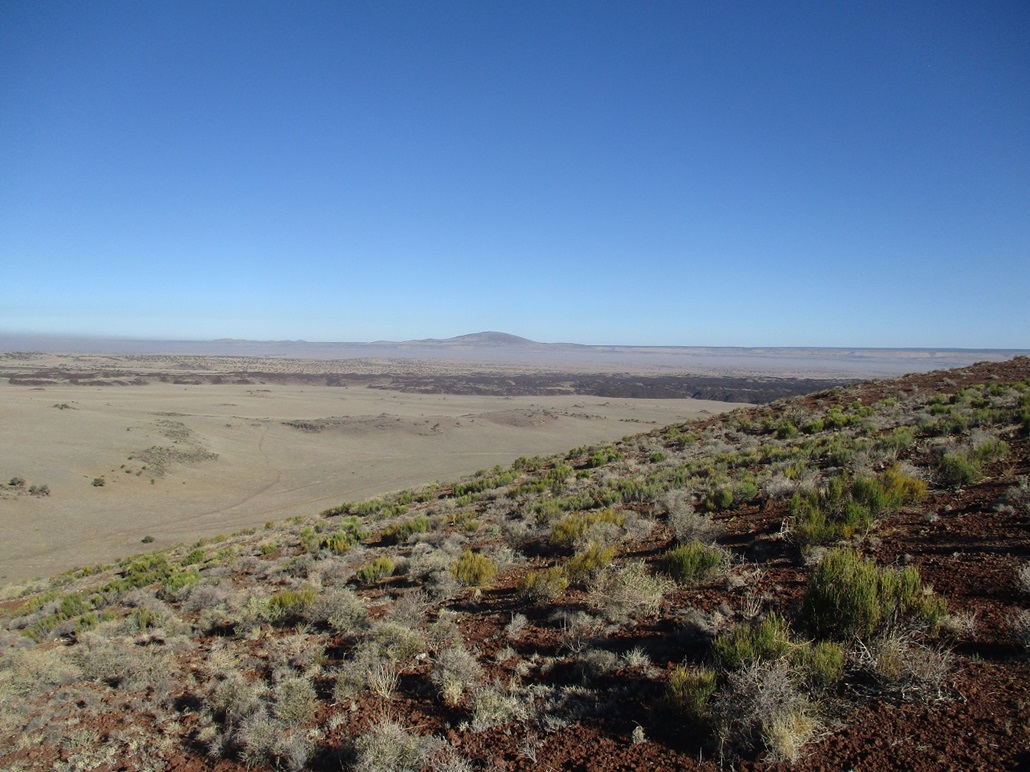 Distant Mesa Butte
&nbsp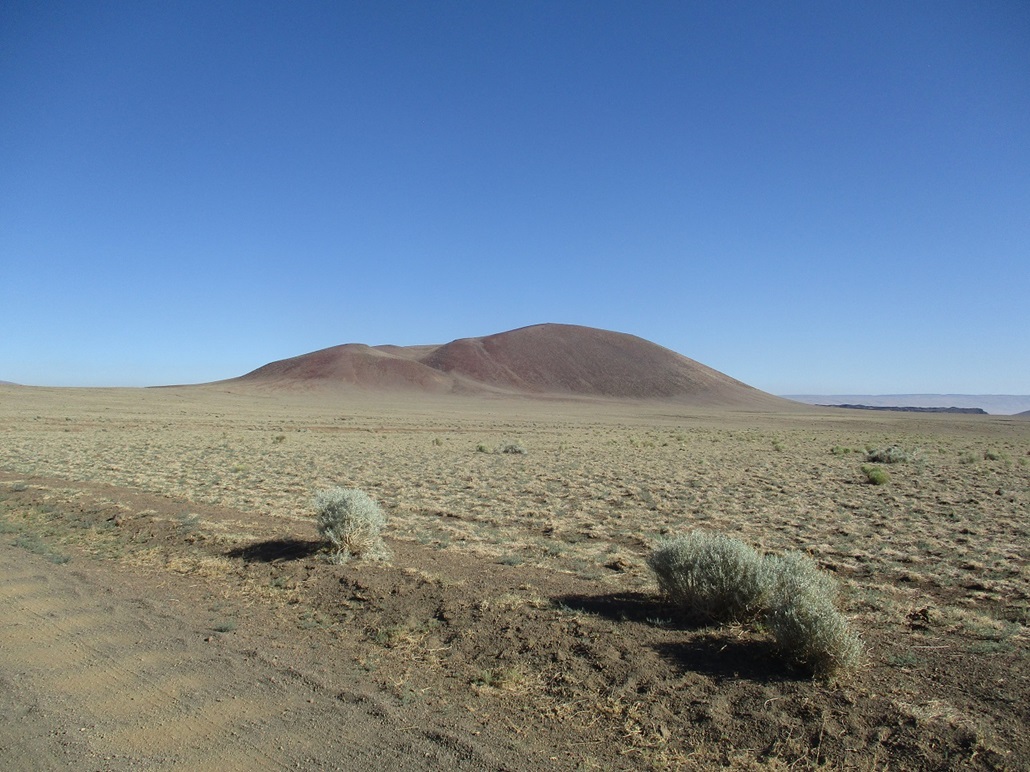 Peak 6495 as I exit
&nbsp


Lenox Crater trailhead
&nbsp


The summit of Lenox Crater
&nbsp


View of the crater, and Humphreys


All images
• • •

The Arizona
Mountains Gazetteer
Click to find out more!
Northern San Francisco Volcanic Field
Four Sixes Peak (Peak 6666) • Peak 6495 • Lenox Crater
This was day 4 of a 5-day stay in Flagstaff. I was using the downtime as an opportunity to bag a few peaks that have been on my "I'm interested but I'll get around to it someday" list. These two hills lie near S P Mountain, which I hiked in November of 2019. That was my first visit to this part of the volcanic field. Today would be my second.
I was being conservative today. I chose just these two hills mainly because they are close to the main road that leads to S P Mountain. It was also going to be a warm day and my window for comfortable temperatures was just a few hours in the morning. I was up before dawn, heading northbound out of Flagstaff on US-89. I turned onto the dirt road south of Hank's Trading Post, about a mile north of the road into the Wupatki National Monument. There's no markers for this road but I had been here before and knew what to look for.
Four Sixes Peak • Peak 6666

• San Francisco Volcanic Field
• Coconino County

Date: June 12, 2021 • Elevation: 6,666 feet • Prominence: 366 feet • Distance: 1.4 miles • Time: 50 minutes • Gain: 575 feet • Conditions: Clear skies, some smoke from the Slate Fire
Arizona • Main • LoJ
It's about a five-mile drive west on this decent dirt track. This, I believe, is part of the Babbitt Ranch holdings, with public access allowed on these roads. The road itself is washboarded but solid. I kept the speed at about 20 m.p.h. at the fastest. S P Mountain's unique profile is obvious and hard to miss, and I aimed for it. Down at these elevations, between 5,500 and 6,000 feet, there is no forest and the tallest thing that grows is about a foot high. Cattle are everywhere and do an effective job of keeping the whole place mowed.
I parked off a secondary track a little north of Peak 6666, or "Four Sixes Peak". This peak rises southeast of S P Mountain and is within easy walking distance from the road. The sun had come up by now, and the temperatures were already starting to creep into the high 60s and low 70s, even at 6 a.m..
I locked the car and started walking across the flats, then soon on the south slopes of Peak 6666. The slopes were chunkier pumice rocks and kibble, but covered in grass and scrub to where footing was dependable the whole way up. It was steep but not that steep, and within 25 minutes, had arrived on top of the peak. The summit was open, too, with fantastic views of Humphreys Peak, and the dozens of cinder cones dotting this part of the San Francisco Volcanic Field. I was getting a headful of ideas for future hiking trips.
Conditions were pleasant and I spent ten minutes up top, walking its length and taking photos of the surrounding peaks and flats. I could make out the lava flow from S P Crater, and farther north, smoke from the Slate Fire was collecting in a valley, looking like fog from here. There was no register, and once satisfied, I started down the slopes, essentially retracing my route but probably not exactly.
I was back to my car after a total time out of just under an hour. It was warming up now. My next peak was just to the north, mere minutes away.
Peak 6495

• San Francisco Volcanic Field
• Coconino County

Elevation: 6,495 feet • Prominence: 465 feet • Distance: 1.2 mile • Time: 50 minutes • Gain: 555 feet • Conditions: Sunny, clear, slight smoke scent • Wildlife: Mountain lion!
LoJ
I drove whatever tracks I could locate that would get me close to Peak 6495. Nothing out here is marked and being private, there likely aren't any names or numbers for these roads anyway. I did not drive far, less than a mile.
From Peak 6666, looking over at Peak 6495, it's evident the topography is a little more severe, the peak being cleaved by a fissure where the crater apparently has eroded moreso than other craters in the area. The highpoint is on the east ridge (lobe) of the peak, so I assumed I would scale slopes from the east.
However, driving toward Peak 6495's southwest flank, I could see a track going uphill onto the peak's western lobe. I love me a track on hills like this, so I parked and elected to hike up this track. It would lead me uphill on top of the western lobe. My hope was that a path to the east lobe would be evident once there.
The hike up went very quickly and I was on top of the south end of the west lobe in 15 minutes. The track continues north to stay on the western lobe. Looking across, it appeared there was a weak path going up to the east lobe. I dropped about 40 feet into this fissure (here, just easy slopes, but much more cliffier looking north). Climbing up the other side, I had to gain about 80 feet and the footing was good. Just one or two spots I kicked loose rocks.
I was quickly on the east lobe. Once on it, the uphill walk was trivially easy, just smooth slopes and light brush directly to the top, which features a five-foot-tall cairn, looking like one of those fancy ones old sheepherders build. I could not find a register. I spent ten minutes here too, snapping images and peering down into the fissure. From up top, it is quite steep with cliffs down into it.
I was just starting to get myself ready to descend when I looked into the fissure again and spot an animal about twenty feet down in the fissure traversing, going south, but neither gaining nor losing elevation. It was a mountain lion! My first definitive sighting of a big cat in the wilds of Arizona ever. I was a little scared, in the sense of being unsure what he would do if he saw me, but I was far more thrilled to see such a beautiful creature! I did not see him for long as he was moving and was soon out of sight. I am certain he sniffed me out already and was making his slow-motion escape.
To hedge my bets, I descended slightly east off the ridge and debated how I would descend. If I were to go the way I came, it's possible he may still be hanging out in the fissure area and I did not want to scare him. I could descend this eastern lobe by heading south, so that was the plan. I descended about a hundred feet, then saw him again, now he was well below me, on the same lobe but moving quickly away. Way too cool. I felt better about going back the way I came, and that's what I did. Back to my car, I had only been gone 50 minutes. It was still early.
I was elated to have seen the mountain lion. I had seen just the butt-end of a cat on Oracle Ridge back in 1999, and that's been it for cats in Arizona, not counting these wild beasts.
It was still just barely past 8 a.m.. It was getting warm and I had no more peaks on the agenda here for today. So I exited back to US-89 and decided to take the scenic Sunset Crater-Wupatki (SCW) Scenic Byway and visit the ruins on the Wupatki National Monument, my first time there since 2004.
Lenox Crater

• San Francisco Volcanic Field
• Sunset Crater National Monument
• Coconino County

Elevation: 7,240 feet • Prominence: 181 feet • Distance: 1.6 miles • Time: 45 minutes • Gain: 260 feet • Conditions: Sunny and warm
PB
Toward the end of my drive on the SCW Scenic Byway, by now I had located myself in the Sunset Crater National Monument. I was obliged to pay the $25 fee back at the Wupatki Monument, so today I felt like I was getting my money's worth.
I parked in a road-side lot northeast of Lenox Crater, and started up the easy cinder trail to Lenox Crater's top. I was wearing beater sandals and carrying a half-bottle of water, and my camera. I took the walk slow and in about 15 minutes was on top of the crater rim. Hanging a left, I found the highpoint of the rim and stepped on it. It's just a few feet off the main trail. I also read the informational plaques nearby and snapped some photos of the crater and of nearby hills. There were about a dozen people on the trail but it never felt crowded and I enjoyed this short hike a lot.
I was back to my car quickly, the round trip taking less than an hour. I slowly exited, stopping for more sightseeing, then returning to my hotel about noon.
This was my second time hiking Lenox Crater. βð and I hiked it way back on May 29, 2004, while visiting the Sunset Crater and Wupatki National Monuments.