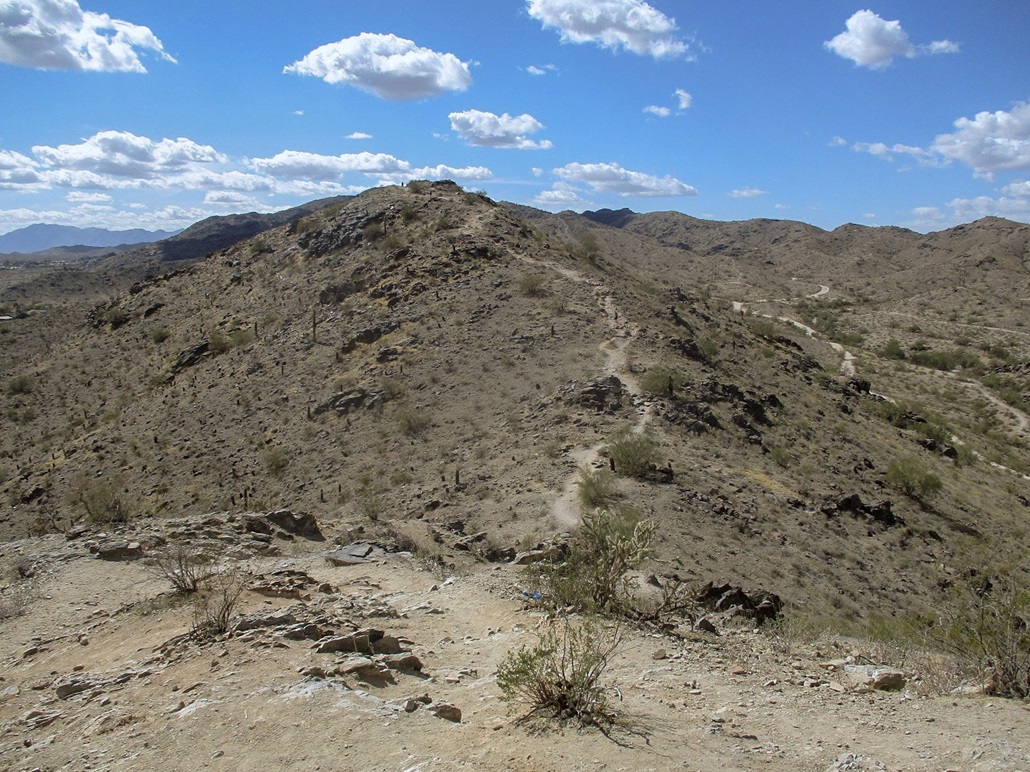 Marcos De Niza Ridge from Peak 1562
&nbsp


Looking back at Peak 1562
&nbsp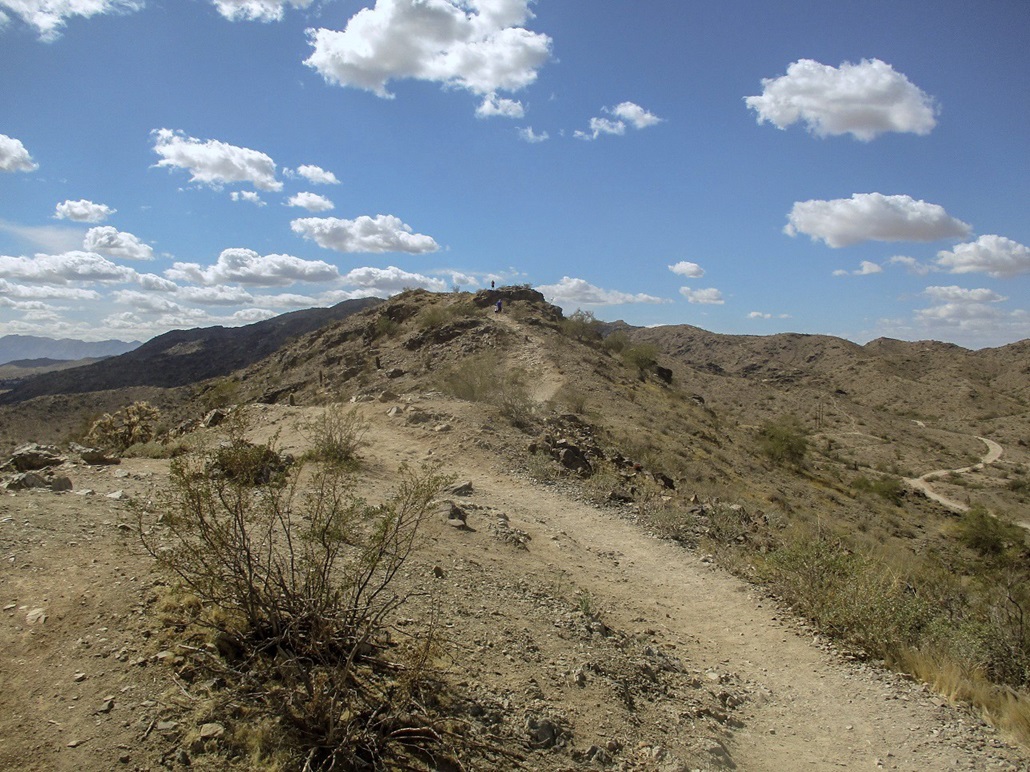 Bump along ridge
&nbsp


The highpoint
&nbsp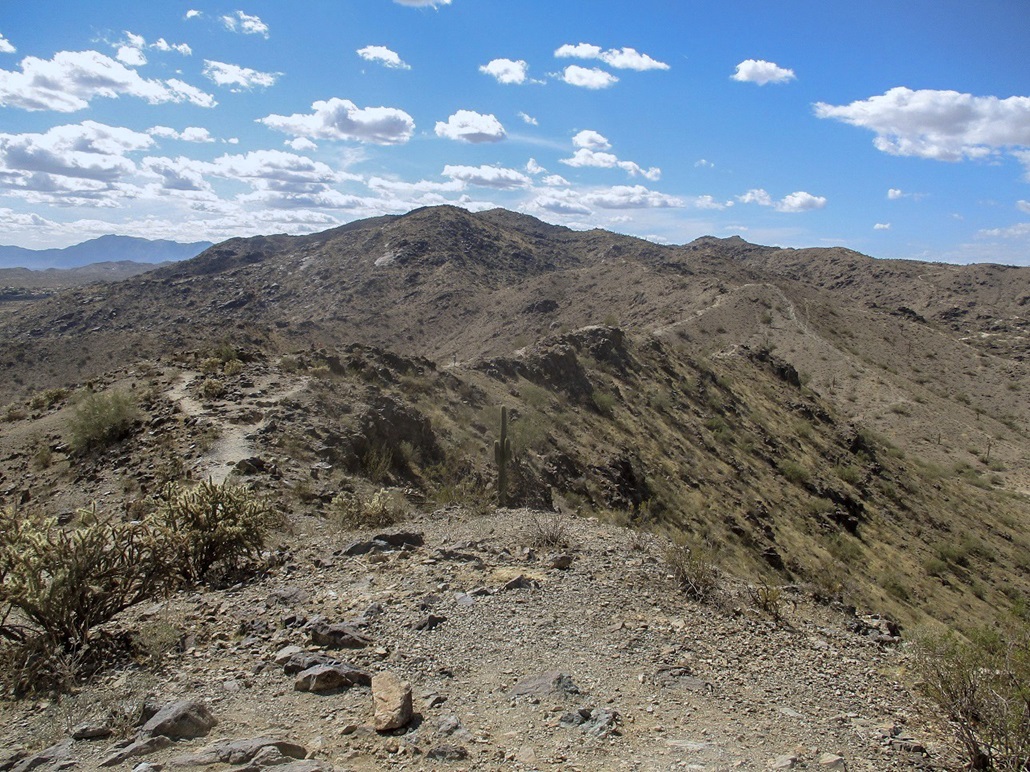 Ridge west of the highpoint
&nbsp


The highpoint viewed from below
&nbsp


Peak 1519
&nbsp


Peak 1519's top
&nbsp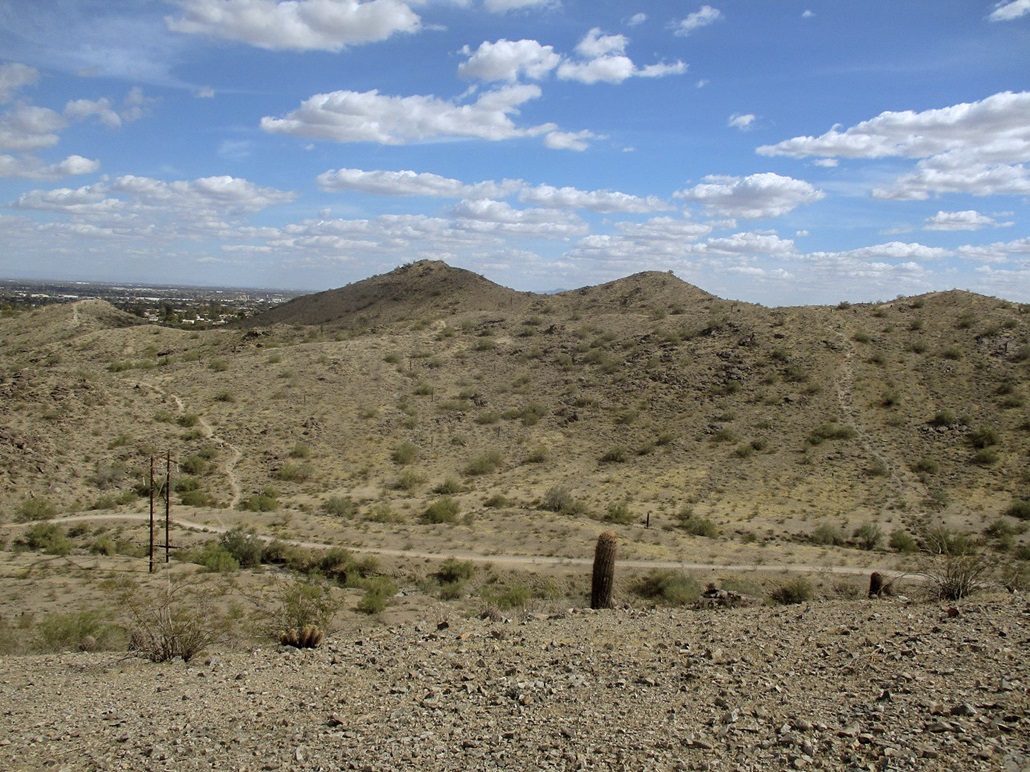 Peak 1585 at the left
&nbsp


Approaching Peak 1585
&nbsp


Marcos de Niza Ridge from Peak 1585, into the sunny glare
&nbsp


Peak 1585
&nbsp


Marcos de Niza glyphs, but not authentic
&nbsp


Map of my movements and my thoughts


All images
• • •

The Arizona
Mountains Gazetteer
Click to find out more!
Marcos de Niza Ridge
Peak 1562 • Peak 1743 (HP) • Peak 1519 • Peak 1585
The Marcos de Niza Trail runs over the top of a small ridge, the eastern toe of the long Guadalupe Ridge, the main eastern massif of the Phoenix South Mountains. I was here today because I had taken our Subaru Forester to the dealership in Scottsdale for some upkeep and new tires. I did not know how long that appointment would take so I settled on this hike as something I could do afterwards, since it has easy logistics.

Peak 1562 & Peak 1743

• City of Phoenix
• South Mountains
• Maricopa County

Date: March 4, 2021 • Elevation: 1,562 feet & 1,743 feet • Prominence: 60 feet & 183 feet • Distance: 3.5 miles (whole hike) • Time: 2 hours (whole hike) • Gain: 725 feet (whole hike) • Conditions: Sunny with clouds, a little warm
Arizona • Main
I hiked this part of the South Mountains often back when I lived in Chandler, roughly 2008-2010. It was close to home, easy to get to, and had route options if I wanted ridges, drainages or old road. I hiked here about twenty times over that time period. However, today would be my first time back in over ten years.
I left Payson at 5:30 a.m. in a steady rain. I had a "first available" appointment with the dealership, intending to be there at 7 a.m.. I had rain and mist for the first half of the drive, but once past the pass at Mount Ord heading southbound, the rain ceased and the skies were cloudy, the sun barely rising enough to provide dim light. I arrived at the dealership at 7:05, they got me in and for most of the next 5 hours, I sat in the waiting area, watched Dr. Phil, answered emails on my phone, and walked around the area. Finally, the car was ready.
My original plan was to go to my office on the campus of ASU and do a little work there, but it was pushing 1 p.m. when I was driving by and I had no desire to be there at all. So I headed straight to the Pima Canyon Trailhead, following Guadalupe Road to 48th Street and the parking lot. I found a spot, changed into hiking clothes, and got moving quickly.
The hike up, across and down the little "Marcos de Niza" Ridge would not take long, so I included two other nearby hills on the itinerary, forming roughly a 3.5-mile loop that would gain me four hilltops and some trails I had never been on.
I started up the Marcos de Niza Trail, steeply up its east slope. It comes quickly to a steel cage shielding rock etchings supposedly made by Father Marcos de Niza in 1539. He was the first European to explore what would (in 324 more years) be Arizona. He travelled afar in today's American Southwest. The etching glyphs are apparently not authentic, dating to between 1870 and 1930. Nevertheless, it's something to see. The steel cage has apparently been here since the 1930s or so. Marcos de Niza got around but likely not to this very spot.
The trail is steep and gains quickly to the first peak of the day, Peak 1562. I tagged its top but did not stop. Up ahead was the ridge itself, and the highpoint up ahead but hidden for now by a couple false summits. The trails are well-built and easy to hike upon. I moved quickly, and was on top the ridge highpoint, elevation 1,743 feet, not long later, roughly 20 minutes and 0.7 mile after starting. There were a few others on the trail too.

Elevation: 1,519 feet • Prominence: 85 feet • Conditions: Fine
I continued west on the trail. Soon after the highpoint, the trail drops steeply through a rock chute, losing about 20 feet. I scooted down using all fives, and I'd call this one segment class 2+, maybe class 3. It was unexpected and fun. I followed the trail down to where it bottoms out in a saddle with power lines, then turned right (north) and down more into Pima Canyon and the old road that is part of the current-day National Trail. This is what I used to hike back ten years ago.
I crossed the road, then found Beverly Canyon Trail, which runs northeast and parallels the power lines. I stayed on this trail a little under a mile, sometimes following detours that always looped back to the "main" trail which looked to be an ATV track for the power lines.
I hiked until I was abeam of my third peak for the day, Peak 1519, which lies on the east tip of the Ridgeline Trail, which I had been paralleling much of the way. I turned left onto a connector that fed me onto the Ridgeline Trail and soon, was on top Peak 1519. The day had been sunny but for the time being, a bank of clouds had moved in front of the sun, placing everything in a dim shade.

Elevation: 1,585 feet • Prominence: 150 feet • Conditions: Nice
I continued on the trail down the east side. My next objective was Peak 1585, the eastern of a double-humped hill. I descended off the Ridgeline Trail, following an old track onto the Pima Loop Trail (I think). I had to go cross-country briefly to place me on the trail below this last peak. I found an old track, not an official trail, that led up to the saddle of this double-hump hull. Once at the saddle, I hiked up an open lane to the top. A beacon once stood here (the map still says "Beacon"), but all that's here today are four metal stanchion footings. I took some images, and the sun came out again.
Next, I went south off another old path, until I was down off the hill and parallel to a golf course. I found a spot to cross the greens and back to the road, then back to my car. The last little bit had become somewhat warm ... into the 70s. Since moving to Payson a year ago, I have officially become a heat wuss if I think 70s are warm.
I had been gone about 2 hours and had a great time. A lot has changed since I was last here and the lot was crowded with cars, but it never felt crowded on the trails as there is plenty of room for everybody.
I just needed to get back to Payson. I followed the roads through Tempe to the Loop-101 freeway, being reminded more than once that metro Phoenix loves to close down lanes for construction. I was on the US-60 briefly, just enough to get in behind some guy going 30 m.p.h. and randonly braking. I went northbound on the Loop-101 to Shea Boulevard, catching the Beeline highway in Fountain Hills. The drive thereafter was delightful. I never grow tied of the scenery along this highway. I was in Payson by 5 p.m..