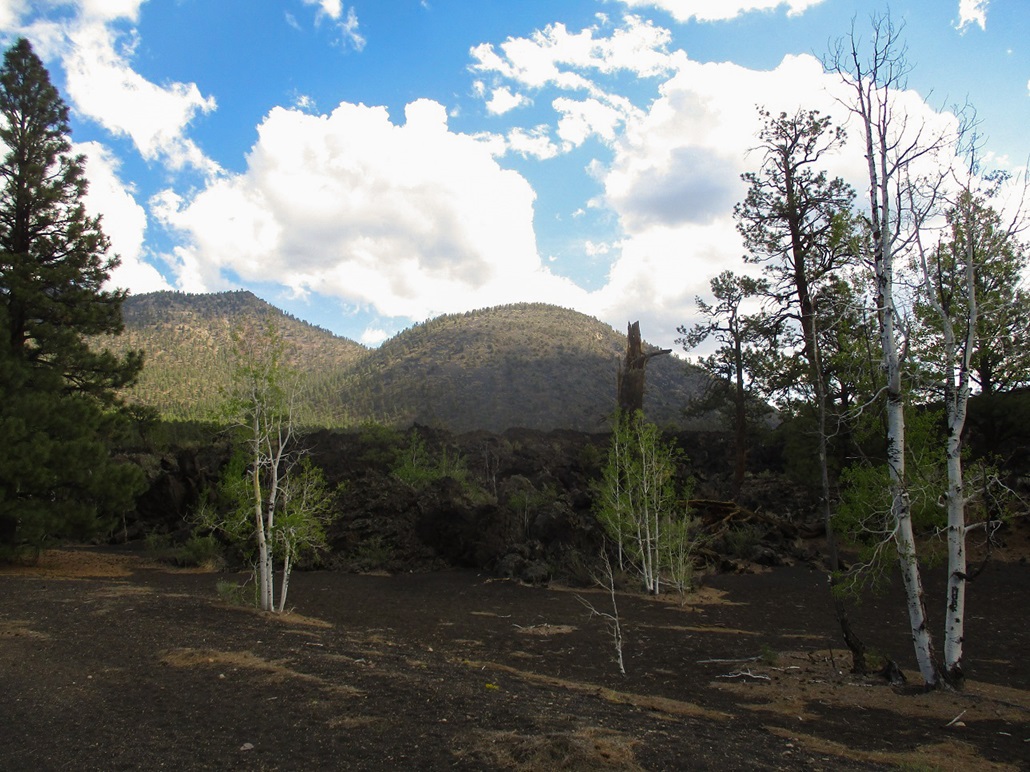 Darton Dome and the Bonito Lava Flow
&nbsp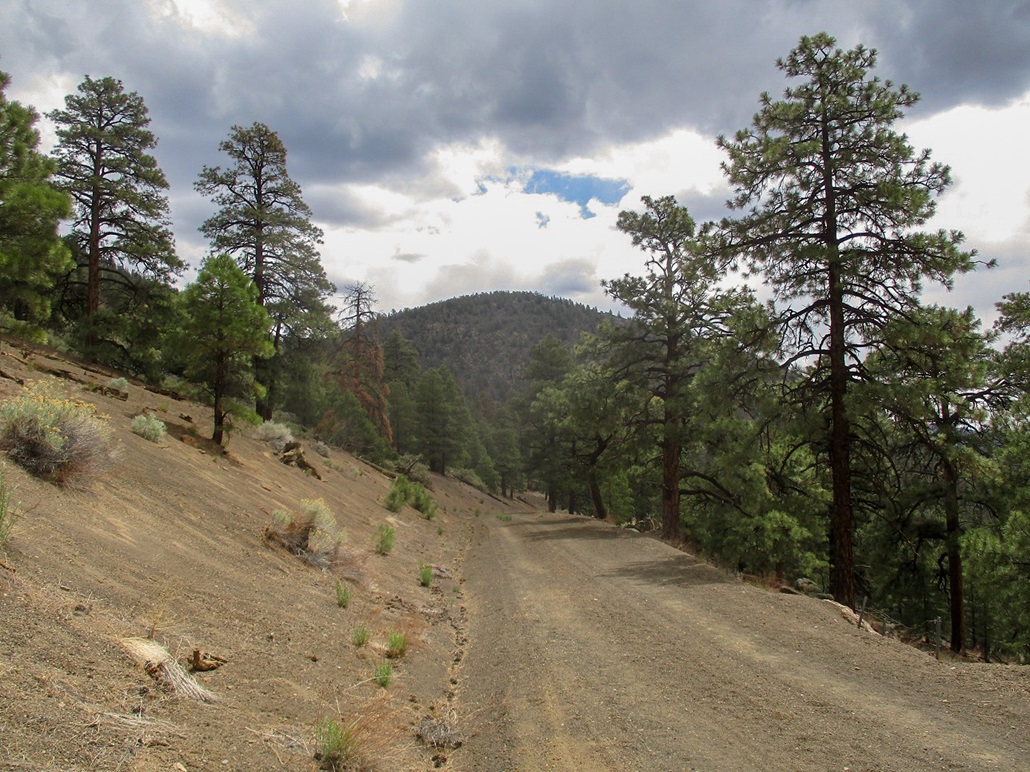 Darton Dome as I ascend the road
&nbsp


Another view
&nbsp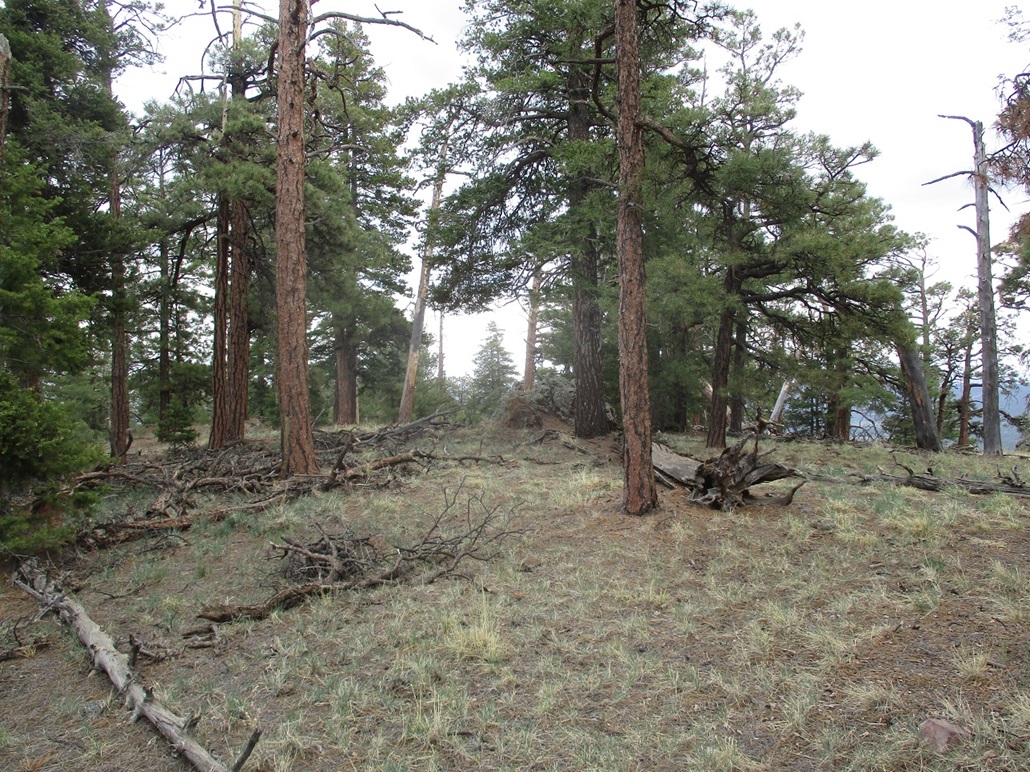 Summit of Darton Dome
&nbsp


View of O'Leary Peak from Darton Dome's summit
&nbsp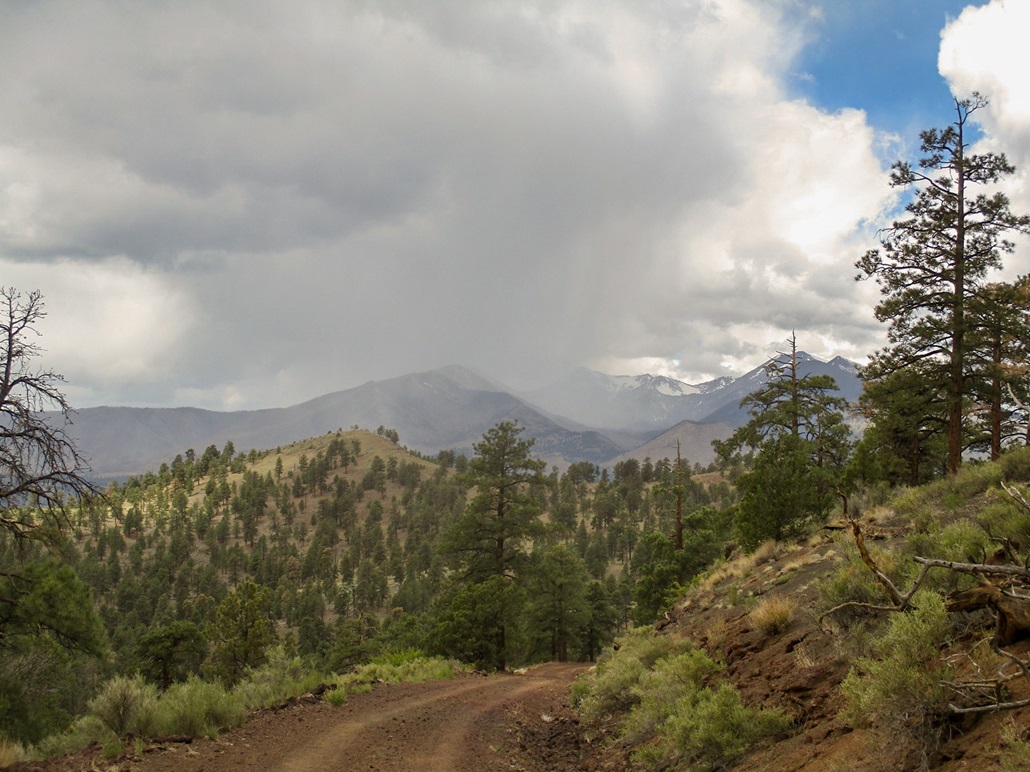 Humphreys Peak getting some precip
&nbsp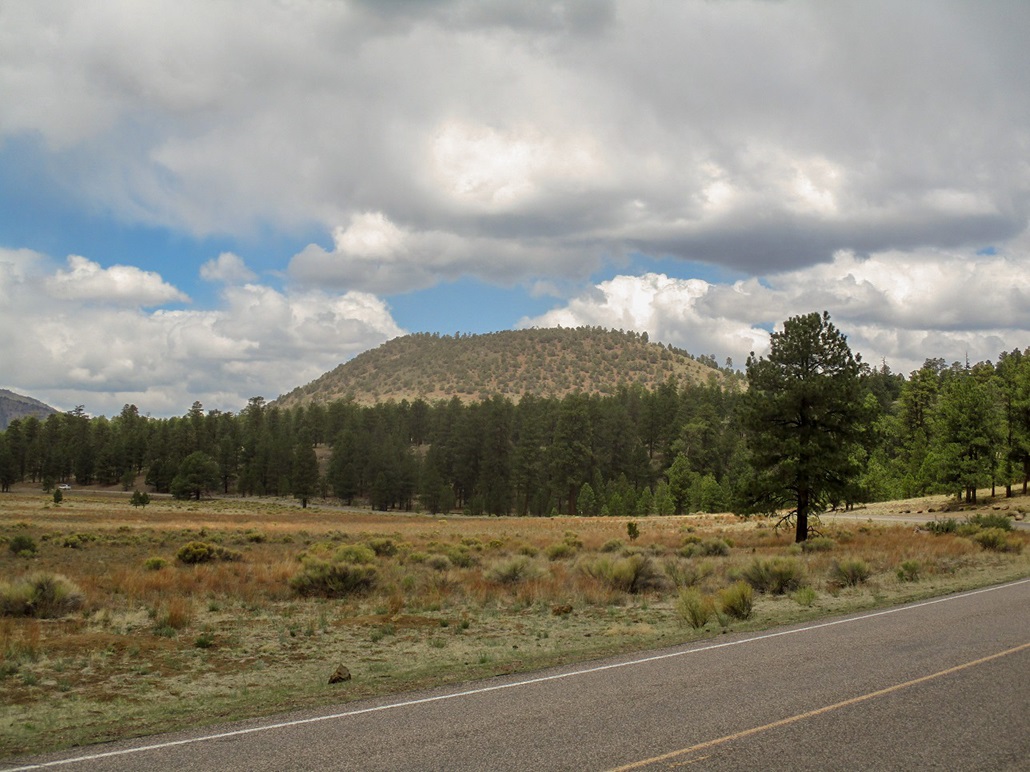 Peak 7690
&nbsp


On the upper slopes of 7690
&nbsp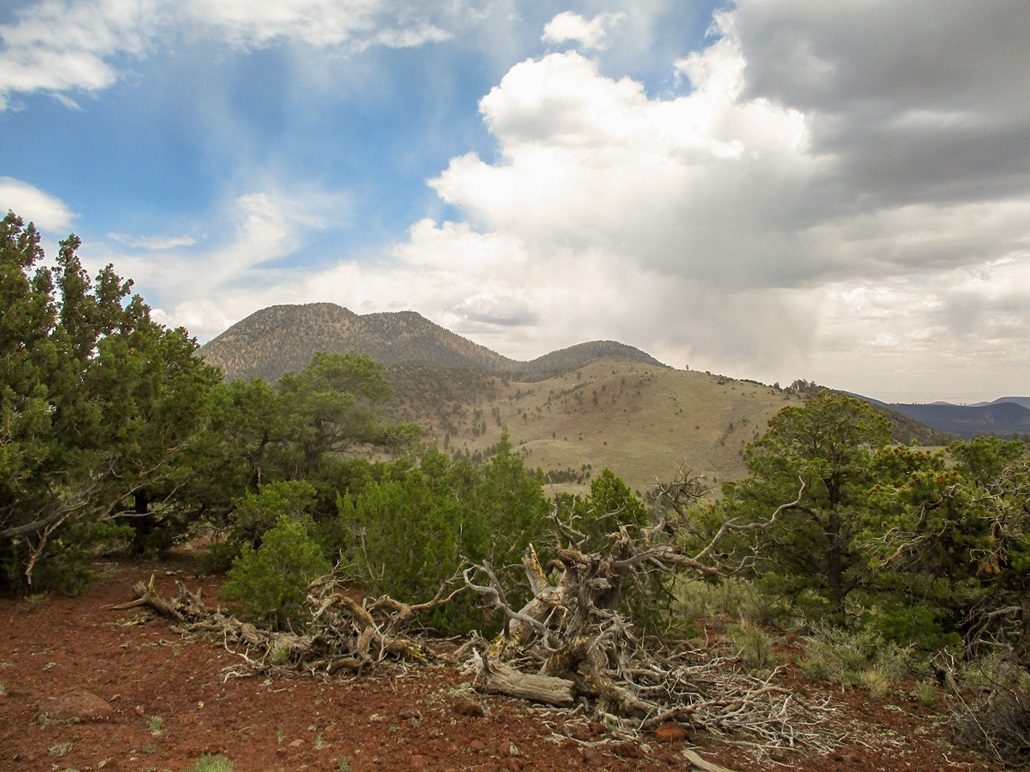 View of O'Leary Peak and Darton Dome from the top of 7690
&nbsp


The blah summit of 7690, with the San Fran Peaks sneaking into the frame


All images
• • •

The Arizona
Mountains Gazetteer
Click to find out more!
Sunset Crater Area
Darton Dome • Peak 7690
I was in the Flagstaff area for the third time in three weeks. Today's agenda was broader in scope — four or five hills if all went well — but weather forced me to shorten my plans to just two peaks, Darton Dome and nearby Peak 7690. I was not disappointed, as Darton Dome is the real prize and I am glad I was able to hike it.
Darton Dome

• San Francisco Volcanic Field
• Coconino National Forest
• Coconino County

Date: May 17, 2021 • Elevation: 8,408 feet • Prominence: 348 feet • Distance: 7 miles • Time: 3 hours • Gain: 1,480 feet • Conditions: Sunny at first; breezes, clouds and a little rain later
Arizona • Main • PB • LoJ
I left Payson at 6:15 a.m. and followed the usual route to Flagstaff, arriving a little before 8. I had no traffic, this being a Monday. I followed the roads to US-89 then north a dozen miles to the Sunset Crater-Wupatki Scenic Byway. Darton Dome, my first peak, is just a couple miles east of the main highway. I pulled into the small parking area where FR-545A veers and leads to the summit of O'Leary Peak, which we hiked back in 2007. Darton Dome is a rounded hump (hence the name) southeast of O'Leary Peak.
I had great conditions for the drive in, with sun, cool temperatures and very scattered clouds. However, up here in Flagstaff, the clouds were a little more abundant, blotting out the sun for a half-hour at a time. The wind was brisk, but the temperature was moderate, in the low 60s.
I was hiking at 8:30 sharp, following FR-545A. The road skirts the west edge of the Bonito Lava Flow, then starts uphill, making three long switchbacks on the south slopes of O'Leary Peak. The tread is soft volcanic cinder which held together well and I was able to make excellent progress, stopping just once or twice. The road is pitched at a gentle grade, about 5-7%, but it means it covers longer distance to make up the elevation gain. I arrived at the saddle connecting Darton Dome to O'Leary Peak after about an hour, elevation here about 8,100 feet. It was mostly cloudy and cool.
Next, I started up the slopes toward Darton Dome. I hoped for a beaten path but found very little. The terrain was forested but not too dense, with soft cinder kibble underfoot that was mostly solid, sometimes slidey. I could generally follow straight lines and see about a hundred feet ahead, making navigation quite easy. It was just a matter of willing my legs up the steep slopes to the top. I arrived onto the summit after another twenty minutes. It wasn't much to look at. A couple large boulders to the east may be the highest points, while a lower rock outcrop to the west had better views.
The clouds had collected above the peaks and I had cold and gray conditions. I did not linger. I walked the area and stepped on any contending points, then started back down. The downhill hike went fast and I was able to long-step and slide down most of the way. Unfortunately, I lost my old pair of Raybans along the way. They were my beater pair, bent and scratched, which I used for hiking. I have no idea where they dropped off and had no intention to go back up to locate them.
The long hike back down the road went quickly. It was tedious, but easy with the volcanic kibble providing soft landing for my feet. Along the way, the clouds let off a few drops, nothing more than a gentle sprinkle. I was back to my car at 11:30, a three-hour hike.
My next intended "peak" was Lenox Crater, a small mound of cinder within the Sunset Crater National Monument boundaries. It was just a short drive, e.g. a few hundred feet, but it meant having to pay $25 to enter the monument to hike it. Thus, I passed. Maybe another time, when I can spend more time in the Monument. Twenty-five simoleans for a short hike seemed a little steep to me.
The weather was holding steady in that the clouds stayed abundant and with a light sprinkle. Given the conditions, I chose to lop off a couple other planned hikes in the area and concentrate on one other, Peak 7690, which lies at the corner of US-89 and the Sunset-Wupatki Byway. I was there in a matter of minutes.
| | |
| --- | --- |
| Peak 7690 | • San Francisco Volcanic Field |
Elevation: 7,690 feet • Prominence: 400 feet • Distance: 1 mile • Time: 1 hour • Gain: 490 feet
LoJ (marker at wrong point)
I parked along a road just below the hill. The road has no number and leads to a cinder mine "around back". Big trucks would rumble back and forth along this road. I was already dressed and ready to go, and was hiking within minutes of parking.
I aimed for a saddle about 350 feet above me. The summit of this little hill lies to the east, on the east rim of a 150-foot deep crater. But I needed to get to the saddle first. I walked up a grassy slope. The grass soon ended and I was now on steep, loose pumice, too big to hold together well. The stones were about the size of golf balls. I'd step, and simply slide back to my original position. The only way to make uphill progress was to "run" uphill in 10-foot segments and get above a plant or tree, where the slope was more solid. This portion was very tiring, but not too long, and I was on the ridge within twenty minutes.
The remaining uphill hiking was far easier. The slope laid way back and I had an enjoyable uphill stroll to the crater rim. I angled right and circumnavigated the rim counterclockwise. The south rim has large rock outcrops, and the east rim is the highest point, about 15 feet higher than the rocks along the south. The summit itslef was not too interesting. There was a small register there and a few people had been up here in recent weeks. Many mentioned the "cache", so I think this is a point listed on the geocache site. I did not stay long, mainly as the wind was blowing pretty hard and it was chilly.
I completed the circuit of the rim and then hiked back to the saddle, then down that loose slope. Going down was far easier. I did not try to be stylish. I just took big steps and let the pumice stones carry me the way down. I was back to my car in an hour, the round trip covering about a mile.
This hill was a worthy second peak for the day, but not one I would recommend on its own merits. The views from the rim were pretty good, and the terrain above the steep slopes was gentle and enjoyable.