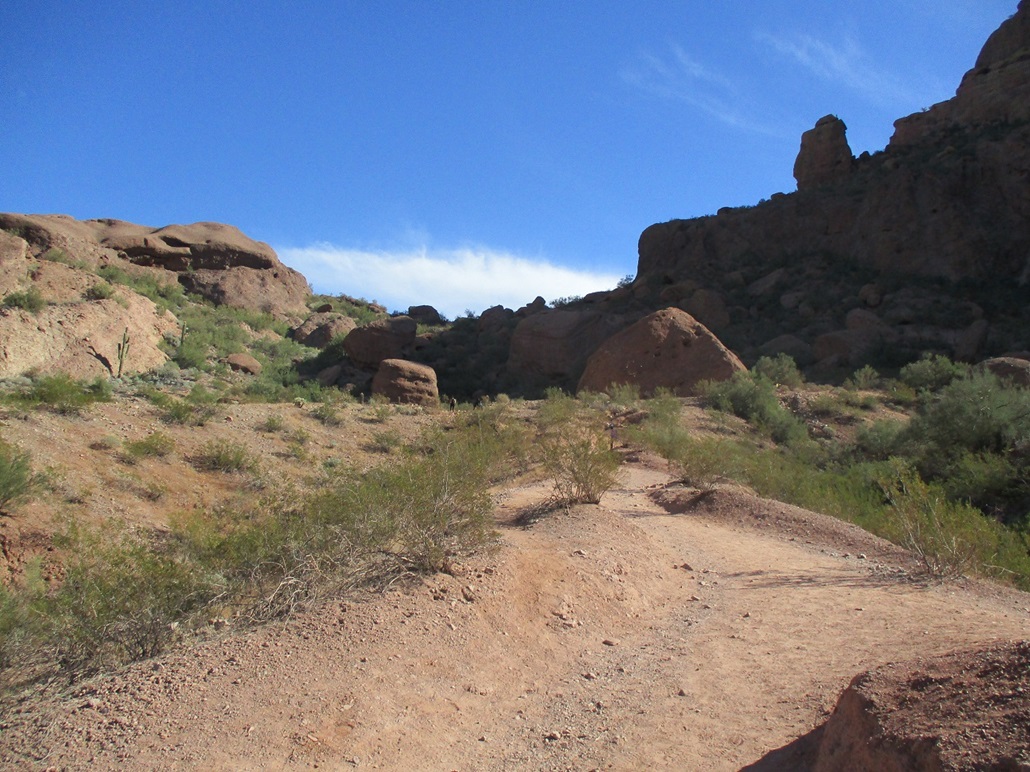 Start of the hike, the Praying Monk rock is in view
&nbsp


Look back toward the parking lot
&nbsp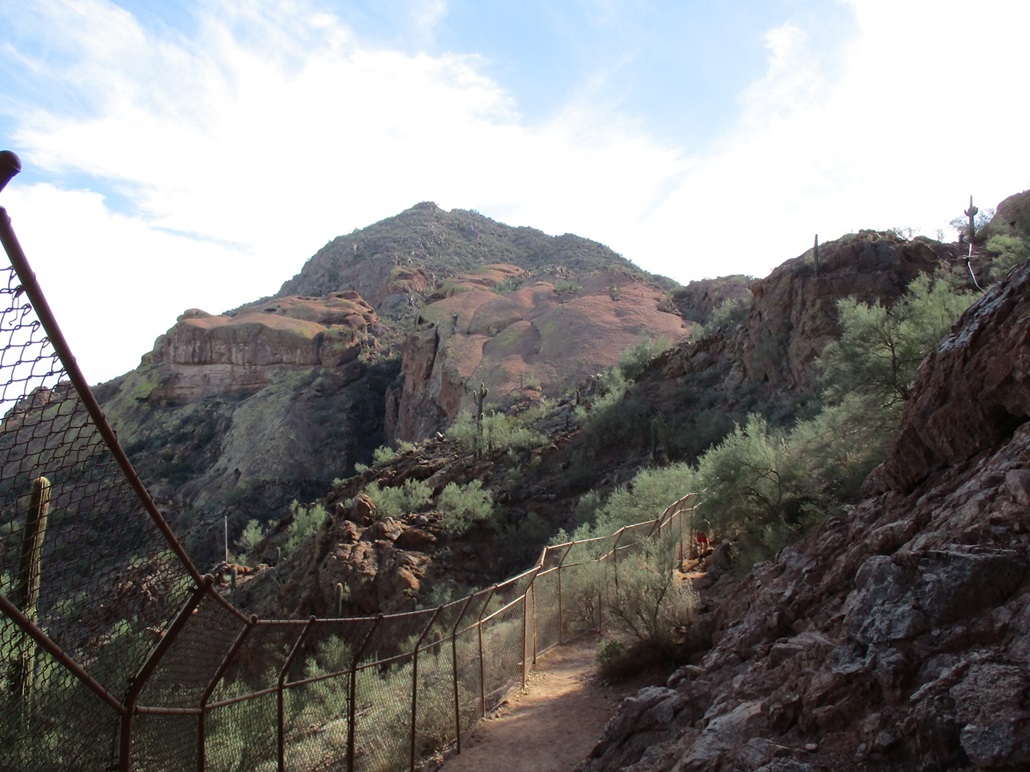 The summit comes into view
&nbsp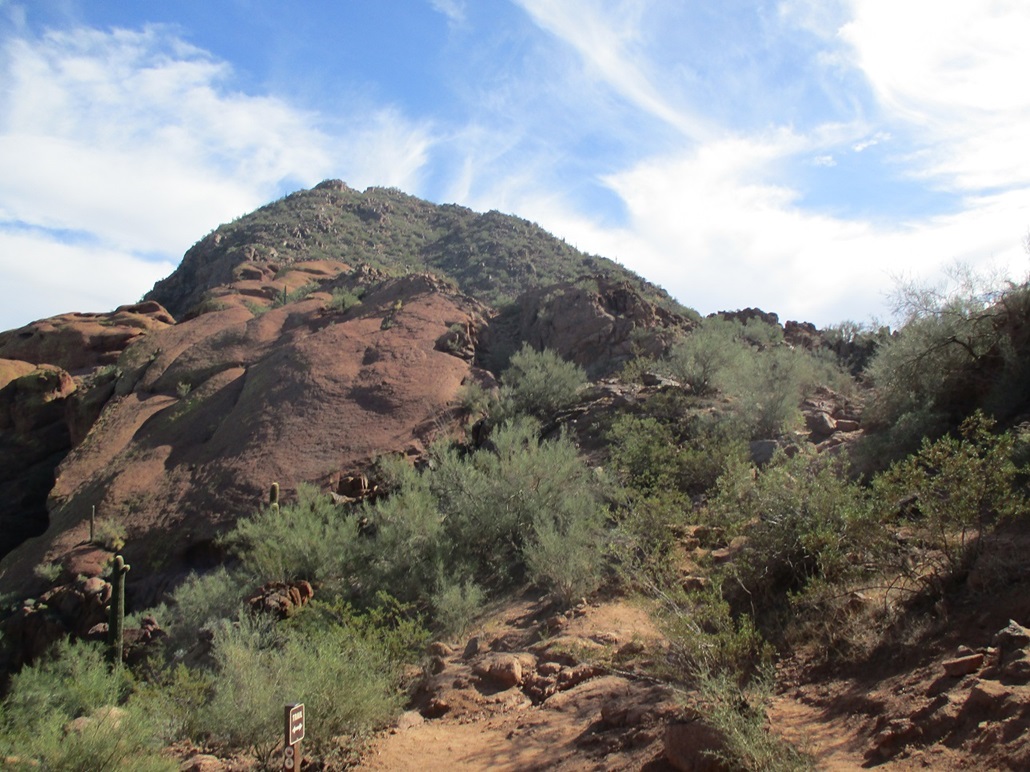 More detail, and more rocks
&nbsp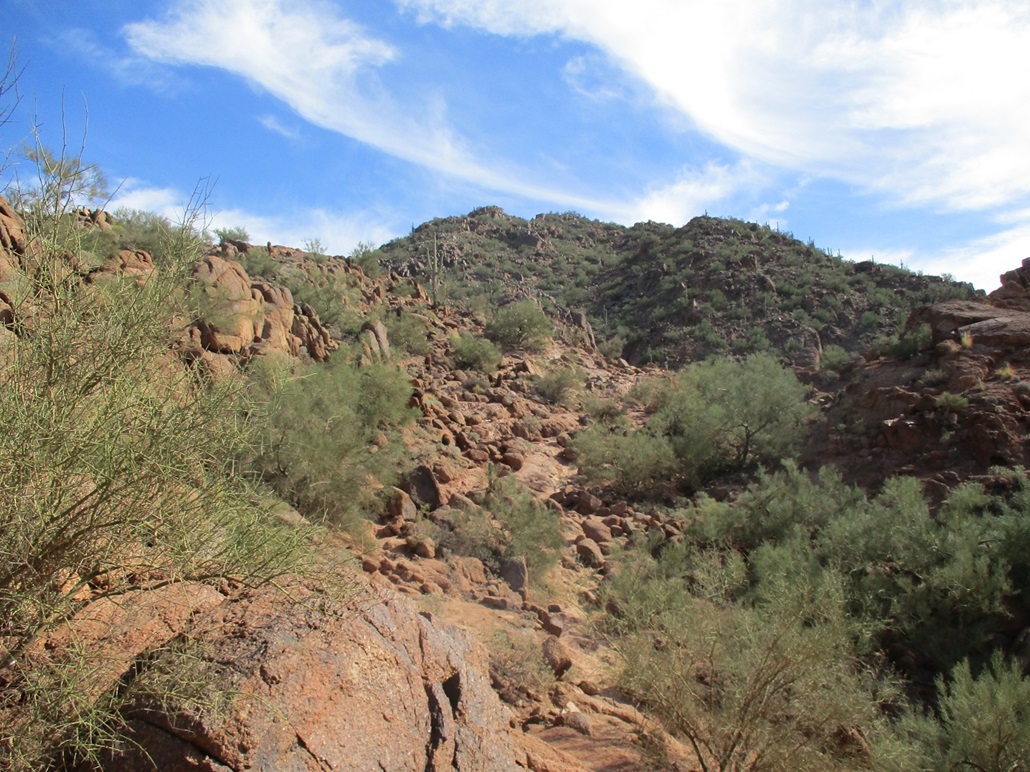 More rocks
&nbsp


Yet more rocks
&nbsp


Summit
&nbsp


View east down the Cholla Route



The Camel's Head, as I descend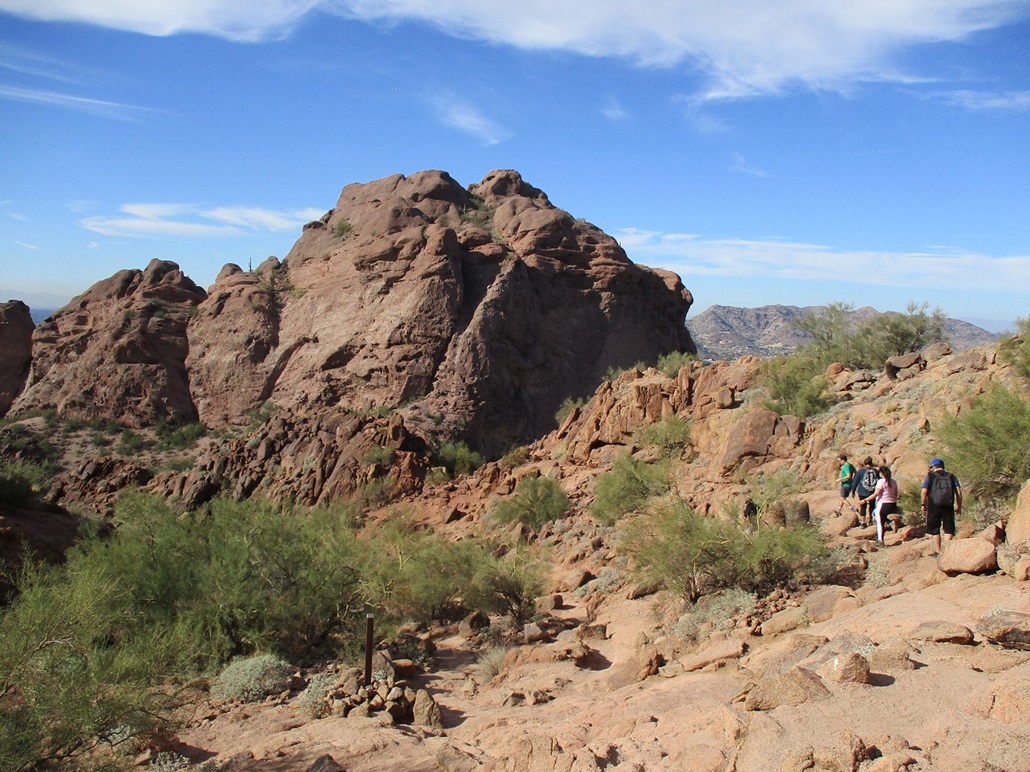 Another view, lower down


All images
• • •

The Arizona
Mountains Gazetteer
Click to find out more!
Date: (1) October 1992; about two hundred times since • Elevation: 2,704 feet • Prominence: 1,334 feet • Distance: 2.5 miles, sometimes 4 miles • Time: 70 minutes is typical • Gain: 1,200 feet • Conditions: Cold, hot, dry, rainy • Teammates: Half of Phoenix
Camelback Mountain is the most recognizable peak in metro-Phoenix, its symmetrical hump (and lumpy camel's "head") visible from virtually any elevated point of view in all of Phoenix and surrounding cities. Hundreds of people hike the peak daily and it is arguably the best fitness hike in the Phoenix area, although by no means a wilderness outing.
I moved here in August 1992 and when the weather cooled, made my first ascent that October. I became hooked and during that first fall-winter-spring here, hiked the peak two or three times a week, about 40 to 50 ascents in that first year. I always came in from the west (Echo Canyon) side. The route is well-described in many reports. It is rocky, steep, minorly exposed in a few spots, but overall a great hike with a mix of trail and rough rock-hopping. I always felt like I got a great "all-over" workout since I was using so many different muscle groups in managing the terrain. It's not a trail in the usual sense, but the navigation is extremely straightforward.
I have had a long-time ebb and flow relationship with Camelback. I'll hike it over and over again for a year or two, then burn out on it and not touch it for a year or so (often alternating my allegiances with nearby Piestewa Peak). Nevertheless, very conservatively I have climbed Camelback at least 200 times and very probably over 300 times since 1992. There are people who climb it every day, and probably a few hardy types who have ascent counts in the many thousands. My usual up-time is 40 minutes, and 35 for the descent. My best up-and-down time is an hour exactly.
The trail is often crowded and a good mix of hikers and pretenders. I've seen guys drinking beer on the climb, people holding infants, women wearing pumps or other elevated shoes, that kind of thing. There are rescues on the peak regularly. Most people who get in trouble probably just limp back to the car, hopefully slightly wiser. It's also babe-central up here too. The views from the top are outstanding. If the weather is clear, distant Picacho Peak can be seen. I've been up here in summer, but not lately. The heat is a butt-kicker.
I was up here once on Easter when the summit had about 150 celebrators, including our governor, but he was hidden among the throng. I've been up when all the out-of-town football fans come in for the Fiesta Bowl, all wearing their team's colors. It's not a wilderness hike, but I enjoy the workout and the variation of humanity. For training, it is unbeatable. For many years now I use the term "camelback" as a unit or measure: 1 camelback is roughly 1,000 vertical feet with one mile of hiking. So when I'm on a real peak, and I round a bend and see the summit still up there 2,500 feet and 3 miles distant, I'll say to myself, "just two and a half camelbacks, Surgent, don't wimp your ass out now."
When we lived in Scottsdale (2010 onward), I would come up from the east side ("Cholla Route") instead of the west side. I came up this way once back in 1997 or so with my dad. He got spooked on some of the rockier slopes up high and did not go to the top. I came up this way about a half-dozen times over the ensuring ouple of years. Around 2013, the Echo Canyon trailhead and parking lot was redone, adding spaces and making the lower trail more hiker friendly.
For many years, Camelback Mountain's summit elevation of 2,704 placed it in a tie with South Mountain's interpolated summit elevation of 2,700-2,710 feet as the highest points within Phoenix city limits. However, since Phoenix has been expanding its city limits north to nearly Lake Pleasant, Whiskey Spring Head now holds the honor as the highest point inside Phoenix city limits. For a complete list of the city highpoints of Maricopa County, see this link.
This highpoint status may change. The unincorporated community of Anthem includes Daisy Mountain, at 3,106 feet. Should Phoenix eventually absorb Anthem, then Daisy Mountain would assume the city highpoint status. However, this seems unlikely, but don't ask me why.
May 2011 photos, along the Cholla Trail:

View from the east


Still low on the slopes


Main saddle, looking up


Knife-edge walking!

&nbsp


Looking at Piestewa Peak


Looking back at the route


Sidehill trail


The Phoenician grounds
The photos in the left sidebar were taken on a November 2022 hike up the Echo Canyon side. I had never once taken photos of the hike from this side. So today I did. I had not hiked Camelback in many years until today. I had "forgotten" the route, but when I would come upon a section, all of a sudden I remembered it all again. I was beat afterwards, being reminded this is one hell of a workout peak. I might come back more on a regular basis.