Blue Ridge Mountain as viewed from Porter Mountain Road
&nbsp


Approaching the top
&nbsp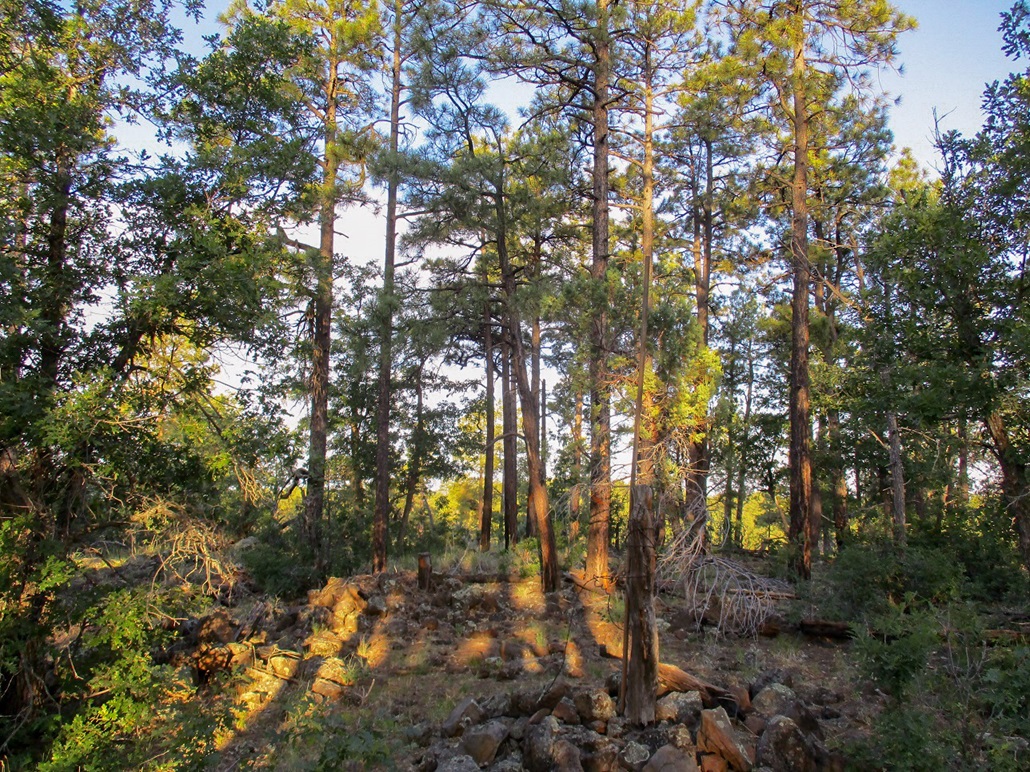 The top is heavily wooded
&nbsp


The blank benchmark. Someone etched in a number on it
&nbsp


This is from Porter Mountain
&nbsp


Pat Mullen Mountain is just a boring forested hill, this image taken from Porter Mountain
&nbsp


Sign at the start
&nbsp


Sign at the junction to the spur trail
&nbsp


Nice trail and forest up here
&nbsp


The general top
&nbsp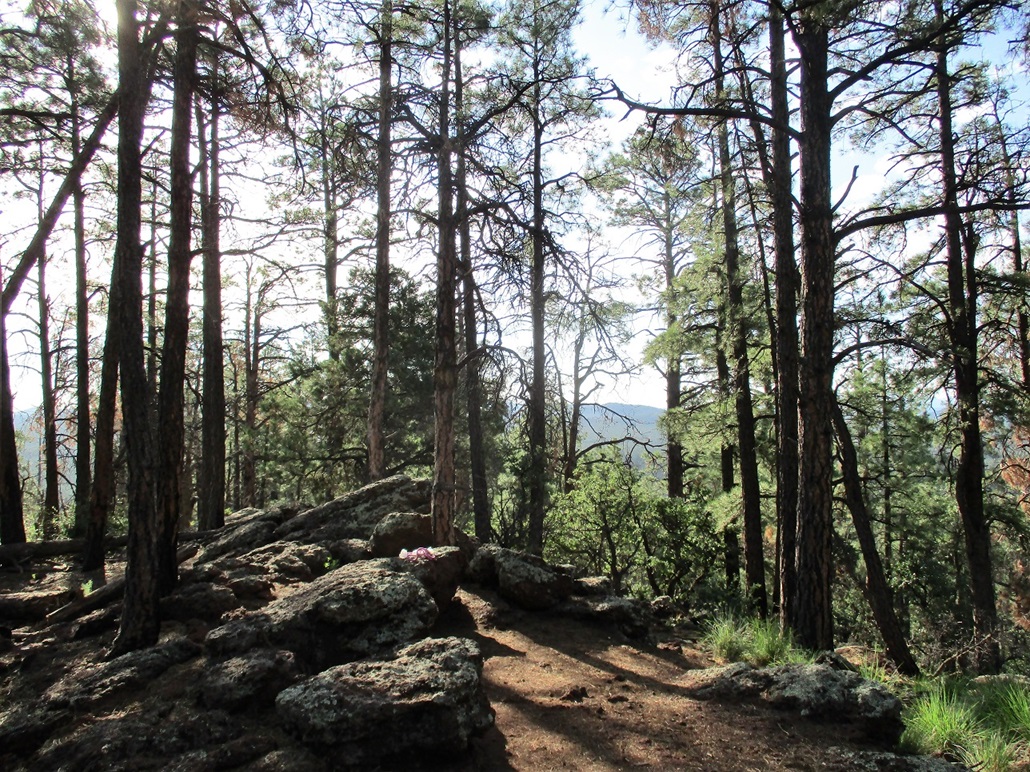 This rock might be the highest point
&nbsp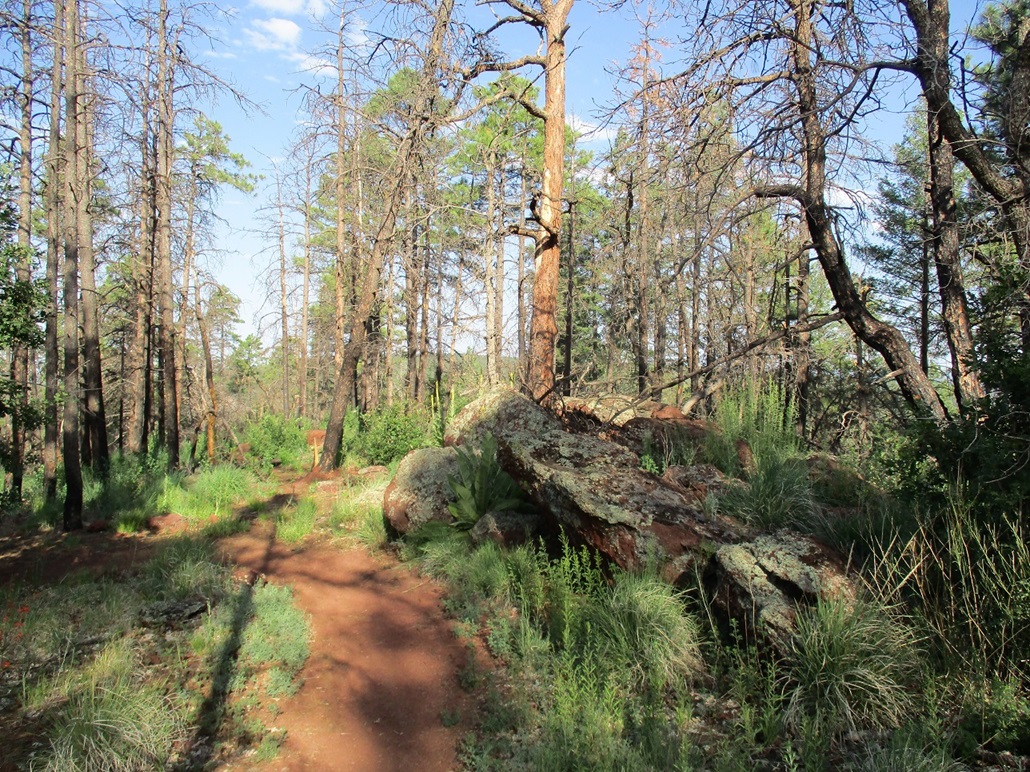 Or maybe this one
&nbsp


Impressive juniper!


&nbsp


Gnomes and other little trinkets
&nbsp


Porter Mountain and its ugly gravel mine
&nbsp


Parked at the 7,400-foot level
&nbsp


Towers up here, the highest point up ahead
&nbsp


The highest actual point, for what it's worth
&nbsp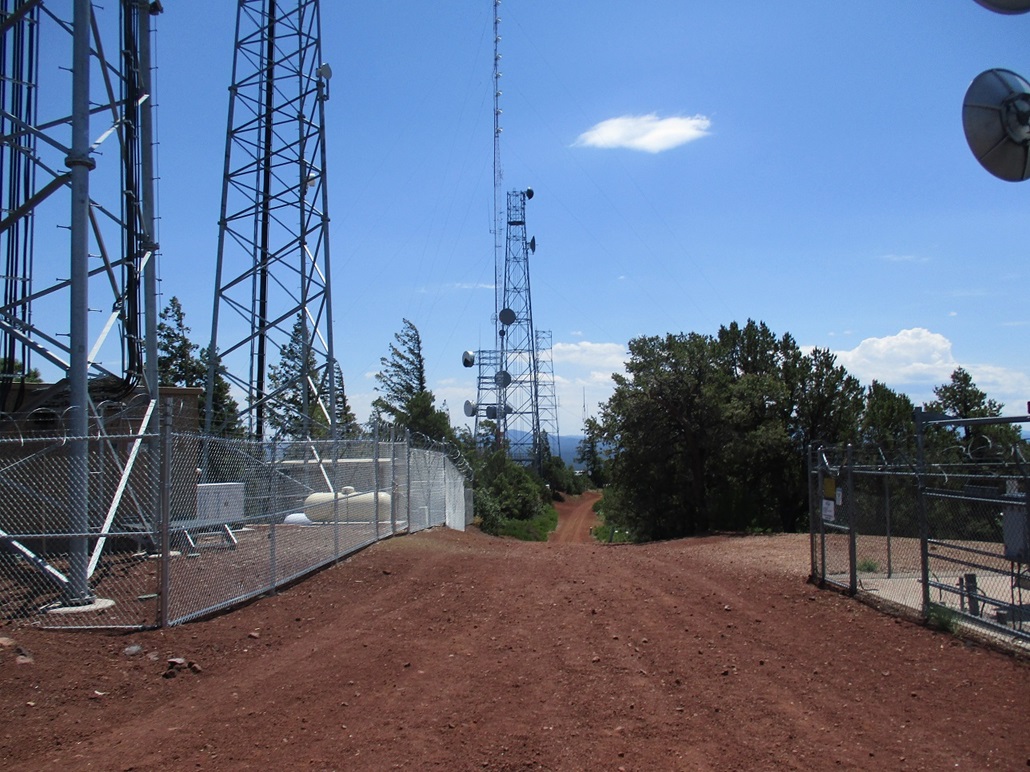 More towers looking south. The image does not do this justice. There were lots of towers and it was so impressive
&nbsp


View of Blue Ridge Mountain from the road
&nbsp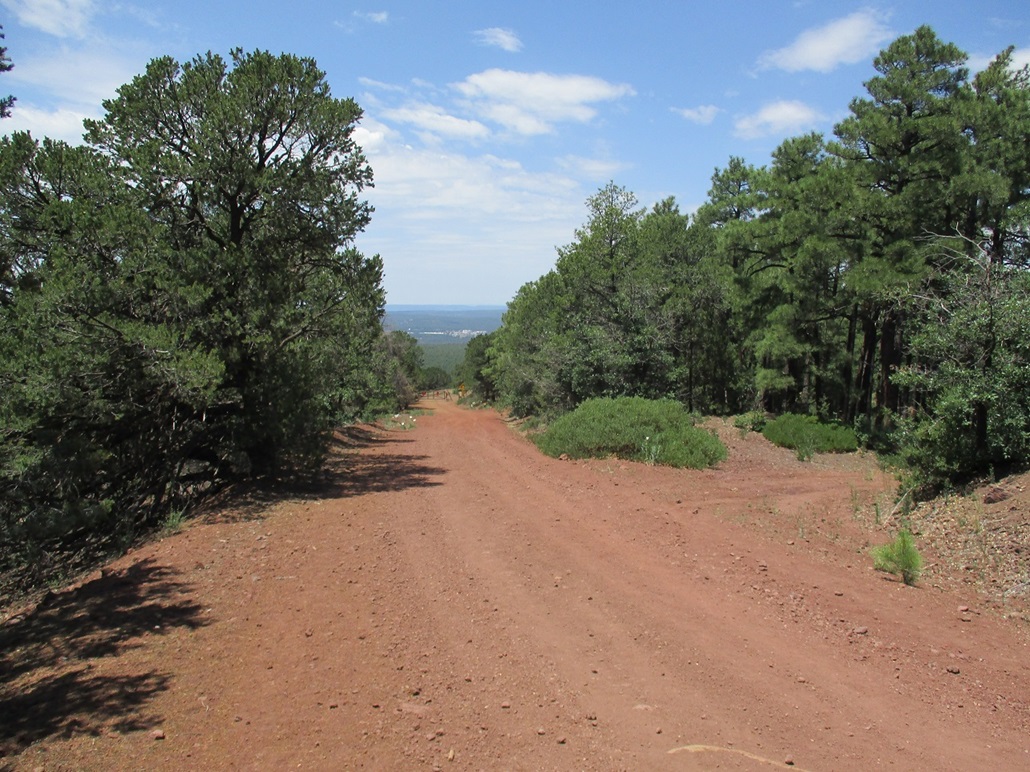 Walking back to the gate
&nbsp


The gravel scar and part of the road



All images

• • •

The Arizona
Mountains Gazetteer
Click to find out more!
White Mountains Foothills — Show Low
Blue Ridge Mountain • Pat Mullen Mountain • Porter Mountain
I had a day open and planned to spend it tagging easy summits in and around Show Low. On the docket were three peaks immediate to the town: Blue Ridge Mountain, Pat Mullen Mountain and Porter Mountain. In reality, these are hills, the westernmost foothills of the mighty Mount Baldy and Springervile Volcanic Field. All three have easy road access and trails to their respective summits. For trivia fans, these would be the first peaks or hills of any sort that I have hiked in Navajo County since my hike up Black Mesa (the county highpoint) in 2004.
Blue Ridge Mountain

• White Mountains
• Sitgreaves National Forest
• Navajo County

Date: July 19, 2019 • Elevation: 7,656 feet • Prominence: 446 feet • Distance: 4 miles • Time: 90 minutes • Gain: 470 feet • Conditions: Cool, with clear skies
Show Low is a three-hour drive from Scottsdale. I called ahead to a small hotel in town and reserved a room the night before. I left Scottsdale around 7 p.m., and took the AZ-87 route through Payson, then AZ-260 up over the Mogollon Rim into Show Low, arriving about 9:30. I was up before dawn today, planning to leverage as much daylight as possible for today's hikes. Of concern are the thunderstorms that usually build here around noon. However, the monsoon has been weak of late and the daily thunderstorms have been weak or non-existent. But I did not want to take any chances.
First up was Blue Ridge Mountain. This is a big sprawling dome of rock that rises just 400 feet above the countryside, but stretches a few miles in all directions in a nearly-perfect circle. I knew little about it beforehand other than it is covered over in trails and heavy ponderosa forest.
I left the hotel room at 4 a.m., got gas and supplies, and drove southeast along AZ-260 into Pinetop-Lakeside. I drove almost through the whole town until I found Buck Springs Road on my left (east). I went in, then went left onto Sky-Hi Road another mile or two to the trailhead, located near the junction with Sitgreaves Forest Road 187. I pulled in at 5 a.m. exactly, the sky lighting up but the sun still below the horizon. It was calm and cool, temperature about 60 degrees.
This area is covered in trails as part of the White Mountains Trail System. It is open to hikers, bicyclists and horseback riders. The information kiosk had a lot of good maps in its little cubby box, so I grabbed a couple. The newer trails do not show up on the topographic maps. I was hiking at 5:15 a.m..
I hiked north along the Blue Ridge Trail, which goes up to the summit in two miles, according to the map. Down low, the trail wanders through flat terrain with moderate ponderosa. I could see perhaps a couple hundred feet in any direction, but not far enough to see rises in the land or other land forms. Somewhere nearby I could hear power saws --- there was some forest thinning going on.
I kept to the trail, going at a good pace since the grade was so lenient. Numerical markers nailed onto trees count off every quarter mile. I could sense some uphill, and also sensed a lot of spider webs. Apparently no one had been through here in a couple days, and I was walking through the webs they had strung up across the trail.
When I got to marker #7, I knew I was close. I was nearing the top, where the forest was thicker. I was lucky to see 50 feet ahead of me and without a trail to the top, finding it would have been challenging. At marker #8, I left the trail and went uphill about ten feet to the top, where three rock piles, a pole, and two markers marked the summit. The benchmark was in a rock flush to the ground in between the three rock piles, but it was not stamped.
There were no views from here, so I did not spend too much time. There was no register either. I stopped for about five miutes to drink some water. I got back on the trail and followed it back to my car. I had been gone 90 minutes, covering 4 miles. The day was still cool and my next peak, Pat Mullen Mountain, was just a quarter-mile drive away.
Unfortunately, this summit was kind of a dud. I am happy to get in the conditioning and enjoyed the walk for its own sake. Judging by the trail lower down, I suspect people bring their horses here. It is a tad rough for mountain biking but I suppose people bike it anyway. The trail itself is a loop with multiple access points, so one could hike it as an 8-mile loop, or use car shuttles to shortern the distance. There are options here other than just tagging a summit. Actually, I was quite impressed by the extensive trail network and the detail of the maps, so I commend the Forest Service plus the local hiking groups for their hard work.
Elevation: 7,612 feet • Prominence: 402 feet • Distance: 3.2 miles • Time: 75 minutes • Gain: 410 feet • Conditions: Clear, warming as the sun rose
PB • LoJ
Pat Mullen Mountain is an unremarkable hill in the Sitgreaves National Forest, nearby the cities of Show Low and Pinetop-Lakeside. I had just finished hiking Blue Ridge Mountain, and it was still not yet 7 a.m. when I finished that hike. Pat Mullen Mountain lies about two miles east of Blue Ridge Mountain, but the trailheads are less than a half-mile apart. I drove to the Sierra Springs Trailhead, as it's called, in a matter of minutes. Since I was already dressed from my last hike, I was moving after just a few minutes.
The trailhead for the Country Club Loop Trail starts on the other side of the small parking area, and is signed, the peak being 1.6 miles away. I started walking, first in the open then soon within the ponderosa forest. I was not expecting anyone here but there were already a couple cars at the trailhead, some with bikes. One couple started hiking on "my" trail a few minutes after I had started in. I could hear them talking sometimes.
Like on the Blue Ridge hike, the trail here is well-maintined and well-marked, with numbers nailed to trees every quarter mile. I needed to get to #4, or a mile, before finding the spur trail to the top. The mile-long hike to the junction went fast with nothing interesting to report.
At the junction, I started up the slightly-steeper slope, a half-mile journey where most of the elevation gain would be made. The forest thickened but it was very pretty, with some huge junipers mixed in with the ponderosa. I was soon on the summit, which was wooded with limited views. The one-way hike had taken a little over 30 minutes.
The top features a couple rock outcrops that could be the highest point, so I tagged both. I tried to get views over the countryside, with no luck. Below me, some guy was shooting targets, letting loose a round every minute or so, then three or four in a fast sequence. The other highlight was a small collection of gnomes, hand-painted rocks and colorful crystals assembled at the base of one large juniper. I enjoyed my time up here, even with the limited views and the gunshots.
Heading down, that couple that had started soon after me were just now starting up the final spur. I then met with a group of women on the flatter segment, and one older lady hauling shovels. At the trailhead, more cars had pulled in. While this hill has no views, it does offer a good workout, and I can see where the locals would come to this particular bump to get exercise. I had been gone for one hour, fifteen minutes. It was a little past 8 a.m., and I was 2 for 2 so far today.
I then debated my next peak. I had originally planned to hike five or six of these low bumps immediate to Show Low, but I was tempted to drive up the highway onto the Fort Apache Indian Reservation and visit McKays Peak and its lookout. This would mean a 25-mile drive and possibly a couple hours of hiking (I had no real idea how long it would take). It was early and I thought my chances were good. So I bailed on a couple local bumps, and moved on to McKays Peak, including my first-ever visit to Hawley Lake.
I do not know who Pat Mullen is. There was an old-time actor named Pat Mullen but I doubt the peak is named for him. It's probably named for someone with local connections to the area. Google searches of the peak suggest it's very popular with mountain bikers. The trail itself loops and is another good example of the work done by the forest service and the local hiking groups to offer access routes in this part of the forest.
Elevation: 7,595 feet • Prominence: 605 feet • Distance: 1 mile • Time: 45 minutes • Gain: 195 feet • Conditions: Clear & very warm
PB • LoJ
Porter Mountain is northwest of Show Low, and is home to a number of communications towers. I included it on my agenda because it was close to town, has a road to its top, and looked like something I could do quickly. It is not an attractive peak, due to its many towers and an ugly bare gash on its east slopes where gravel had been mined for many years. But because it was close to town and looked logistically easy, I wanted to at least take a look.
Today had gone well. I had hiked two lower hills, Blue Ridge Mountain and Pat Mullen Mountain, earlier today, then drove east and had an interesting excursion on McKays Peak. When I returned to Show Low roughly at noon, the temperature was warming into the mid-80s.
I found Porter Mountain Road off of state route AZ-260, roughly halfway between Show Low and Pinetop-Lakeside. I went north a couple miles, the hill visible to the north-northeast. It is a trapezoid-shaped hill, and the line of towers along its flattened top obvious from any distance. Porter Mountain Road then swings right at a junction. I followed this road another four miles or so to a bend, southeast of the hill.
The dirt service road starts at this bend. By now, tired after three hikes and the day becoming rather warm, I was not looking forward to hiking it from its base. Instead, I chose to drive as far up as safely possible, and hope to cut off some distance and vertical gain. The road is wide hard-pack, heads north and comes to a split, where a right drops into the old gravel quarry which has been re-purposed as a shooting range. I went left.
The road comes to a bend, making an almost 180-degree turn, now below the big bare slope of reddish-colored gravel. So far, the road was not pitched too steeply and was easy to drive. After this bend, it steepens and is a little more wash-boarded. But it was still wide and hard, with no random rocks or ruts to deal with. I drove to the second bend, the last one before the top. Here, the road is gated and there is a very large turn-around to park. Views from here are very nice and I suspect people come up here often just for the views of Show Low and the surrounding forests and grasslands. I was pleased to get this far, shaving off about 400 vertical feet and a mile of distance.
I parked and started walking, going light with just a bottle of gatorade, my camera and hiking pole. I was at 7,400 feet elevation, slightly less than 200 feet from the top, about a half mile away. The walk to the top took about 20 minutes, the towers lined up almost like buildings along a city street. I walked to a small nubbin at the far (north) end, then turned right around and walked down, stopping for images along the way. Unlike the other forested hills nearby town, the road here does at least allow for good views. I was back to my car after about 45 minutes.
It was still not quite 1 p.m. and I still had a half-day to squander. However, I was beat and a little hot, not to mention hungry. I slowly drove down the road back to pavement. I then drove about a mile east to check out a small hill called Twin Knoll, but it was fenced at the road and I was not enthusiastic about going off trail in this warmth. I had hiked four peaks and hills today, and decided that was a good haul.
Back in Show Low, I stopped for a snack at McDonalds. I was debating my route back to Scottsdale. I had never been to the towns of Taylor and Snowflake before, so I decided to go that way, which would add about 20 miles to my overall drive, but at least would be something new.
From Show Low, I went north on AZ-77 into these two towns, which are adjacent to one another about 15 miles north of Show Low. The terrain here is less hilly and a little more "bluffy", highlands that look out over canyons that may only be 50 feet deep, but cut the land just about everywhere. The big trees thin out and it's mostly pinon and juniper by now. The towns themselves are bland, which is about what I expected. But I enjoyed the drive. From Snowflake, I got onto westbound AZ-277 which heads back to Heber, where I caught AZ-260 down into Payson and back home.
I arrived back into Scottsdale about 4:30 p.m., temperature pushing 110 degrees. However, I was happy with today's efforts and enjoyed my day of vacation and a chance to get out of the heavy heat if ever so briefly.