Tombstone is famous for one 30-second shootout that occurred in 1881. The Shootout at the O.K. Corral pitted the lawmen Earp brothers and cohort John "Doc" Holliday against the cattle rustlers of the Clanton and McLaury families. The end result: the four "bad guys"—two Clantons and two McLaurys—were killed, while all four "good guys" survived, despite being shot themselves (Wyatt was not hit). This type of shootout probably occurred many times in many places over the years, but this particular shootout grew legs and through years of story-telling, has grown to represent the archetypical Old West shootout.
There's no argument this has all the hallmarks of a great story. The Earp brothers were well-known for being on the side of the law, but they were not a band of angels. They moved around a lot, gambled, went where the action was, and often got dirty in the process. Holliday was a dentist by trade but a better gambler, and evidently, a good shot, too. The region in the southeast Arizona territory at the time was lawless, a scape of high desert country still at the mercy of the famous Chiricahuan Apache Geronimo, who kept up his guerilla warfare against the United States Army and various locals until 1886. Minerals attracted miners to the region in the 1870s. Tombstone was founded in 1879 after a silver strike by Ed Schiefflin proved to be a bonanza. The town naturally became a rowdy, lawless place. All of this combined in the right way to culminate with the shootout. Even the name of the town—Tombstone—gives the whole story good flair.
Most of the authentic buildings are located along Allen Street, which runs about four blocks and is parallel to the "main" street in town, state highway AZ-80. Yes, there've been fires in some cases and some of the newer buildings have the "old-timey" storefronts, but most of what stands dates directly from the 1880s heydays. The sidewalks are board planks, and Allen Street is closed to vehicles. It's about as authentic an old-west town as there is. Not many towns that date from the Old West era have the breadth of authentic buildings still standing as Tombstone does, or more importantly, a good story to go with it.
What always fascinates me is how well-known Tombstone is world-wide. People from Europe or Japan or Australia or wherever, who may come to America once and may have just a week or so to visit, will come to Tombstone for their "Old West" fix. Living in Arizona as we do, we forget how much recent history still stands in all our little towns, and how much of it seems to grab the attention of people from far away. It's neat such a small town has such a wide-ranging appeal. Of course, lots of television shows, books and movies over the years have turned the events and the period itself into highly-stylized versions of the real thing. But that's good for business.
I was here in 1994, traveling with friends from England who wanted to see Tombstone. For us, this would be our first time here as a primary destination. We made reservations at one of the old-time hotels near the downtown, and drove three hours from Scottsdale late on the 28th, arriving about 6 p.m., dark this time of year.
So here we were. It was too late when we rolled in to do much. I had a dinner at a bar on Allen Street but there was little activity overall. The next day started cloudy and cool. We took a two-hour drive to a small ghost town about 15 miles east of Tombstone called Gleeson. The drive was pleasant, and there still stands a few buildings. The real excuse was the drive itself. We exited east into Elfrida, then south to McNeal and back to Tombstone via Davis Road, a 25-mile drive amid high rolling desert hills. We arrived back into Tombstone about 3 p.m., and that's when the fun started.
Cop cars and trucks from the Cochise County Sheriff and Tombstone Marshalls roll into our hotel parking lot and perform a felony arrest on the long-term "guest" there, the guy who had helped us check in the previous night. They had him on the ground, cuffed him, took him away, then spent another couple hours taking stuff from his room away, evidence presumably. The cops also entered a few other rooms, shotgun and pistols drawn, looking for whatever else they were looking for. They were friendly to us—we just watched the whole thing unroll with big eyes, like cats watching birds.
Wait, there's more! A few hours later, one of the other guests comes bursting out of his room, cussing up a storm, completely flipping his lid. This goes on for 20 minutes until he pisses off the hotel owner enough to force the owner to call the cops again. After a lot of yelling and histrionics we gather enough snippets to conclude his girlfriend or wife or whatever was not feeling comfortable about staying there that night, presumably resulting from the events of the day. I guess an argument ensued. Booze may have been involved. Eventually the guy calmed down enough and they ended up staying. We ended up talking with the owner, just shooting the breeze. We had no compunctions about staying. The place seemed safe, and Tombstone really isn't a bustling place after dark. Anyway, it was great theater. You can't make this stuff up.
The next day—the 30th—started out very cold. A major winter storm was coming in. It rained for most of the morning, then sleeted then turned to snow. We did a walking tour of Allen Street, checking out the famous (and haunted) Birdcage Theater, the O.K. Corral and other shops including a fudge shop of all things. Was one here in 1881? It snowed heavily, although it wasn't sticking. There weren't many tourists this cold afternoon, but what few there were, were from all over. There was a Japanese family, and the usual mix of Europeans. Even people from other parts of the United States (judging by the guest registers at the various places).
We decided we should get moving back home, but on the way out of town we stopped briefly at the Boot Hill cemetery, then got rolling for real. We had snow again in Benson, but then just rain into Tucson and clear (but cold) weather into Scottsdale. This storm was a biggy: the big peaks such as the Rincons and Catalinas in Tucson, and the Mazatzals east of Phoenix, were covered in snow. It was truly stunning scenery. We celebrated our return with some Mexican food from our local Baja Fresh. A great way to celebrate Beth's birthday and the end of 2010.

Gleeson Jail

Gleeson Jail front

School (?), Gleeson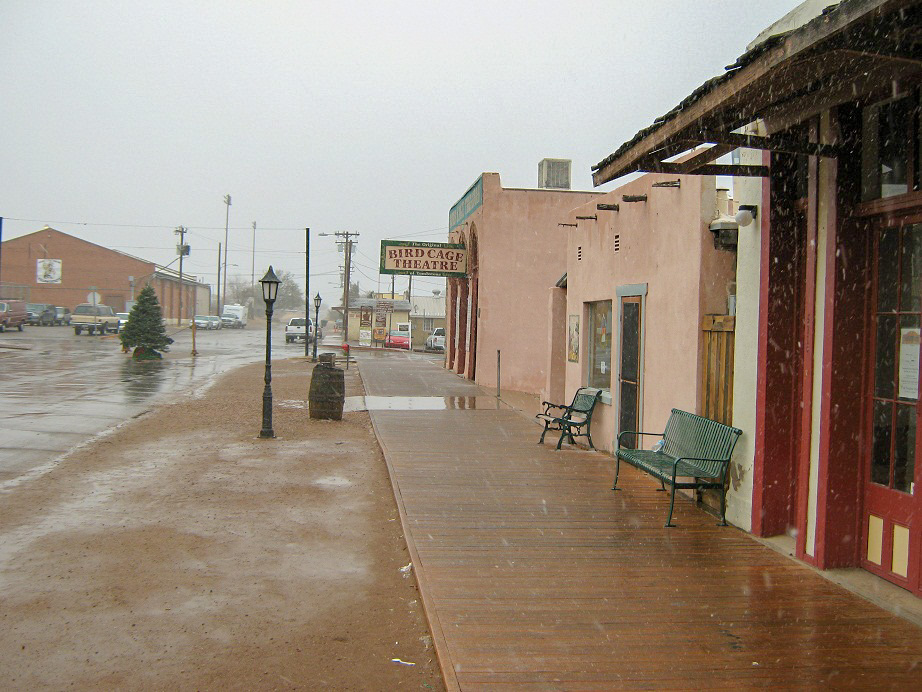 The Birdcage Theater

O.K. Corral.

Snowy Tombstone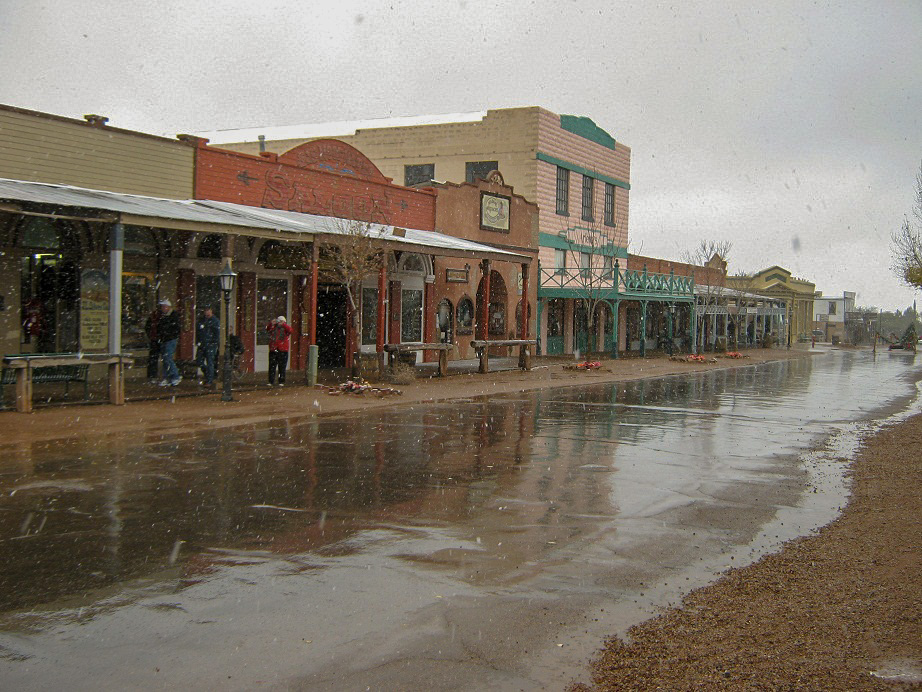 One side of the street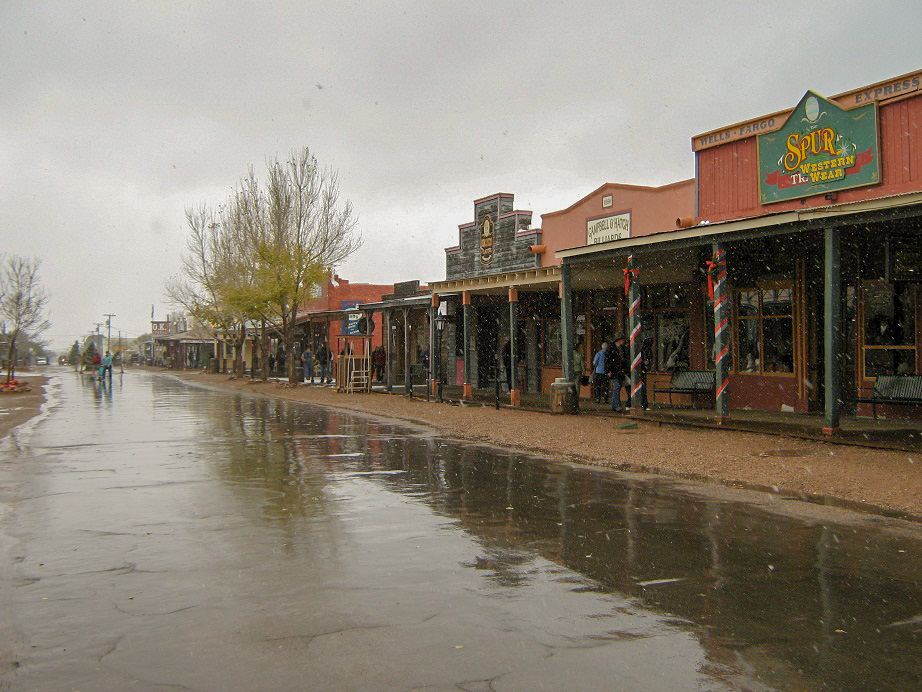 The other side

Boot Hill graves
&nbsp