Seven Falls is a series of rocky pools in Bear Canyon, in the southern Santa Catalina Mountains near Tucson. The falls flow and the pools are filled nearly all year. We had the bright idea to visit the falls on a mid-August day, when the daytime highs would be near 110 degrees.
We arrived in mid-day at the Sabino Canyon Visitor's Center. To mitigate traffic, you park farther out, and they shuttle people up to the various trailheads. We rode the shuttle to our intended trailhead at Bear Canyon, 1.5 miles from the visitor's center. They dropped us off about 1 p.m., and yes, it was very hot.
The hike is not trivial: 2.3 miles each way to the Seven Falls, but the trail is good and mostly flat. It gets steep a little toward the spot where we took a side trail to the actual falls. We just took it slow and once at the pools, jumped right in. It was fantastic! The water was delightfully cold, and we spent about two hours just soaking in the pools and goofing off in the waterfalls. There were a few other people but they all left, leaving us alone.

Seven Falls (Compare this image to one from 1948.)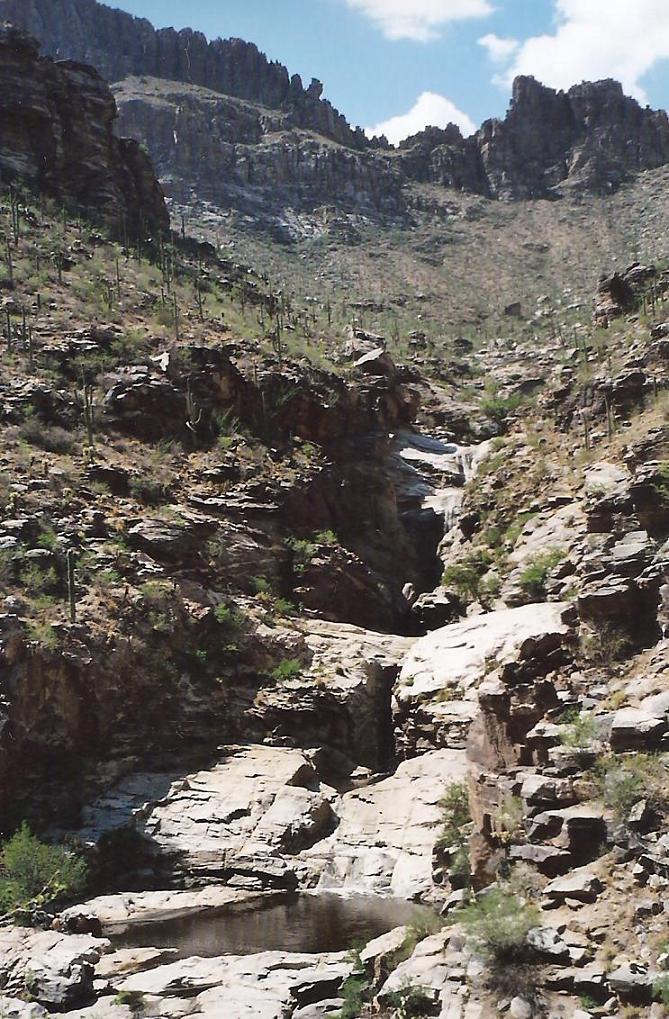 View from higher up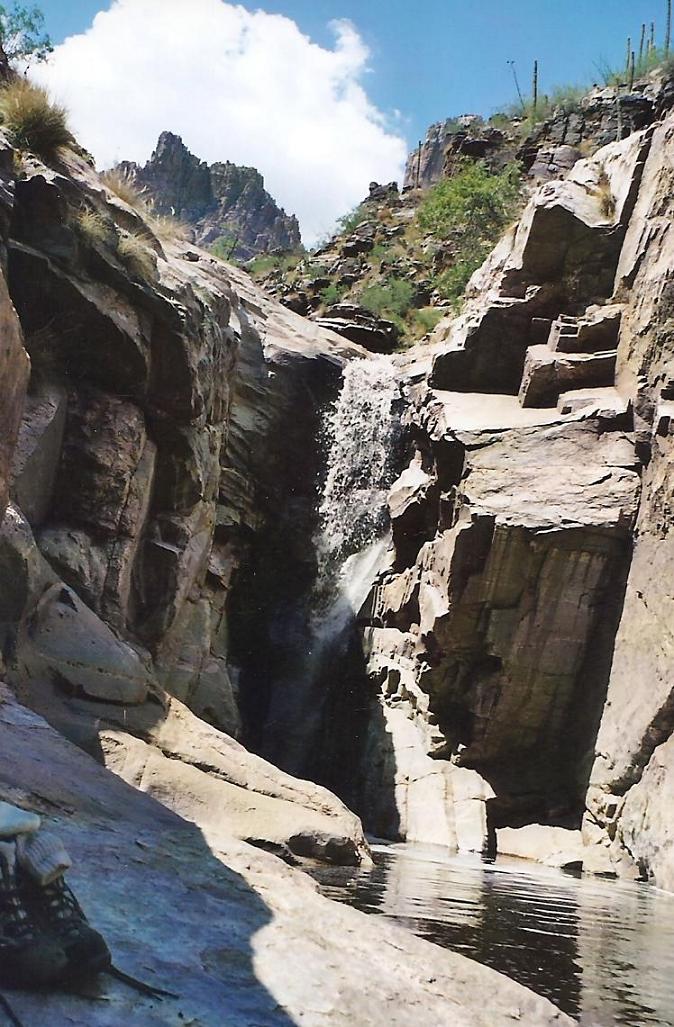 Flowing water!
We left soon in order to catch the shuttle back to the parking lot. It was gruelingly hot by now, about 107 degrees. Our clothing was sopping wet, and this worked well as we could let the natural evaporative effect cool us off as we walked the couple miles back to the trailhead. When we returned to the shuttle depot, our clothes were dry by now, the shuttle depot was just a bench with no shade, and we had no idea when the shuttle would actually show up.
Rather than sit in the hot sun waiting for a shuttle, we started walking back to the visitor's center. We figured if we saw the shuttle coming up, we could wave them to stop and get on. But they never did come by. We walked all the way back to the visitor's center as they were closing things up for the day. We nearly ran over one lady as she was shutting the access to the vending machines! We hadn't planned in walking almost four miles in this heat, and we were very much in need of some cold fluids, as you can imagine. Apparently they had no plans to run another shuttle that day, so it was good we walked back rather than wait like fools back at the trailhead. We were mad at them too. It should be a given to run one last shuttle each day just in case.
We found a Mexican food restaurant in town to have a dinner, plus drink about a gallon of ice-water each. This sets a record for the both of us: hottest hike of a non-trivial length. Hiking in 108 degrees sucks, but it's a fun story to tell. Nevertheless, we would recommend to not do what we did. Spring and Fall would be ideal times to visit, when it's warm but not terribly hot.

Bear Canyon looking south

In the pools
&nbsp