Petrified Forest National Park is an interesting place to visit, a lonely stretch of badlands and plains in the Arizona high country southeast of Holbrook. The park is essentially two parts: the southern part with the ancient stone trees lying about the crusty badlands, and the Painted Desert, a panorama of colorful countryside in the north segment of the park.
My first visit here was in 1994 with some college friends passing through. This time, we made this our New Years Getaway. We drove up the day before and got a hotel room in Winslow at the Super-8. The two women running the place were Navajo, highly amused we had deliberately come here instead of somewhere more interesting. They both had dreams of some day going to Lake Havasu City. We mentioned that it was just a four-hour drive west along Interstate-40, and to just go for it. We hope they did. Us, we were one of few people in the hotel. Our New Year's celebration was quiet.
On New Year's Day, we headed east toward the national park, entering it on its south end and stopping in at a few souvenir places that specialize in polished stones and geodes. It's bad form to pick up and take actual petrified wood from within the park, so this little place allows one to buy such items without upsetting the cosmos. We picked up some geode bookends.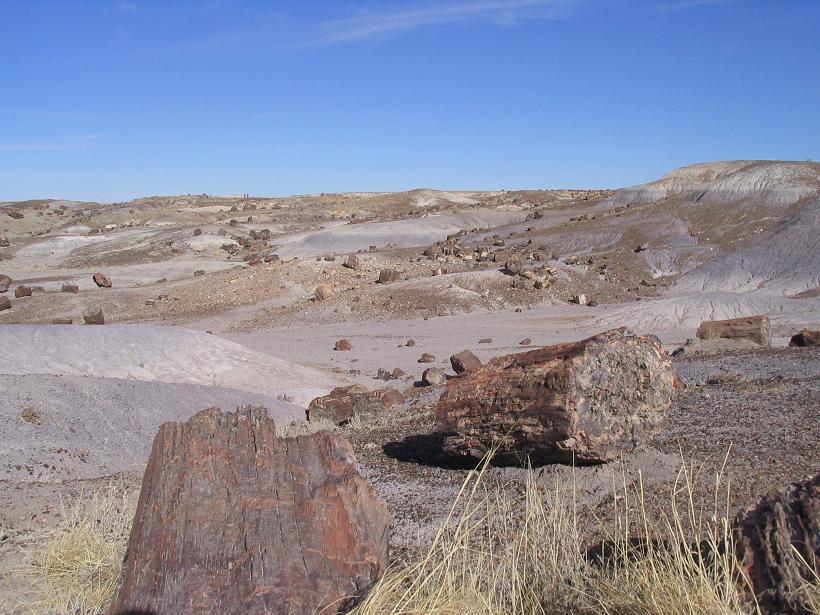 Petrified logs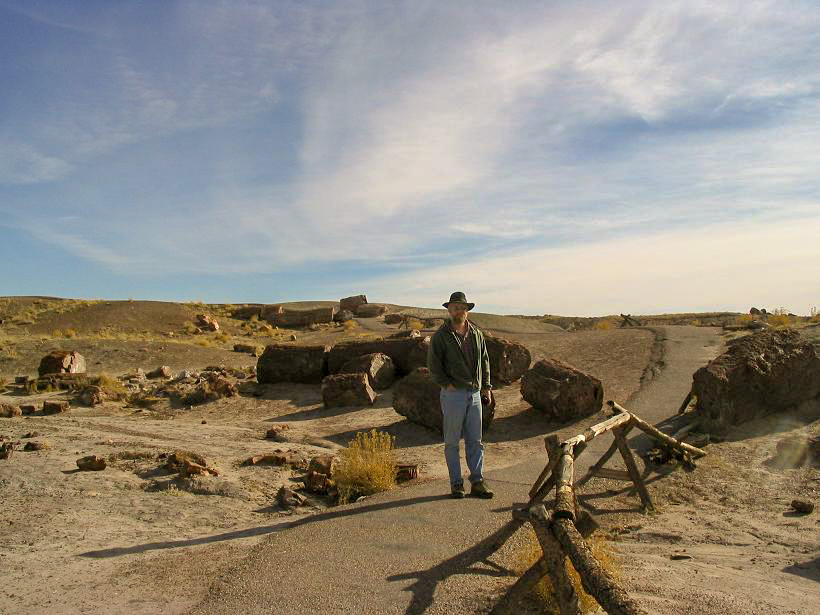 Me on the nature walk

More logs
Once we had our legally-bought rocks, we drove north into the park and stopped at a few overlooks and one place where you can walk an asphalt-path through a dense collection of the petrified logs laying everywhere. These logs are interesting to view, and larger than expected. The whole area is remote, the kind of place that best is described as "high lonesome". Also, not many people actually come here. We had a fun time and easy short nature walks.
Driving north, we stopped at the overlook for the Painted Desert. The land below drops steeply into a valley, with an extensive network of badlands eroded into wild maze-like shapes, colors ranging from gray to red to green to tan to ochre to umber to siena (my 64-color crayon set as a kid has come in handy). A lonely mesa called Pilot Mountain is off in the distance, the highest point in the national park. But getting there looks like quite a long hike amid badlands. We stuck around about an hour before moving on. We also toured the visitor's center, and overall spent about five hours within the park before driving back to Winslow.

Interesting fracturing

Pilot Peak

North 35, West 110 Confluence Hunt
On the drive back to Winslow, we (meaning I) took a detour onto Sun Valley Road, then north and east past homesteads and into the open featureless plains, a little south of the Navajo Nation boundary. This confluence is dull. As you can see, it was cold and breezy. Fortunately, the hike was short, and I was back to the car quickly, to resume our drive back to Winslow.
| | | | | |
| --- | --- | --- | --- | --- |
| West | North | East | South | GPS |
North 35, West 111 Confluence Hunt
The following day, we visited Meteor Crater, a fascinating crater from a meteorite that crashed into the Earth about 50,000 years ago. Then we drove south and east a few miles to seek out this confluence, which was easy to find in the wide open plain. Afterward, we continued south on ranch roads until we were in the Tonto National Forest, below the cliffs of the Mogollon Plateau. This took us eventually to highway AZ-87 into Payson and on home.
| | | | | |
| --- | --- | --- | --- | --- |
| West, Meteor Crater in back | North | East | South | GPS |
Return
&nbsp