Peak 2056 is the big peak that lies immediately north of Gila Bend. The Gila River comes in from the north, then bends west. The city of Gila Bend is mainly on the south banks, and the mountains on the north banks.
Matthias drove us, we were able to get pretty close, parking on an elevated bluff on the peak's east side, less than a mile to walk to its base. This was easy, of course.
The route then funnels into a canyon, and gets more rocky the farther in and up we went. There were about four dryfalls to clamber up, only one being Class 3 in my opinion. The canyon then opened up into an elevated valley, ringed on three sides by the mountains.
In the skyline was a triangular peak with a skewed profile. We went left up the chute behind it. The first half went very well. It was steep, but solid. Then it turns left and gets much more loose. We gained about 200 feet on this loose stuff, placing us on a tiny saddle, elevation about 1,890 feet.
I wasn't enjoying this, especially the loose crud, and decided to not continue. I'd lost the summit mojo in that chute. Matthias went on ahead. I watched him scamper up a rock pile, then once he was above the skyline, he disappeared. I waited about 15 minutes, then started down. We had agreed to meet lower down, below the triangular peak I mentioned. He was back after about 45 minutes.
The hike out went well, those dryfalls not a problem to scoot down except for the sorta Class-3 one, where some agile moves are needed to position oneself properly.
We hiked another peak, Peak 2272. For me, it was a way to salvage the day, to get one peak in the books. But I have no regrets. Every time I've ever turned around, I always felt it was the right decision.

In the morning as we start.

Partway up the canyon, big rocks appear.

Looking back out from the canyon.

Higher ridgeline.

We study our route. We went left of the skewed prow, here obstructed by a palo verde.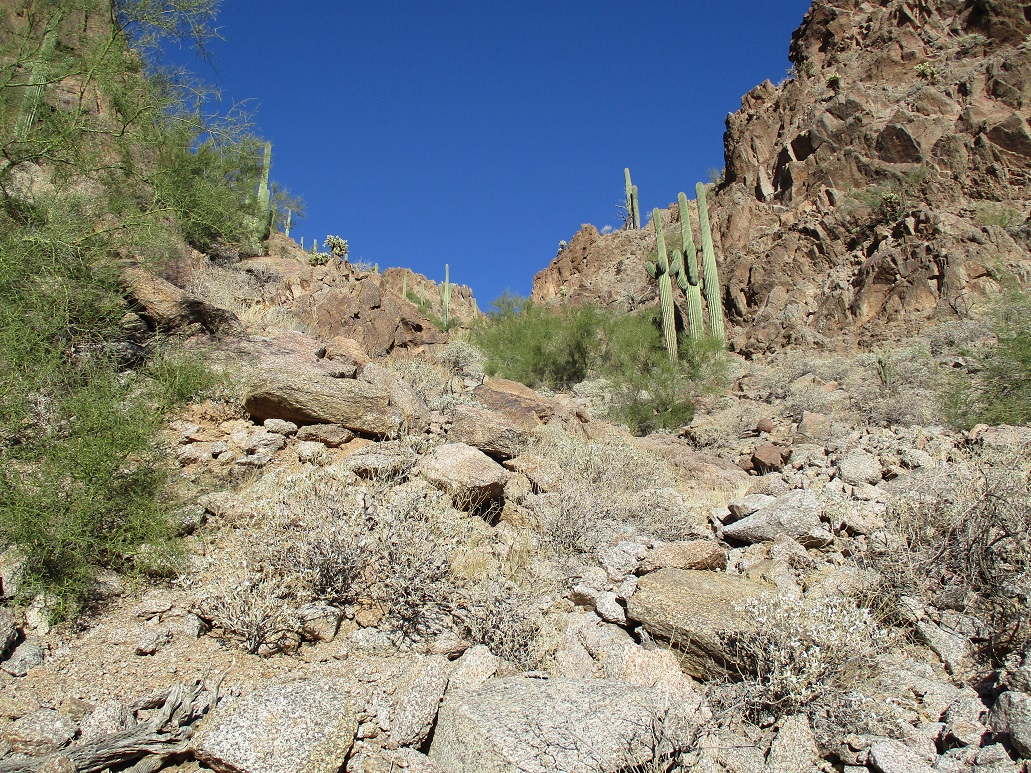 The gully.

At the top of the gully. I stopped here. View down. Yeah, steep.

This is what was above me. Not too bad looking, but sloppy. I had had enough.

Mountains to the northwest, Woolsey Peak the main big one.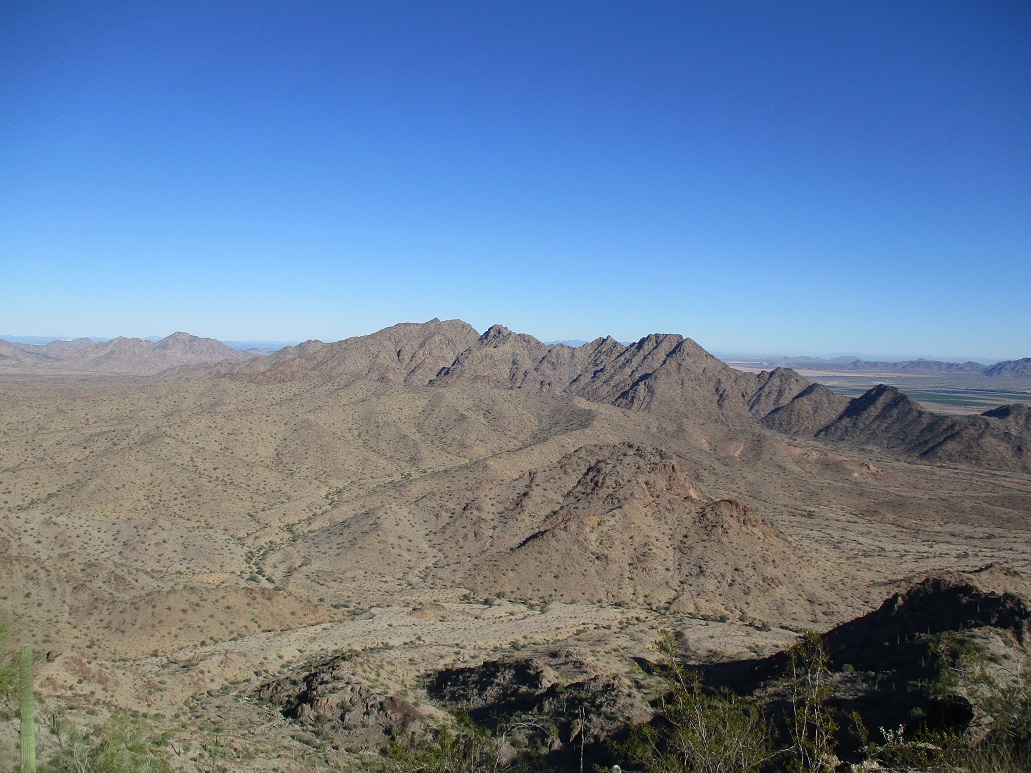 Nose Benchmark to the north.

Hiking down, some looking out the canyon views.

More canyon views.

Walking on the flats now.
. . . . . . . . . . .