Bluff Springs Trail starts at the Peralta Trailhead on the south side of the Superstition Mountains. My ostensible goal was to hike to Bluff Springs Mountain, then hopefully to its summit. However, if the summit was "not to be", then at least I would have had a wonderful hike on this wonderful trail.
I was up early and at the trailhead a little before 8 a.m., about the tenth car in the lot which can hold about 60 cars. I got onto the Bluff Springs Trail. It gains steeply and consistently, gets onto a ridge then runs along its side before dropping into the Bluff Spring Canyon. All the while, each turn revealing new and marvelous rock formations.
I got to where the trail drops to the main "river", for the moment a gentle flow about 8 feet wide. It wasn't clear to me where the trail resumed. I followed footprints and got onto a scanter trail that I assumed was the continuation of the Bluff prings Trail, but it wasn't. It kept going up and up, away from the canyon. I got in maybe a quarter-mile then turned around, back to the creek.
This time, I followed it upstream and found the correct continuation of the trail, near a massive cairn, but this was not visible from where the trail first entered into the drainage. Anyway, I was back on route. It gained up and over a ridge, then down again, Bluff Springs Mountain now in view.
The mountain is ringed by tiers of cliffs. There was a breach in the lower tier that appeared to be the de-facto route to the top. Most of my information was gleaned from the HikeArizona website, almost all GPS routes going this way.
I was able to get up and through this breach, but it was a chore. It was relentlessly steep and sometimes loose. I was actually in a position where the slope appeared to lessen and possibly be a stretch-run to the summit, but I simply couldn't get over to it. Going up just got things steeper, trying a traverse put me in severe exposure. I stopped, took a break, and called it. I inched back down. As always, I never regret such a decision. At those very moments, I now it's the right thing to do.
I hiked out the trail back to my car, now encountering hikers every few minutes. This trail is steep and can be rough, probably enough to scare off the lollygaggers. Also, it was warming into the 70s with an intense sun. But the sky was blue and clear and the views were outstanding. At that confusing part where the trail meets the creek, I found a couple who were as confused as I was. They too had started up that meager trail. I told them where to go and we had a good laugh because I am sure others have made the very same error.
Once back to the parking lot, it was jam-packed. Cars were lining up hoping a space would open. I tried to remember the last time I was at this specific parking lot and I think it was probably 15 years ago. It's the usual conundrum of a beautiful hiking and exploring region and the abundance of people who want to visit it. I am surely one of them too. It's how to keep the balance. I have no better answers, except to observe that parking is a limiting factor and one way to kinda-sorta keep control of the numbers is to not expand the parking.
It was a little after noon when I was back to my car, this hike covering about 6 miles round trip, about 1,200 feet of elevation gain when all my ups and downs are figured in. It was still early, so I chose to head south and check out some peaks that way. My story picks up here.
While I was unable to make it to the top of the mountain, I had a wonderful time, my first time on this trail. As for the mountain itself, I think a better route may be from the southeast where the cliffs appear to be less onerous. I'll go back, and use it as an excuse to hike another trail to it.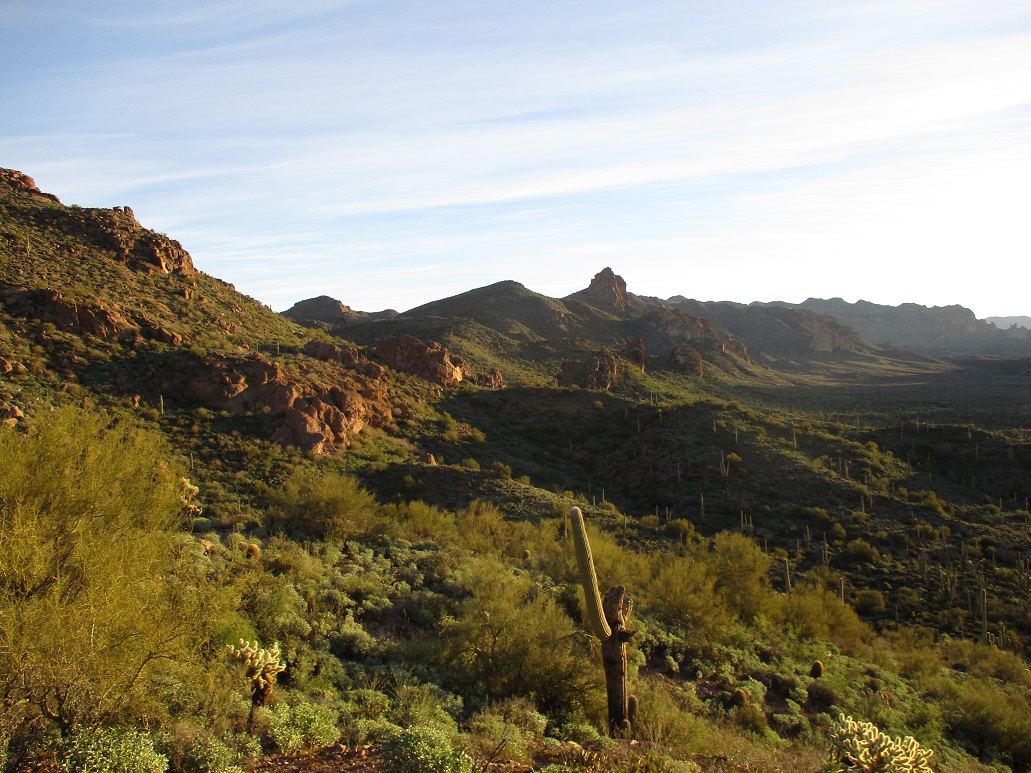 A spire peak in the morning light

Cool rock formations

Getting more into the canyons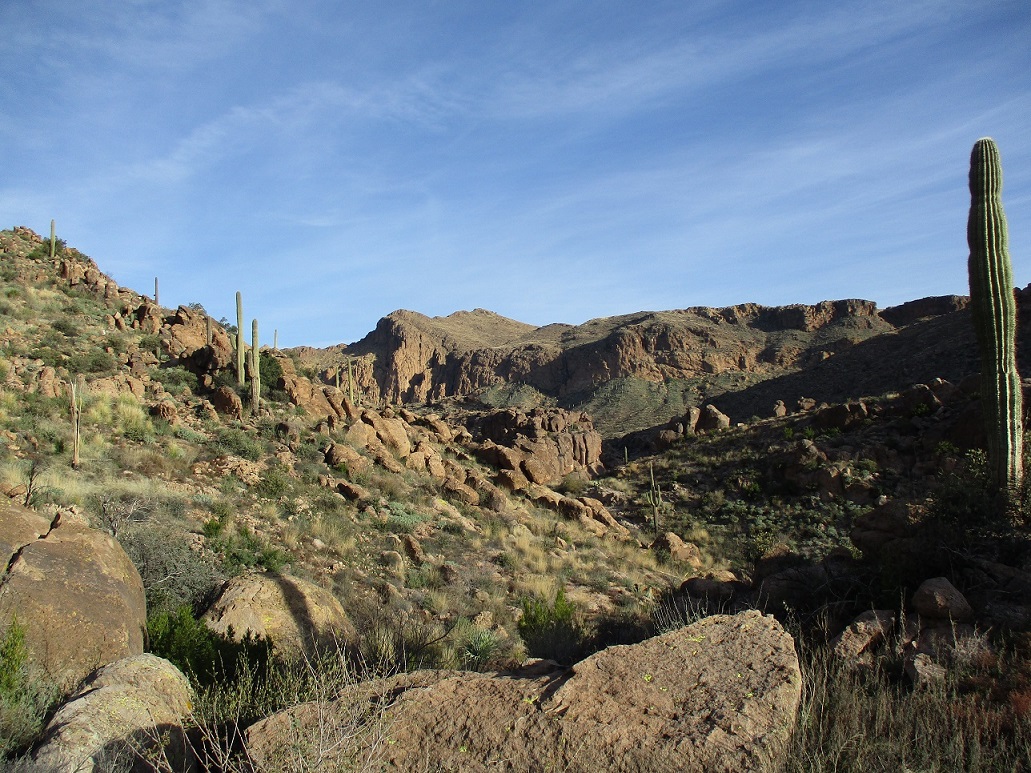 Bluff Springs Mountain summit, my objective for the day

A "closer" look at the mountain mass. I would attempt to climb that breach in the lower cliffs to the right

The breach from down low

Now almost into it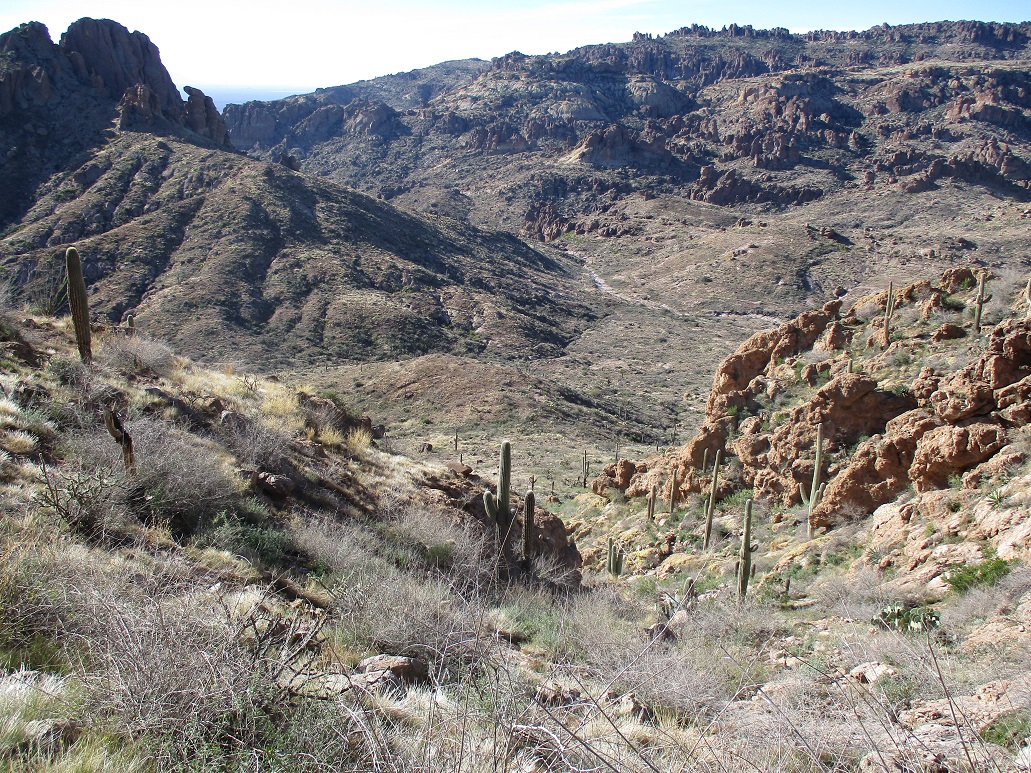 Now from above. I didn't get that much farther up before calling it
. . . . . . . . . . .