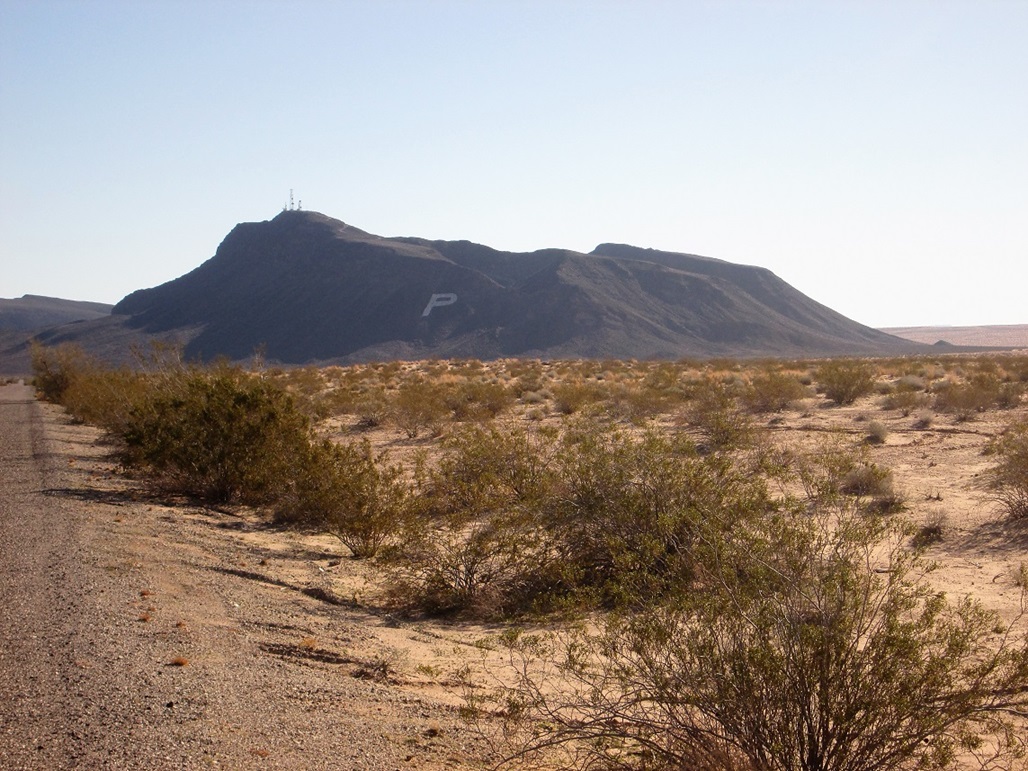 Black Peak from a distance away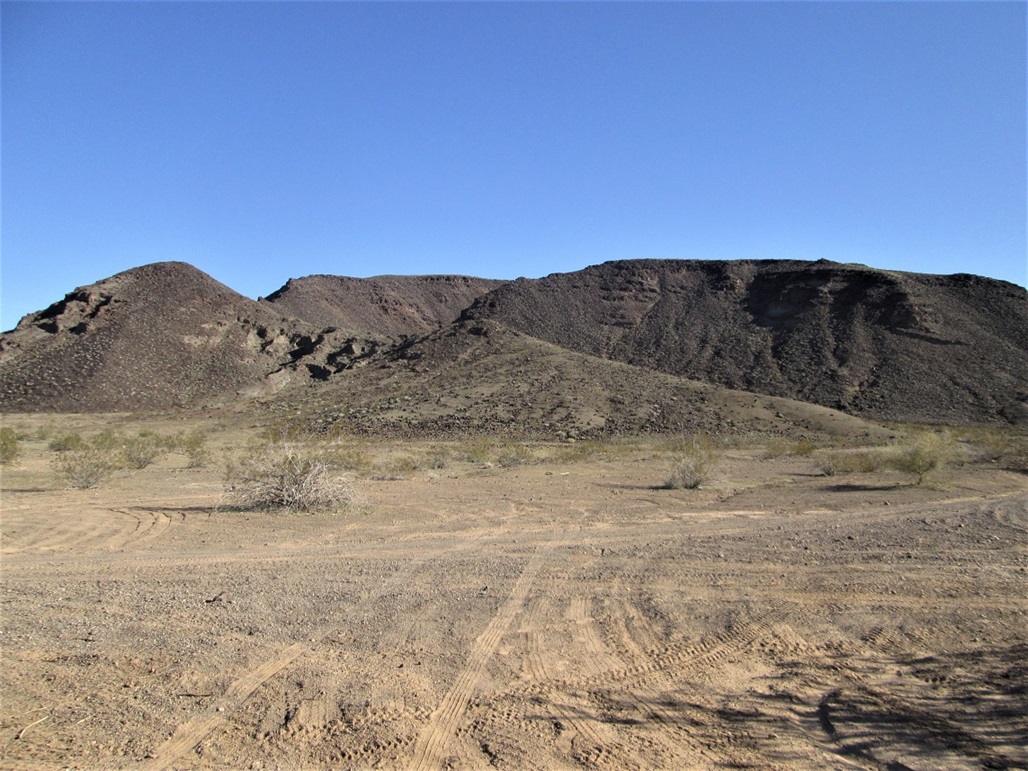 Start of the hike. The road goes
behind that foreground ridge

Now behind that ridge,
walking up the road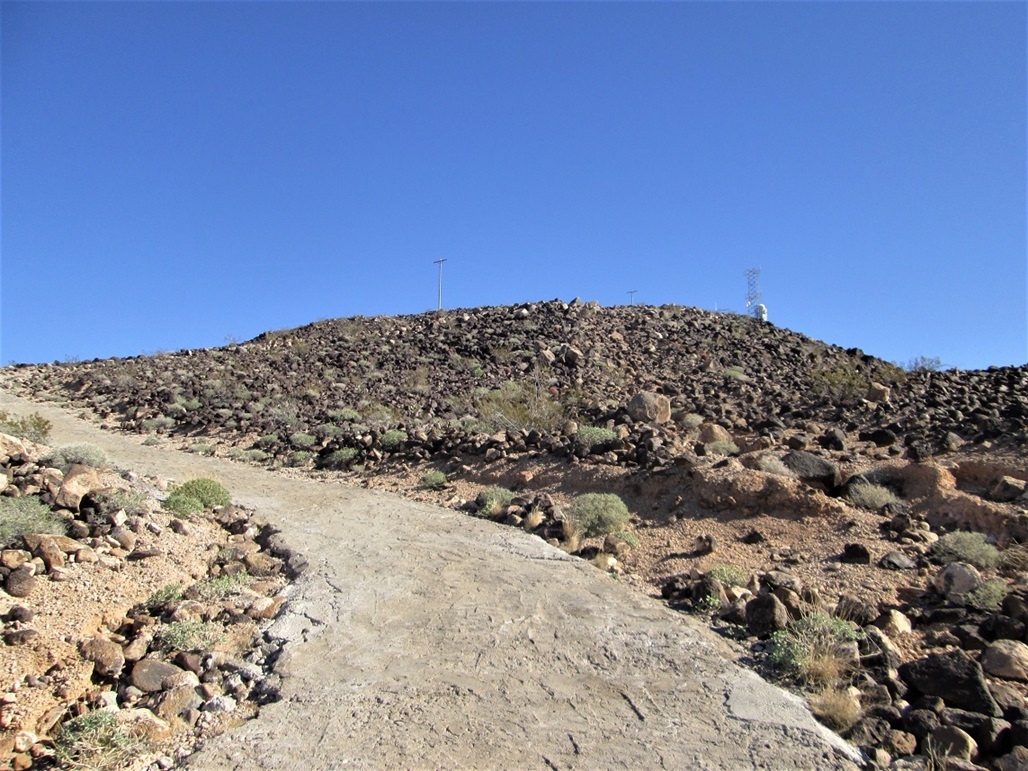 Higher up, the summit towers
come into view

The towers, with benchmark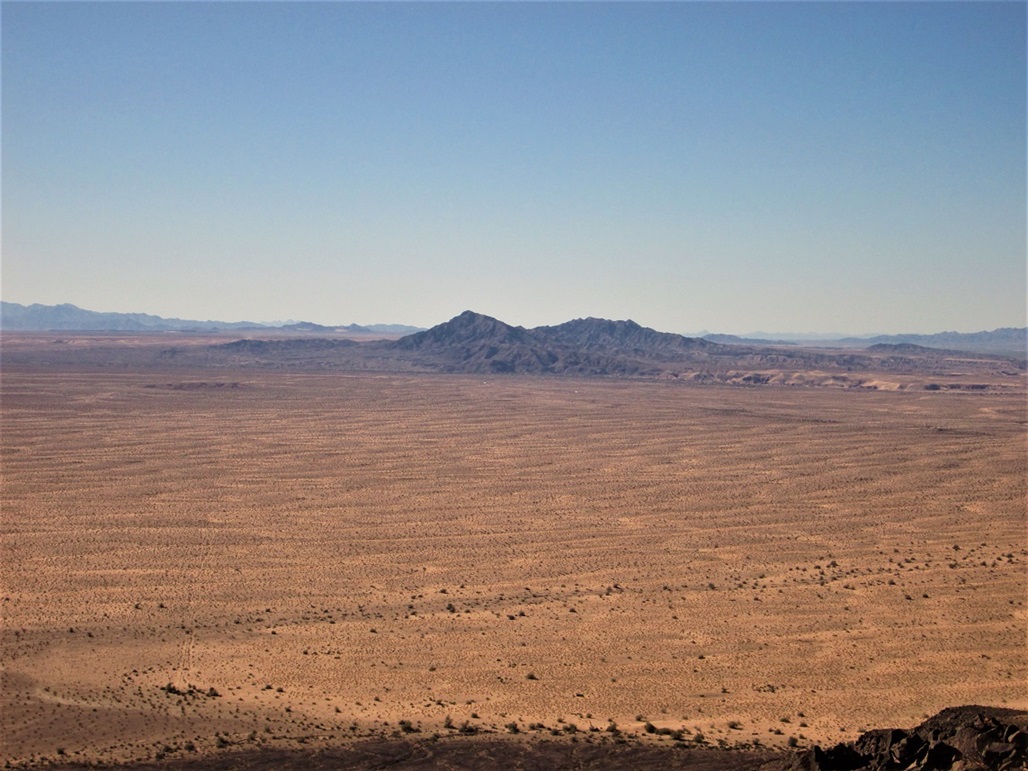 South view toward
Mesquite Mountain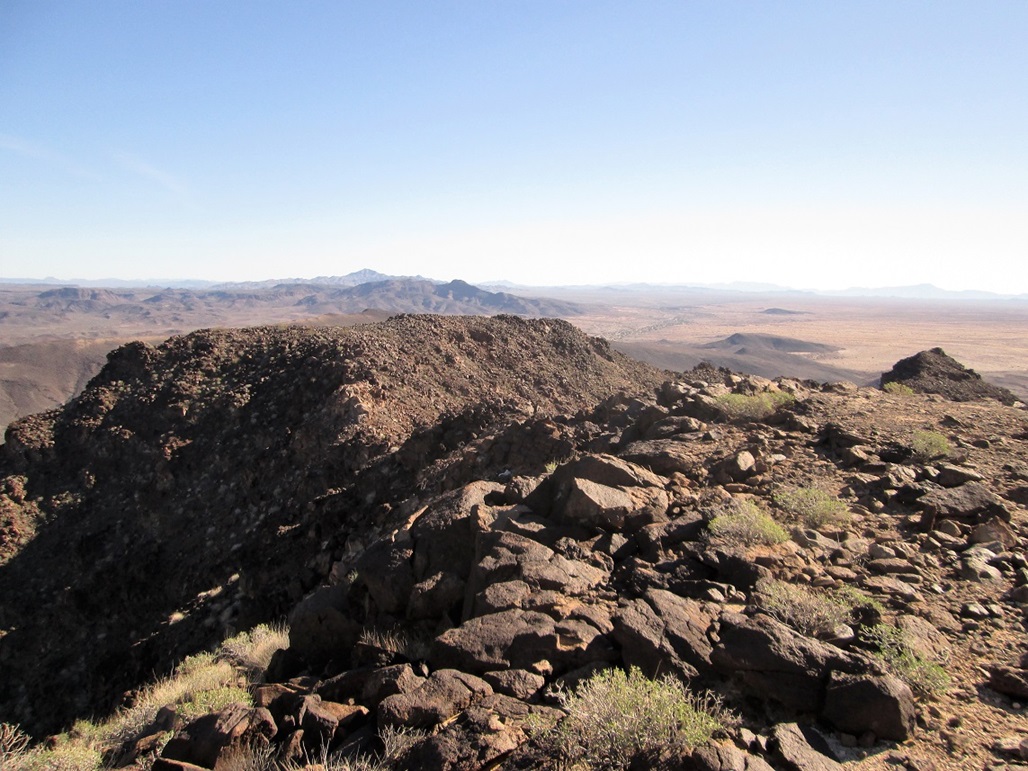 East view. I think that's Gibraltar
Mountain in back with more of the
Buckskin Mountains farther back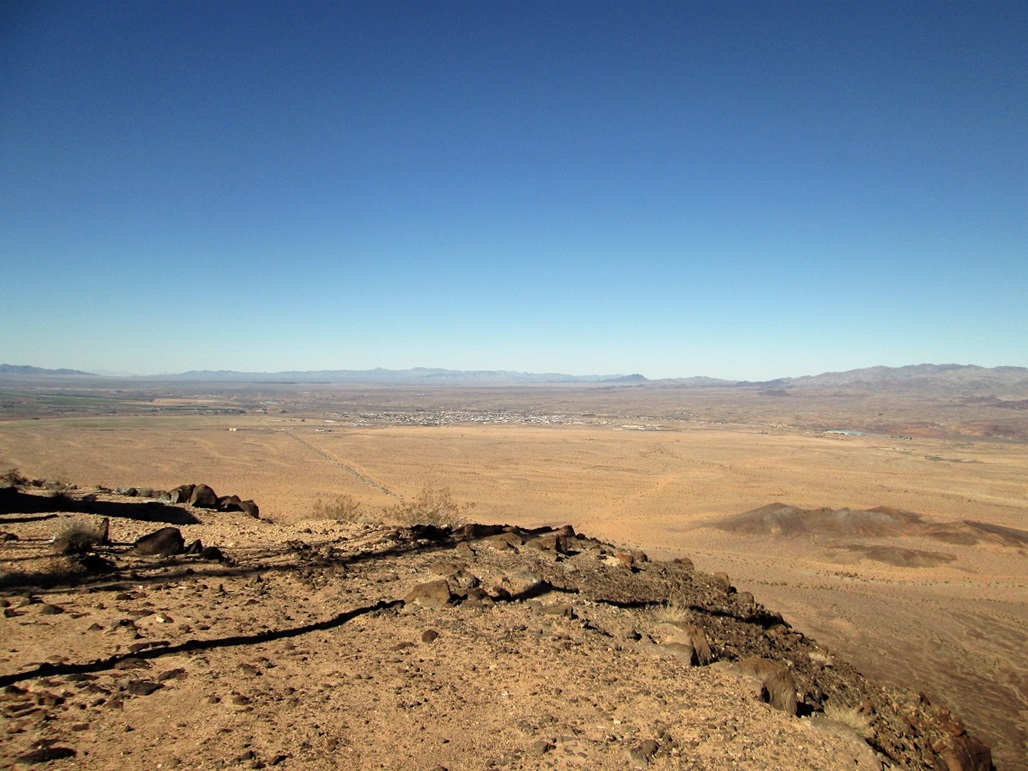 View toward Parker

The road switchbacks
down the ridge

Steep section within the canyon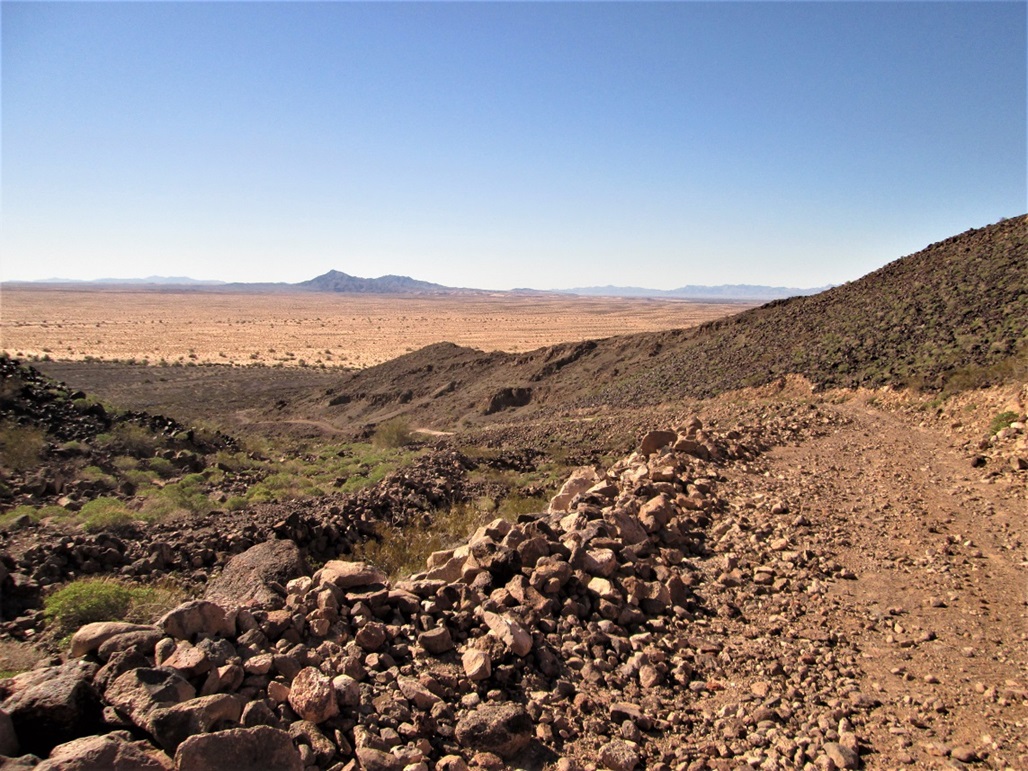 Almost out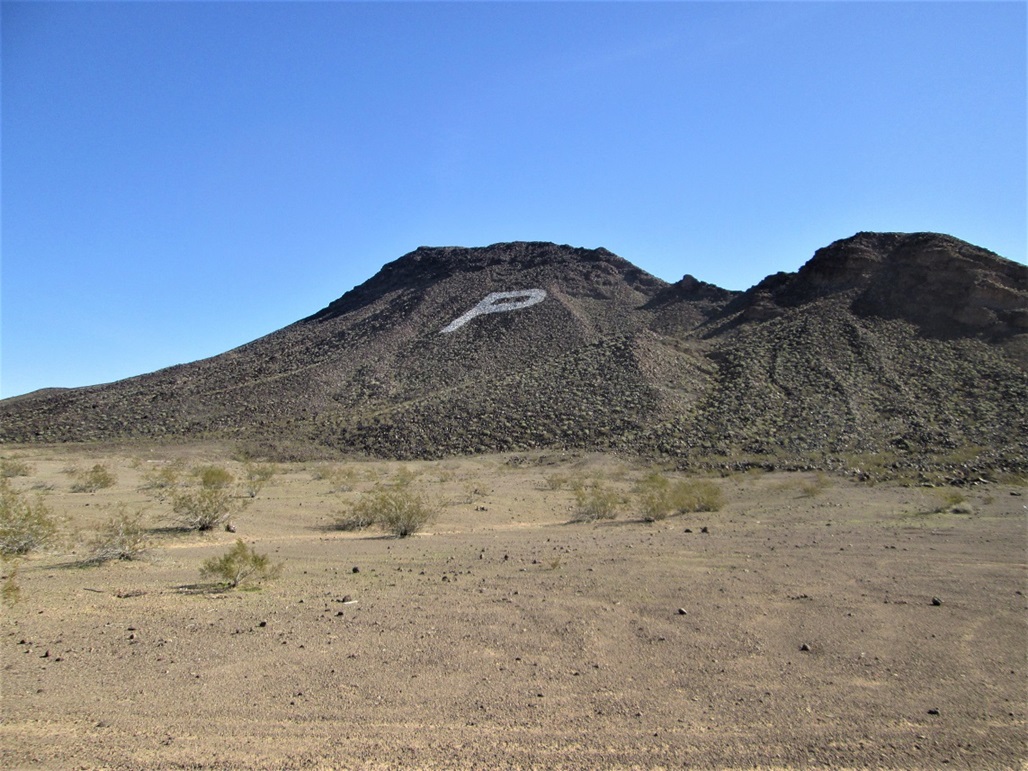 The P up close.
&nbsp
Date: January 29, 2017 • Elevation: 1,665 feet • Prominence: 865 feet • Distance: 2 miles • Time: 1 hour and 15 minutes • Gain: 1,080 feet • Conditions: Cool, crystal clear
Beth and I returned to the Buckskin Mountain State Park, located directly astride the Colorado River about 12 miles north of Parker. We stayed here in 2005 and enjoyed it very much, but did not return until this weekend. Despite its name, it's a flat patch of land along the river, with spots for RVs and cabana structures for tent camping. We camped literally within ten feet of the river.
This section of the Colorado River is hemmed in by two mountain ranges, the Whipple Range in California, and the Buckskin Mountains in Arizona. The river cuts through canyons, and a number of public and private "resorts" line the river on both sides, along with small towns, all catering mainly to boaters and water-skiers. The craggy hills that line the river usually don't rise more than a couple hundred feet above the river, but they form a beautiful backdrop. The Buckskin Mountain State Park is low key, not full of loud partiers.
We left home about 4 p.m. and arrived to the park a little after 7, the sun already set, a 200-mile journey. I got the tent erected, then we sat around camp and enjoyed the quiet and the dark skies, tonight being a new moon. Venus was low in the western sky, by far the brightest object in the sky tonight. It set before 10 p.m.. The stars of the Milky Way formed a band from south to north. The air was so dry, even the faint stars could be seen clearly.
The next day, I let the sun rise a little more to warm us. I had a hike on the agenda, a simple walk-up of Black Peak, a peak east of Parker notable for its towers on top and a big white "P" painted (?) into the black basalt rocks that form this peak. The peak only rises to 1,665 feet elevation but has over 800 feet of prominence. It is the main western-most peak of the Buckskin Range, set apart a few miles from the main bulk of the range. I chose to hike this peak because I knew it would go fast, and did not want to leave Beth alone all day back at camp.
I left camp at 9:45 a.m., drove into Parker then out of Parker on AZ-95. Just south of town, I turned left onto Shea Road, with Black Peak and its P easily visible about three miles away. Shea Road is paved but not maintained, and there were many potholes. I drove to where the road bent left, me turning right onto a sand track.
This would be a real test for our new (August 2016) Subaru Forester. I had not yet taken it on any kind of rough road until now. The road was soft sand for about the first two hundred feet, with ruts and a couple high centers. I kept up a good speed and motored right through the sand, yawing once or twice, but impressed how cleanly the all-wheel drive handled the sand. Quickly, the road bed became firmer, and the rest of the 1.5-mile drive was very easy. I parked in a small glade of trees near spot elevation 581, where a road branches off toward the summit.
The hike was as easy at it appeared on the map. The road entered into a south-facing canyon, then angled east. The grade was steep but not too bad, perhaps 15% at most. It was covered over in concrete and ungated. Within the canyon, the road becomes much steeper, about a 35% grade, causing me to lean way in as I hiked upward. Going by when people wrote their names into the soft concrete, the road was put in starting around 1971 and up through 1980 (two such dates I saw). I never really stopped, and I covered the 1,080 vertical feet and one mile in a little over 30 minutes. Not surprisingly, I never saw a soul.
The top is full of towers, the summit itself between two such towers. A small mobile generator sat on the very summit on my visit. With the clear and humidless skies, I had great views in all directions. I took a few photographs, but didn't stop. I tagged whatever highest rocks I could find, but spent at most 5 minutes up here.
The walk down was easy, except for those parts when I would slip on gravel. A couple times I had to catch myself from taking a tumble. I took small steps and puttered down the road in a half hour. I was soon back to the Soob, my total time on the hike barely 75 minutes. It was a fast hike, but enjoyable, and I got more conditioning in, plus a good calf workout.
By now, there were more people out and about, just a handful of dune buggiers, and off in the distance, dirt bikers going by the noise they make. I took a few minutes to change clothes, then drove out. Wouldn't you know, in that sandiest section, where the road is only one car-width wide and you don't really want to stop, another car comes the other way! I saw this ahead of time and was able to bail onto the side, following a single track. I had to bash through one small bush. The other car passed, and I was back onto the "main" track, and soon, back onto Shea Road.
I stopped to inspect the vehicle, then got back in and drove directly back to our camp. I had been gone barely two hours. Beth was doing well, with her Kindle and her new sexy kitty-hat. It was a little after noon. I relaxed a little with Beth, and also walked around the area just to see what was here. In the water, there were lots and lots of ducks. Every now and then, some guy on a boat would race past, a skier behind him. The ducks knew to scoot aside.
After about an hour, I went on my second "hike" of the day, to inspect the hills above camp...
---
Lookout Hill Hike & Our Camping Area
A small hill overlooks camp, and I wanted to hike it and see where the trails went. The trail starts near the entrance, and gains steeply at first but then levels. The hike to the top is short, perhaps a quarter-mile one way with about 100 feet of gain. And just like that, I was on top this hill with a bird's-eye view of camp. Other trails branch out and go across the highway. I did not inspect these but will add them to my "next time" list.
I hiked down and spent a little time at the small visitor's center, and also sitting on a bench watching the ducks again. Then, I was back with Beth, only having been gone about 40 minutes. I was bushed by now and took a small nap in the tent. When 4 o'clock came, we then left camp for a short drive to Parker Dam...

Our tent along the Colorado


Beth with her kitty hat on


Looking south

&nbsp


I'm on top the "Lookout Hill", our camp is farthest away along the left side


Zoom view


Hiking down, interesting promontory
---
Parker Dam
Just up the road is Parker Dam, the last big dam on the Colorado before it enters Mexico. The dam was built in the 1930s and created Lake Havasu. It's not as gigantic as the Hoover Dam, but it is pretty impressive. It's about a hundred feet above the water on its lower side, while the dam itself was sunk another 230 feet into the bedrock, making it one of the "tallest" dams if you include that subterranean height.
From camp, we got onto the highway (AZ-95) for about five miles, then eased onto Parker Dam Road and soon, we were at the dam itself. We crossed into California and parked. The public is not permitted on the dam itself, but there are spots along the side for photographs and observation. The dam has that cool art-deco look of things built in the 1930s. There were ducks below the dam!
We then drove a few miles south, paralleling the river. At one point, we came upon a wild burro standing in the road. We slowly eased past him and took a photo. After a few more miles, we decided we'd seen what we wanted to see and returned to camp. We spent the remainder of the day hanging around the area as the sun set and night fell.
Early the next day, I broke down everything and we left for home. We had a great time and wondered why we had not been back since 2005.

Parker Dam


The water to the left is Lake Havasu

&nbsp


Big crane structure, with warning sign


Wild Burro!