Live Oak County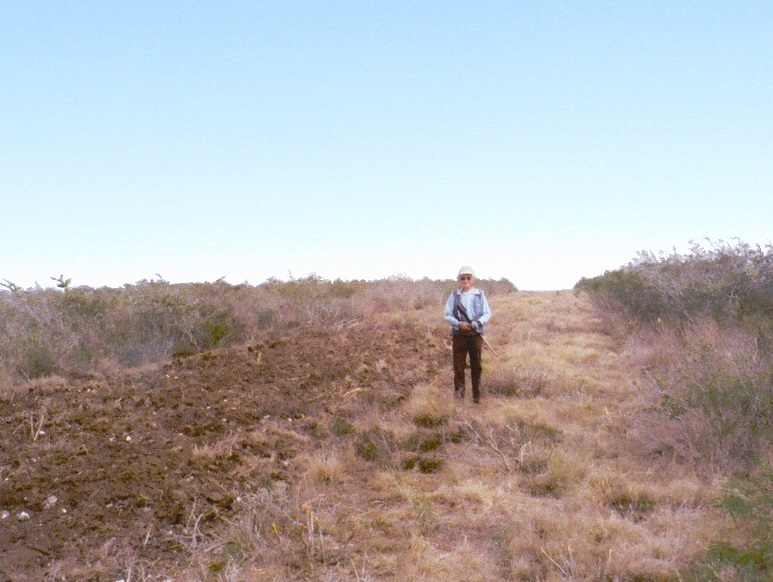 Bob
McMullen County

Fuel storage tanks
Jim Wells County

Highpoint area
Kleberg County

Me
Brooks County

Isabela Hill
Cameron County

Probable highest point of Cameron County
Hidalgo County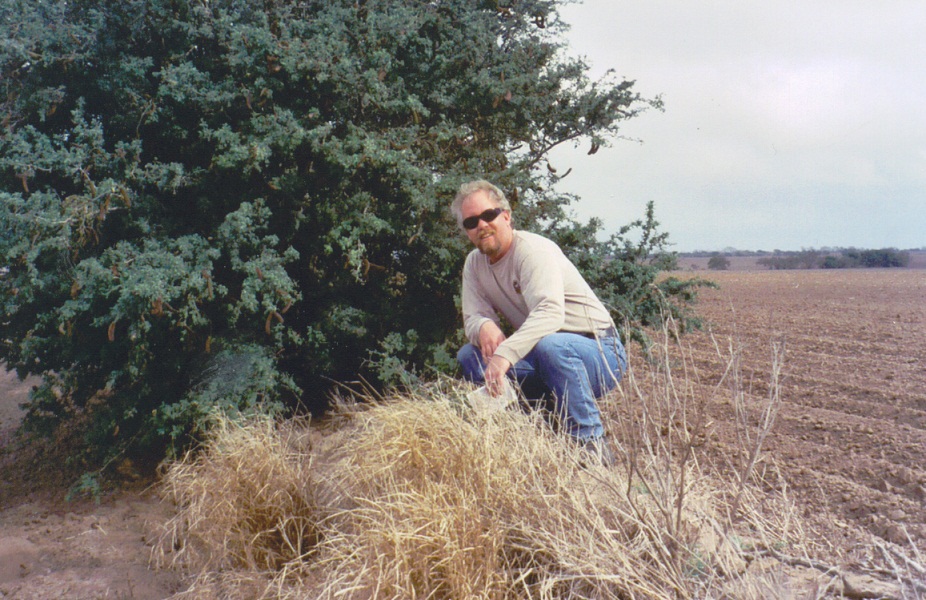 Me
La Salle County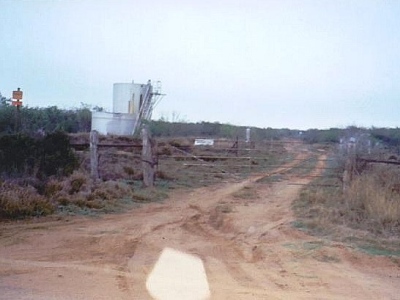 South area

North area
Southern Texas County Highpoints
South Texas is flat, sandy and full of brush. There is very little variation in the topography, and nothing exceeds a thousand feet in elevation. I was here in November 2001, thinking I could pick off a dozen or so county highpoints. On the maps, they look easy, most being near a road or track. However, while this may be true, they tend to be fenced off from the public, and I had limited success on that 2001 trip.
Bob Martin and I discussed a return trip to the area for January 2004. He had his own reasons for wanting to come back. Together, he and I would make an honest effort to visit each county's highpoint, or discover why we couldn't access it. We were successful on about half the counties we tried.
Late the night before, I flew into San Antonio. I had a small Ford truck rented, but the guy at the counter wanted to try to get me into some little no-clearance sporty car, telling me how sweet it was. I got my truck after resisting his sales pitch. I stayed the night in George West, about an hour south of San Antonio.
| | |
| --- | --- |
| Hill 532 & three other areas | • Highpoint: Live Oak County |
Date: January 13, 2004 • Elevation: 532 feet • Distance: 3 miles • Time: 2 hours • Gain: 50 feet • Conditions: Calm • Teammate: Bob Martin
Texas • PB
Bob and I met in the town of George West at the junction of highway US-281 and FM-889. This meeting point put us very near the highpoint areas of Live Oak County.
There are four areas that we needed to visit. They are clumped in pairs of two. We went west on FM-889 to where the pavement ended, then west some more on the hardpack continuation to a highspot in the road straddling the first two areas. The signs all said "Rhodes Ranch", but the whole area seem unused for the time being.
We parked and hiked south into the brush, hopping a gate, then following cow-paths and some pre-entered GPS coordinates, we got to the highpoint without too much trouble (or thorns). This point had some rise to it, so we felt good about reaching it. Hiking out, we beelined back to the road, this time battling the heavy brush all the way back.
There is a smaller area north of the road. We hiked to it and found some old junk lying there. However, this area on the map is so tiny that it statistically has zero chance of being the highest point. Back to our vehicles, we were actually closer to the highpoint of McMullen County, so we detoured west to visit those, then back east to finish off the other pair in Live Oak County.
We then located ourselves near the junctions of US-59 and FM-1369 in the community of Clegg, entering onto an apparently-private road. However, the gate was open and a sign said to drive carefully and keep to the speed limit. A worker in the area saw us enter and he paid us no mind. So we felt okay being here.
We drove this road two miles to the Dos Sombreros Ranch and parked. We hopped a gate, putting us onto a swath of cleared land that seemingly went over the top of one of the highpoint areas. From the vehicles to here covered about a quarter-mile.
The second area was a quarter-mile north, but blocked by thick brush. We hopped a fence and battled our way to this second area as best we could. This portion of the hike was a chore and besides, the area itself was smaller and probably not a likely candidate anyway. We walked out following another cleared path back to Bob's truck. I had parked back on the highway, so we drove back so I could get my vehicle.
| | |
| --- | --- |
| South of Loma Alta | • Highpoint: McMullen County |
Elevation: 680 feet • Prominence: 10 feet • Distance: 0.2 miles • Time: 30 minutes • Gain: 20 feet • Conditions: Same
PB
I've actually been to this god-forsaken point on the planet twice, the first time in November 2001.
McMullen County's highpoint is amid a set of oil storage buildings on its southern boundary, a few miles south of the community of Loma Alta along a dirt road. A total of five miles of driving from Loma Alta put me at a bend in the road near the three storage tanks. The southernmost tank was just across the county line in Duval County.
I worked around a gate and hiked the road to top out on the broad hilltop. I walked south toward the tanks and walked around them. One area near a small building has a 680-foot contour, but it didn't look like much. Some man-made berms designed to catch the oil if the tanks should fail were obviously higher than anything else, but seeking out a natural highspot proved to be challenging. I walked around, then out toward some small piles of rock near a gravel pit. These little bumps had mature brush growing on them, and I decided to call it good after a few minutes, hiking by line-of-sight back to my car.
What an ugly area.
In 2004, I returned with Bob Martin so he could tag it. It was as ugly as I remembered it.
| | |
| --- | --- |
| Hill 450 southern area only | • Highpoint: Jim Wells County |
Elevation: 450 feet • Prominence: 40 feet • Distance: 2 miles • Time: 30 minutes • Gain: 90 feet • Conditions: No change
PB
We drove into Jim Wells County via FM-624 and FM-3469. We then followed hardpack local roads and actually entered into Duval County, where I parked my car and rode the rest with Bob in his truck. There are two highpoint areas in Jim Wells County. One is much larger than the other and most likely contains the highpoint.
We came upon the smaller northern area first. It was set way back behind brush. We could find no easy way to get to it, so we decided to skip it for now and see about the larger, southern area, the one we deemed to be the true highpoint. There was no use trying to get to this measly northern area if we could not visit the likelier southern area. That was our logic.
We kept to the main road, whatever its name was, until we came to Jim Wells County Road 172. The highpoint is a gentle hill about a mile back from the road, and we were able to drive closer to it coming in from the north. We parked at a gate and squeezed through it, walking an old road to the top of the hill, the brush very light.
The top was cleared and apparently held a residence. There was some charred wooden remains, a foundation, and a standing stone chimney. We felt the highpoint was a little south of the old house. After a few minutes walking the area, we returned to Bob's truck. We actually gained 90 feet on the hike.
Studying the maps, we felt this southern area nearly certainly was the highest point and hence, did not bother to return to that smaller northern area. Much later, studying Lidar data, it suggests that higher spot elevations are found at this southern area, affirming that Bob and I had it right way back in ought-4.
| | |
| --- | --- |
| Hill 150 northeast area | • Highpoint: Nueces County |
Elevation: 150 feet • Prominence: 10 feet • Distance: 0.2 miles • Time: 15 minutes • Gain: 10 feet • Conditions: dusky
PB
We drove to the town of Orange Grove and this time, Bob parked his truck at a gas station while I drove us both into Nueces County for its highpoints. Two 150-foot areas are the county's highpoint. One includes a house, so we were potentially looking at meeting some locals if it came to that.
In 2001, the access road to both highpoint areas were shut by gates. This time, one gate was open, so I drove us in and in three-tenths of a mile, we were at the larger eastern area. We walked into a field near an old shack. Here, we sight-leveled to the western area. Both Bob and I felt that we were higher here by a few feet. There was no need to visit this other area. Some information we had was that the people there weren't too friendly anyway.
Bob summed this highpoint perfectly: "For the birds". The day was growing old, so we backtracked into Jim Wells County and set ourselves up for a real hike tomorrow morning on the King Ranch.
| | |
| --- | --- |
| Point 168 & three other areas | • Highpoint: Kleberg County |
Date: January 14, 2004 • Elevation: 168 feet • Distance: 6 miles • Time: 2 hours • Gain: 30 feet • Conditions: Overcast
PB
Yesterday, Bob and I arrived into the community of Ben Bolt at the junction of FM-2508 and US-281 in Jim Wells County. It was late in the day, so we spent the remaining sunlight driving FM-2508 east, scouting for places to park for tomorrow's hike. South of FM-2508 are fields and pastures, and set back three-quarters of a mile, a continuous stand of natural large-growth trees. These trees run along the Jim Wells-Kleberg county line, and is the north boundary of the famous King Ranch. The highpoints of Kleberg County all lie on this ranch.
During our scout, we drove in one of these field roads to a guy sitting in the bed of his truck, a rifle on his lap. We thought he might have useful information. He was "hunting", and not too pleased when we rolled up. He turned out to be of no use to us, so we left him alone.
When darkness rolled in, we drove to another nearby Farm-to-Market highway, FM-1352. This road dead-ends into the Texas brush country, so we figured no one would drive by to bother us. We found a spot and parked, settling in for the night. The plan was to sleep in our cars.
I joined Bob in his camper for dinner when two Jim Wells County Sheriff's deputies showed up. They were curious why we were here. We told them the truth and they seemed okay with our story. They told us that this road gets all sorts of teenagers and partiers and drinkers. We said that since two old guys like us were here, maybe the teenagers would go party somewhere else. They liked our way of thinking and let us stay. I slept in my rental car in the front seat. The coyotes howled all night.
Early the next morning, we drove back to Ben Bolt, where I parked my car in a church parking lot and rode with Bob. We drove back to that side road where the guy had been hunting. The road was now closed with a single strand chain-link wire. Bob parked underneath some nearby big trees and we started walking south along this road, aiming for the bigger trees off in the distance. In a few minutes, we were at these trees. We scooted under a fence and onto the King Ranch property.
The change in scenery was dramatic. On the King Ranch, the flora was essentially undisturbed and unchanged from how it was for the past eons. The only hint of man's presence here was a narrow, badly-thrashed road that paralleled the trees that marked the northern boundary.
There are four areas, each within 165-foot contours, with one area showing a 168-foot spot elevation on the map. Three areas are on the northern boundary, so we walked this road east for 0.4 mile, and in the process covered two of the areas, each time sensing the barest of rises. We then walked west for 1.5 miles to the 168-foot area.
The fourth area is south about 0.4 mile. We walked through open country and ranch roads to this last area. All of our positions were verified with GPS, and we felt this southern area may be the highest as it had a noticeable rise. We didn't waste time, and quickly hiked back to the north fence line and off of the King Ranch property, our total time on the property about an hour.
We were back to Bob's truck after three hours and nearly six miles of hiking. I picked up my vehicle and we convoyed into Falfurrias, where we intended to try our luck with Brooks County, one that I failed on back on 2001.
| | |
| --- | --- |
| Isabela Hill | • Highpoint: Brooks County |
Elevation: 431 feet • Prominence: 74 feet • Distance: 3 miles • Time: 1 hour • Gain: 100 feet • Conditions: Overcast skies
PB
In Falfurrias, I parked and rode with Bob into the hinterlands of Brooks County. I was here in 2001, but everything was fenced. Frankly, I wasn't too optimistic on this second visit either. It all looked the same as it did in 2001.
From Falfurrias, we followed FM-3066 west to its end two miles later, then west some more on poor-quality hardpack for another thirteen miles to a left bend in the road at Los Compadres Ranch. We went south two miles to County Road-111, then west a mile to a rise in the road. We weren't necessarily in the middle of nowhere, but you could see it from here.
Signs in the area suggested this to be the Isabela Ranch. The highpoint is a brush-covered dune set back about a mile behind the Isabela Ranch buildings. With nothing to lose, we drove in and greeted some guys working there. Since the guys looked young, I was selected to greet them. Two guys seemed cool but were hesitant to grant us access. A third guy showed up, clearly a superior, and he said it was okay to go seek it out. Everyone was friendly.
Bob and I actually made a small error. We got a little turned around on our direction and did not realize the highpoint hill was just behind the buildings. Instead, we drove back to CR-111 and parked at a gate, then walked along ranch roads to the highpoint. We were able to get to its top by wriggling into the thick thorny brush, cactus and large trees. From here we walked out and right into the ranch again. We didn't realize how close we were.
Nevertheless, we were pleased to be successful, especially me since this was my second time to this god-forsaken corner of the world. While it's pretty, boy it is remote out here. We were back into Falfurrias by 1 p.m.
| | |
| --- | --- |
| South of Santa Maria | • Highpoint: Cameron County |
Elevation: 70 feet • Distance: 0.3 mile • Time: 1 hour • Gain: 10 feet • Conditions: overcast
PB
We were now in Cameron County, the southernmost county in Texas. From La Feria, we drove to the town of Santa Maria on US-281, where I parked and then rode south with Bob. The highpoints are three 70-foot areas south of Santa Maria, two of them directly along the Rio Grande. There are also a number of man-made levees that reach as "high" as 76 feet. The topographical map is a nightmare to read.
We came to the first natural 70-foot area, about a mile south of town along River Road. We turned west onto a field road to a small hump of land featuring some irrigation pipes and switches, about a quarter-mile from the main road. The fields surrounding this small hump were significantly lower, in some cases, as much as 10 feet. After a few minutes, we backtracked onto River Road (now dirt) and drove south a half-mile to the levee road that fronts the Rio Grande. This road is used by the farmers in the area as well as the Border Patrol, and is raised 10 feet above the surrounding fields.
We drove west for a mile to visit two spot elevations at 76 feet and 75 feet, respectively. We then traveled east about 3 miles, keeping track of our position by the bends in the road. Along the way we visited the man-made 75-foot contours near the La Feria Pumping Station. It was here that we caught the attention of a Border Patrol agent out on his rounds. He passed us, then turned around to check us out. We chatted with him and he was content to let us be on our way.
The final two natural 75-foot contours were found by heading south along a levee road not shown on the topographical map. The road then runs along the Rio Grande, before ending just north of the southern region. We walked onto these berms and tried our best to sense any "high" areas. We could see the Rio Grande and across the way, Mexico.
Afterwards, we drove back for my car, and we were on our way to the Hidalgo County highpoint.
| | |
| --- | --- |
| Hill 376 | • Highpoint: Hidalgo County |
Elevation: 376 feet • Prominence: 14 feet • Distance: 0.3 miles • Time: 30 minutes • Gain: 10 feet • Conditions: sunnier, humid
PB
We headed west from McCook along FM-490 about 2.8 miles and parked along the highway near a gated road leading to a gas well surrounded by a plowed field. The GPS had us directly south of the highpoint, but the features on the map did not agree with the field. The map shows some fencelines and a windmill at the highpoint. None of that was actually what we saw. But we did see an obvious swell in the ground, so we knew we were in the right place.
We entered the field by walking beside the gate. We followed a natural berm with mature trees to where it topped out. I stepped onto the berm. The entire adventure took 15 minutes, the only thing slowing us down was the soft, plowed dirt. Once back at the vehicles, we started making our way into the interior of South Texas.
Newer satellite images show this area now to be part of a big windmill-energy complex, a windmill smack on the highpoint these days.
With daylight waning, Bob and I had just enough time to visit one of the possible La Salle County highpoints, which we did. Scroll down to read that exciting tale. We then drove into Dimmitt County to camp, which is why the reports below may seem out of order at first.
| | |
| --- | --- |
| English Benchmark | • Highpoint: Dimmitt County |
Date: January 15, 2004 • Elevation: 871 feet • Prominence: 20+ feet • Distance: 1.4 miles • Time: 1 hour • Gain: 30 feet • Conditions: Cold
PB
We arrived in Carrizo Springs, the Dimmit County seat and essentially its only town, in the dark and in the rain. We drove FM-186 southwest for a few miles to where the pavement ended, and found some spots on the side of the road to pull into and car-camp for the night. It rained during the night and once or twice a truck would rumble by, but otherwise, it was completely dark and quiet.
Very early the following morning, we drove to the end of FM-3252, coming to a beautiful hunting lodge with imposing gates in front. There are seven smallish areas clumped close together that reach 870 feet. One contains the USGS "English" benchmark at 871 feet nearby the road. Signs at the gate called the place the La Bandera Ranch. Four of the areas lie nearby this lodge, while the other three lie outside this property in a field beside the road. All seven of the potential highpoint areas lie close by one another such that no one is more than three-quarters of a mile from any other.
When we arrived at this lodge, we saw some men standing around, so I got one's attention and he came to the gate. I told him of our request and he said I should talk to the guy inside. He let me in and I went in to speak to Gene, the guy's name. Gene listened, but did not grant us access. He did not elaborate. Just a single "no". I thanked him and went back to Bob with the news.
We drove back a mile and parked in a small clearing which abutted the field that held the three areas outside the ranch. A study of the maps suggested that, statistically, these areas may likely be highest, one being larger than the rest. In the early morning misty weather, we walked across the open field to this largest area. Getting to it was easy. We removed a much-smaller area about 500 feet southwest from contention using the sight level.
Using the sight level, we sighted to each of the other visible areas and using man-made features like fences, poles, the lodge itself, and even me, we were able to show that this largest area "probably" was higher than the others by about four feet. For example, I walked over to the English Benchmark, and stood there. Bob sighted toward me and told me that his level sighted above my head, taking his height into account, too.
Three areas on the "forbidden" property could also be eliminated with strong (in our opinion) probability from being higher than the large area. Here, we noted things like how the fence lines undulated and other features that we sighted toward, noting how far "up" we came to them. We even sighted to the lodge and the bubble placed us about halfway up the big building.
This left just one last area, located about a quarter-mile south of the lodge. We could not sight to it directly and of course, we were not going to walk to it. The map shows a set of buildings here. Physically, the area is smaller than the other areas. We surmised without direct evidence it "probably" did not hold any higher points of land.
We spent about an hour here, sighting all the areas we could back and forth, trying to double check whenever possible. My final conclusion was that the large area to the north was highest. The two nearby "legal" areas were conclusively lower. The three visible areas nearby the lodge were "with strong probability" lower, and that last area, "probably" lower. The most important thing was that Bob felt very good about our research. He declared us successful, and thus, so do I.
From here, we backtracked north and continued toward La Salle County.
Update 2023: Lidar maps to the 1-meter scale show that English BM is at 875 feet, and that no point south of the fence/lodge area exceeds 872 feet. So English BM is the apparent highpoint. Also, one should read Ben Lostracco's report from 2017, as he had a rather scary experience with a local while there.
| | |
| --- | --- |
| Hill 655 & other areas | • Highpoint: La Salle County |
Elevation: 655 feet • Prominence: 30 feet • Distance: 3 miles • Time: 2 hours total • Gain: 50 feet • Conditions: rainy, then cloudy and humid
PB
We drove to the community of Encinal, located at the junction of TX-44 and Interstate-35, and pulled into a Love's Truck Stop to read our maps. Just a few miles north, and seemingly close by some decent roads, was one of the five areas comprising La Salle's County highpoint. I was thinking we could go there and visit it, then use the darkness to drive a few hours, then visit the rest of the highpoints (a batch of four areas in its northwest corner) the next day. Problem was that we only had about 45 minutes before sunset and it was raining. We didn't relax much at the truck stop. I rode with Bob in his truck.
From the truck stop, we followed TX-44 west a half-mile and then a right onto a major dirt road heading northwest for five miles, then a right turn, now heading northeast for another 3.1 miles, parking beside a gate and some oil tanks marked "Burkholder". The GPS placed us due west of the highpoint area, which sits on the La Salle county line (we were in Webb county).
We squeezed through the gate and started walking a road heading southeast for three-quarters of a mile. Fortuitously, this road placed us dead-center in the highest region. As we walked back, we crossed another road and spotted two men, obviously Mexican, walking it. They smiled at us. Mexican crossers? Who knows. We didn't stick around to ask questions, and were back to Bob's truck in the dark.
Driving out, the rain had made the roads very slick, so Bob used 4-wheel drive to get us back to pavement. We returned to the Love's so I could get my car. We used this opportunity to clean up and get supplies. We spent the rest of the evening driving to Carrizo Springs and then on out to some lonely FM roads, placing us near the Dimmit county highpoint area, which we visited early the next morning.
We visited the remaining areas of La Salle County the next day around mid-morning. We drove into Big Wells along TX-85, where I parked at a mini-mart, and once again rode with Bob. Heading east on TX-85, we went about 11 miles and turned onto "Sandy County Road" (appropriately named), and followed it east-northeast about 0.8 mile to a road and a gate on our right, heading south-southeast.
We got lucky, as just ahead of us was a truck, and these guys were just passing through the gate, so I got their attention and asked about letting us on to go visit the La Salle County highpoints. The guys were amused that we wanted to willingly hike in what appeared to be flat brush land, but I assured them we were for real, and showed them our map, and they said it was okay. Not that they necessarily owned the land. They just let us through the gate, keeping it unlocked so we could make our way out.
Bob and I drove south about 1.2 mile and parked at another gate along the road. This area has four of La Salle County's highpoint areas, but only two looked like legitimate contenders as two of the areas are little tiny blips. The first area was 0.2 mile from us, the farthest about 0.7 mile, so we went and visited that one first, walking south-southeast along the road to a huge fence, then entering the brush, seeking out the high area.
From this high area, we sighted north to the other large area, saw that it was probably just as high, and went to it. We also sighted to the northeast to the other two areas and saw nothing as high as us.
To gain the last area we followed the internal network of roads and found ourselves atop this last area shortly. This area also had a hunter's blind. We exited the brush and got back onto the main road, and back to Bob's truck. We exited the area through the first gate, locked it, went back to Big Wells.
At this point, we were done. I needed to get back to San Antonio for my flight out. The rain started to pour about now, too, so stopping when we did was fine by us. We had a fruitful trip. I found out later Bob got a few more county highpoints after I left. I enjoyed the trip and my time with the king.