Reeves County: Bob and I at the highpoint cairn
&nbsp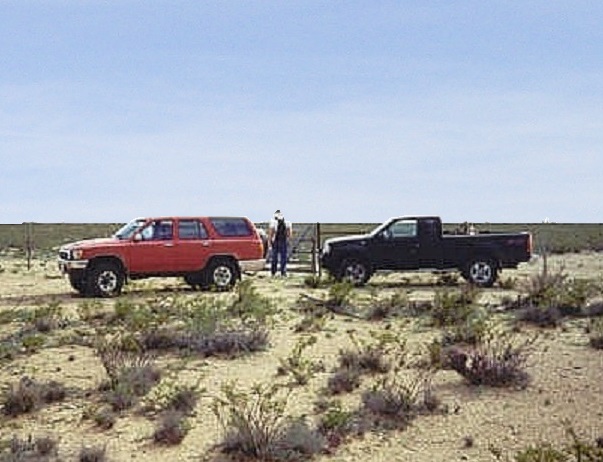 Ward County: Our cars parked near the fence
&nbsp


Ward County: Bob and I at Dunn BM
&nbsp


Ector County: The highpoint hill (maybe?)
&nbsp


Winkler County: Bob and I at the top area
&nbsp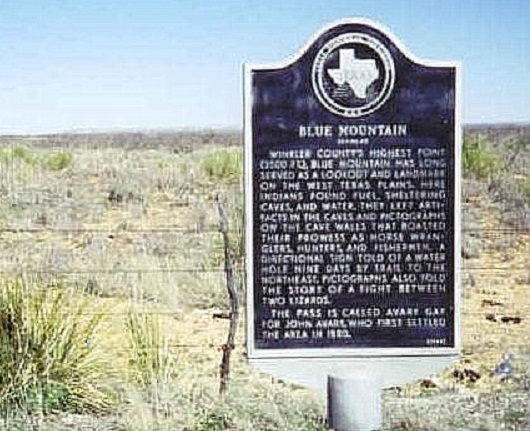 Winkler County: Informational sign along the highway
&nbsp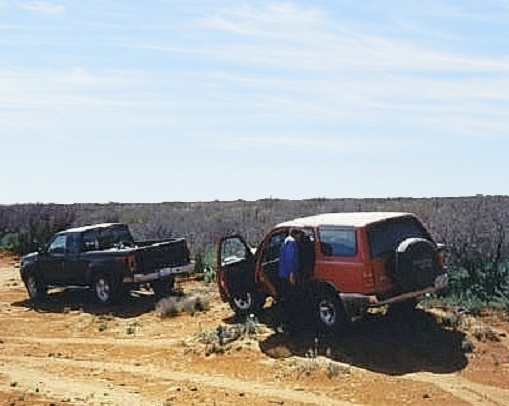 Loving County: Our trucks
&nbsp


Loving County: Me at the point
&nbsp


Kent County: McKenzie Mountain
&nbsp

Pecos River County Highpoints, March 2001
Barillas Mountains • Dunn Benchmark • Notrees Hill
Blue Mountain • Rattlesnake Ridge • McKenzie Mountain
In March 2001, I travelled to Texas to visit as many county highpoints as I could get to, concentrating in the area around the Pecos River, where it abuts against the southern New Mexico state line. Andy Martin and I convoyed in our separate vehicles, meeting one another at the Allamoore exit off interstate-10 between Sierra Blanca and Van Horn. We drove south of the interstate and found an open area to bush-camp for the night in our respective vehicles. The next day, we would meet Bob Martin, who was also interested in these Texas county highpoints and had done some work in tracking down landowners for their permission. This was my first meeting with Bob, and we would eventually meet about a half-dozen other times in Texas in the ensuing years.
Bob was then already a legend in peakbagging and climbing circles, with ascent counts in the thousands in both Arizona and Colorado. He wrote "Arizona's Mountains" in the late 1980s and for years it was the bible of Arizona peakbagging. I bought my copy in 1993 and I still have it. Never thought I'd meet Bob, but here we were, in the middle of nowhere, Texas, getting ready for an entirely different kind of mountaineering altogether: flat, sandy and remote Texas county highpoints.
Peak 5115

• Barilla Mountains
• Highpoint: Reeves County

Date: March 10, 2001 • Elevation: 5,115 feet • Prominence: 75 feet • Distance: 2 miles • Time: 1 hour • Gain: 600 feet • Conditions: Warm and sunny • Teammates: Bob Martin & Andy Martin
Texas • PB
Reeves County is in the West Texas panhandle, west of the Pecos River and south of the New Mexico border. Interstate-20 bisects the county, which is mostly desert. Pecos is the biggest city and county seat. The only other towns are Toyah, a near-ghost town also along Interstate-20, and the tiny oil-junction village of Orla, near the New Mexico line. The highpoint of Reeves County is in the hills along its southwestern boundary with Jeff Davis County, where the Barrilla Mountains jut into Reeves County. The highpoint has no name, and is just a little hilltop with negligible prominence, unremarkable in every way, except for its status as a county highpoint.
I was here in January 2000, inspecting a way up to this highpoint. There's a dirt road that gets close, coming off of state route TX-18. However, there's a residence here and all sorts of posted notices, so I did not enter on this visit. Maybe another time. Another time actually came sooner than expected: when I proposed a Texas county tour with Andy Martin for March 2001, he mentioned that Bob Martin was interested in coming and had a lead for this county highpoint.
Andy and I caught up with Bob in the town of Balmorhea, which is notable for having one of the largest natural springs in the world, open to swimming and splashing. After introductions, we got rolling toward the Barrilla Mountains. I followed Andy and Bob as we pulled into the ranch manager's house a few miles down the highway from the access road. His name was Larry and was very friendly. Bob had secured permission from the landowner beforehand, and Larry's job was to show us the way. We spent ten minutes visiting with him, then we got moving as Larry had to get back to his duties.
We drove up the dirt road leading in to the highpoint. Andy and Bob rode together, I followed in my truck. The road was in pretty good shape as it ran along the flats before entering into some small mesa-like hills. We were able to weave our way up this road through the breaks, coming onto higher terrain. We parked near a windmill ("Hernandez Windmill") and water tank. The day was clear and pleasant.
The hike was short and direct. We walked south, spooked a feral pig along the way, and ascended up a hill following a bulldozer track to gain the higher ground. The highpoint was an easy amble across grassy ridges, a one-mile journey from our vehicles. And there was a cairn there, so someone else had obviously been here before and was aware of this little point's significance.
The top was lightly wooded in low trees, scrub and grasses. The best views were east, as the hills drop down to the desert flats that lead to the Pecos River. The elevation differential was close to 2,000 feet overall, from our perch at 5,115 feet compared to the flats at about 3,000 feet. Not a bad highpoint!
The hike out went quickly, as was the drive. We stopped again to say goodbye and thanks to Larry, then drove toward Pecos, setting ourselves up for our next objective, the low desert hills holding the Ward County highpoint.
Dunn Benchmark

• Llano Estacado Plateau
• Highpoint: Dunn County

Elevation: 2,890 feet • Prominence: 90 feet • Distance: 4 miles • Time: 1 hour • Gain: 30 feet • Conditions: Warm and sunny • Teammates: Bob Martin & Andy Martin
PB • USGS BM Datasheet
Andy, Bob and I left the interstate onto FM-516 to Barstow, and then on FM-2355, which put us near the highpoints. There are seven regions scattered over roughly a square mile, with "Dunn Benchmark" near the lip of the western-most region, where the land drops about 300 feet down toward the river. This is the southern extent of the Llano Estacado Plateau, which rises mostly inside New Mexico.
Andy stowed his car at a random oil-pump and rode with Bob. They led the way and I blindly followed. I could not tell you what we did, but the roads we followed are on the maps. There were no restrictive signs and no locked gates. The land here is devoted to oil pumping, but we did not see any workers. We drove about five miles from pavement and parked at a fence, roughly a mile from Dunn Benchmark.
Hopping the fence and walking generally south and west, we started the process of visiting each of the seven 2,880-foot highpoint areas. One was near the cars and didn't look like anything special at all, but it is the biggest area and could be a contender. Another area was about 500 feet south, and we walked there, too. It was not much to look at.
We then marched southwest to the Dunn Benchmark area. Given that the USGS put a benchmark here, we felt this may be the best bet for the county highpoint. The fourth area was about a thousand feet to the east and not as big as the "Dunn" area. The fifth, sixth and seventh areas were tiny, and we walked through or near them on our way back to our vehicles. We stepped on any mound or anything that looked plausible, but I doubt any of these tiny regions held the highest point. My vote goes to the Dunn area.
We were back to our trucks in an hour, a hearty hike in the Texas outback. It was nearing 5 p.m., so we drove east and had time to visit one more county highpoint, in Ector County, before camping that night in the bush.
Notrees "Hill"

• Llano Estacado Plateau
• Highpoint: Ector County

Elevation: 3,360 (3,370) feet • Prominence: 20 feet (the hill) • Distance: 1 mile • Time: 1 hour • Gain: 50 feet combined • Conditions: Sunny and cool • Teammates: Bob Martin & Andy Martin
PB
From the town of Pyote on Interstate-20, Andy, Bob and I followed TX-115 through Wink to Kermit, then TX-302 east to the town of Notrees, which is an apt name for this part of Texas. In Notrees, we drove a dirt road north, coming to a split about 200 feet off the highway. For the Ector County highpoint, we followed the left road (For Winkler County highpoint, which we visited the next morning, we followed the right road).
Andy drove in a little, parked his car in a discreet spot, then rode with Bob, while I followed. We went north a mile, then west about another mile to a large cattle grate, at which time a distinct hill stood out in front of us, the Ector County highpoint. We drove to this hill, about another mile along a sandy track after the cattle grate, parked and scampered up to its top. Bob had climbed this same hill about a year earlier, but for Andy and me, it was our first ascent.
There is strong reason to believe this hill is not natural. It borders a large gravel pit and may have been an old refuse pile when they were digging out the pit. If it is, it's an old pile as it has much vegetation on it (and old enough to appear on the topographic map). Also, this part of Texas is so flat that such a hill would likely not be natural. But just to be sure, Andy identified two natural closed contours of 3,360-feet within a 1-mile radius of said hill.
We descended back to our vehicles, drove another sandy track, then hiked out to these areas. We followed fence lines and scaled a fence or two (tricky in places), and made a good-faith effort in this flat expanse of land to stand in these areas. We hiked up another small hill not shown on the topo about a half-mile west of the first hill. Like the first, it is probably not natural but the well-established plants on it suggests it's been there a long time.
We were back to our vehicles at sundown. We drove back to Andy's car, then drove back to our first hill and car-camped there for the night. We had a full moon and clear skies. Everything was still and pretty in its own way. We could hear soft droning and percussive noises from the oil pumps in the area, and the air had a whiff of sulphur in it.
Blue Mountain

• Llano Estacado Plateau
• Highpoint: Winkler County

Date: March 11, 2001 • Elevation: 3,400 feet • Prominence: 105 feet • Distance: 7 miles • Time: 3 hours • Gain: 50 feet • Conditions: Sunny • Teammates: Bob Martin & Andy Martin
PB
The next morning came, and from our car-camp, we egressed back to the Y-junction and went right, now aiming for Winkler County's highest point, a couple of points way off on a long mesa called Blue Mountain. Like yesterday, Andy stashed his car at an oil-pump along the way and rode with Bob, while I followed.
We went north on this road for 3 miles, coming to an open gate on which hung a big "No Trespassing" sign ... which we went through anyway (I wasn't comfortable doing this, but I figured if we got caught, it'd be better to have partners in this crime instead of just me). Following this same road another three miles, we came to yet another gate with tons of "No Trespassing" signs, but this gate was locked, so we backtracked south a mile, found a pipeline road, and followed it northwest for two miles until it petered out at the corner of two fences. Here, we parked, and set out on foot.
On the north side of this fence is a fine dirt road that led to the highpoint areas. This was the same dirt road that had been gated and locked, denying us vehicle access. We hopped the fence and walked along this road. About an hour later, we were on the promontory containing the two closed 3,400-foot contours that mark the Winkler County highpoints. For the northern of the two areas, we walked into the brush to a slightly obvious rise. Once reaching this rise, Bob and Andy sighted to nearby areas to ensure we were higher than the others, while I noted our position on my GPS.
The southern region was a mile south of the northern region. We walked to it, built a rock cairn and sighted north to the first area. Both Andy and Bob felt the northern area was slightly higher. Since we had visited both areas, we were satisfied we had successfully "summitted" Blue Mountain, and headed back to our vehicles. The total round-trip hike was about 7 miles and close to 3 hours.
We drove back to the main entrance along the main highway in Notrees. Bob dropped Andy off so Andy could go run to his car and drive it out. As Bob and I drove out, an oil company truck and an Ector County Sheriff's cruiser were driving in, no doubt to check on Andy's car. Bob and I waited briefly to see if we were needed, but then got moving. As it turned out, there was no problem, and Andy got his car out fine.
There is a historical marker along TX-302 about five miles west of Notrees that refers to the Winkler County highpoint (see photo). The highpoint is named "Blue Mountain", although from the highway it's just a bluff with a flat top. The marker gets the elevation wrong, but does offer some information about the settlers and Indians in the area. Apparently there are caves and pictographs to be found on Blue Mountain. The text from the plaque reads:
Winkler County's highest point (3200 ft), Blue Mountain has long served as a lookout and landmark on the West Texas Plains. Here, Indians found fuel, sheltering caves, and water. They left artifacts in the caves and pictographs on the cave walls that boasted their prowess as horse wranglers, hunters and fishermen. A directional sign told of a water hole nine days by trail to the northeast. Pictographs also told of a story of a fight between two lizards. The pass is called Avaery Gap for John Avary, who first settled the area in 1880.
This was what the plaque read when we visited it in 2001. Images online show the plaque more recently, with updated and different wording (with the correct elevation).
At this point, Andy left us, so it was just Bob and I for the next highpoint, up in Loving County.
Rattlesnake Ridge

• Llano Estacado Plateau
• Highpoint: Loving County

Elevation: 3,374 feet • Prominence: 19 feet • Distance: 1.7 miles • Time: 5 hours (whole journey), 1 hour hike • Gain: 20 feet • Conditions: Warm with high clouds • Teammates: Bob Martin
PB
Loving County is about as bleak a place there is in North America. It is flat desert with no hills of any visual prominence, covered in brownish scrub as far as the eye can see. The county lies along the southern New Mexico boundary and astride the Pecos River, covering about 670 square miles. The county is famous for a couple things: its famously low population, and its checkered history and status as one of few counties in the United States to ever be dissolved and then re-organized.
It was formed in the 1890s, purely an act of paperwork at the distant state capital, as no one reported back to tell them what a bad idea it would be to create a county out of nothingness. The county had one main town, Porterville, along the banks of the Pecos River. People were essentially conned into buying land here. Some moved here and discovered what a bleak place it was, and left. A few stayed on, but never in large numbers.
The county was dissolved when it was discovered that the county commissioners lived outside the county, among other things. The reality was that it was almost impossible to develop anything viable within the county. The ground is too sandy to support ranching, there is no dependable ground water to support farming. At some point around 1910, the state dis-incorporated the county and "attached" it to neighboring Winkler County for administrative purposes.
It was the discovery of oil and natural gas that gave the county a means to support itself. Now with a viable commodity, the county could be re-organized, which it was in 1931. It is the youngest of all 254 counties in Texas. A new town called Mentone was platted and designed to be its county seat. At its height, the county held about 600 people, but in the last half-century, the county's population has hovered around 100 people. It is the least-populated fully-fledged county within the United States.
These days, the county still lives on its oil and natural gas. There are a few ranches, but the cattle must spread out to feed on the meager brush. Groundwater is highly mineral-laden and corrosive. The county seat in Mentone numbers about 20 people, and those who live in the county generally live off the grid. There is just one main highway (TX-302). The closest city of any size is Pecos, about 25 miles south, and Odessa, about 50 miles east. Due to the lucrative oil and gas revenues and the small population, Loving County is often among the top five richest counties, going by a per-capita basis.
I visited Loving County in 1993 while driving from the Guadalupe Mountains back to Midland. Mentone has a two-story stone courthouse, an old-style gas station, a few trailer homes, and odd machinery parts strewn everywhere. The lone cafe has been closed each time I've been here (two other times since 1993). It really is a town that hangs on by the barest of margins. Were it not the county seat, Mentone would simply dry up and wither away. There is no logical reason for such a town to exist.
I next visited in January 2000, now intending to tag its highest point. The highpoint is atop a broad sandy mound up along the New Mexico border, with no decent roads that get close. This was purely an exploratory mission, as I had no idea what I was in for. I had maps for the roads leading from highway TX-302 about 10 miles east of Mentone. From the highway, it looked to be nearly 20 miles of driving to the highpoint, and still leaving a couple of miles hike across flat, featureless terrain to get there. I drove in five miles, following the washboarded road until I stopped and realized this was a bad idea and that now was not the time. I knew I wasn't properly prepared, so I exited the way I came. At least I knew not to come back this way.
About six weeks later, Andy Martin from Tucson successfully visited the highest point of Loving County. He drove in from Mentone directly, following other "major" ranch roads, and not having a lot of immediate success with the roads or the maps, although in the long term he was successful. His trip underscored the lack of features in this terrain and the poor, sandy, confusing road net. You can read all about his report here.
I returned in March 2000. I had a hunch that roads from the New Mexico side might offer a way to the highpoint. I followed roads from the city of Jal, going west on NM-128 to Battle Axe Road, then on that road to lesser, bumpier roads, before getting myself nearly stuck in a big sand patch. I eased off it in low 4-wheel drive, got back onto the rockier road, and assessed my situation. I was over five miles away from the highpoint, and it was late in the day. I was close enough to make a long walk out of it, but I chose to pass again this time. I exited the way I came in, at least happier now that I had a viable route to the highpoint for a future attempt.
My third attempt proved to be successful. I came back in March 2001, accompanied by Bob Martin. Bob was interested, and I felt it wise for us to have two vehicles in case one got stuck. We started our journey in Jal at 1 p.m. We followed NM-128 to Battle Axe Road, then took Battle Axe Road southwest about a dozen miles. As is typical for these areas, you see nothing for a few miles, then 8-foot high "no trespassing" signs promising things worse than death to those who do not comply. I had the USGS 1:100000 "Jal" map which was essential to negotiate these remote roads, as well as showing us the land-ownership status. The roads are all public right-of-way. We got to the sandy section where I got myself nearly stuck last year.
After inspecting this sandy section more, we felt it was short enough to manage if we kept up the momentum, and we both passed through it successfully, coming to an unlocked gate. We passed through, turned right (southwest again) and went through another gate. The next section was the crux: a section of road with its bedrock exposed, exposing oil pipes, requiring us to pass through, avoid the pipes and lean at about 25-30 degrees tilt. That part was short, but once past it, we had no problems other than very soft sand.
We rumbled forward at about 10 m.p.h. through this sand for another two miles, coming to yet another fence and gate (all unlocked). Passing through this gate, we went south, parallelling the fence, then came to another fence, this one on the Texas-New Mexico state line. We went right, parking within three-quarters of a mile of the highpoint. The hard part was all done. Now it was just a leisurely hike from here.
We got our boots on and walked along the state-line fence heading west, staying on the New Mexico side, trying to align ourselves with the longitude of the highpoint that I had entered into my GPS as a waypoint. Once we had done that, we scooted under the fence into Texas and walked south through the low, scrubby dunes, walking by sight a couple hundred yards to what seemed to be the high ground. My GPS helped considerably, and we zeroed onto the highpoint after a few minutes.
We found Andy's wooden marker from a year ago strewn aside, so we knew we were at the right spot. We took photos and walked a few humps of sand "to be sure", but it was clear we were at or very near the highest point. After all that effort to get here, reaching it was anticlimactic. The hike and drive out went quick, and we were happy to be past the sand and back onto rockier, more sturdy road. We were back in Jal by 5 p.m..
We were both glad to have this one in the books. We felt afterwards going with two vehicles, both 4-wheel drive capable, with shovels and other extraction devices, was a good idea. We didn't need them but it is very remote, sandy and bleak out this way. I doubt these roads see more than one or two people a day.
The name "Rattlesnake Ridge" is unofficial: I gave the highpoint its name. This one just deserves a name. Actually, it's not terribly original. Just to the north inside New Mexico is Rattlesnake Flat, and the USGS Benchmark "Rattler" is about 2 miles north of the highpoint. We didn't see any rattlesnakes, however, which was just fine with me. Probably still a bit cool for them in March.
Bob and I visited another county highpoint, a nothing hill in nearby Gaines County. Bob was now done and he started his own journey back to Arizona. Now it was just me. I would spend the next couple days tagging easy county highpoints in the region, most of them points in flat desert or the gentlest of mounds. Only one was a peak, an actual ranked peak, believe it or not.
| | |
| --- | --- |
| McKenzie Mountain | • Highpoint: Kent County |
Date: March 12, 2001 • Elevation: 2,830 feet • Prominence: 350 feet • Distance: 1.5 miles • Time: 1 hour • Gain: 300 feet • Conditions: Clear and pleasant
PB
The McKenzie Mountains lie in southwest Kent County near the Scurry County line. From the junction of US-84 and FM-1142 about 8 miles northwest of Snyder, I followed FM-1142 north to a point where the road curved west, about 10 miles from the junction. At this bend is a dirt road continuing north, labeled Kent County Road 316. The McKenzie Mountains are visible along the entirety of the approach road.
This being Texas, I was fully expecting hundreds, if not thousands, of "No Trespassing" signs, but I was genuinely surprised to see no such signs. The landowners must have forgotten to put them up. On top of that, these mesas looked like a genuine hiking challenge. I put on my boots, grabbed some water and my sight-level and started in. Of the two mesas, the eastern one is larger and contains a spot elevation of 2,830 feet, while the western one has a spot elevation of 2,823 feet. I chose to climb the eastern mesa first and sight over to the west to see if I'd need to bother climbing that one too.
There is no trail to the top. The mesas are topped by a caprock that forms a bulwark of cliffs. It appeared the best option was to climb toward the saddle between the two mesas, where there appeared to be more weaknesses in the caprock. The hike was short and slippery due to the gravel-like rocks. I achieved a ridge and found a spot in the caprock that I breached. I continued along the top of the mesa to the highest area, which was amid a number of trees. I sighted to the western mesa and it was clear that I was higher where I was. However, on this same mesa is another rise to the east that was inconclusive upon sight-leveling, so I walked over to it to tag it.
Hiking down, I made an error in judgement: I failed to note where I entered through the caprock and found myself hemmed in by the cliffs. After some trial and error, I found a way down, but I should have noted my route on the way up in the first place. I was back to my truck, and the total hike took a shade over an hour.