βð and I toured the Oklahoma City National Memorial on our trip. She had been here before, back in 2002 when it first opened. This was my first time here, and first time ever in Oklahoma City.
The memorial is tastefully and honorably done. The Murrah building, which was bombed, is completely removed and replaced by a grid of chairs laid out according to the floor on which the victim was working when the bombing happened. Children get smaller chairs. It was impossible not to get emotional at seeing these chairs.
The street itself was closed and is now a reflecting pool, flanked on each end by two gates: one inscribed 9:01, the minute before the bombing, and 9:03, the minute after. The reflecting pool commemorates the horrific minute itself.
The Survivor Tree is a massive elm tree that once stood surrounded by a parking lot across from the Murrah building. When the bombing happened, cars in the lot were smashed and many caught fire, as did the tree. But the tree survived, and is a centerpiece of the memorial. It is a gorgeous tree, fitting for the memorial.
We spent about an hour slowly walking the exterior grounds, just taking in all the images and recounting the event. I was in Arizona when it happened and was horrified and appalled, as was everyone. But I always felt a little detached from it because of the distances. Being here in person, albeit 24 years later, allowed me to feel like I paid my proper respects to the victims and the people of Oklahoma City. I'll be the first to admit I got very emotional at seeing all this.
We later circled back to the entrance, where we viewed the tiles that were made by small children from around the country, expressing their condolences. These were incorporated into a low wall at the front of the main entrance.
We then spent another hour touring the interior of the Review-Journal Building, which is now a museum. That too is very well done. It walks one through hallways with actual items from the bombing, video and audio replays, giving one the "big" picture.
The museum, to its credit, includes items belonging to McVeigh, the bomber, plus background about him. As horrible a person as he was, he cannot be ignored for his role. But the museum does not aim vitriol at him. It just lays out everything in a factual manner and lets the viewer come to the obvious conclusion about him.
We spent almost three hours overall touring the grounds. It was profoundly emotional and I am grateful I visited, and along with βð. She was here not a month or two before we met back in 2002. She lived in Oklahoma City before moving west, so to be back here with her was special for me, and I hope for her too.

The main entrance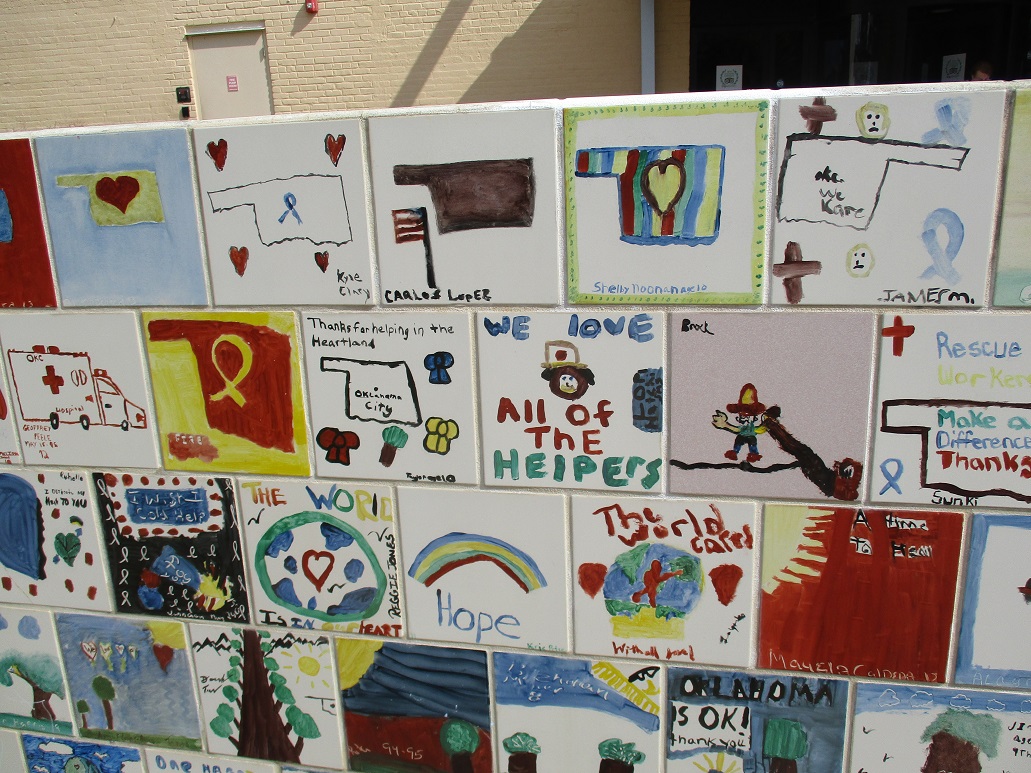 Tiles made by children

The Survivor Tree

The Survivor Tree & the Journal-Record Building that was next door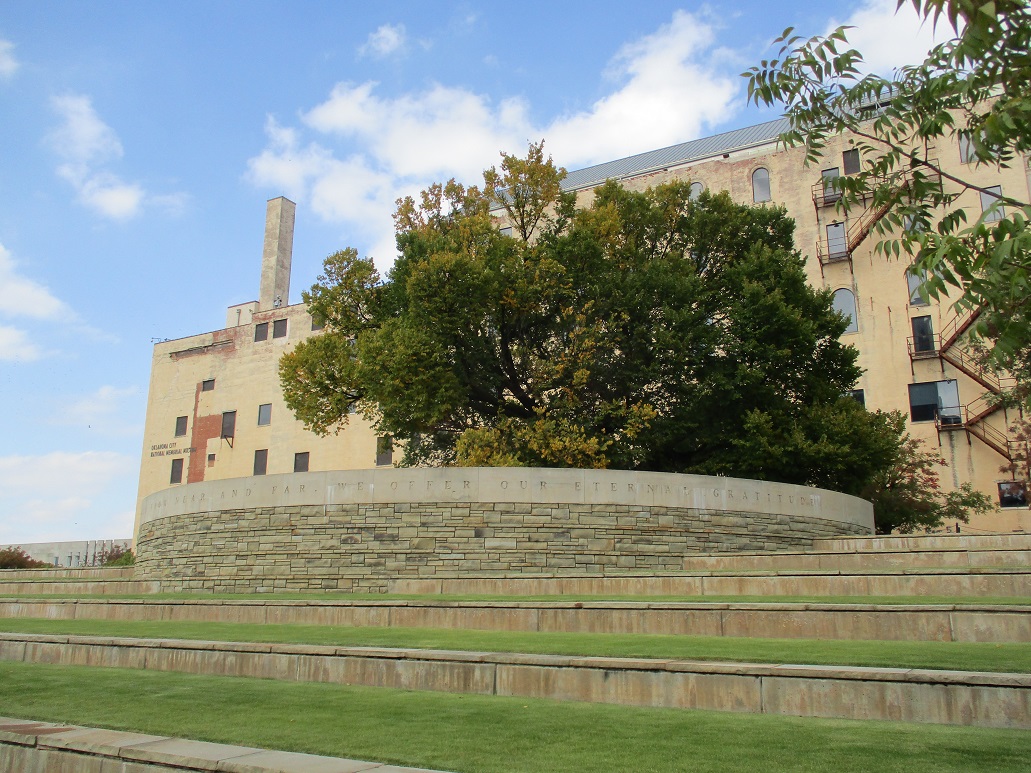 Different angle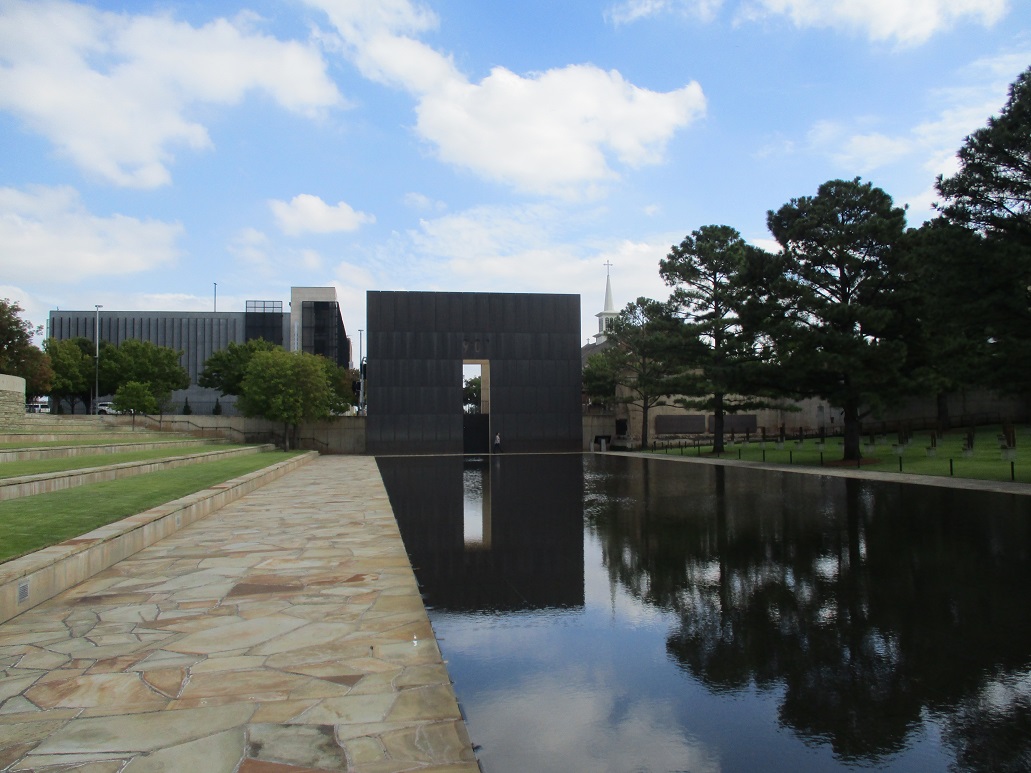 The 9:01 Gate, commemorating the minute before the bombing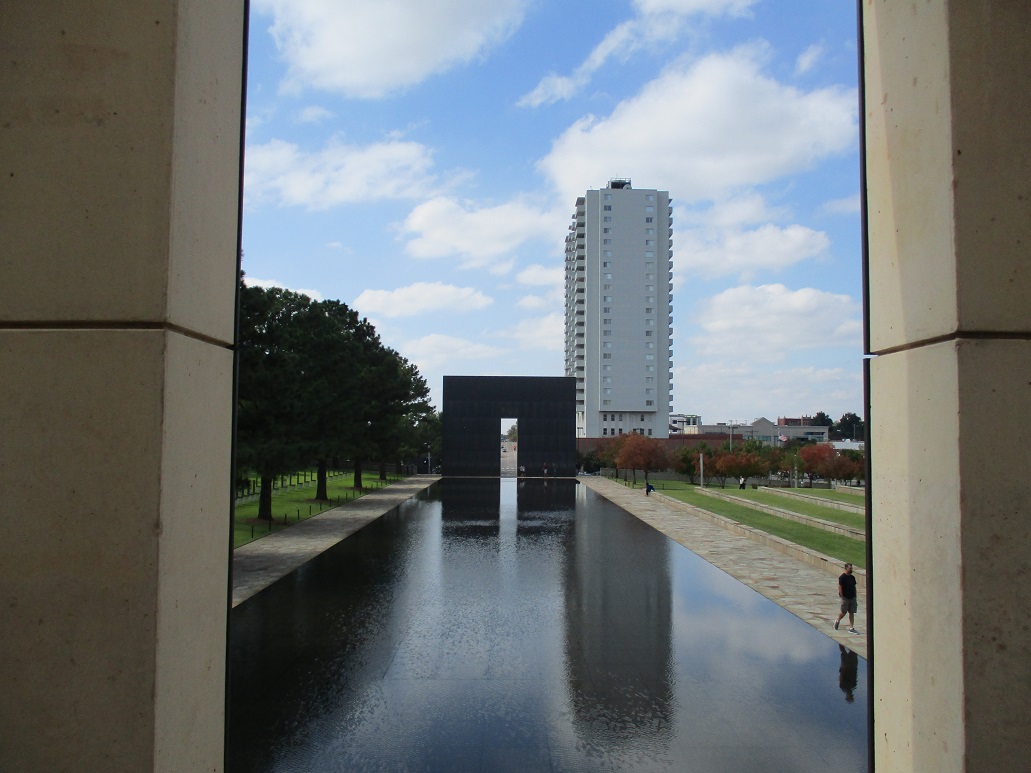 View of the 9:03 Gate, the minute after the bombing. The reflecting pool commemorates the intervening minute, when the bombing happened

The 9:03 Gate again, plus the memorial chairs honoring those who were killed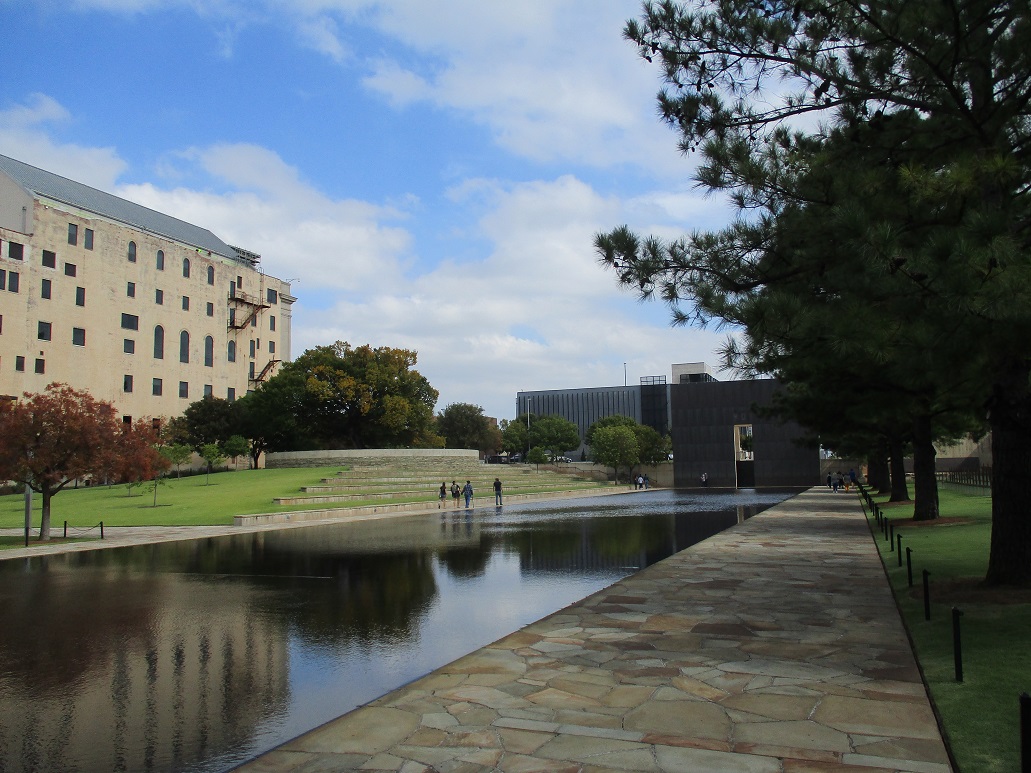 Survivor Tree & the 9:01 Gate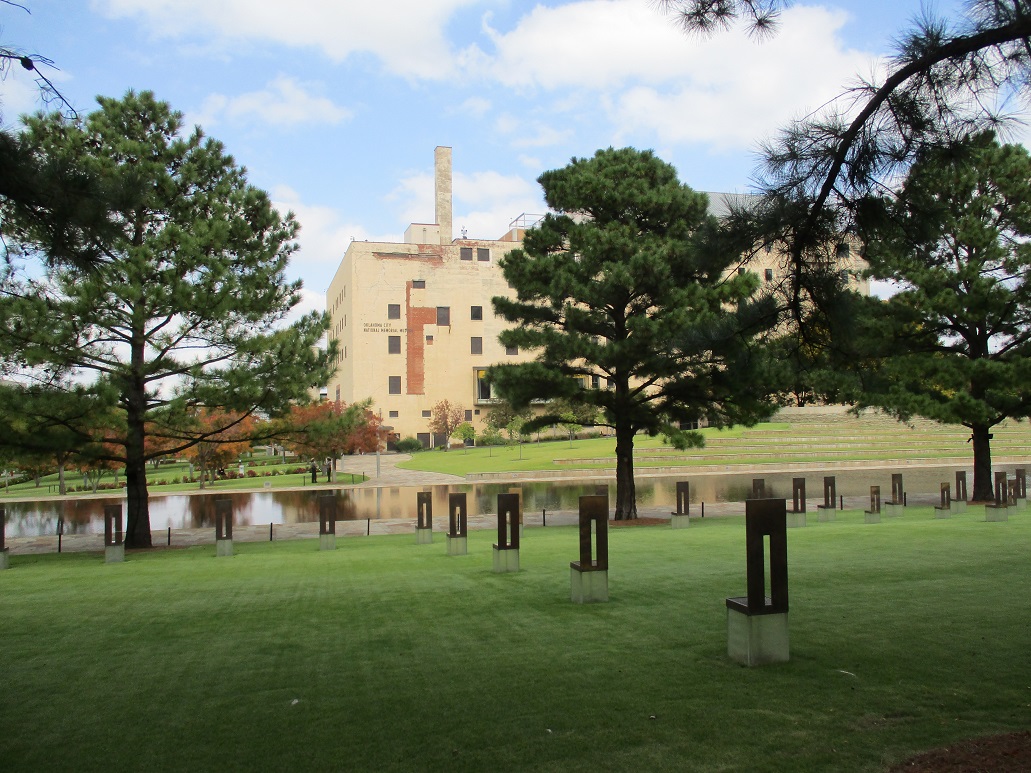 The Journal-Record Building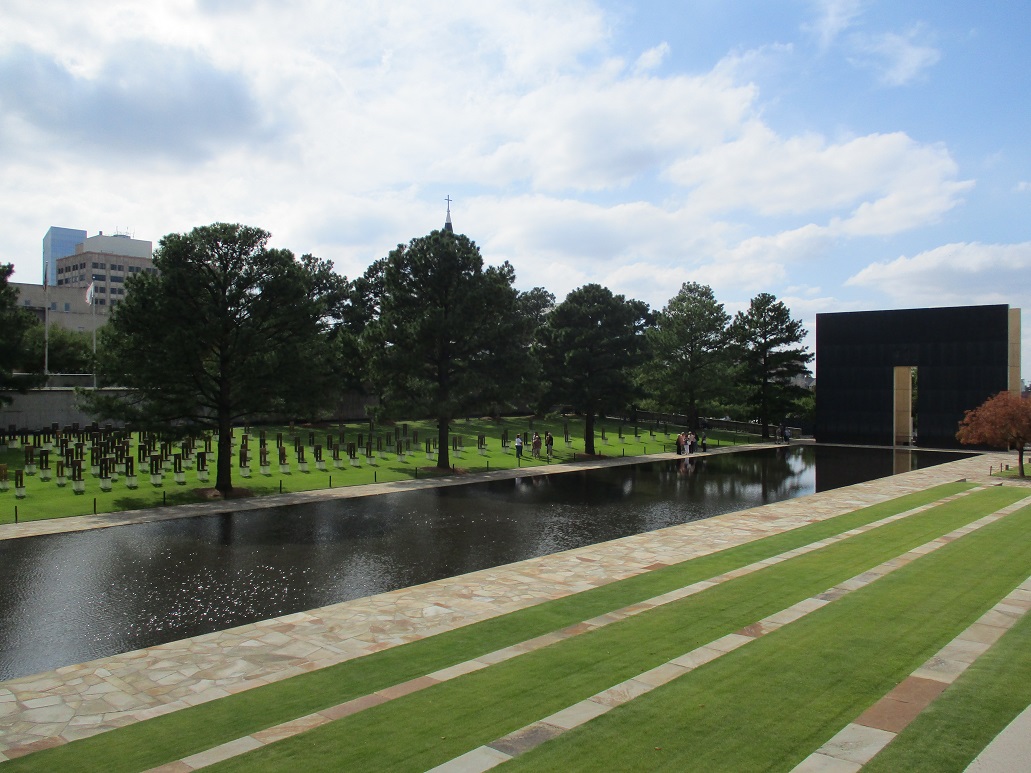 Broader view, the memorial chairs and the 9:03 Gate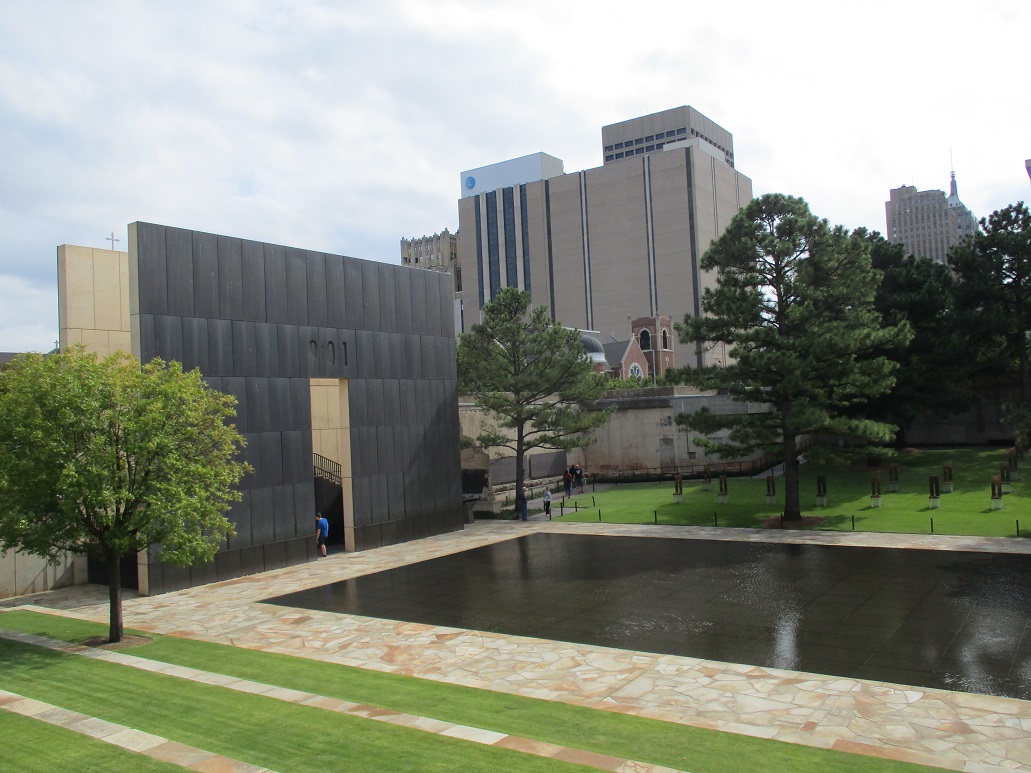 Same vantage, the 9:01 Gate

The Journal-Record building from the Survivor Tree

Rescuers spray-painted this message on the Journal-Record building. It was kept as is as a reminder
Return to the main page