Approaching Desatoya Peak

Lousy image of me
on Desatoya's summit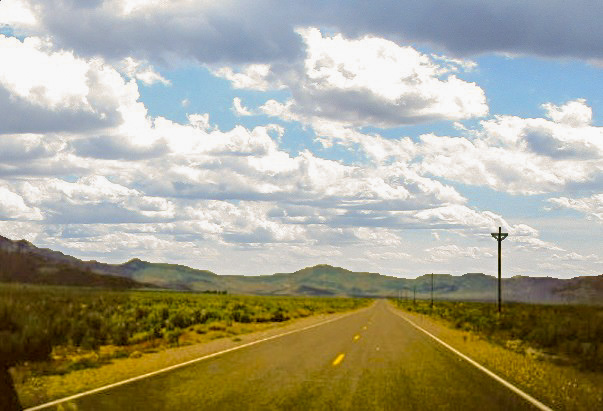 Granite Peak

My truck, Granite Peak

Me on Granite Peak.
Clearly, my camera was
on the fritz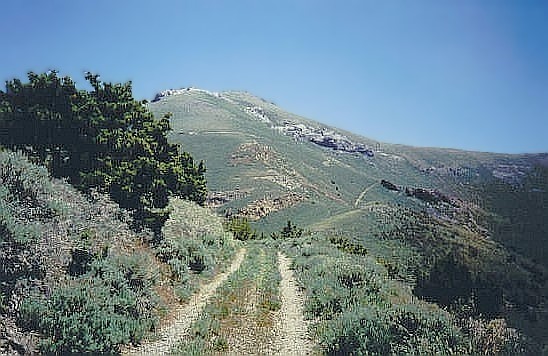 Star Peak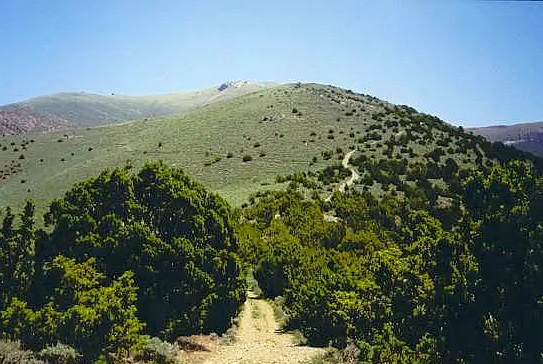 Higher up

Me on Star Peak

Old mining stuff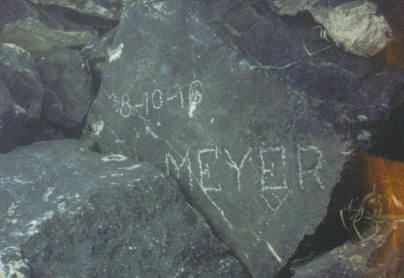 Visitor, Star Peak, 1916

Rose Peak from the highway

Rose Peak from half-way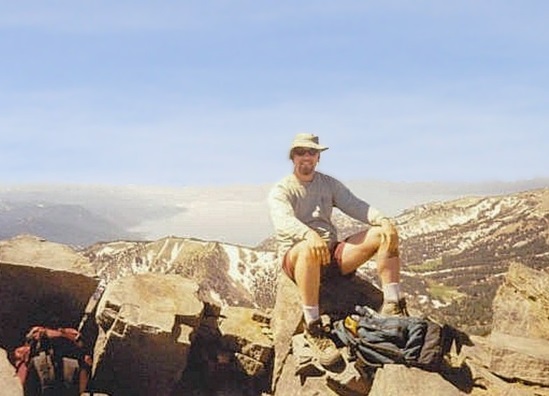 Me on Rose Peak
Adam Helman and I teamed to climb four county highpoints in northwest Nevada in June 2002. I picked him up a couple days before in Reno, then we drove into California to hike Granite Chief with Edward Earl. Then Adam and I headed into Nevada where we picked off these four peaks over a three-day period.
Desatoya Peak

• Highpoint: Churchill County
• Highpoint: Desatoya Mountains

Date: June 23, 2002 • Elevation: 9,973 feet • Prominence: 3,545 feet • Distance: 7 miles • Time: 4 hours • Gain: 1,930 feet net, 2,090 feet gross • Conditions: Perfect • Teammate: Adam Helman on all four
Nevada • PB
Desatoya Peak consists of two summits of near-equivalent height (together called the Desatoya Twins) that top the Desatoya Range in central-western Nevada, a million miles from everywhere. The closest big city is Reno, about 150 miles west. Fallon is closer yet, but not as big. There's very little out this way except for endless (and gorgeous) Great Basin high desert and mountain ranges.
From the Granite Chief hike, which is just inside California north of Lake Tahoe, I drove us back into Nevada. We took US-50 past Fallon and Cold Springs to a dirt road north of the sign marked "Alpine 3", then south and east along this reasonably-good road toward the Desatoya Range, aiming for a pass called Basque Summit, a little over 11 miles of driving from the highway. Past Basque Summit, we followed the road briefly to a steep hill. I got the truck up this steep portion, putting us on a bare hilltop at 8,043 feet elevation, perfect for camping. The road goes farther but I chose to park where we were. The hike from here would not be long.
We started hiking early the next morning, at 5:30 a.m. From our hilltop campsite, we descended about 100 feet toward a fence along the ridge, and then walked this ridge west, following a rough track most of the way. We moved to the other side of the fence to bypass cattle. The road steepened, then passed through a gate to a saddle north of a rock knob, elevation 9,130 feet. We left the road here and traversed southwest through sage and rock, following cowpaths until we reached the saddle north of the smaller "twin" summit of Desatoya Peak. We followed a cowpath that was so well defined that I had to wonder if it hasn't been maintained by humans to some extent. Whatever the case, this path was better than some "maintained" trails and made it very easy for us to walk this section.
The final segment was a moderately steep hike up to a ridge east of the north summit and a nearby peaklet at 9,562 feet. Here, the fine cowpath ceased, but we could see Desatoya Peak's main summit not far away. We diagonalled southwest until we gained the saddle between the twin summits. The final trudge to the top of Desatoya Peak went quick, avoiding our only snow patch of the hike.
We were at the summit after two-and-a-half hours of hiking, including breaks, arriving at 8 a.m. in clear weather and a gentle breeze. From the top we could make out the Toiyabe Range to the east, US-50 down below us to our west, the Clan Alpine Range across the way, and my truck, barely visible, back on Hill 8043. Adam and I spent about 45 minutes at the top, having an early lunch.
The hike down went fast, the paths and roads allowing us to walk quickly, nearing a slow jog. Adam stayed behind to scale a side peak, so I beat him back to the truck by 20 minutes. I showered, using my new camp shower apparatus. While waiting for Adam, I spotted another truck that came up another road. I don't think they saw me or my truck. Not long after Adam returned, we heard lots of gunshots. These people were probably target shooting and unaware of our presence. We were in no danger, but felt that we should scoot out sooner than later.
We piled into my truck and drove down the other side of our hill and out of possible harm's way. We went out the same way we came in, and stopped back in Cold Springs for a snack and potty break. From here, we headed north toward Granite Peak in Humboldt County, which we would scale later today.
Granite Peak

• Highpoint: Humboldt County
• Highpoint: Santa Rosa Mountains
• Humboldt National Forest

Date: June 23, 2002 • Elevation: 9,732 feet • Prominence: 4,397 feet • Distance: 3 miles • Time: 3 hours • Gain: 1,400 feet • Conditions: Nice weather, muddy ground
PB
Granite Peak is the highest point of the Santa Rosa Mountains in northern Nevada. To get here, I drove us north through Winnemucca and Paradise Valley, aiming for the Santa Rosa Mountains. We followed steep but scenic roads into the mountains and topped out at a pass called Hinkey Summit. I eased the truck up a scanter side road, and parked it on top of a broad, bare hilltop covered in sage. It was about 4 p.m.
Granite Peak was nearby, about two airmiles to the west. We had three hours of daylight to burn, so we decided to go for it now instead of tomorrow morning. From my truck, we walked the continuation of the road down into a small basin, where the snowmelt had turned it into a gigantic marsh. We sidestepped what we could and occasionally walked through the wet mud, but in time the road ascended upward, westerly toward Granite Peak. From this vantage, the peak seems surrounded by cliffs. It was not clear just how we were going to get up the damn thing.
The road ends at a fence line, which runs very steeply up a rocky hillside. We went up this hill, then down the other side, now below Granite Peak. An obvious ridge comes off the summit to the saddle where we stood, so we followed it and went as far as we could, hoping for the best. The climbing here was easy as the rock naturally formed itself into ledges and pseudo-stairs. brush was moderate but always avoidable, and we in fact made excellent time. At times looking down, it looked intimidating but at no time was exposure or a fall ever a concern.
We'd been climbing the path of least resistance so far, and this led us to the only tricky portion of the ascent. It was a sloping boulder, eight feet high, but with good holds and just a whiff of exposure. It wasn't bad at all and in moments we were above it, now facing an easy, much more level ascent up the final couple of dozen feet to the summit, where we arrived slightly after 5 p.m.. This went easier than planned.
We were happy to be successful on what was a small gamble, and time was on our side. The summit is rocky with not much room to sit. A small solar-panel and repeater box sit up here, serviced by helicopter. We spent a few minutes here and looked around, but we both agreed it might be wise to descend sooner than later and celebrate back at the truck.
The descent was not bad at all, and we were off the rocks in no time, and back to my truck a little before 7 p.m.. The hike had gone well for a late-day, spur-of-the-moment journey. It was pleasantly cool back at the truck, and Adam celebrated his 100th county highpoint (or so we thought) with some Schnapps. The hilltop campsite was marvelous and we had amazing views in all directions. At night it was sometimes breezy but often calm and still, a very lovely place.
(After it was discovered Granite Chief was not the actual county highpoint in Placer County, all of our county counts were offset by one, so in truth, Adam's 100th county highpoint would actually occur tomorrow on Star Peak in Pershing County.)
Star Peak

• Highpoint: Pershing County
• Highpoint: Humboldt Mountains

Date: June 24, 2002 • Elevation: 9,836 feet • Prominence: 5,400 feet • Distance: 7 miles • Time: 5 hours • Gain: 3,025 feet • Conditions: Warm but very nice
PB
Adam and I started the day encamped near Granite Peak after yesterday's late climb of that peak. We had in mind to enter Oregon and visit Steens Peak, then come back into Nevada and if enough time allowed, to hike Star Peak. I drove us back into Winnemucca, then we headed northwest on a lesser highway toward Oregon, heading to the border town of Denio.
Nearing Denio, we were passing by some scattered homes. Suddenly, a cat bolted into the road in front of me and I had no time to stop. I hit the poor creature and killed it. I was sick to my stomach and heartbroken because I really love cats. In this case, I had no chance to avoid the cat.
Denio was a couple miles up the road. I pulled into a gas station to top the gas while Adam went inside for snacks and to inquire about road conditions up north. We learned quickly that Steens Road was closed due to snow. Adam also came back to the truck, telling me that people in the gas station were asking one another if anyone's seen the cat. Adam was very uncomfortable and suggested we get moving. I felt similarly and once done, just got in and drove back south to Winnemucca. In my haste, I left my gas cap on top the truck, so I was without a gas cap for a few days.
Back in Winnemucca, we headed south for about 60 miles to Lovelock, with the Star Mountains ste back southeast of the interstate. From a distance, the range looks unremarkable, but looks are often deceiving. Star Peak is one of just 57 peaks in the coterminous 48 states with a prominence of over 5,000 feet. From below, we could see the usual forests down low, and bare sage slopes up high.
From the Humboldt exit off I-80, we went south on a frontage road, then along dirt roads south and east toward El Dorado Canyon. The road was marginal, covered in river rock, and Adam was deputized as my get-out-and-push-the-rock-aside person. Soon, we had driven into the heart of the canyon, coming upon some derelict shacks. Here, the road makes a sharp left bend and starts steeply up open sage slopes.
Had we started from here, we would have had 4,100 vertical feet of gain, mostly along the road, to the summit. It was not an impossible task. However, the desire to chop off some of the road-walking was too much to resist, so I put the truck into 4-wheel low and tried my luck with the steep roads. I was able to grind my truck up another mile until a hairpin turn stopped me, being too sharp for my truck to handle without making a 20-point U-turn. Instead, I found a wide-spot in the road and parked, and from this point we began our walk. I had lopped off 1,100 vertical feet by driving in this far.
It was 12:30 p.m. when we started, somewhat warm and buggy. The road goes nearly to the range crest, and the last mile is cross-country. The slopes are gentle, and we expected nothing out of the ordinary. Thus, we began our hike, trudging up the shadeless road, which would alternate between steep sections and flat sections. The road was "decent" for about another mile or so, meaning that had I been brave enough, my truck could have handled it. However, after another flat section, the road becomes extremely rocky and narrow, suitable only for a Jeep or ATV. For walking, it was easy.
The road comes to a bend at 8,800 feet elevation, then swings left (north) and traverses across the slopes, bypassing old mineshafts and wooden structures. The road peters out in the sage at about 9,000 feet elevation. Turning hard-right (south), we left the end of the road and started up the hillsides, walking amid knee-high sage and big fat locust-like insects, following the ridgeline all the way to the top, which we came to at 3:20 p.m. We took cover in a windbreak, but the conditions were lovely. Million-dollar views in all directions, including salt-playa basins to the southeast. We had an enjoyable half-hour up here. An old-time vistor, presumably a miner, had scratched in his name back in 1916.
The hike down went very quickly. The road was steep enough to "compel" us to maintain a walk-run pace, and we were back to my truck in slightly over an hour. We piled in, and I began the harrowing drive down the roads. In 4-wheel low, I let the truck idle itself forward, and I had to do very little other than steer and manage the brakes. It worked beautifully and in about 20 minutes, I had eased it back down onto the flatter road in El Dorado Canyon. From here, we drove to Reno in preparation for tomorrow's hike up Mount Rose.
The hike had gone well, and had been an unexpected delight. From below, it doesn't look like much, but its real beauty is evident when actually on the hike and atop its summit. Like so many of Nevada's peaks, it is a hidden gem.
Mount Rose

• Highpoint: Washoe County
• Carson Mountains
• Humboldt National Forest

Date: June 25, 2002 • Elevation: 10,776 feet • Prominence: 3,630 feet • Distance: 12 miles • Time: 6 hours • Gain: 1,940 feet net, 2,240 feet gross (ascent) • Conditions: Fantastic
PB
We arrived in Reno in the late afternoon. After three days in the bush, I smelled so bad that I really wanted a hotel room to clean up, and sleep in a proper bed. Adam put up a fight, but he eventually agreed mainly because I was not going to negotiate. He could stay in my truck if he wanted. We got separate rooms.
The next day, we got moving toward Mount Rose, the highly-visible saddle-shaped peak southwest of Reno. We did not have far to drive, and we were at the trailhead at 7:30 a.m., elevation 8,840 feet. Already, there were lots of cars here, suggesting lots of people. This is a popular hike for locals and visitors alike. We started moving not long after parking.
The first 2.5 miles of the hike is along a dirt service road. The road leads to radio towers on a nearby peak, but we did not go that far. The actual trail veers off the road near an informational kiosk. Whereas the road goes left to the towers, the trail goes right and down a bit, Mount Rose still mostly hidden behind foreground peaks. We dropped 300 feet through mushy ground, did an end-run around Peak 10,490, and came to a pass, elevation 9,730 feet, now below Mount Rose. We had been moving fast, hiking not yet two hours, to get in this far. We took a break at this saddle.
The remainder of the hike ascends a series of switchbacks, generally from its south and west sides. The tree cover here is light and we had pleasant views, while the trail was pitched leniently, so that we could enjoy the walk. Partway up, we passed treeline, then followed the trail through jumbly rocks to the summit, arriving at 10:30 a.m. There was one other hiker already up there so we three sat and chatted.
The summit features a large windbreak. We had a good time on top, enjoying the mild weather and great views, including Reno in one direction, Lake Tahoe in the opposite direction, and gobs of peaks in all directions. We could see Freel Peak to the south, and even Lassen Peak way off on the northern horizon. They say Rose gets high winds, but we had mild breezes at the strongest.
The hike down went quickly. There were others coming on up as we descended, and the nice trail and gentle gradients made for fast, easy travel. Even the boring road walk back to my truck went quickly, and we exited in less than two hours. Adam's plane didn't leave for a few hours, so we killed time at a Denny's in town before I dropped him off at the airport.
I was done with hiking, but had made plans to visit an old college pal near Sacramento, which I did that evening, descending down US-50 ... then right back up the next day. I had never driven the highways that descend from the mountains into and out of Sacramento, and I enjoyed the drive down and up very much. I took a series of other highways through Bridgeport (CA) to Hawthorne (NV), where I caught US-95 into Las Vegas and Henderson. I was home in Arizona the next day, the end to a fruitful week of peakbagging. My sincere thanks to Adam for his company and to Edward on our first hike together.