Atalaya Mountain trailhead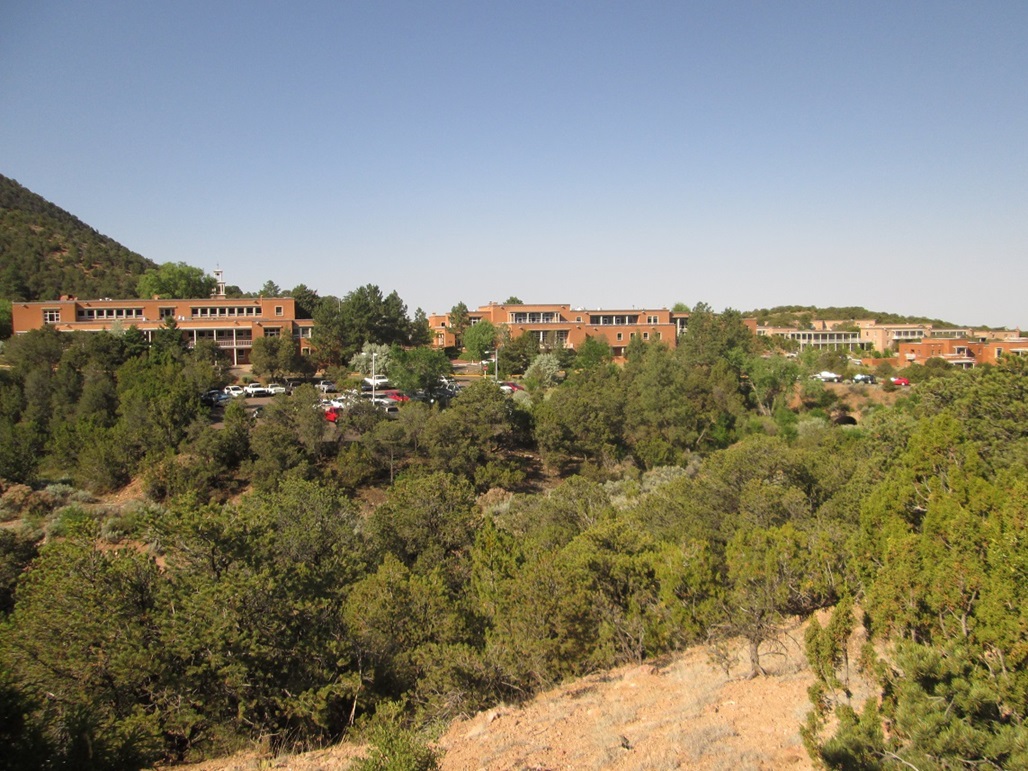 St. Johns College

Monte Sol (right,
aka Sun Mountain)

This sign is seen on the descent.
It is actually incorrect: Atalaya
Trail goes left, not right.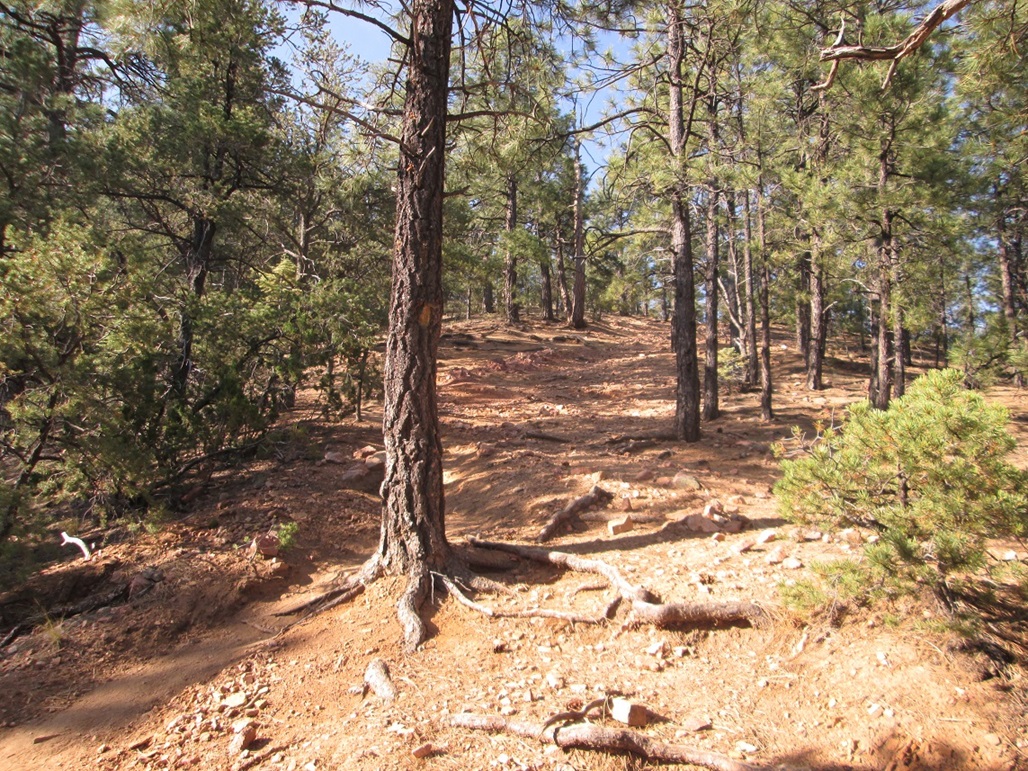 View along the trail

More trail

More view

More trail view

Approaching the top

Some of Santa Fe

The top boulders
Date: June 22, 2016 • Elevation: 9,121 feet • Prominence: 721 feet • Distance: 7 miles • Time: 3 hours • Gain: 1,800 feet • Conditions: Clear, sunny amd warm • Teammates: Various other random hikers and dogs
New Mexico • PB
βð and I returned to New Mexico for the first time since 2007. We planned a trip to Santa Fe, which is always an interesting place to visit, and centrally located to many other locales. For this trip, we wanted to visit the Sanctuary at Chimayo, the Taos Pueblo, and the 10,000 Waves Japanese Spa.
Naturally, I wanted to hike a peak or six while here, but determined that I would have time for just one good hike, not a whole bunch of them. I settled on Atalaya Mountain, a 9,121-foot summit immediately east of the city. It is a mere foothill of the Sangre de Cristo Peaks that rise as high as 12,000 feet east of town, but it is a quality trail hike with about 1,800 feet of gain. It is evidently the most popular hike for locals, since the trailhead is within the city, near the St. Johns College campus.
We left Phoenix on Tuesday the 21st, our flight to Albuquerque leaving Phoenix at 5:25 a.m. This was by design, choosing the least popular time on the slowest travel day. We got to the airport very early, whizzed through the security in about two minutes, and discovered that the flight would only have about 40 people on it. It was a pleasurable, uncrowded flight. Once in Albuquerque, we picked up our rental, a Kia Sportage, and motored north to Santa Fe, following a back route instead of Interstate-25.
The back route we followed was the Turquoise Trail, signed as New Mexico State Route 14. This narrow two-lane route goes up the east side of the Sandia Mountains opposite Albuquerque. We had driven this route back in 2003. From Interstate-40, we exited onto NM-14, then drove north about five miles to a gas station, where we stopped for snacks and drinks.
I pulled the car into a parking spot. There was a beater sedan at one of the pumps, and a skinny older man with a distinct appearance - a head of matted hair and a thick gray handlebar moustache. I watched as he cussed at his car while trying to open his back hatch. He then lost his plastic gallon jug he had set down (it had rolled under our vehicle). He then cussed at himself for losing it. I helped him get it and he was very happy. He wasn't intimidating at all. He would mumble and curse at himself under his breath. Pay attention, because we had not seen the last of him.
We continued north through the artsy town of Madrid, and soon into Santa Fe, which isn't that far anyway. There was significant construction where NM-14 meets Interstate-25. We wanted Cerrillos Road, but I didn't realize that NM-14 turns into Cerrillos. Instead, I drove east, then west, on the interstate looking for the exit. My partner was patient with me.
We rolled into town about 11 a.m., and found our hotel, a Motel-6 on Cerrillos Road. We checked in early, and since we had been up since about 1 a.m., we both took a long extended nap. We didn't do much the rest of the day. I went to the store for more provisions, but we mostly stayed in and watched the interesting crowd at this Motel-6.
I decided to hike Atalaya Mountain the next day. I wanted to be at the trailhead as early as possible, figuring it might get crowded and also, since it was "kind of" hot in the daytime, about 90 degrees. It was 118 degrees in Phoenix three days ago and 116 degrees the day we left. We eat 90 degrees for breakfast. Nevertheless, hiking in it can be warm. Fortunately, there would be a lot of shade.
Getting to the trailhead is the most challenging aspect of the hike. Santa Fe, being founded hundreds of years ago, is a mish-mash of narrow streets on no grid pattern whatsoever. I wanted St. Johns College, so I found directions from its website, printed a detailed road map, and somehow got there without getting lost along the way. From the hotel to the trailhead, I drove about 7 miles, arriving a little before 6 a.m.. The trailhead is a parking lot immediately as one enters the St. Johns College campus. It is well signed.
I started hiking at 5:59 a.m., the sun still low in the east and blocked by the mountains. The initial trail drops into a drainage and stays low within the arroyos, often tightly within these little drainages. The gain is gentle at first, but soon, the trail gains elevation quickly, and meets a paved road after slightly less than a mile.
I crossed the road, then resumed the upward trek along the trail (#174, by the way). The trail here gains elevation quickly and passes above more arroyos. I noticed that the homeless encamp within these little canyons. The flora was mostly pinon and juniper, with light undergrowth. Soon, the trail meets Trail 170, which also starts from the same trailhead. This trail junction is 1.75 miles, says the map at the trailhead. A small sign here mis-identifies the two trails (see my image at left).
After this sign, the route gains upward, never too steep. In about a half mile, it comes to a split, the sign pointing to the "steeper" route or the "easier" route. I chose the steeper route. Here, the trail gains steeply for about 500 feet, where the easier route meets it again. Up higher, the trees were bigger, with ponderosa and white pine. I was passed by a jogger, while always staying ahead of a small group of women, who talked loudly the whole time.
The trail by now is directly on the west slopes below the main ridge. It gets slightly steep, but I made good time. Once on the ridge, I turned hard left and walked another 0.3 mile north to the summit, arriving at 7:37 a.m.. There was no one here but me. I spent a few moments here snapping images and stepping on the top rocks. Santa Fe was below to the west, while the big peaks to the east were glared out by the rising sun.
I stayed on top about ten minutes, but then started down, retracing my route down. By now, more people were on the way up, and as I descended, I was pass a hiker or two every couple hundred feet. It never felt that crowded. The trail was in such quality shape that I could fast-walk down, and I made good time for me.
Back into the arroyos near the college, I passed two women, one who was unlatching her dog's leash. The dog was a thirty-pound curly-haired black-colored thing, a lhasa apso or something like that. The women were friendly, but the dog growled at me the whole time. So I say hi, then bye, and get about a hundred feet down trail. All of a sudden I hear yelling from the women and see that dog charging me, barking and ready to tear me apart! I squatted down and set my satchel I was carrying in front of me, and he stopped, growled, barked at me, then ran back to his master. The two ladies apologized. I wasn't too scared, but I did get a little adrenaline rush. I have never been charged by a dog before.
I was back to my car at 9:02, a three hour (and three minute) hike. According to the signs, I covered 7 miles round trip and 1,800 feet of vertical gain. The parking lot was crowded by now, and I could see why so many people hike here. There are many other trails so that loop hikes are possible. I would hike here often if I lived here, too.
I was back to the hotel by 9:30. I took a shower then rested. Our plan for the latter half of the day was to drive north to the Chimayo Sanctuary.
One of our primary goals for this vacation was a visit El Santuario De Chimayo, an old Catholic Church built of adobe and dating from over 200 years ago. It is located in the community of Chimayo, about thirty miles north of Santa Fe and about ten miles east of Espanola. The drive there, following state route NM-503, was spectacular. The highway drops into a canyon system, and the church itself is tucked into the community so that one must carefully follow the signs to get there. We arrived here about 4 in the afternoon.
The Chimayo Sanctuary is known for a small "pozito" in an adjoining room of the main church, in which dirt with healing powers can be collected. Websites call this place the "Lourdes of America".
Last year, βð had major neck surgery to resolve or improve her torticollis, and while it worked insofar it gave her more range of motion in her neck, it did not fully resolve her issues (not that we expected the surgery to do so). However, there still remains some significant deficits that may or may not be solved by surgery or palliative treatments. Her ability to walk any distances confortably diminishes by the day. The overall effects of the torticollis is insidious. She has been battling this condition now for the better part of ten years.
She had visited this church years ago, before we met, and one of the reasons she wanted to come back was to take me there. If only for its historical aspects, a trip here is quite interesting.
As we walked onto the grounds, we entered the church through its main entrance. The insides feature beautiful murals and hand-hewn logs and support beams. There was a couple other people in the church, including another woman. She grew emotional and so did I.
We then went into the side room where the pozito is located. The buildings were built back when everyone stood 5-foot-2, so we had to duck way down through the doorways. In this tiny room, about 8 feet on a side, we knelt at the pozito and collected some of the dirt, rubbing some of it into her neck.
We spent about two or three minutes in the room. We exited into the adjoining "waiting" area and sat, βð leaning against me and sobbing. I couldn't keep it in myself.
Then the woman I mentioned earlier, came up to βð. She explained that she was given a month to live ... nearly thirty years ago, and gave βð a flower petal, and told her a miracle would happen. The woman was serene and peaceful, and beautiful in her way.
It is hard to convey just how emotional this was. The surrounding area, with its history, and its natural beauty, certainly set the tone, so to speak. But as she explained later, she realized just how badly she wanted a miracle, any kind, whether one from the sky or one from the doctors. Just the ability to walk without her whole body seizing up, and to be free of the horrible pain, is not an unreasonable desire.
The woman seemed to come out of nowhere. Perhaps she was an angel. We hope so.
El Santuario de Chimayo
| | | |
| --- | --- | --- |
| The Church building | View from the side. The pozito is located within | Sculpture in the gardens |
The next day was a down day. I drove south to Moriarty to visit a latitude-longitude confluence at 35 North 106 West, which was merely an excuse to get out for an hour or two. The day was overcast with heavy rain at times.
| | | | |
| --- | --- | --- | --- |
| West | East | South | North |
&nbsp

GPS

Confluence bush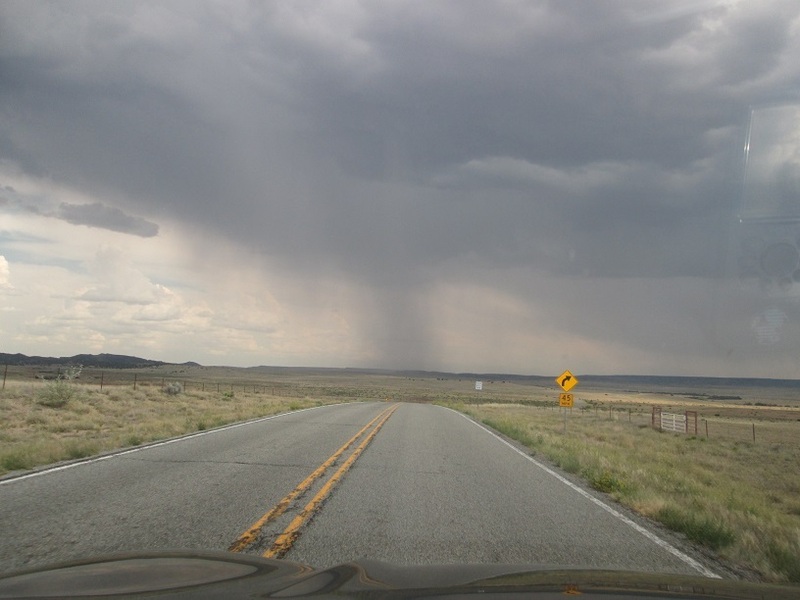 Stormy
The following day, we drove to the Taos Pueblo, about 70 miles north. This is an authentic pueblo, not a mock-up for us tourists. Photography is not permitted, and it is still occupied by the local Indians.
The public is welcome to walk onto the grounds as though you were walking a sidewalk in town. You just keep a respectful distance, watch and enjoy, and try to remember this isn't Disneyland. No walking into someone's home or poking through their yard. We spent about an hour here, then drove back to Santa Fe.
That night, we visited the 10,000 Waves Japanese Spa, an upscale spa with hot tubs, massage rooms and lodging. We were here back in 2004, and wanted to visit again.
The following day, we drove into downtown Santa Fe to walk its art district. We would be flying out that night, so after our slow walk through town, we drove back to Albuquerque via the Turquoise Trail, the same route we had driven coming up.
While driving through the little towns of San Antonito and Canoncito, we drove by one place full of scattered junk (or art, we weren't sure) in the front. Its owner was standing in the drive way, waving hi or giving a raised fist or possibly the finger. Hey, that is the guy from the gas station from a few days ago! He had such a unique appearance, I was certain it was him!
Seeing this guy on our drive in, and then again on our drive out was proof to us that this trip had gone well and that perhaps, βð may get her miracle yet.