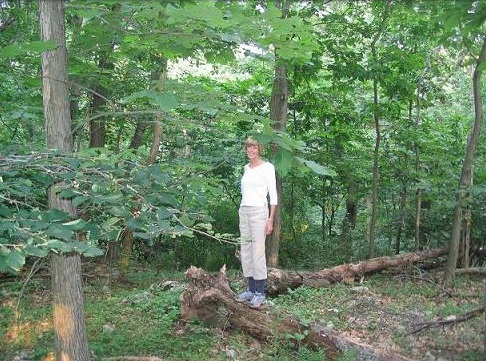 Catoctin Mountain's Highpoint
Date: July 30, 2005 • Elevation: 1,900 feet • Prominence: 560 feet • Distance: 0.2 mile • Time: 30 minutes • Gain: 15 feet
Main • PB
We had an early flight out of Phoenix, so when we landed at BWI, it was still only 2 p.m. local time. We headed west along Interstate-70 toward the city of Frederick, and along the way, made a side trip to visit the highpoint of Frederick County, which is in the hills near the community of Thurmont, about 15 miles north of the city of Frederick.
We stopped in Frederick to get a bite and figure out the roads to the highpoint. We followed US-15 north to Thurmont, then MD-77 west into the Catoctin Mountains State Park. We drove through the lovely scenery and thick trees a few miles before coming out the other side of the small range, near the community of Foxville. We found Foxville Lookout Tower Road (Called "Tower Road" officially), and followed it south a couple miles. The map gave us the impression that the road would be a dirt forest road, but in fact the road was paved, and with brand new homes being built along its side. We had concerns that the highpoint may be inaccessible due to the new homes.
We were looking for a tall, thin radio tower of some sort (the actual lookout tower having long since been disassembled and carted off). The highpoint was near this tower. We had our position pegged accurately according to the map, but the landmarks weren't there ... until one of us, not me, spotted the tower hidden amid the thick trees. So we parked and started in.
The hike was a short stroll along an old, overgrown road toward the tower, and some bashing through light brush. We quickly found the highpoint and three concrete foundation pilings on which the old tower stood. The true highpoint could be one of a few piles of rock sticking up in the brush. We visited each of these areas, and took our visit real slow, keeping a lookout for snakes. We saw none, but the incredible humidity soaked us even on this short, easy journey.