Nā Pali Coast is one of the premier hikes anywhere on earth. "Nā Pali" translates as "The Cliffs", a long, unbroken, astoundingly beautiful (and treacherous) wall of cliffs dropping into the ocean off of Kauai's north coast. On our brief 3-day visit to Kauai, we planned a hike here as a priority. Being Independence Day, the island (and the trail) was overloaded with tourists. It was a crowded day, but still beautiful. In fact, the trade winds were blowing strong enough to move the ever-present clouds off the coast, and we were rewarded with outstanding views.
We drove 60 miles from Poipu through Lihue and Princeville to the end of the road at Ke'e (?) State Beach. Parking was a mess and we found a spot in an overload lot about 1/4-mile from the trailhead. After getting situated, we walked to the kiosk at the start of the trail, called the Kalalau Trail. The trail extends about 12 miles west, but the majority of people hike the first two miles to Hanakapiai Beach. Given we had a day, this two-mile hike (each way) seemed to be perfect. We started hiking at 10 a.m..
Immediately, the trail gains steeply up rocks and roots, and gains 300 feet to an overlook above the beach. The trail is well-maintained and features a little of everything: thick overgrown sections, open views, uphills and downhills, seeps, springs and creeks, waterfalls, pools and outstanding views into the blue ocean.
We reached Hanakapiai Beach after an hour, then spent another full hour relaxing on the rocks of the stream that flows into the ocean. A perfect place to sit and admire the loveliness. The hike out was equally enjoyable, and we celebrated our third anniversary together at a luau with my family that evening.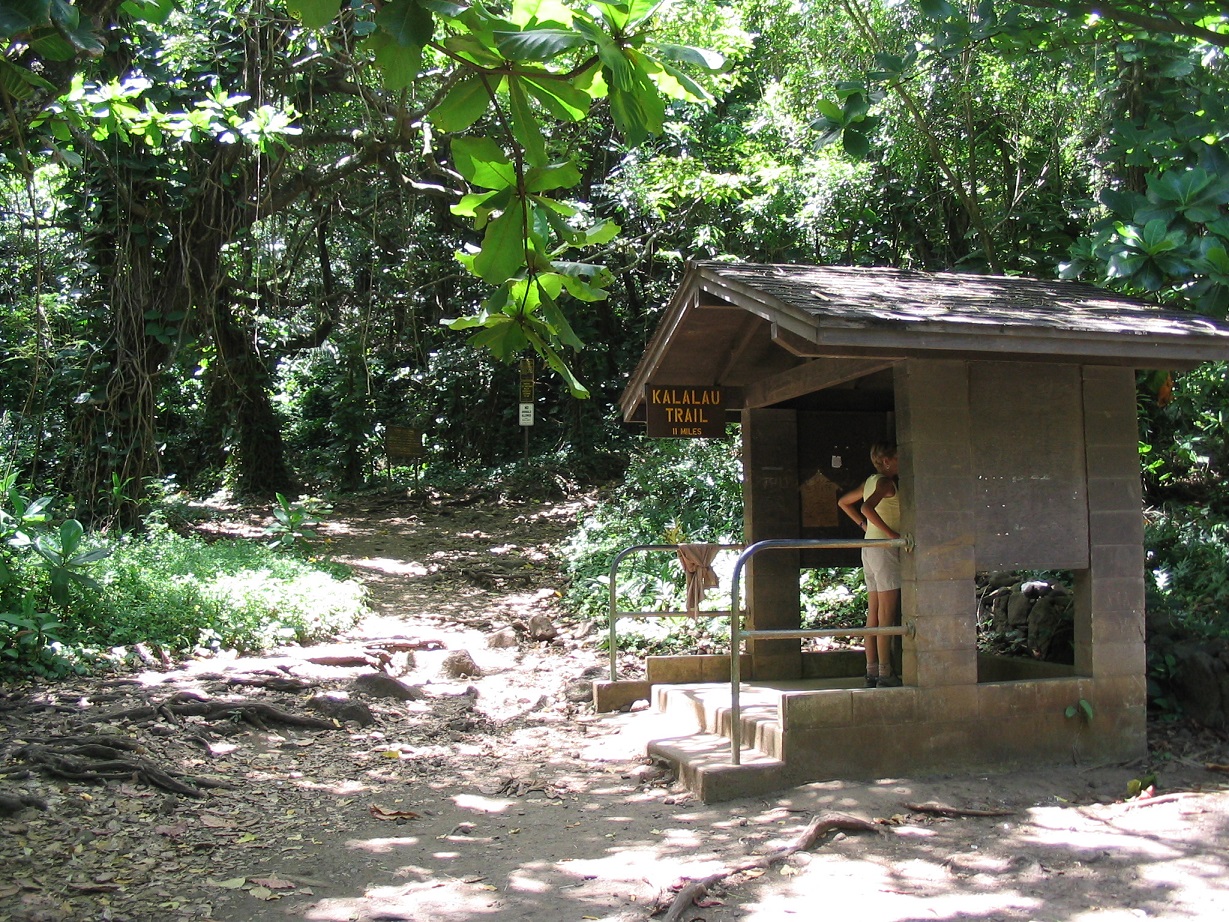 The start of the Kalalau Trail. B. reads up on the info kiosk

After a few moments, we look back at the nearby Beach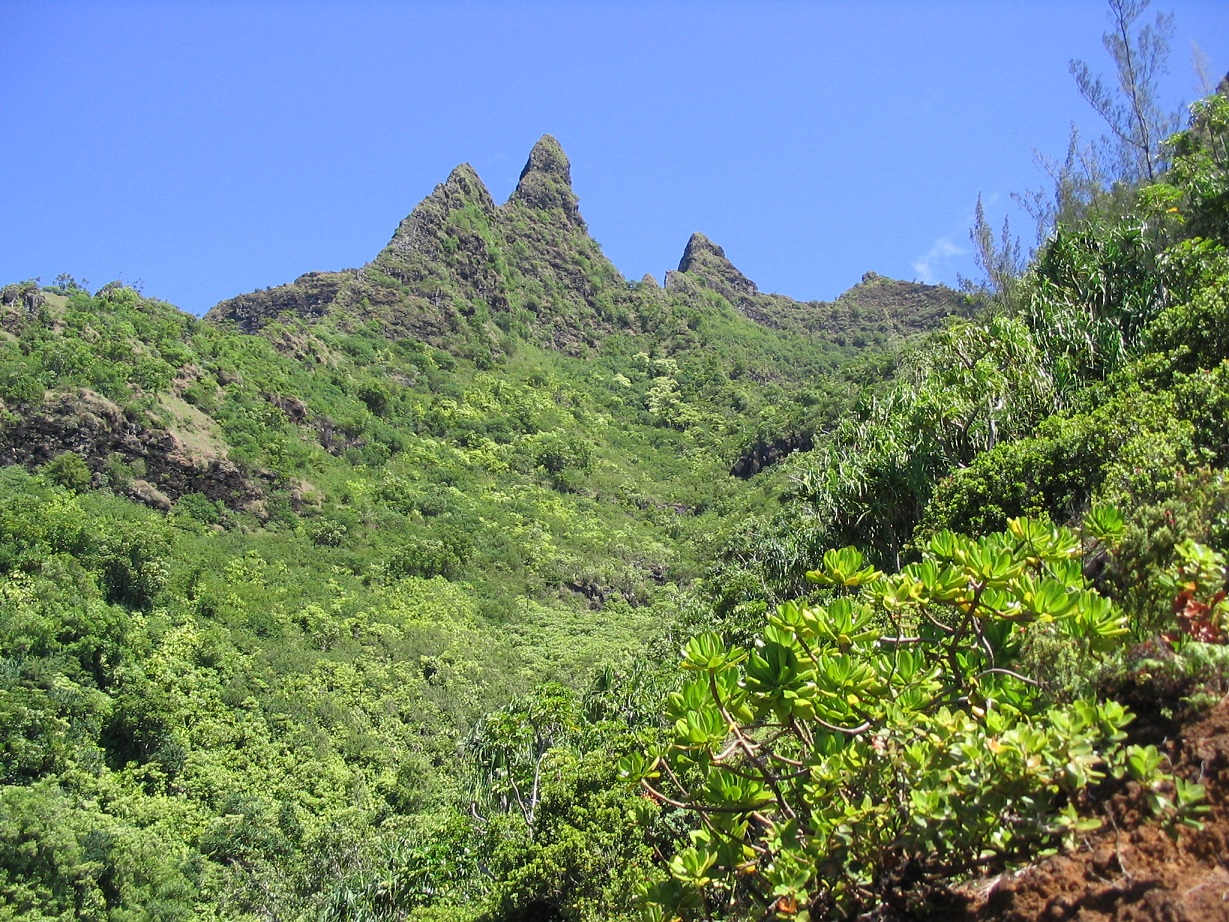 The rock teeth.

Same view, later in the day.

Looking west along the coast. My what blue water!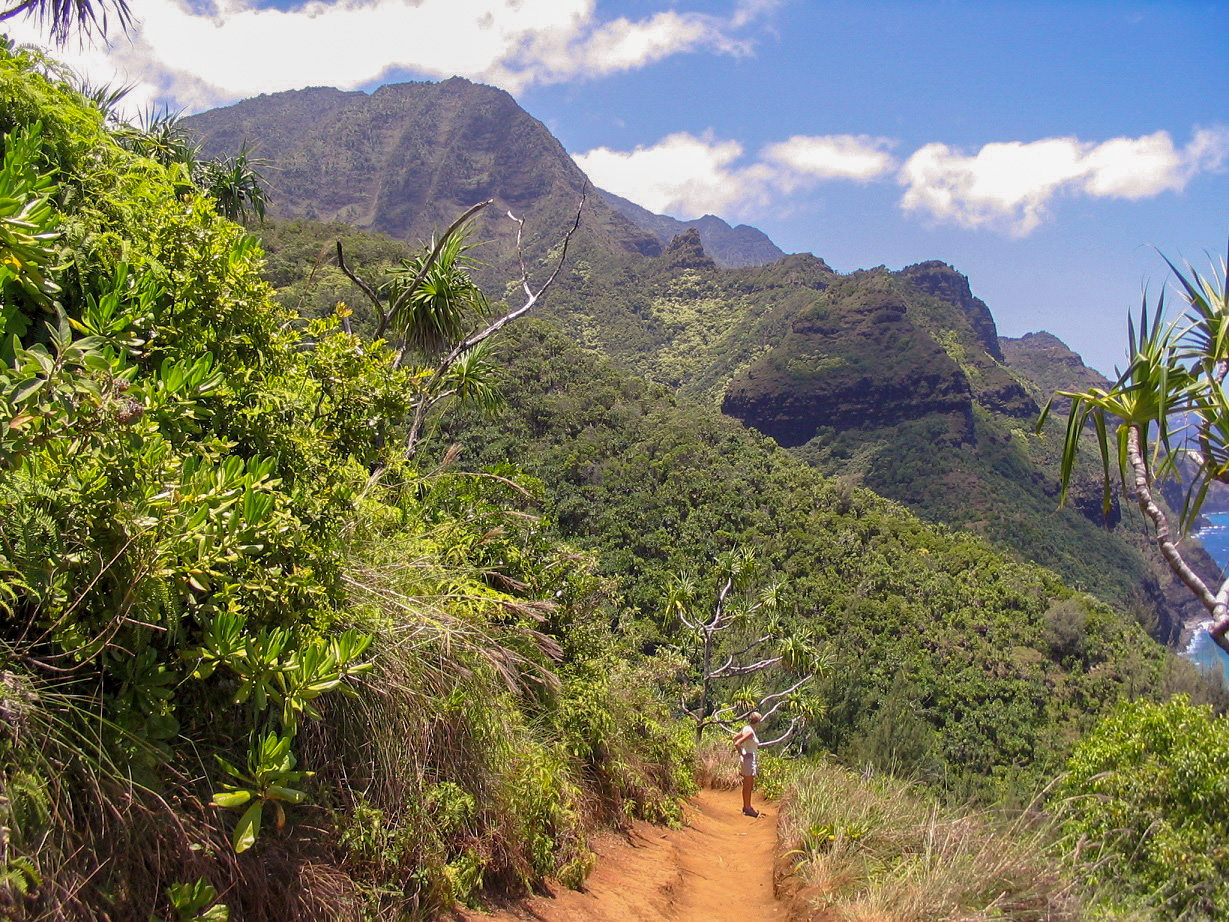 We start our descent to Hanakapiai Beach.

Don't mess with the beach, man.

At the beach.

Looking up back toward Kawaikini's flanks.

Formation at the beach.

At the stream.
Return