βð and I traveled to Maui for 8 days in July 2013. This would be my first time on Maui. We were excited to be going, our first vacation of any length together in over five years. I had a few personal "bucket list" places I wanted to visit. They are fairly standard: Haleakala, Road to Hana, Iao Valley and Iao Needle. Plus, I wanted to hike Lanilili, drive the roads and soak up the culture and the vibe.
We flew into Kahului via Los Angeles on the 16th after dealing with some last-minute delays and flight changes. We were both beat; we arrived at dusk, got the rental and drove to our hotel, a nice condominium complex called the Outrigger Aina Nalu, on the west coast of Maui in in Lahaina (more specifically, Lahaina Town, the older, more touristy part of Lahaina, as opposed to "regular" Lahaina, where the locals live).
We were exhausted, so we kept the 17th open as a rest day. I walked around Lahaina. The immediate area was very lovely, with nice tidy homes, narrow streets, and everything close by. Front Street, the main touristy street that fronts the ocean, was just a 3-minute walk from our hotel. Despite the tourists (such as us), there was a good mix of locals, not like other places on Maui where the resorts are essentially sealed off from the outside world. The area kind of reminded me of Venice Beach in California.
Lahaina

Looking north at Molokai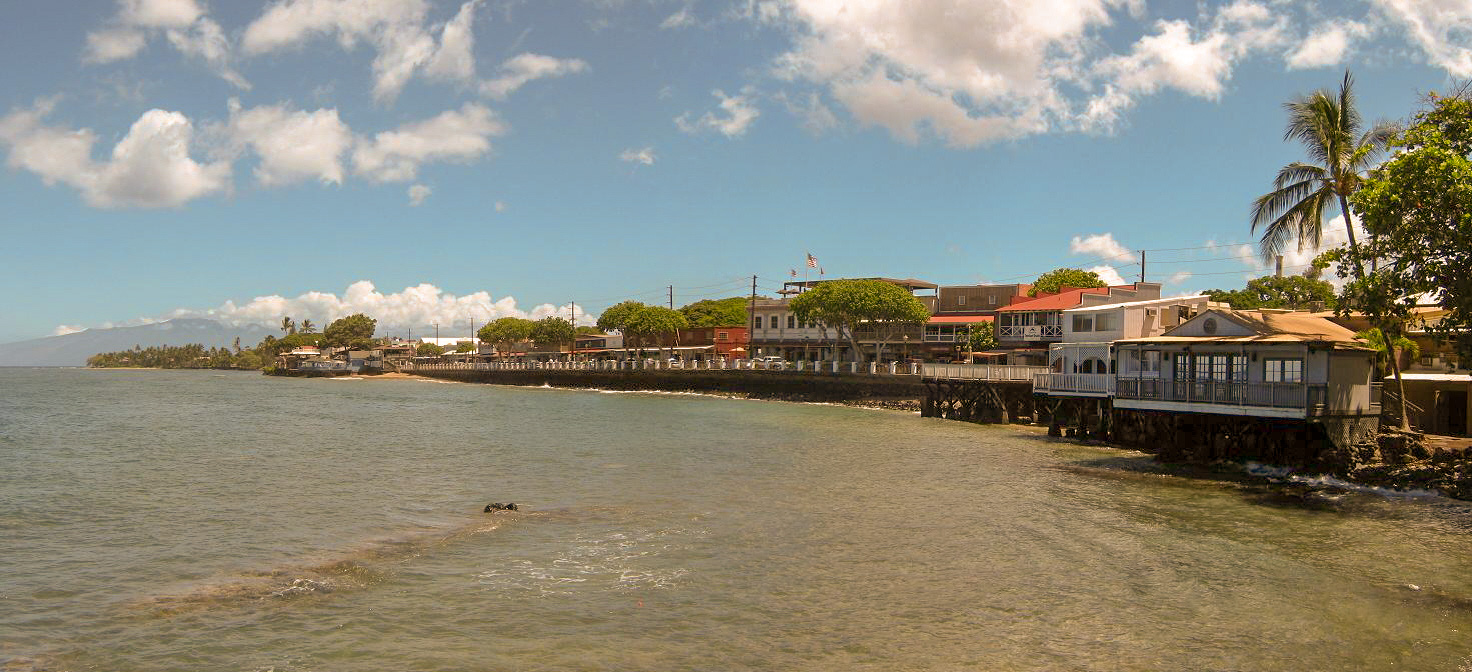 Panorama of Lahaina and Front Street (Click to enlarge)

Historical Building

Boat place

Library

Baldwin House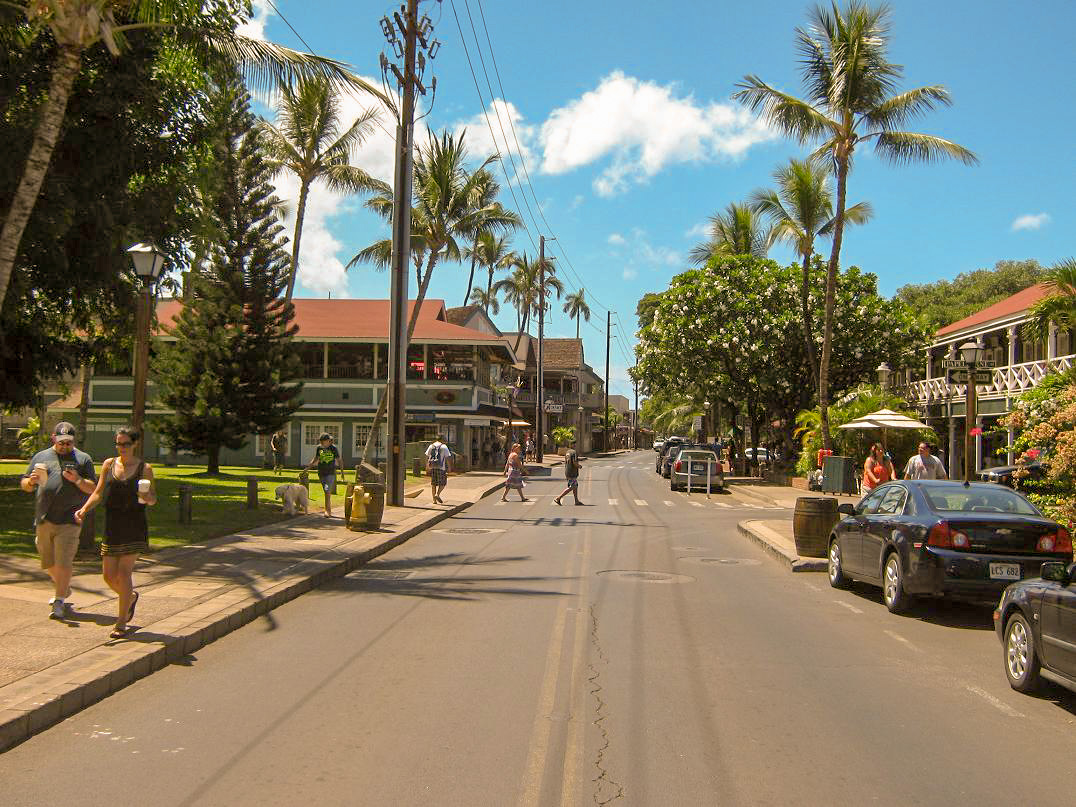 Front Street

Looking the other way now
The centerpiece of Lahaina is a gigantic Banyan Tree that covers nearly a full acre. It drops roots from its branches and the roots then grow to form supporting trunks. It is an amazing sight. They had art fairs, and on other days, you could walk amid the big tree. A sign said "No climb, no swing", So I no climb or swing on tree.
The Banyon Tree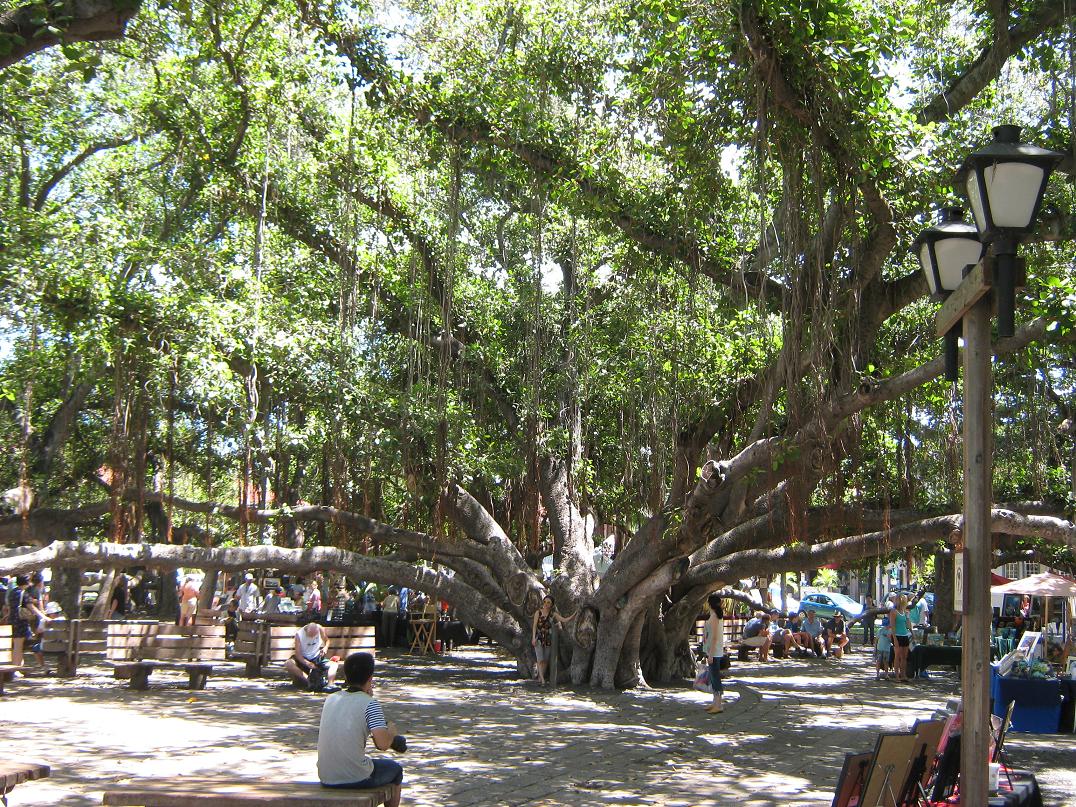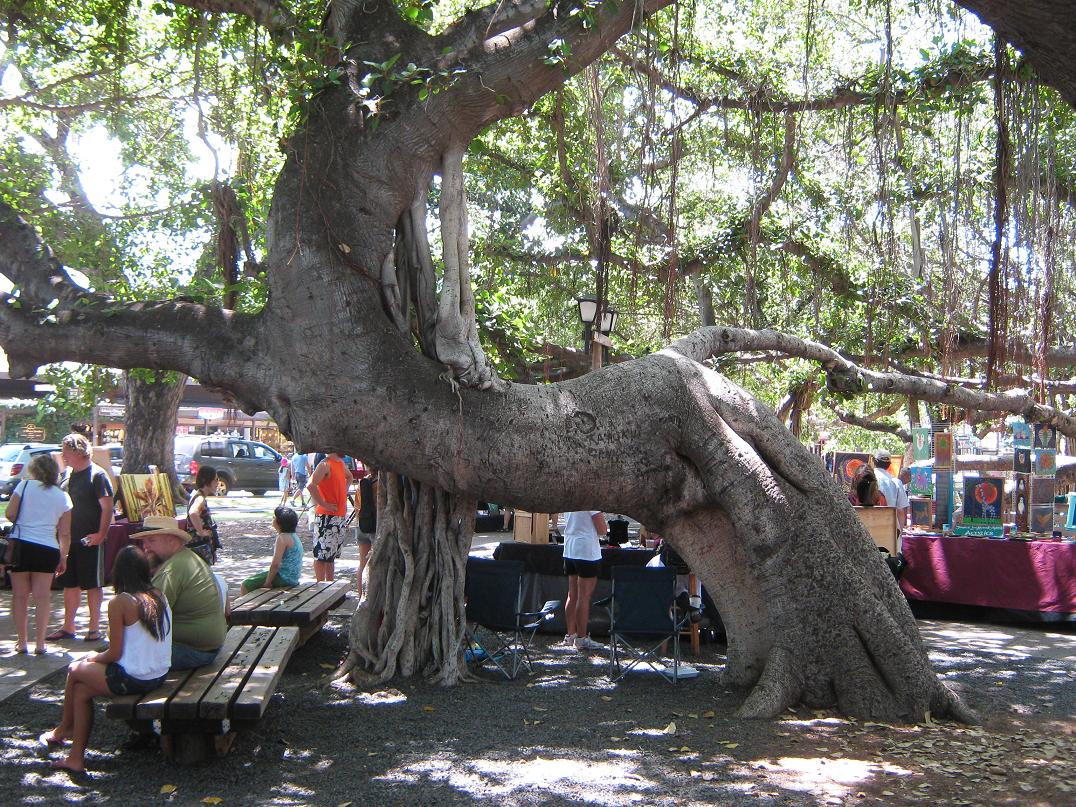 I walked to the ocean and marveled at the symmetric hump of mountain that is the island of Lanai, about 8 miles off the coast of Lahaina. The island of Molokai was visible to the north, slightly blocked by nearby buildings. There were swimmers, paddlers, surfers, parasailers, fishers, you name it, they were there.
Lanai Island

Lanai Island

Zoom of Lanai

More Lanai
I was obliged to check in on my email about once a day or every other day. I was teaching an on-line class so I needed to keep an eye on them. Anyway, I got a temporary library card and did my work at the Lahaina library, with Lanai visible out the window. Too awesome!
The 18th and some of the 19th was our crazy, mini-epic adventure up and down and up and down again on Haleakala. We spent some of that day visiting the "Up-Country", the higher-elevation parts of Maui on Haleakala's west slopes. We drove to the end of the numbered highway to the locale of Ulupalakua, where we took some photos looking over Kihei, plus the islands of Kaho'olawe and Molokini. We later drove down into Kihei, as well as checking out the big sugar mill that sits kind of in the middle of everything, an old relic that still functions, turning sugarcane into sugar.
Island Views

Kahoolawe and Molokini as seen from Ulupalakua

Kahoolawe's deserted slopes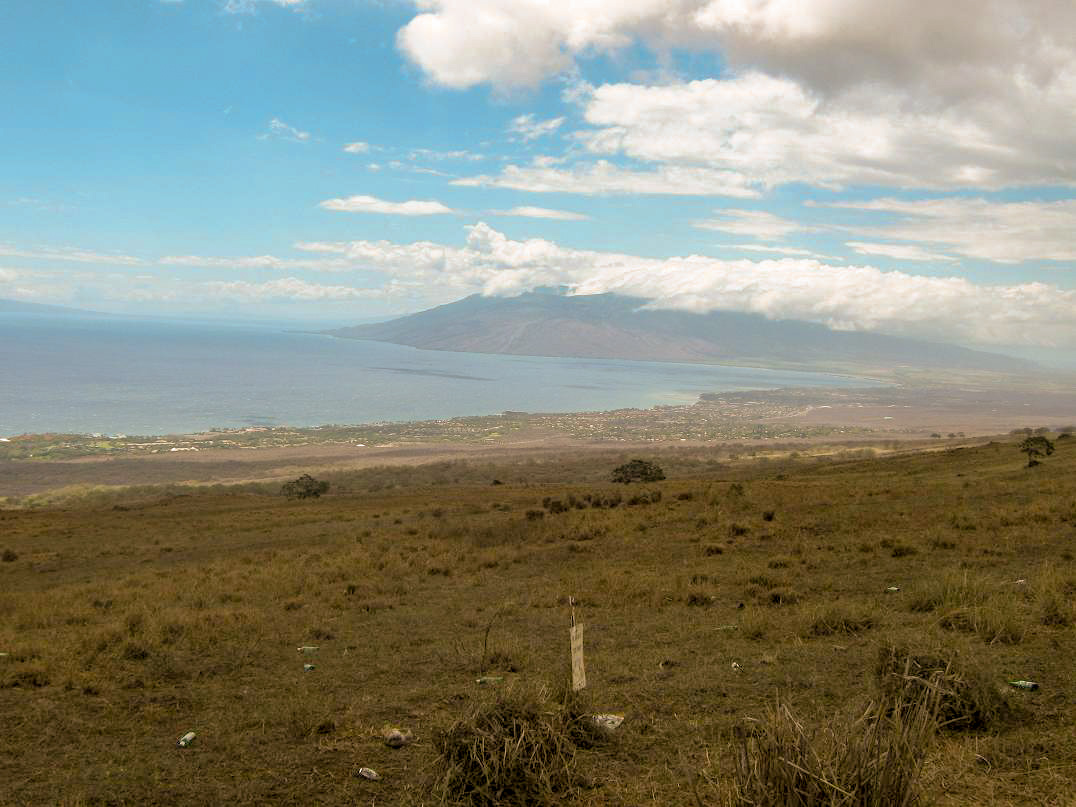 Kihei from Ulupalakua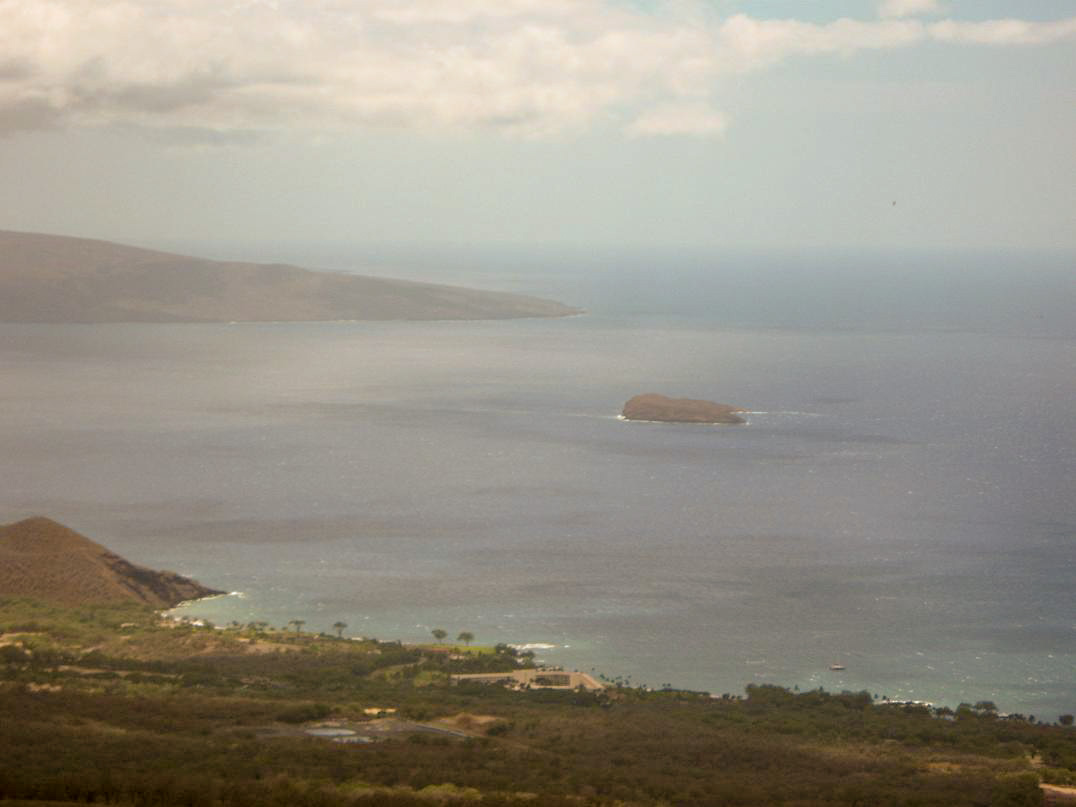 Molokini close-up, sort of
The 20th, we laid low, but did go for a drive up the northwestern-most coast, past the towns of Ka'anapali and Napili to Honokahua. The road gets narrower and more twisty, and the land gets more cliffy, bluffy and steep. All of it beautiful, of course. We drove a few miles along the north coast, then returned to a blowhole attraction. I hiked down to it and shot a short video. There were a couple dozen people there.
Sunday the 21st was our big "Road to Hana" drive. Hana sits on the east coast of Maui, but getting there involves a fascinating drive along Highway 360, the "Road to Hana", which is cut into the cliffs and bluffs along the north-facing coast. This is the windward coast so it is perpetually cloudy and wet, but never so much so to get bothersome. Often, we had beautiful clear vistas, then it would cloud up, then clear again. The road itself is a fine road, but narrows to a lane wide in many spots. There are dozens of narrow stone bridges, gorgeous valleys with waterfalls and tiny settlements along the way.
We left early so that we were on the west-end of Highway 360 at milepost 0 (a bit east of Paia) around 7 a.m., to beat the crush. As a result, we had virtually no traffic, and although we weren't trying to set any speed records, we didn't want to deal with lines of cars. We made the 35-mile drive into Hana in just under two hours. What a beautiful place: the manifestation of "paradise". We drove to the black-sand beach, sat and listened to a group of musicians and singers practice some Hawaiian songs, and loved every minute of it.
Next, we continued south about another 10 miles to near Kipahulu, where the road gets even more narrow, to eventually end at the westernmost section of Haleakala National Park. Here, streams that originate high on the mountain have carved out beautiful valleys, waterfalls and pools. We stopped in and walked down to the Ohe'o Pools and sat and enjoyed the vibe.
In all, we spent about 3 hours at Ohe'o and Hana, then drove back west along "The Road Away From Hana", which is equally interesting, but with more west-facing views. By now, the east-bound lanes were getting busy, and we had a little more congestion in the west-bound lanes, but never once was it bothersome.
Hana and East Maui

Hana, from the black sand beach (Click to enlarge)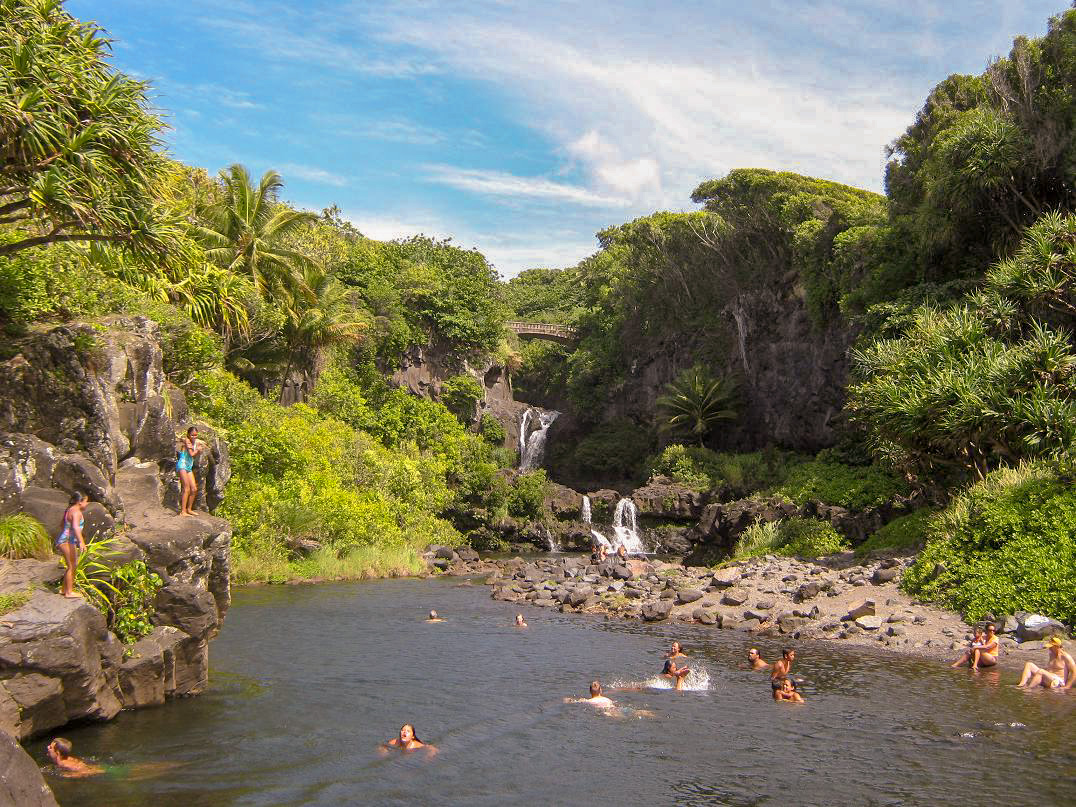 Pools at Oheo Gulch

Pools again. The road goes over
that cool stone bridge
Remains of an old Heiau
Cliffy coastline south of Hana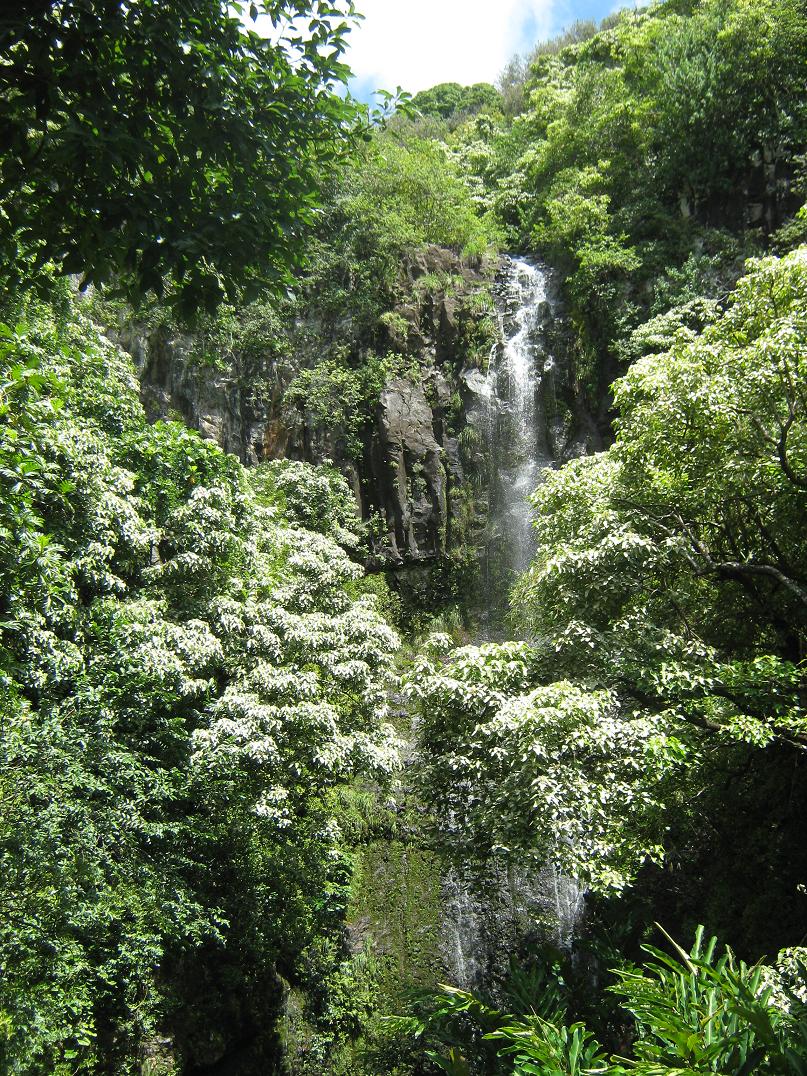 Waterfall just feet of the road

Town of Keanae (Click to enlarge)
The 22nd was our "Get mildly lost in Wailuku while getting to Lanilili" day. Wailuku is the older city, west of Kahului, the two towns essentially one big (in relative terms) city. We got some impromptu sightseeing of Wailuku, then we got to Lanilili, which is detailed at the above link.
The 23rd was our last full day on Maui. We kept it open as a rest day, a chance to not do anything but enjoy the place. I did do something: I got a new tattoo, a stylized image of the Sunrise over Haleakala on my right forearm. The guy who did it was cool, a real interesting fellow who also doubles as a morning dee-jay on Maui's classic rock radio. Check them out: Spike's West Side Ink.
The 24th was our fly-out day, but our plane did not leave until 10:30 pm, so we had the whole day to ourselves. We made a short visit to Iao Valley and its iconic Iao Needle, the site of many battles during the days of the Hawaiian Chiefs and Kings. We also drove to Makawao and walked its street of artisan shops. Finally, it was time to leave. Our flight home went well with no real issues. We had an amazing time and the trip was worth every cent, plus interest.
Iao Needle and Makawao

Iao Needle

View of Haleakala from Iao Valley

Shops in Makawao

More shops
&nbsp
Return