Cuyamaca Peak as seen through the charred forest (Fire, 2005)
&nbsp


Me on the top
&nbsp


Low clouds hang over the countryside
&nbsp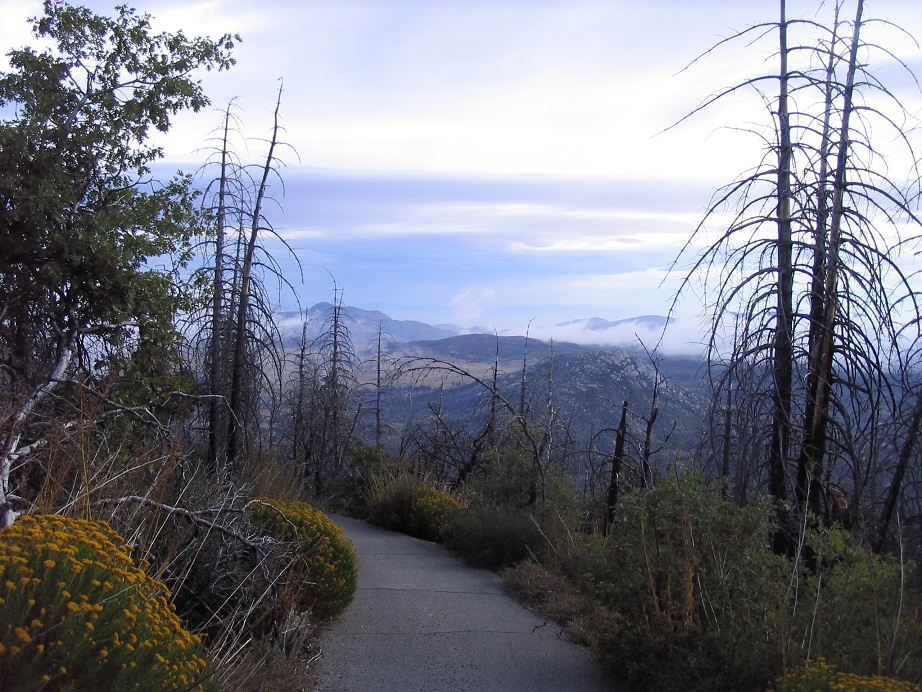 The upper "trail" and
Stonewall Mountain (below)
&nbsp


This guy had just DFO'd
Date: (1) October 4, 2008, (2) February 15, 2015 • Elevation: 6,512 feet • Prominence: 2,855 feet • Distance: 5 miles • Time: 2.5 hours • Gain: 1,600 feet • Conditions: Cool and cloudy in 2008, clear and warm in 2015 • Teammates: Adam Helman in 2008, three dozen well-wishers in 2015
California • Main • PB
Cuyamaca Peak is one of the best-known peaks in San Diego County. It is east of San Diego, north of Interstate-8 in the Cuyamaca Rancho State Park. Climbing this peak is easy as there is a narrow, paved road to the top, starting directly from a convenient campground. For this weekend, I wanted to hike this peak and nearby Otay Mountain, meeting with Adam Helman for these two simple peaks.
In 2005, a catastrophic fire tore through the area, burning the forest below Cuyamaca Peak to a crisp, the fire so hot that it essentially sterilized the ground. New seedlings had to be brought in to regenerate the forest. This put off a visit to the peak for awhile, giving the area a chance to regrow. The stories of a pleasant hike through old-growth forests were long-gone for at least a generation. I knew I'd be hiking amid a mix of new growth and dead snags.
I drove west from Phoenix and arrived to the Paso Picacho Campground within the park after sundown. I had reserved a spot, and fortunately, the trees around the campground were still tall and healthy. Being at near 5,000 feet elevation, and closer to the ocean, the temperatures were delightfully cool, a sensation I had forgotten after months of searing heat in Arizona. I slept well in the bed of my truck. The next morning, Adam drove in and parked at the day-use parking area. We were hiking by 6:50 a.m.
The one-way hike is about two miles, during which we gained 1,600 feet. The paved road certainly helped, and we made very good time. The morning was clear but hazy, and breezy at times. A weak front was moving in, bringing clouds from the ocean. At times, the peak would disappear behind a small veil of mist, then reappear.
We arrived to the summit about an hour later. The top features a few small buildings and towers. It was an easy matter to locate the top rock for a quick tag. Looking west, the valleys and lowlands were covered in fog, the cloudtops about 500 vertical feet below our position. Toward the east, the views were hazy with glare from the rising sun. Conditions were cool and pleasant, but windy. This set in a chill and we didn't stay up top very long.
The hike back went fast, taking about an hour. A tree had fallen over the trail between the time we had passed that point going up, underscoring the danger of falling trees. I shot a photo of it, left sidebar. We had seen alost no one, but by now, some hikers were coming up. I am told this is a very popular trail, possibly hundreds of people a day during the weekends. After a snowfall, it is also very popular, so I am told.
Back at our cars, we hit the road and took a scenic, meandering route south toward our second objective, Otay Mountain. The drive went through some dramatic mountain and hilly terrain, certainly more rural than one would expect being so close (20 miles) to San Diego.
Cuyamaca Peak is actually very close to being the highest point in San Diego County. Hot Springs Mountain is about 40 feet higher, but that peak is often closed to visitors as it lies within the Los Coyotes Indian Reservation. I enjoyed the area very much and saw some areas I'd like to explore on a future trip.

In February, 2015, about thirty hikers assembled to hike to the top of Cuyamaca Peak and have a memorial in Adam Helman's honor, after his passing the previous month. A narrative and photos of that hike can be found at his memorial page.